Let's go way back to the start of this. When KTM tabbed the existing Troy Lee Designs/Red Bull team to control the new GasGas factory motocross and supercross effort in the U.S., it needed to add a 450 component to the squad. TLD had served as KTM's amateur and 250 outfit for years, but GasGas needed a 450 star, too, and there was a really good ride on the market. Dylan Ferrandis, on a Monster Energy/Star Yamaha Racing YZ250F, had sliced through the 250 class with three titles in two years. He was also well aware of previous stumbles for top 250 riders jumping to Yamaha's 450 program. Ferrandis wanted to explore his options, and with GasGas, he would essentially get on a bike very similar to a KTM 450SX-F—like the one Cooper Webb used to change his fortunes when he left Yamaha.
TLD, Red Bull, and GasGas had long talks with Ferrandis, but Dylan decided to stay with Yamaha, as Star Racing was actually going to take the role of Yamaha's new 450 team. It was a leap of faith to think Star could get Yamaha's 450 to the top.
"It wasn't easy to get to this point, I had options to go somewhere else," said Ferrandis when we talked to him after he had wrapped the Lucas Oil 450 Class Pro Motocross Championship at Fox Raceway.
With Ferrandis out, GasGas would have to find another 450 contender. Justin Barcia was on the list. He was the factory Yamaha 450 man in 2020, and he had an underrated season when he took fifth in 450SX. Barcia was looking to try something new, but Star made a play to keep him on blue and team him with Ferrandis. We heard all sorts of machinations behind the scenes, and some of it came down to TLD parting with amateur prospect Nate Thrasher so he could go to Star, and TLD getting Barcia's 450 services in return. It wasn't exactly a one-for-one trade, but it's as close as you get in this industry.
In stick-and-ball sports where trades actually do happen, the definition of a successful trade is when both teams win. In this case, that happened: Thrasher jumped to Star Yamaha and won two 250SX main event races as a rookie. Check. Barcia moved to GasGas and won his very first supercross race on the bike. Super, super check.
Actually, it was even better than that. GasGas' credo is about more than results. By the time Barcia had signed, GasGas had cemented its marketing mission as the "fun" brand of KTM, and Barcia was the perfect spokesman. If you're looking for a rider to represent the grip-it-and-rip it lifestyle, no one is better than the long-haired wild-child of Barcia.
Plus, he won races. As in, the very first race. It was a bold move by Troy Lee Designs and Red Bull to literally rent Angel Stadium and create a fake 2021 Anaheim 1, with Barcia as the fake winner. It must have put immense pressure on him to Barcia to perform at the actual season opener, in Houston. But pressure is when Barcia rides best, which is probably why he usually wins the most nerve-wracking race of the season. In Houston, he did it again.
Done. That was it. Barcia would have loved to have won the supercross title and certainly wanted to win more races, but that one publicity stunt at Anaheim and that one race win at Houston sealed the deal. It was an explosive kickoff to GasGas in American supercross. The right rider with the right personality at the right time. Over the summer, he'd win the Spring Creek National at Millville. GasGas got a Pro Motocross win, as well. Ferrandis was certainly a great option from a results stand point, but if you're looking at the marketing and branding side, which is very crucial to the KTM group, Barcia was still the perfect pick. He's a big name, he has credibility as a guy who can win 450 races.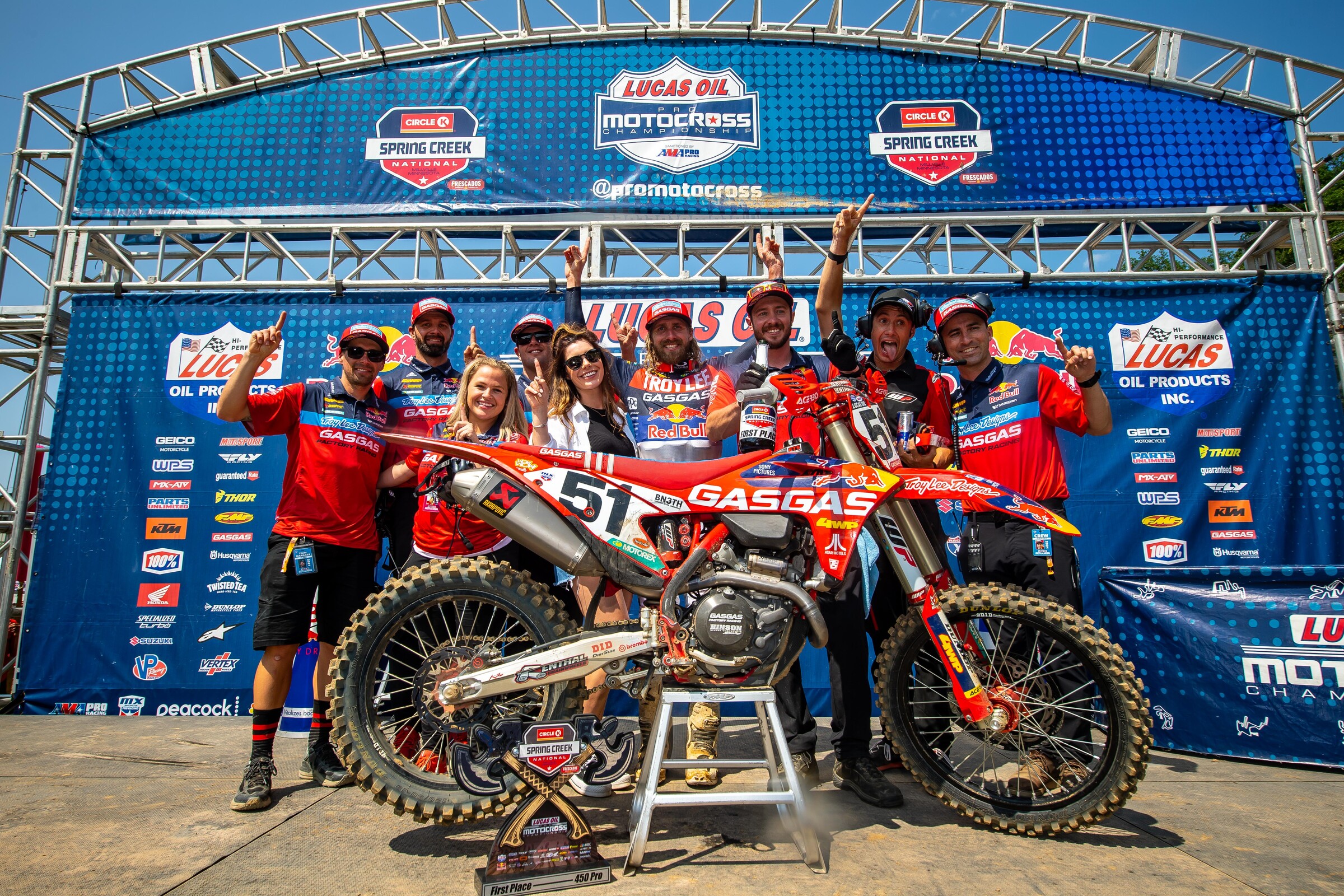 Still, racers have to over work and over plan to over deliver. Barcia's 2021 season was a success, but he can't really internalize that. The goal, always, is to win more races and win a championship.
"It's been a lot of fun, but obviously there are expectations of what I want to achieve," said Barcia when we saw him last week. "We had a good year, but I want to be better. That's what it's all about. As a racer you always want to be better. I want to win more than one race!"
Barcia is already hearing the talk about keeping his opening-round win streak alive.
"You already hear it: 'Dude you gonna win Anaheim 1 again?' It's hilarious, I mean, dude, I live for it, but I'd rather win the last race and be in the title fight to the end."
To do that, Barcia can point to the standard stuff. He will have more familiarity with the bike and team in year two. The TLD team is expanding and changing, as well.
"Yeah, yeah, there is a lot of new stuff going on," he says. "I've got a new mechanic, Olly [Stone], which is sick. New crew chief, Josh [Wisenor], I worked with him at GEICO. Lot of positivity. The first month of riding and testing, the vibe has been really good. It's all about the vibe."
Last summer, Barcia scored a big one for the team when they convinced Wil Hahn to part with Star and come to TLD as a trainer and coach. With Star moving to Florida, Hahn wanted to remain based in California. The TLD move fell into place.
"We were working really hard to get him on board," said Barcia. "He's a good friend. He's been keeping us on our toes, but when I say fun factor, Wil, he really keeps it fun. We're not slacking, but it's been very enjoyable."
November and December are standard times for riders talking about feeling good and loving the bike and team. The true test doesn't really come until the races begin. In some ways, though, the GasGas situation has already been resolved. With Barcia on board, the brand gets to be legitimate race winners while also carrying the "fun" credo with real credibility. Barcia will provide his own internal motivation to try to get even better.
"We had a good year, but it was still not good enough," he says. "As a racer, you always want more. I wouldn't be racing, still, if I didn't want more. I know I have the capabilities of winning races, obviously, but we want championships. I'm feeling really good right now."