Anaheim, CA
Anaheim 1 (A1)
Monster Energy AMA Supercross Championship
The Rocky Mountain ATV/MC-KTM-WPS team has made several announcements in a video shared on the Rocky Mountain ATV/MC YouTube page. First off, the Utah-based company has renewed as the title sponsor for the team. Team owner Forrest Butler also announced a new 50/50 partner in the Butler Brothers MX (BBMX) operation. Butler says the new partner's name is Mark MacKenzie.
"I'm really proud to finally say and announce that I have a 50/50 partner now in BBMX, which is the race operation behind the race team," Butler explained. "And this will be going into our 19th year. Mitch [Payton, Pro Circuit] has us beat but behind there, I think [next to Pro Circuit] we are the longest standing independent team now. With that said, I had been looking for a partner now for some years now, you're up against a lot, you're up against the factories. We're kinda ying and yang to each other and it's great. He brings stuff to the table that definitely helps me, and the team and I bring stuff to him that would be much different that's just him coming and wanting to start a team. It's got a unique dynamic and we need it running a race team in this sport."
Butler also announced the team has renewed their contract with KTM North America for two more years, which will carry the relationship through 2023. He said 2022 will mark the ten-year anniversary with the orange Austrian brand. The 2022 and 2023 seasons will also be the 17th and 18th year the team has worked with Western Power Sports (WPS)/Fly Racing.
The team also has several more changes to its internal program. Long-time team manager Michael Byrne moved on to become a trainer for two-time 450SX champion Cooper Webb—who had been working with Aldon Baker since the fall of 2018 but ended his time at the Baker's Factory this summer. Butler announced that the team will essentially have three team managers, including Dylan Rash, who will be the operations manager; Derek Rankin, who returns to the team as the crew chief and handles "everything that has to do with the bike"; and Seth Rarick, who joins the team as the athlete manager. Rash and Rankin have both spent several years with the team—Rash more on the technical side while Rankin worked as a mechanic before moving to Monster Energy/Star Yamaha Racing with Christian Craig for 2021. Rarick was a part of the Baker's Factory program training the KTM and Husqvarna 250 Class, then took Wil Hahn's spot as Team Manager of the 250 program for Monster Energy/Star Yamaha Racing. Rarick will join this KTM-backed team as a trainer but will take on more than just preparing the riders physically.
With the additional behind-the-scenes help, the team has also decided to take its motor and suspension in-house.
"What they provide us was unreal," Butler said on KTM's support. "So for us, it was really just a question, 'Can we take over managing our own suspension and our motor programs?' We have protocols to follow there, at the end of the day we want to do a great job and finish on the top and not go backwards. So yes, we are going to be doing motors and suspension but it's not as crazy as people think. With suspension it will still be through factory WP, we'll still be on WP works parts and we'll be working with one of our old techs that we used to work with and some old people on the team. We're responsible for our own suspension would be a better way to term it this year."
The video also announced the rider roster for 2022. Joey Savatgy will return to the team for a second year as Shane McElrath and Max Anstie have joined the team to complete a three-rider 450 roster. Savatgy finished 10th in the 450SX standings of Monster Energy AMA Supercross, with a season-best sixth at the finale. Savatgy finished eighth in the 450 Class Lucas Oil AMA Pro Motocross Championship.
"Twenty-one wasn't the greatest by any means," Savatgy said. "Making the transition to a new motorcycle that I hadn't been on in a long time. Just coming off my injury in the end of 2019, it was just a lot on my plate. And it just took a while to fight off the demons, more or less. At the end of the day, it was me figuring out how to take care of myself. As the year went on, we kinda figured things out. I mean they say better late than never, but it was pretty late the last two rounds in Salt Lake we made a pretty big change, and it was definitely better. And we ended the year on the season best."
Since moving to the premier class, the #17 had competed on three different teams—and three different OEMs—bouncing from Monster Energy Kawasaki in 2019 to JGRMX/Yoshimura Suzuki Factory Racing in 2020 to the Rocky Mountain ATV/MC-KTM-WPS team for 2021. The Georgia native now gets to return to the same bike and team for a second-straight year.
"I'm excited for '22" he said. "From what I learned with my first year with this bike, going forward is going to be very helpful. Result wise, I feel like I'm a contender and I don't see any reason why I shouldn't be. Results wise I don't try to get too caught up on specifics, but my goal at the end of the day is to show up and perform the best we can do. And if I can leave each weekend knowing, 'Hey we only got seventh tonight, but I rode good and I did everything I can do' then that's the goal."
McElrath did not have a warm welcome to the premier division in his first full 450SX season. As a member of the SmarTop/Bullfrog Spas/MotoConcepts Honda team in 2021, he suffered a pre-season shoulder injury that kept him out of the first six supercross rounds. He competed in only two main events, recording a 17th in the Orlando 1 Supercross and a 14th in the Orlando 2 Supercross, before he suffered a strained back that kept him sidelined for the remainder of the championship. The MCR team being supercross-only, McElrath will have 322 days (46 weeks) between his last gate drop in 2021 in Florida and the 2022 Anaheim 1 season opener. In the video, Butler said he had been watching McElrath and sought out the long-time KTM rider. The #12 is looking ahead for 2022.
"For me, really I'm going into my rookie season again with more experience with a few gate drops—not very good—but as a racer, I was coming off my biggest year and my best year in the Lites class," McElrath said. "Moving up to 450s, I got injured right after I got on the bike, right before the series started so I missed the first six rounds. Then kinda dealt with another injury from there. Really didn't have much bike time and I just needed to get behind the gate. New bike, new class, new everything so I was like, 'I just have to go racing.'"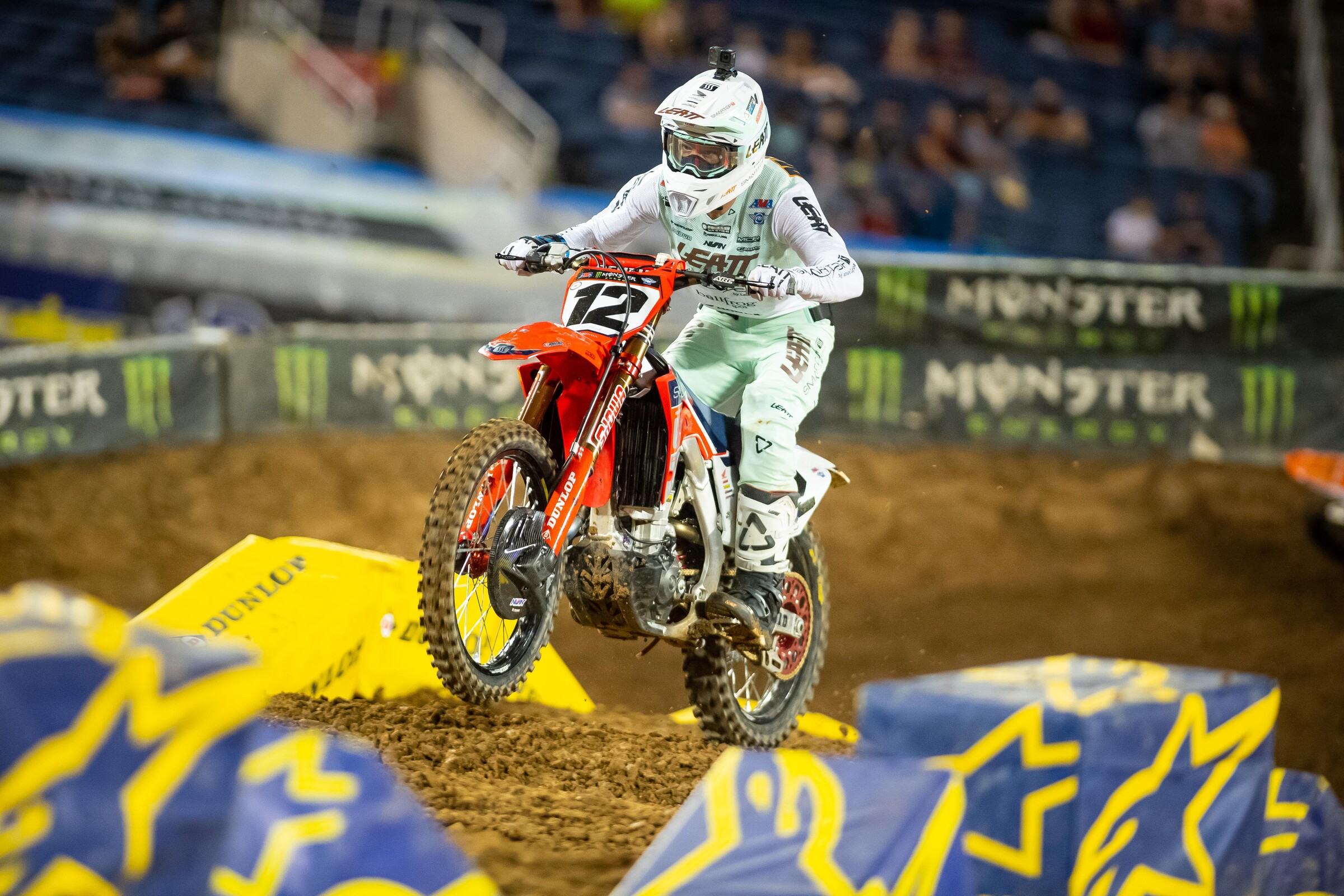 "Right away," he said on feeling comfortable on the orange machine. "It's pretty crazy. Just the KTM with the steel frame compared to the other Japanese brands, even though they're all aluminum frames they all handle quite a bit different, and some are kinda opposite. So getting back on the KTM, it's the 450, its even a newer frame since when I last rode it but still really similar characteristics and really felt right at home right away."
After a successful career in the FIM Motocross World Championship, Brit Max Anstie came to the U.S. to race for the first time since 2013. An injury right before the 2020 season opener canned his debut 450SX season but he rode solid in the 450 Class of Pro Motocross aboard his Twisted Tea/HEP Motorsports Suzuki RM-Z450. In his first year of 450SX, a back injury caused him to again miss more gate drops, but he finally jumped into supercross at round 8. By the 17th round, Anstie finished 21st in points with a season-best 12th at the Salt Lake City 2 Supercross. In October, Anstie took to Instagram to thank the Twisted Tea/HEP Motorsports Suzuki team for allowing him the opportunity to return to racing in the U.S. Now, he returns to familiar equipment—having raced Husqvarnas in MXGP.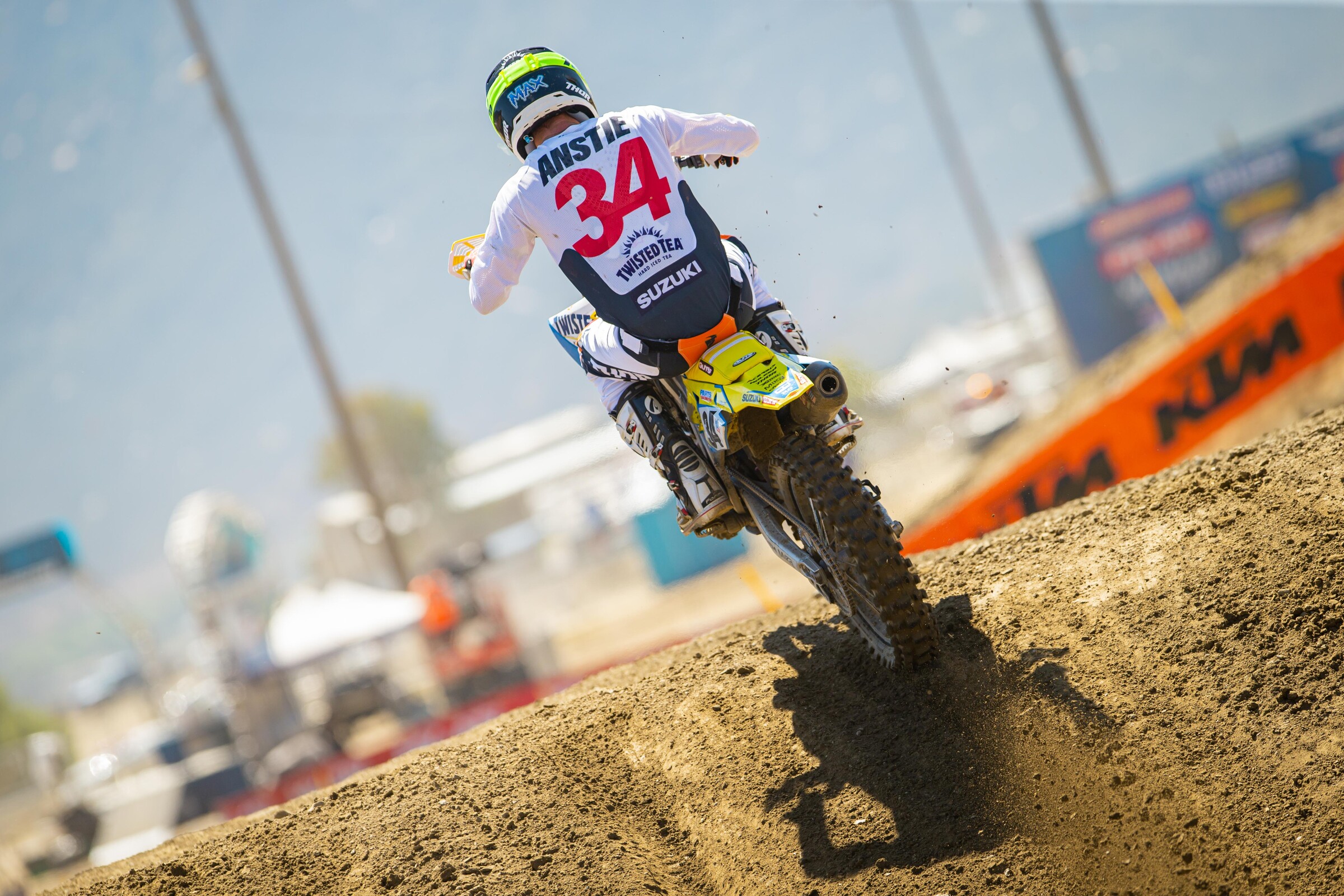 "He's got a personality," Butler said of Anstie. "He does have supercross experience from the past, he's gotten his feet wet these past two years and outdoors I think he's got a lot of speed to show what he can do. Getting on a KTM…he was on a Husky for a while overseas. He's really familiar with bikes. Everyone is really excited."
Anstie raced the 250SX West Region in 2010, 2012, and 2013 but would have his hands full trying to relearn supercross in the U.S—especially in the 450SX Class. He was quietly effective last year once he finally jumped back into racing, but he wants more.
"Coming over from Europe, it's been fine, but I didn't come here to make up the numbers," Anstie said. "I come here to race and perform. And I feel like these guys, with the setup moving forward for this next year, is going to be great. I feel like the facility, being able to train with top-level guys, having great teammates…a lot of experience, too. Just being able to be around the best guys and on the championship winning bike from last year from supercross. I think that for me is something I just wanted to elevate myself and do whatever I could to put myself in a position to do that. and thankful to Forrest and Mark, the guys, for the opportunity. Because yeah, I'm here to do the work."
Another change to the team is that a fourth rider will be brought under the team tent come May. Ethan Lane will race as an amateur this spring before taking a KTM 250 SX-F to the gates for the Lucas Oil AMA Pro Motocross Championship.
"Ethan is going to run the major amateur nationals, just kinda started working out now, and he'll work his way to outdoors and then he will be debuting as our sole 250 rider in the outdoor national championship," said Butler.
The team owner also addressed the situation involving Blake Baggett. The #4 claimed the team's maiden 450SX main event win at the 2019 Glendale Supercross and was contracted with the team through the 2021 season, but by the end '20, Butler said, "We just couldn't come to terms on 2021 and the future. That's all there is to say," regarding Baggett.
Baggett has remained quiet about the situation, failing to respond to multiple requests for comment.
"I can't talk about money and riders and sponsors directly," Butler explained of the team's situation in 2020. "What can I say is, we took a haircut, the team took a haircut. And staff took a haircut…."
While there are several changes to the entire program, Butler remained adamant that the team is still focused on performance.
"This isn't a rebuild year," he said. "Yes, there are changes going on with a new partner, new riders, but the focus, the goal. The energy, the energy I feel is going to be at Anaheim 1. …the energy's there."
Below is the full press release from Rocky Mountain ATV/MC-KTM-WPS
PAYSON, UTAH—Rocky Mountain ATV/MC has announced its team lineup for the 2022 racing season in an all-new video featuring interviews from the team riders and team manager Forrest Butler. The video discusses big changes to the team's structure, the rider lineup, and addresses the departure of former team rider Blake Baggett.
This year, the team is lucky to have three talented riders under the tent:
#17 Joey Savatgy is continuing with the team for another year after finishing 10th overall in Supercross and 8th overall in Motocross in 2021
#12 Shane McElrath is joining the team for his first full supercross season back from a shoulder injury in 2021
#34 Max Anstie is joining the team after finishing 11th overall in Motocross in 2021
Learn more from Forrest, Joey, Shane, and Max by watching their interviews in the video below.
Rocky Mountain ATV/MC Announces its 2022 Race Team Lineup
2022 marks the sixth consecutive year of title sponsorship for RMATVMC and a continuation of the successful relationship between brands that makes the entire team possible. Dan Thomas, CEO and Founder of Rocky Mountain ATV/MC, commented on RMATVMC's involvement, saying, "We look forward to racing season every year, and we're grateful that we have the resources to be involved in the sport in such an impactful way. Team RMATVMC-KTM-WPS is a true team effort, and it's an honor to work alongside people and companies as passionate about the industry as we are. 2022 is going to be another incredible year, and we cannot wait for this new chapter for Joey Savatgy, Shane McElrath, and Max Anstie to start."
For more updates and information on the team, visit their website at http://www.teamrmatvmc.com/, or follow them on social media at https://www.instagram.com/teamrmatvmc/.