Ask anyone how they got into the industry and you're likely to end up with a different story, just about every single time. There are a couple of key ingredients, however, which are a dash of luck and a healthy portion of making it happen when an opportunity presented itself. That's especially true in the case of Josh Ellingson, who had a singular goal, stayed focused on it, and eventually earned a 250SX West Championship with Justin Cooper. Now he'll also be wrenching for Eli Tomac in 2022. We called up Ellingson to learn about the path he forged that put him where he is today.
Racer X: There were a few things I wanted to ask you about today, not just about being Eli's [Tomac] guy now. By the way, do you guys take offense to that? Being called, Eli's guy, or Kenny's guy, Justin's guy, or whoever? Are you like, "Hey man, I have a name"?
Josh Ellingson: No, I don't care. If anything, you're proud of it.
Well, let's just start by talking about your career so far. I find it interesting. You've had a pretty rapid rise. You started at Cycle Trader/Rock River, right?
That was my first pro team, but before that I worked for Luke [Renzland] as an amateur for two years. Before I even got a job in the industry I moved to Orlando right out of high school and went to MMI [Motorcycle Mechanics Institute] for a little over a year-and-a-half. I studied Kawasakis there but I haven't even been on a Kawasaki team. [Laughs] My main goal in going to MMI was to be a mechanic in the industry. Growing up racing and going to the closest nationals and supercross races, which for me, being from Wisconsin, were Millville and RedBud, and St. Louis, Indianapolis, and Minneapolis. Walking through the pits and seeing everything going on, you get a little star struck seeing it all in person. It pushed me in the direction to pursue this career.
When I was getting close to graduation, I was looking for something to lead me into the race industry. There were a few internships open, Chaparral had one, but I didn't get accepted to any of them. So I emailed some amateurs, seeing if anyone needed help. I'd also spent some time at GPF [Georgia Practice Facility], which is how I heard of Luke Renzland. On a whim I shot his dad an email and surprisingly got an email back to come interview for a position. I went up for an interview and the next weekend he hired me. That first year was his first year in A Class. From there he ended up getting his ride with Cycle Trader/Rock River and was able to bring me along with him.
So you were at Cycle Trader for what, two years? Then you made the move to Monster Energy/Star Yamaha Racing?
Yep, two years. Then the first year at Star I worked for Mitchell Harrison and Dan Reardon.
Moving to Star had to be a bit of an eye opener. That's not meant with any disrespect toward Rock River either, that was a great operation, but Star is another level.
Yeah, obviously Christina and Chris [Denney] ran Cycle Trader great, but at Star everything is in house. It's a much bigger operation. Christina and Chris ran an amazing program and had a lot of success. They got Alex Martin and put in some good results, and Colt Nichols too. But once I got to Star, I guess you could call it another level.
So after being at Star for a bit you ended up with Justin Cooper and the next thing you know you guys are getting podiums and winning races together. Did you think you'd reach that level as quickly as you did?
[Long pause] I don't know how to explain it. It was kind of like a light switch. Before I started working with Justin Cooper we were shooting for top fives. But the whole goal is always to get to the point to where you're winning. When you show up you always want to win. You have smaller goals first, like getting into the top five, and you're happy with that, but you want to win. I got with Cooper, and the first year in supercross he got hurt, but we got a couple podiums outdoors. You get that taste of being there, and anything off it then feels like you didn't get the job done that weekend. I wouldn't say I was surprised that it happened quickly, but there was a lot that went into getting there. It felt like all the sacrifice and hard work were paying off.
Is that how you felt when it started looking like the 250SX West championship would be a reality?
You dream and work so hard to win a title, that's your goal. There were a couple times before when we were in contention, but this time, we were the guys. We were expected to be in the championship hunt, so the stress levels go up. I literally didn't accept that we were going to win the championship until the last race was over. You let your guard down and think it's going to be fine, and that's when something happens. I felt the same stress and tension all the way up to the checkered flag.
Does being in a championship scenario increase your number of loose nut-and-bolt checks?
It does. You stress about things a lot more than usual. But whether you're in a championship hunt or not, you always go to the line at 100 percent no matter what, every time. And if your guy is going for a championship, it's that next level of stress because every eye is on him, and what's underneath him is something you built. The stress is on another level, but you're always stressed whether you're in championship contention or not.
Talk about the summer briefly. There were some high highs and low lows. Was that hard to manage?
There were mixed emotions. He was a championship guy. It was a mixed roller coaster of being able to get it done, then having some bad races. Everyone saw it. It was a roller coaster of a summer.
So, Cooper is going to be on a 250 again next year, but you'll be working for Tomac. I'm a little surprised and curious as to why you didn't get assigned to him again. You guys obviously make a good team.
Ultimately it was my decision and it's hard to explain. It was definitely one of the toughest decisions I've had to make in my career. Justin and I spent four years together and we built all the way up to this past season with the same goals. We work together so well and have a great relationship off the track, but it was a decision I felt I needed to make to move my career… It was a stepping stone to the 450 Class and the opportunity to learn that bike, and that side of the team.
Well, it's not every day you have the opportunity to jump into the 450 Class with a guy who's won three 450 National Championships and a 450SX Championship. Who's going to turn that down?
It was one of the hardest decisions I've had to make. Justin and I have accomplished so much, and he brought me so much success. He brought me to a supercross title, and almost an outdoor title. And next year he's going to be even more of a threat, if not the guy, to beat. It was a really hard decision to not stay and work for him. But the opportunity arose to work for Eli and move to the 450 Class. It was just something I felt I needed to do for my career.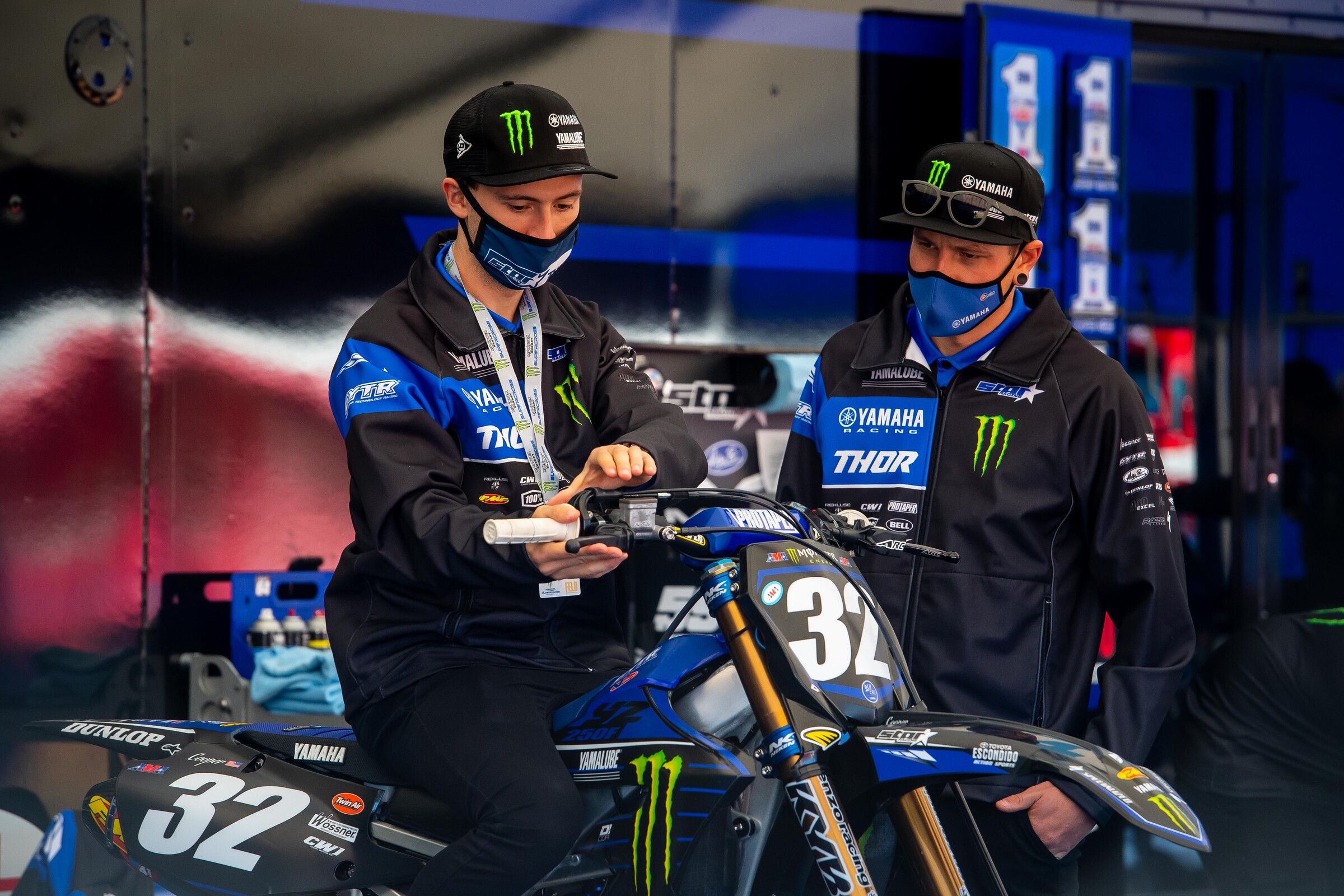 Is it intimidating at all to be spinning the wrenches for a guy like that? He's going to be a contender. Is that daunting?
It's another level of stress because he's such a high-profile guy. It brings another level of people who are going to be watching how he does. We want to supply him with the best equipment we can. We know he's a championship proven guy and he can go out there and win. We need to give him the equipment to do that.
How much interaction have you had with him so far, and how are things going between the two of you?
Right now we've had a week together. We went out to Colorado and did his intro and got him on the bike. We started with outdoors and switched to supercross. Everything is going pretty well. He's a really nice guy and I feel like the first week went well. We still have a lot to learn about each other, and what makes us both tick, and how we can communicate. We've got time to figure that stuff out, and he'll be out in Florida next week to continue supercross testing and training, and we'll get a lot more time together before supercross starts.
Talk about the level of media attention so far. Has it been about what you expected? More? Less? What's that been like?
I'd say it's been a little bit more. Everyone is very curious. People can make assumptions on how it's going to go, or how he's going to do on the new bike, and I feel like people are watching very closely to see how he performs on it. It'll be interesting for people to see how he does.