Arroyomolinos, Spain
MXGP of Spain
FIM Motocross World Championship
Main image courtesy of Yamaha Racing.
---
It's still tight, and the pressure is starting to increase in the 2021 MXGP title dispute. As the races click down, Spain – round 13 of 18 – represented the last Grand Prix outside of Italy as the season rushes to Arco di Trento and then Mantova (the '21 MXoN venue) to wrap the whole show in the next three weeks. There are now three riders, Red Bull KTM's Jeffrey Herlings, Monster Energy Kawasaki's Romain Febvre (the two moto winners in Spain) and Team HRC's Tim Gajser, split by 15 points after a maximum of 650 on the table so far and with 250 remaining.
Pressures indeed. At Intu Xanadú Arroyomolinos last Sunday Herlings fluffed the first lap of the opening moto and used all his resolve to rush back to third place. Febvre crashed on the first lap of the second moto and rallied from outside of the top twenty to sixth. Gajser made two errors while under pressure from Herlings in the first sprint to lose a few more points to the Dutchman.
Febvre and Herlings controlled their respective moto wins with aplomb, amidst the distraction created by Red Bull KTM's Jorge Prado and his screaming hordes of fans at a capacity-filled venue. Prado would finish second overall for an impressive comeback after recent surgery for a deep cut under his left arm but the DNS in Germany and the 16-12 in France last week means that he balances on the periphery of the championship chase and has a deficit of 65 to his teammate. A little further adrift is the third KTM rider, Tony Cairoli, who was fitter and stronger in Spain four weeks after his near-season-ending prang in Sardinia and went fifth overall. The Sicilian gave the Austrian crew three riders in the top five. This quintet continues to eyeball each other in terms of speed and competitiveness.
-For the second weekend and second Grand Prix in succession MXGP packed out a circuit. There was a discernible appetite for both motocross and hero worship of Prado as Spain revelled in the chance to get back behind the fences for the first time in two years. The country endured one of the most severe and draconian lockdowns in Europe in the heat of the pandemic but is now one of the best territories in the continent for case numbers. Sports events and outdoor activities are almost back to 'normal' status, and it was evident even on Saturday with a big attendance for the European Championship and Women's World Championship support programme. There were already hundreds and hundreds of fans queuing at the gates in the chilly dark early Sunday morning.
-After the 'old-school' nature and history of Lacapelle Marival in France the previous Sunday, Intu Xanadú Arroyomolinos (named after both the mall next door and the district) was a contrast. The track was inaugurated in 2020 and is especially built for the Grand Prix. It's an exercise in modern MXGP event promotion that is costly, ambitious but well-supported. A swift tour through the mall (built by the Mills Corporation twenty years ago and one of the largest in Europe with more than 220 stores) revealed widespread advertising for MXGP.
"We wanted to make a race close to Madrid and with the concept whereby we would not try to bring the public to motocross but motocross to the public," explained event organiser Diego Muñoz. "We were looking for areas and local councils that would help and it wasn't easy for environmental reasons, but we found this place that was big enough and with the right type of ground. It was next to a shopping centre and with a town hall that was willing to help, along with the Madrid council. We got everything into place in 2020 and then Covid really hit. We had to move the race to October and then one week before our first Grand Prix Madrid went into lockdown. We had to talk every day with Infront [Motor Racing, MXGP promoters] about whether the event could and should go ahead and the teams were concerned about the case numbers, but the GP happened, and it was like a 'party on hold' because Prado won both races but there was no public, no atmosphere, nothing. The party came back this year."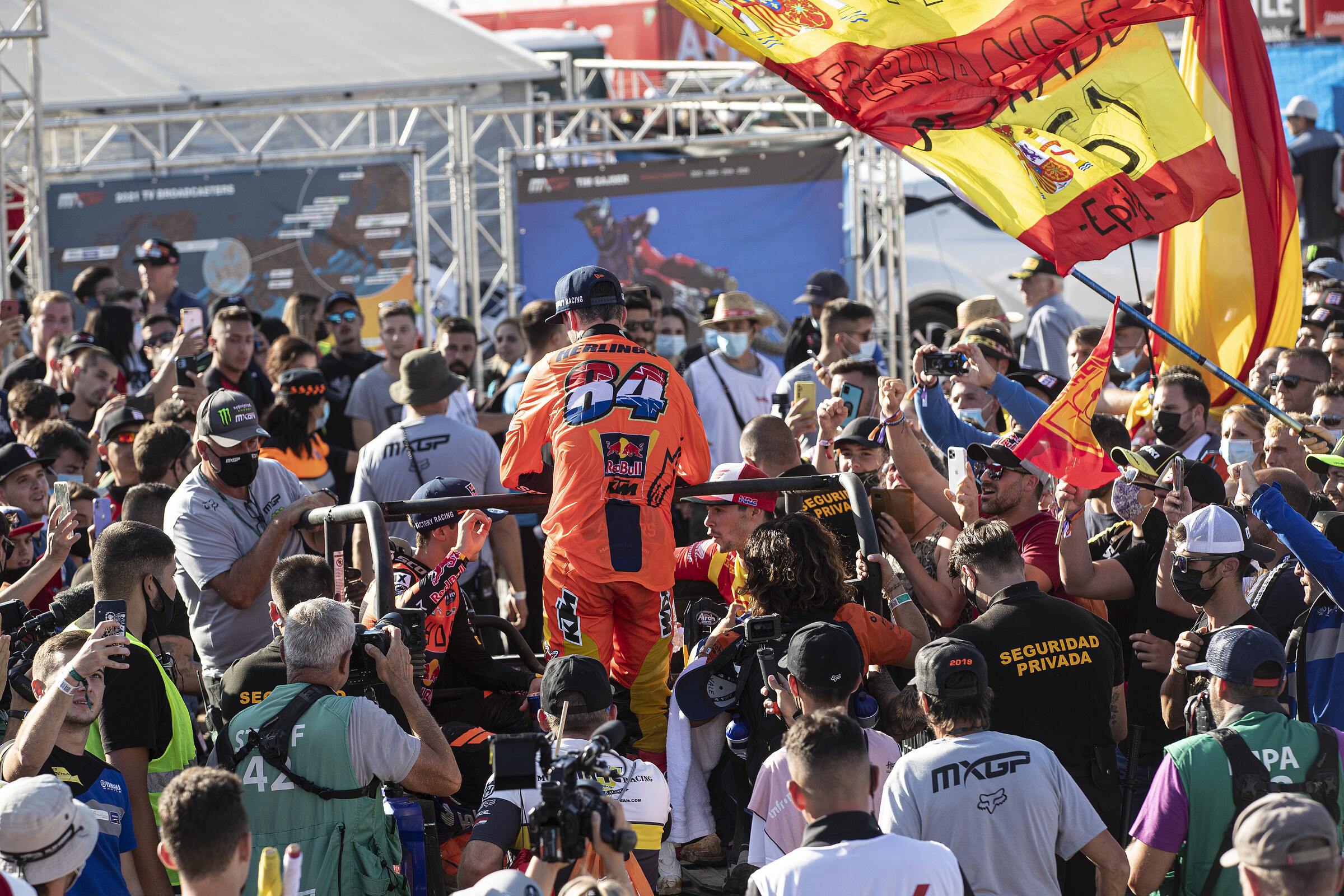 MXGP will return to Intu Xanadú Arroyomolinos for the third date of a three-year contract in 2022 and after the buoyant response witnessed last weekend, perhaps more. "Future GPs can depend on several factors; whether it rains or not and whether we have an 'idol' or not," Muñoz added. "We're lucky to have Prado but when he collided with Herlings the other day [the Grand Prix of Germany] we were shaking because we thought 'we're not gonna sell another ticket'. Luckily, he recovered okay. Covid is still present of course and even up to a month ago we didn't know if we could have fans and how many and if there were special conditions. Again, we got lucky. It's very clear that there is a big appetite for outdoor events right now. People want to see sport, have a party, and they want to watch motocross."
-The clamour for Prado reached feverish levels. The kind where fans are sprinting for glimpses or for possible photos. KTM apparel filled the site. The 20-year-old himself didn't dare leave the confines of the team or the Red Bull Energy Station for fear of being mobbed. His presence within view or touching distance in the paddock jammed the walkways as the fans took their definition of social distancing to a curious extreme. The vibe in France had been electric but Spain turned it up to 11. Motorcycle racing is a major sport, second only to soccer, in this country and racers are celebrated in their respective regions and with generous national media coverage. If Prado had a hint that he was a star after his two MX2 world championships and undoubted skill and talent, then this was confirmation that his status was Cairoli or Valentino Rossi-esque. "I've never lived something like this my whole life, and it makes me really happy to hear and see so much support," he said. "After my two MX2 titles we haven't had a home GP with a full crowd, so this is the first time I've felt this positive energy. They were amazing today." Spain have been able to celebrate the occasional GP win thanks to the like of Javier Garcia Vico and Jonathan Barragan but it's no exaggeration to say the much-heralded arrival of Prado has jolted the sport in this corner of Europe.
MXGP
| | Rider | | Motos | Bike |
| --- | --- | --- | --- | --- |
| 1 | Jeffrey Herlings | Netherlands | 3 - 1 | KTM |
| 2 | Jorge Prado | Spain | 2 - 3 | KTM |
| 3 | Tim Gajser | Slovenia | 4 - 2 | Honda |
| 4 | Romain Febvre | France | 1 - 7 | Kawasaki |
| 5 | Antonio Cairoli | Italy | 7 - 4 | KTM |
Full Results
MXGP
| Position | Rider | | Points |
| --- | --- | --- | --- |
| 1 | Jeffrey Herlings | | 708 |
| 2 | Romain Febvre | | 703 |
| 3 | Tim Gajser | | 688 |
| 4 | Jeremy Seewer | | 566 |
| 5 | Jorge Prado | | 562 |
Full Standings
-Goodbye #10? As mentioned, Tony Cairoli finished fifth overall for his best result since the Turkish double last month, even though the veteran had a bizarre experience in the first moto as he had to quickly stop and unbuckle his right boot after a stone wedged itself inside. Cairoli assumed near villain status in the second moto as he drew up to Prado's rear wheel in the battle for third and they fought hard, but Tony could not pass his former protégé and went 7-4 on the day. Even though MXGP will give #222 a five-race send-off on home soil in the coming weeks, the chasm of 86 points to the red plate could be too much for the KTM stalwart to haul back. The 36-year-old will have another week to recover and train from his rib injury but, realistically, will now have to count on fate to intervene and drop some misfortune on his rivals and teammates if a dream tenth world title can still be possible before he loosens the boots for good.
-MX2 is undergoing a concertina effect in the standings behind winner in Spain and world champion-elect, Monster Energy Yamaha's Maxime Renaux. The Frenchman had to deal with defending number one, Red Bull KTM's Tom Vialle, and teammate Jago Geerts to go 2-1 on the day and pull his lead in the contest to 108 points – a gap of two GPs with five to go. Renaux's formidability on the immensely competitive YZ250F this year has seen the 21-year-old clock fourteen top three finishes from the last sixteen motos. Vialle has kept his countryman on his toes with eight checkered flags from the last twelve outings but even the fiery champion ran out of flow in the second moto and fell, his 1-3 opened the door for Renaux to further consolidate his status. "Trying to win every moto every weekend is not easy! Sometimes you have to accept that it won't happen and when the others are faster," Vialle, second overall, reasoned. Rockstar Energy Husqvarna's Jed Beaton picked up his third podium trophy of the season with the final step of the rostrum thanks to a 4-4 and dryly admitted that he was "tired of being fourth". The 23-year-old is pegged to move into MXGP in 2022 with Kawasaki but publicly stated that nothing is signed. Beaton is one of four riders sniffing for scraps from Renaux's feast. Geerts, Red Bull KTM rookie Mattia Guadagnini (fourth overall), Vialle and Beaton, of Australia, are split by just 33 points.
MXGP
| | Rider | | Motos | Bike |
| --- | --- | --- | --- | --- |
| 1 | Maxime Renaux | France | 2 - 1 | Yamaha |
| 2 | Tom Vialle | France | 1 - 3 | KTM |
| 3 | Jed Beaton | Australia | 4 - 4 | Husqvarna |
| 4 | Mattia Guadagnini | Italy | 3 - 8 | KTM |
| 5 | Rene Hofer | Austria | 5 - 6 | KTM |
Full Results
MXGP
| Position | Rider | | Points |
| --- | --- | --- | --- |
| 1 | Maxime Renaux | | 734 |
| 2 | Jago Geerts | | 610 |
| 3 | Tom Vialle | | 570 |
| 4 | Mattia Guadagnini | | 548 |
| 5 | Jed Beaton | | 540 |
Full Standings
- Intu Xanadú Arroyomolinos staged the penultimate round of the FIM Women's World Championship and saw some juicy needling between current champion and GP winner Courtney Duncan and five-times champion Kiara Fontanesi. The pair clashed in the first moto which saw the Italian fall (even though Duncan also toppled shortly after) even though it appeared a case of two lines coming together. Fontanesi lodged an official protest that only resulted in a warning for the Kawasaki-mounted Kiwi. In the post-race press conference Fontanesi said: "[What she did was] absolutely not correct and the only way she can beat me…so I will also race like that." Duncan innocently grinned, bemused, next to her rival and stated off-mic afterwards that she won the second moto by more than twenty seconds, clearly not requiring any foul play. Duncan has a 16-point lead with the final race taking place in Fontanesi's back yard at Arco di Trento. For the fourth time in recent years WMX will go down to a dramatic conclusion.
-Spain brought the first ever European Junior E-Motocross to a close. The series is an MXGP-based clone of the KTM Jnr SX scheme seen at Monster Energy AMA Supercross rounds but run with the full gamut of the Austrian's electric tech, so KTM SX-E 5, Husqvarna Motorcycles EE 5 and the GASGAS MC-E 5 bikes. 25 'racers' tackled a section of the Grand Prix layout at the MXoN and then MXGP dates in France, Germany and a double-header in Spain. The racing was unpredictable and entertaining and undoubtedly a thrill for the youngsters and their families that were able to sample an elite level racing environment. The winner was 9-year-old Austrian Tobias Scharinger with a Husky EE 5.