"I don't even feel anything right now, it just is," said Jeffrey Carver. That's how he works. If ever there was an athlete in professional motorcycle racing who embodies the aura of a free-spirited individual, one could put that label on American Flat Track racer, Jeffrey Carver. Is he just a man who looks at life deeper than most, and truly embraces what is happening in the current moment(s) of his own personal life? Call it what you will, but Carver is no doubt one of the most polarizing athletes that the world of AFT has to offer.
Carver, once a week-in-week out fighter for race wins in Flat Track, didn't line up for a race this year until last weekend.
"I finally decided that for my self-care, and my self-worth, that if I came back to racing, it was going to be on my terms," Carver tells me when asked why it wasn't until the renowned Springfield Mile that he chose to put on his leathers and take to the track for the first and only time this season. There is a lot of backstory that comes along with this quote, much of which is rather lengthy, but the gist of it is that it's his life at risk, he's the one on the bike, he's played the game, he's done this and that, and now if he's going to race, he's going to race only when and where he wants. Carver is 30 years old, has a number of AFT wins at the elite level, and when it comes down to it, is hands-down the "people's champion." He lives in a camper, doesn't hangout with any of his competitors, spends an abundant amount of time with the fans, and gets cheers everywhere he goes. From children to older guys and gals, everyone seems to love this guy. Oh, and did I mention he only lives about an hour away from the legend that is the Springfield Mile? Yes, lots of Jeffery Carver fans on hand during this weekend.
Yes, this is a motocross website, but over the weekend, Jason Weigandt—who does the voiceovers for American Flat Track on NBCSN—and Davey Coombs allowed us a chance to cover the legendary Springfield Mile. It would be myself and Jason "Productions" Watkins embarking on a special project that we had lined up, covering a story on AFT's top privateer; Jeffrey Carver, making his return to racing. If you've followed my career at all, you know I love covering the privateer angle. I've spent a large amount of my own time congregating with the residents of privateer island in motocross, but to really get a feel for this one (Note; this was my first experience at a flat track race, and holy smokes…but more on that later) Watkins and I did what we do best: pulled his van into the heart of Carver's campsite (pre-arranged, of course) and submerged ourselves into his program for the weekend.
"I do it for the drive, and the purpose for myself, and life, and really to let everybody know that whatever your dreams and passions are, you can do them. You don't have to change who you are to get there," says Carver as his usual philosophical self. It's worth noting here, that while having not competed until this past weekend, at any given time Carver could legitimately show up and WIN. He knows that, but more importantly, his competitors know that. Does it phase "The Wizard?" to have those kind of expectations despite not having raced all year? It does not. I asked him about this, and he pretty much says that's on them. "I haven't even made eye contact with one racer here this weekend. I went over and hung out with some family, chilled with some fans, signed some shirts, and rode pit bikes in a barn where there was fresh sawdust laid down on polished concrete." I can vouch for this, Saturday was a rain-out day and there was nothing really going on, and Jeffrey showed no interest in what anyone else was doing, he was just enjoying his time with his friends, family, and fans. Most riders get all sorts of stressed when weather messes up their programs, not this guy, he used it as an extra day to prepare.
But what about the racing? Okay, okay, here we go:
As mentioned, Saturday's event was rained out, and pushed to Monday. However, on Sunday the sun came out, the track crew went to work, and motorcycles hit the track! In qualifying Carver set the fastest qualifying time—which also transferred over into Monday's racing due to the shortened schedule from the rain delay—and had pole position for his semi-final (heat) race. When the semi started, Carver jumped out to an early lead, and lead a number of laps, but would eventually slip back to fourth, due to drafting. In the SuperTwins main event, Carver rolled to the line completely in the moment, no camaraderie, not looking at anyone else's bike, just in a state of now. Then…disaster struck as he broke his shifter off during the start of the race. Question: What does a rider generally do when something like this happens? Answer: Pulls off immediately. What does a rider whose nickname is "The Wizard" do? Turns out, when he went to downshift, he didn't feel the shifter, so he reached down and pulled on it with his hand, snapping it off…this guy then does an entire lap looking at it and analyzing the situation before pulling off. HE RODE AN ENTIRE LAP JUST STUDYING HIS DAMN SHIFTER IN HIS HAND!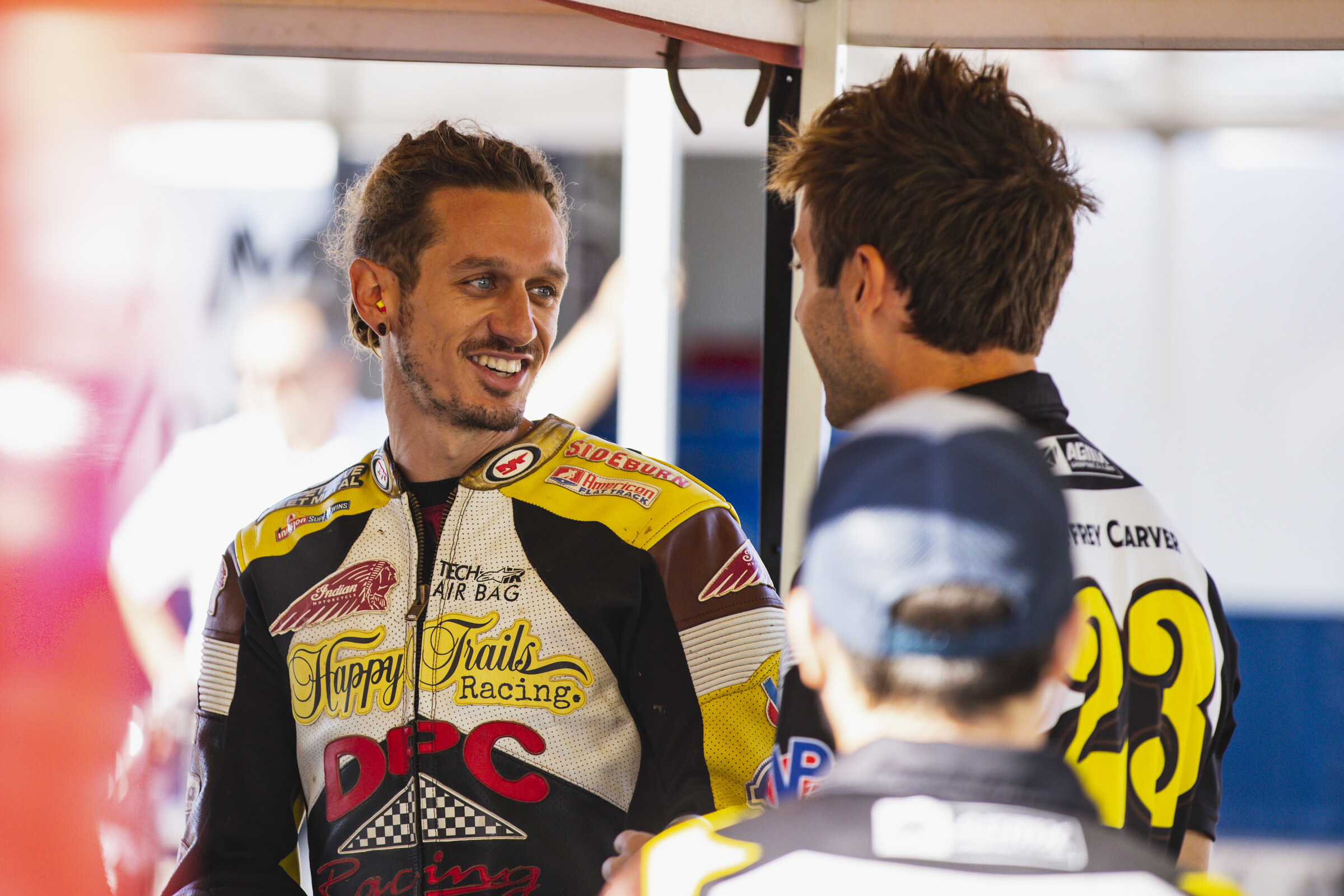 Dejected? Maybe a little, but Springfield hosted a double header this year, so let's go racing again on Monday. And that's what Carver did. This time, he had a much better main event, flirted with the podium, and ended the weekend with a fifth!
Welcome to the wizarding world of Jeffrey Carver. A modern-day nomad who just lives in whatever current state of mind the day has to offer and finds ways to get it done. As far as flat track racing itself, yes, I will be attending another one of these in the future. It's fast, it's one of the most finite versions of racing I've ever witness, almost to a point of being slightly bizarre, and while American Flat Track is definitely professional and taken seriously, the vibes are similar to your local motocross races—grassroots and fun. Carver is a big part of that mix, especially on a weekend like Springfield.
We caught up with Jeffrey later on via text:
Racer X: Jeffrey, we FINALLY went racing after a bit of a delay. Day one; fastest qualifier right off of the sidelines. That had to feel good?
Jeffrey Carver: Most definitely, great way to come back and let everyone know I show up to win. It was a harbinger for me to know everything is in alignment and it felt like home.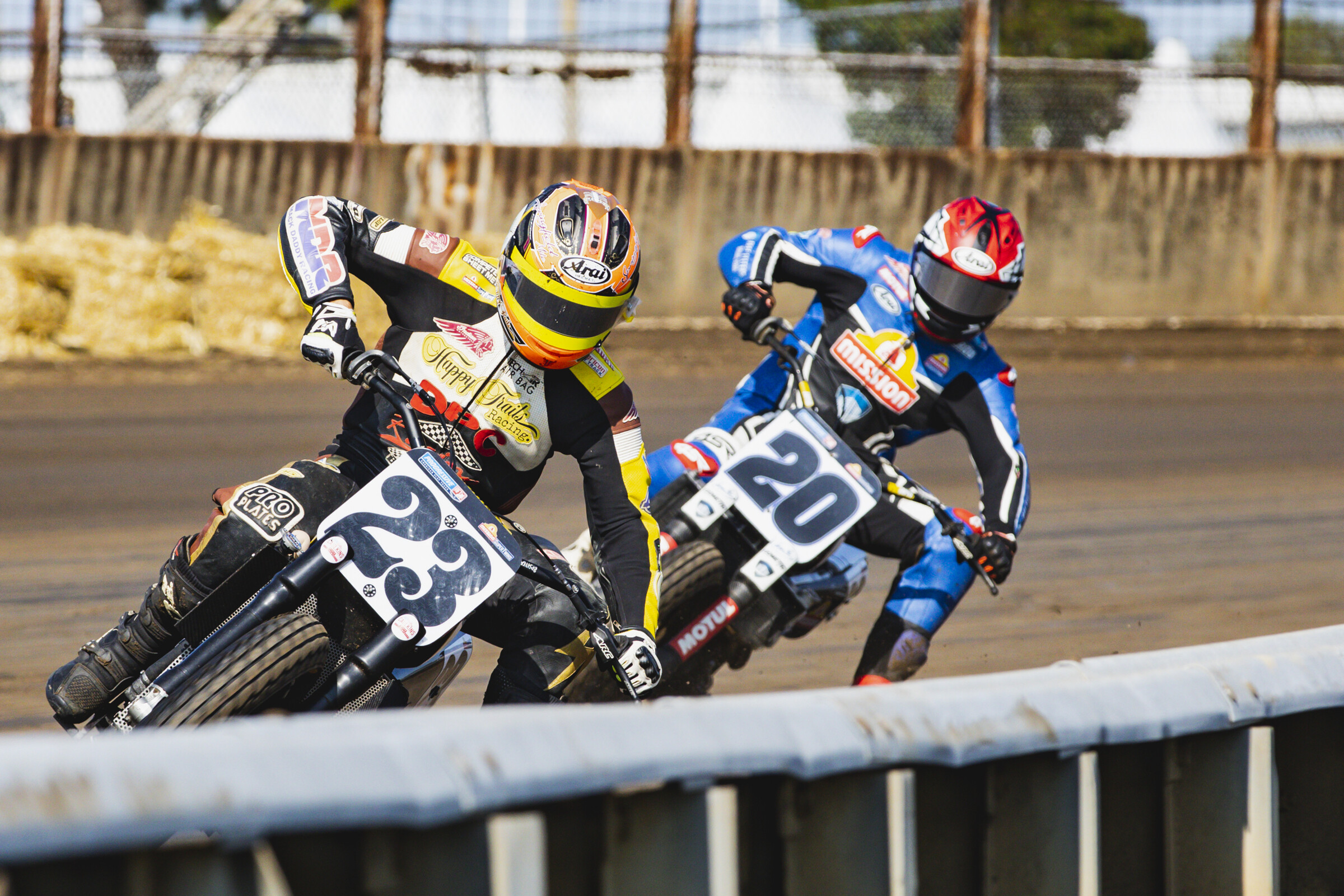 You even led a few laps in your semi-final and seemed to have strong vibes heading into the main. Unfortunately, it went bad right off the start. Can you walk us through what happened in Sunday's main event?
Yeah, in the semi we had the speed to break away but with the draft in effect the pack sucked me back in and I ended up getting a pick on the second row for the main. Had a good jump up the inside of the front row, tried timing a shift into high gear in the middle of a power wheelie and ended up ripping the end of the shift shaft off with the shifter attached. Unbelievable.
Things happen fast, but I swear I saw you holding the shifter in your hand for a lap, no?
Haha yes, we have our shifter on the right side, GP-style, so it's a direct mount and down shift. So, coming down the back stretch still in third gear, I reached down and grabbed the shifter thinking it spun on the spline and maybe I could get it to go into fourth (high gear). As I grabbed the shifter, I realized it was completely snapped off.
Naturally the racer in you was bummed a bit, but you seemed to just pull a metaphorical tear off and move on to Monday. Did Sunday's issue effect you at all?
It was bit of a damper for me after the races ended. That evening I was going through past Springfield mile notes already focused on gains for Monday. New day, new adventure.
Springfield Mile I AFT SuperTwins Main Event Results
Let's talk about Monday. You're already pre-qualified on the pole from Sunday, does that set the tone a bit for the day?
It allowed us to use the free practice before the semi to try out some faster MPH gearing with the race line being so far up the track this year. So, the chess game was already coming into effect for mile racing. Lap times can pick up or slow down up to a two-second difference. Our team's goal was to pick the gear ratio that works the best at the end of the race with the track continuing to change. We bet on it getting faster but, in the semi, it slowed down and we got shuffled back to fourth place, giving me a second row start for the main.
At the end of the day, you left Springfield with a top-five finish. Does that satisfy you, or how are the vibes now that the event is over? The fans are definitely on your side—especially when you're up their flirting with a podium finish!
The main was wild, I found myself back in about seventh place just getting by the champ, Briar Bauman, early on. We teamed up to move forward to battle with [Sammy] Halbert and [Brandon] Robinson for the top five as Jared [Mees] was on a different level that day. We had a restart with roughly five laps left, was a crap shoot. I threw some gnarly moves to make it on the podium but we fell shy with a close fifth. I know leaving the place I had the speed to win, and that's the chess game we go up against when we go to Springfield mile. Not always the fastest guy wins, but I sure had a blast getting to race the "Magic Mile."
Springfield Mile II AFT SuperTwins Main Event Results
Aside from being home to you, what makes this place so magical in your mind?
The dirt is the best dirt on the circuit, the heritage of how long it has been going on, the gladiators that have won and raced there. The way the track is symmetrically designed, 1/4 mile for each corner and straight away, it creates this high-speed vortex that is like a slip stream and that's the part of the chess match you only get on mile tracks, with Springfield being the most dominant for that type of racing to take place.
Awesome, personally this being my first one, thanks for bringing me onboard and letting me into the world of flat track and "The Wizard." Anyone you'd like to give props to before we let you go?
It was a pleasure having you and Jason Watkins apart of the team for the weekend! Big thanks to all the HAPPY TRAILS RACING supporters and riders, Sacred Sons and the brotherhood it's forming, DPC racing, Bryan Bigelow racing and Mike Turner for supplying the bikes and bringing a great crew. Ride Organic, State of Ethos, Von Zipper, Arai, Sideburn Magazine, and Kully Co.
Images courtesy of Jason Watkins