Rancho Cordova, CA
Hangtown
AMA Pro Motocross Championship
California's Joshua Varize has been a consistent force in his first full year as a professional. After finishing an impressive seventh in the 250SX East Championship earlier this year, he's mixed it up all summer with the 250 Class of the Lucas Oil AMA Pro Motocross Championship to sit 18th in points with some very solid finishes. Riding for the KTM Orange Brigade program that is typically used for amateurs only, Varize has turned some heads internally at the KTM Group and they have rewarded him with a fill-in spot on the Rockstar Energy Husqvarna team (who is without two of its three riders this weekend) for the last two rounds of Pro Motocross. So, we called up Varize to see what he thinks of the opportunity.
Racer X: So, first off, congratulations, Joshua. It's obviously huge for you. How does it feel to be in those black and white colors right there?
Joshua Varize: Thank you. It feels amazing. Just a dream come true. Just to get the opportunity to fill in for a factory team for the last two outdoor national rounds, it's for sure a blessing. I'm stoked and can't wait for it.
How did this materialize? When did you get the call? When did they maybe even start talking to you about it? How did it all come about?
I was on my way home from Indiana, the Ironman round. It was Monday and we were driving. My dad had to make a couple phone calls. He had to get on his phone real quick and try and figure out our motorhome situation because our motorhome was still in the shop getting worked on. So, I took over the wheel for a little bit. As I was driving, I got a phone call from Nate Ramsey, which is the team manager of the KTM Orange Brigade. I was sitting in traffic and he's calling me. He tells me and I was just like, No way. This is crazy. I feel like I'm in a dream and I don't want to wake up. I was sitting in traffic, and I was like, Dude, I need to go. I want to be pedal to the metal back to SoCal to get there and start testing, ride the bike and get ready for Pala.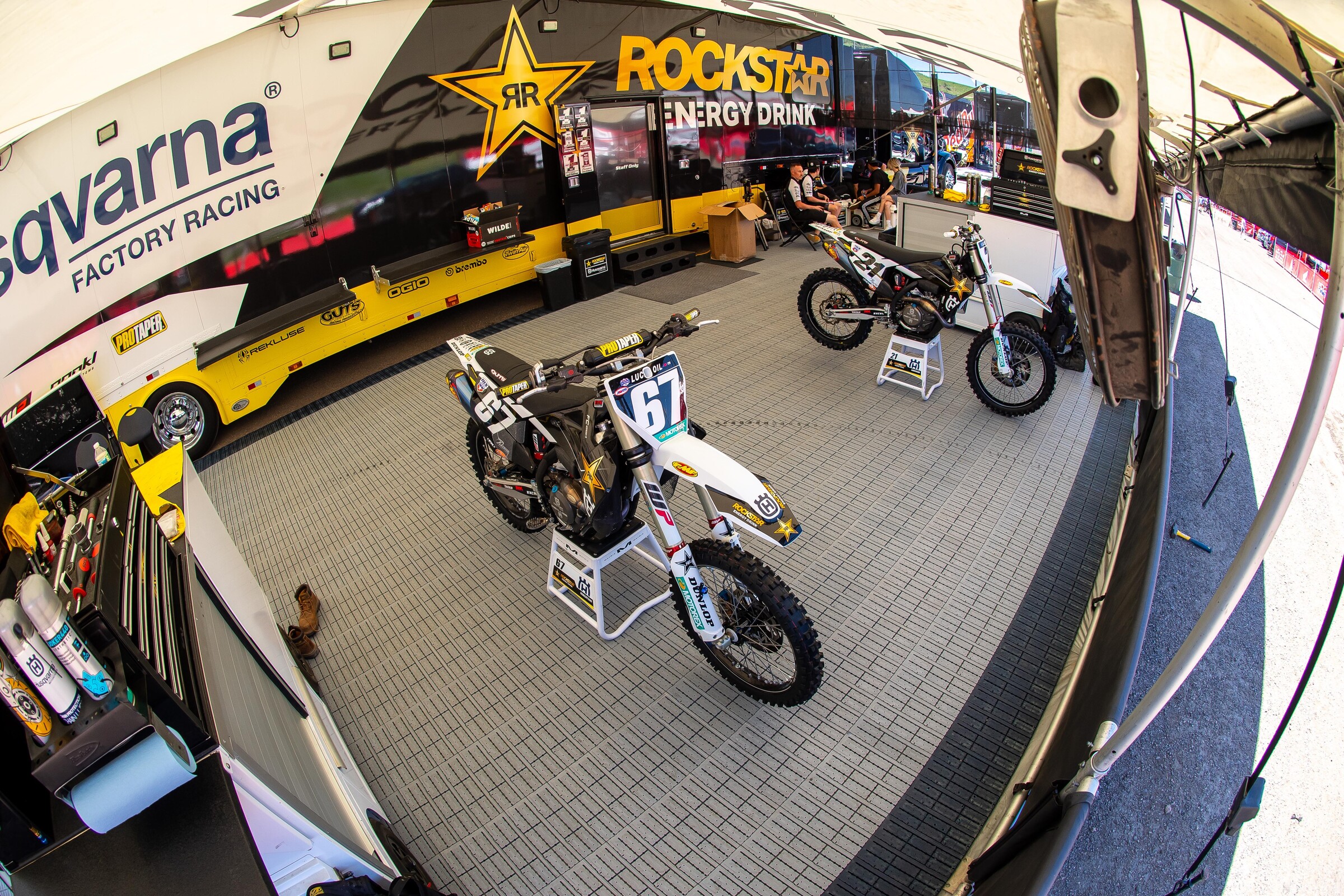 So, have you had a chance to ride the bike, or when will that happen if you haven't yet?
Yeah, I haven't. I just got home last night, which was Monday night. Then today I kind of did a bunch of errands, running around trying to just refurbish everything gear-wise. Like, my knee braces, get those refurbished up, and stuff like that. So, I'll ride the bike tomorrow, which is Wednesday.
You've had a great season so far, running 18th in points now. I think your best finish was an 11th at Budds Creek. Is this kind of almost like a vindication of your success this year, that you have a factory team that's looked at you and wanted you to come aboard to help get some points down the stretch here?
Yeah, I hope so. With this season, last year I was fighting for points, and I knew I was just going to do my thing again for 2021 and just keep pushing at it and keep getting better and better. This year, the beginning of the season, it was kind of like, I was right there. First moto, I didn't even score points. Second moto, I think I got 19th. I knew I was in the realm of being able to score points every round. Every round went on and I felt like I was getting progressively better. Then on the three-week break, I made a lot of changes to my fitness, eating, and stuff like that, and some changes to my bike as well, minor changes. Then after the three-week break, the changes I made showed that what I did was right and was working. I was finishing inside the top 15 for Unadilla and Budds Creek. Then Budds Creek being my best national ever, going 11-11, that one felt real good. I want to for sure be in that area every round.
I heard a little bit about your nutrition change. Something about you would go to the track and not bring enough food, or something like that. What fundamentally brought about that idea for change and what have you done to make those changes so that you're nourished throughout the day and eating the right things?
Whenever I'd go to the track to practice or even on race day, for anyone I feel like it's hard to eat. It's just weird. The appetite is just not there. Obviously, that's the most important thing is eating. I've always been super bad with breakfast. I just wake up in the morning and I just get my day started and I don't ever eat breakfast. It's just hard. I know how important it is, so after just really thinking about what can I do to be better physically and mentally and just be better overall? I knew that I needed to start being better with eating breakfast in the mornings. The most important meal. I just kind of put my mindset to making sure I eat breakfast every morning. I've never been big on testing stuff on my bike. I just ride. So, I know how much testing goes in with factory teams and stuff. I kind of wanted to get into that realm of things, but I want to test a lot of suspension. I want to test stuff to see what I can do to make me feel more comfortable on the bike, and then what doesn't make me feel comfortable on the bike. Like, I don't like that change—I want to keep it this way. Or, that change was really good. Doing that, and then now I'll have an official off-season, not racing until supercross starts up, without being an amateur. There's always amateur races. Having this big of a break is nice to dial stuff in like that. Like I said, eating, I know that was going to make me better, so I knew that whatever will make me better, I can do. So, I just made sure I put my mindset towards that and do it.
We talked a little bit about your season and how well it has gone. Moving up the factory program like this for these last two rounds, does it change your goals at all, or does it kind of change the pressure or the expectation that you maybe put on yourself now? You're almost kind of trying out, in a sense, for them, I guess. Maybe still trying to prove yourself to other suiters looking for you potentially for a ride next year?
For sure. I would say the pressure might be a little bit higher, obviously. I want to do good, and I want to show everyone what I'm capable of doing. Being on an amateur bike… It's not an amateur bike. My bike is really fast. I just want to be able to have… Obviously, with my suspension and everything, I always can make those phone calls, but now having people there. The only couple people that they're watching, that's their job to make sure that the suspension is doing what it needs to do and stuff. So, having that and with the team knowing already what gearing to run or what kind of setup to run for the race, where me last year, that's what I dealt with a lot. Going to the race like, I don't know what gearing we're supposed to run, or what's the best gearing? So, during practice we're trying to figure that out, but practice is really important for gate pick. So, having that knowledge already of knowing what the bike setup needs to be and having all the tools and having all those people there to help make your day go by easier and a lot better, knowing to make little changes that could possibly be better, or whatnot. That's' what I think. Also, getting the opportunity to ride for a factory team, obviously it's only for the last two rounds, but hopefully I can use this opportunity to show other teams what I'm capable of doing on under a factory team and how well I do under pressure. I don't crack as easy, and stuff like that.
After we talked, I think it was right at the end of supercross or maybe after supercross, you said that you hadn't even had the phone ring once about something for 2022. Has that changed at all for this year? Has anybody reached out to you? Have you talked to anybody in the pits that is keeping an eye on you potentially for a 2022 spot? What have you heard maybe from Ramsey or people within the team about this spot and what it could maybe lead into for you as well?
I've had a couple satellite teams get in contact with me. One of them really wanted me. What they wanted to have me do was kind of something that I wasn't really aiming. It just wasn't really what I've been doing. I felt more comfortable doing my own thing next year instead of doing what they would have wanted me to do. I'm super, super grateful that they reached out and how bad they wanted me. I'm super grateful to know that there's people out there that want me that bad. I had to turn that down just because of what they wanted to plan for 2022. It just didn't feel like that's what I wanted to do. So, I turned that down. I kind of almost put a bet on myself where like turning that down was kind of like knowing next year, if I don't get anything, then I'll have to do all this on my own again—obviously with the support of my parents and my manager, Jimmy Sloan. So, it was like a bet where it was kind of like, "Well, I could go over here. They would have my bikes. I'd be able to fly to the rounds. But what they want to do is not really what I want to do." So, I was like, I'll take that risk to just battle myself and just finish out these outdoor rounds, and hopefully see if more options become available. Obviously, I'm very grateful that this opportunity popped up. Moving forward, it's only to finish out the rest of the outdoor season. There's no talk about anything futuristic because the team is full, obviously. But I hope that maybe down the road, maybe more fill-in rides will pop up or stuff like that, until something officially happens where the big contracts get signed.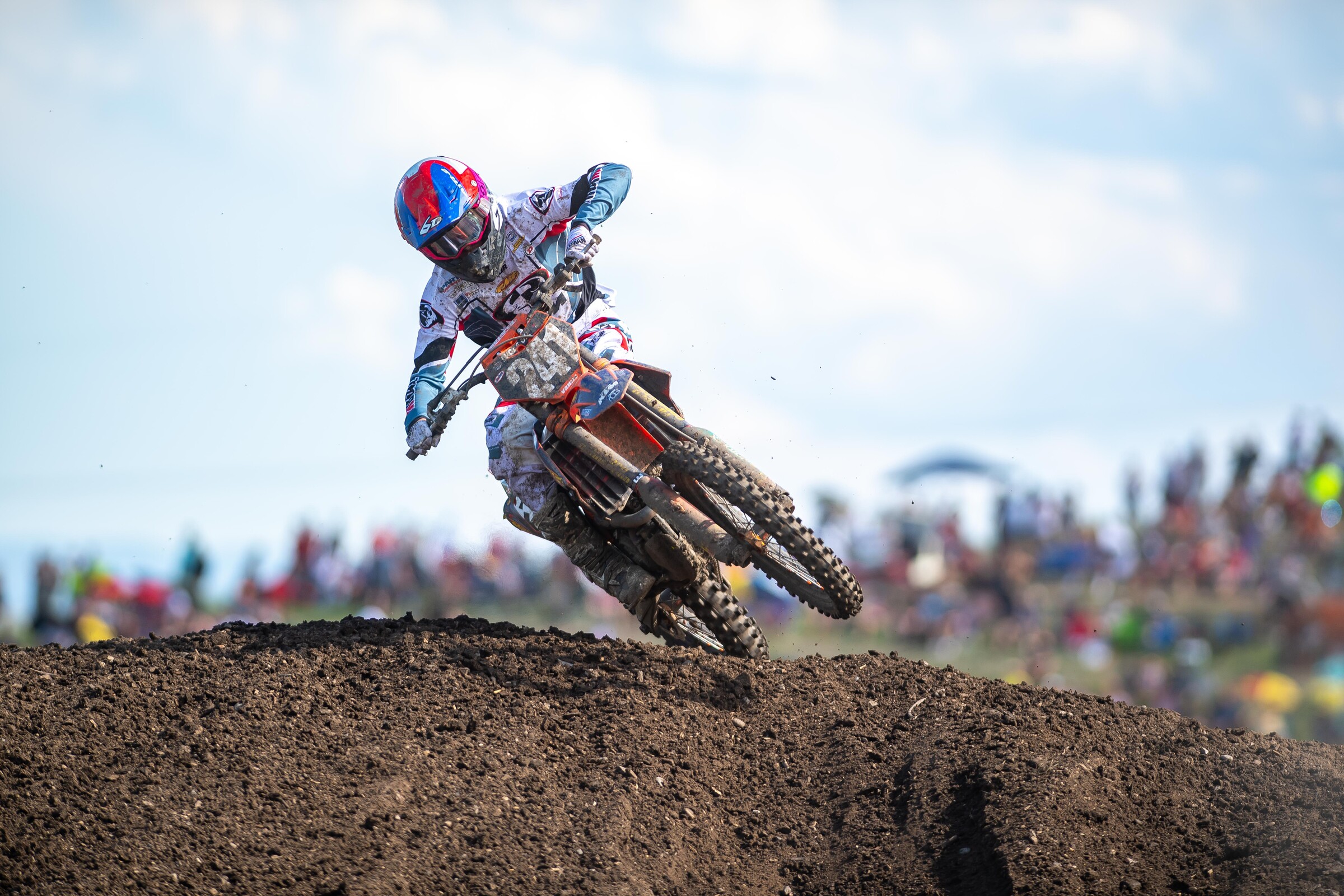 Obviously, this is a great move for you to be able to go onto a factory bike but is there almost a little bit of—I don't want to say disappointment—maybe bummed that you're not going to be able to end the full year with the sponsors that have been with you this whole way through, with Thor and 6D and some of the others. Now you've got to go to Fly and probably wear an Airoh helmet, I'm assuming. Is that maybe a little bit frustrating that these last two rounds, those guys that helped you all the way here, you've got to jump ship a little bit?
It was kind of like a weird situation. It was almost like I thought about that. For me, I was kind of stoked for it. I was down to make this happen and make it work out, do whatever it took to make this official. My thought on it too was, I would hope that they're happy and stoked for me to get this opportunity. Obviously, calling them and letting them know what was going on, they were super stoked about it. They were really, really happy for me. Super stoked about it. Obviously, doing it the right way is always the best way because I'm never burning those bridges, or anything like that. I will always have family with them. So obviously, after the season ends, I would eventually probably just go back to them. But for sure, switching everything head to toe, except for the goggles, it was kind of I guess I would say exciting in a way too, just to try something different and compare. I've never really worn any other boot other than Alpinestars. I've always seen Gaerne, and I know Gaerne is good, obviously. So, it's kind of cool to get the opportunity to kind of switch everything up and just do something a little bit different. Kind of going back to the point where I was saying about testing a bunch of stuff, or testing bike stuff, or even testing gear companies. Just trying out new things. I'm stoked that I'm able to do that.
Fortunately for you, the last two rounds are going to be in your home state. This weekend is pretty much going to be a home race for you at Fox Raceway. So, there's a lot of positives about not only jumping to a factory bike, but then obviously racing stuff that you're a little bit familiar with. But what do you kind of envision being the toughest transition for you this weekend? Will it be jumping into new boots, like you were saying, or will it be trying to gel with the team that you haven't worked with this year?
I'd probably have to say the toughest thing is maybe going to be the boots, I would have to say. It's probably going to be the toughest thing, but I don't know to what extent. From what I can think off the top of my head, I would say the toughest gelling point is going to the new boots, because that's like probably the main part of gear and comfortability and stuff. I feel like I'll be able to gel with them really good. Obviously, I've never, ever ridden with Gaernes. So, I'm excited to try them out. Like I said, I know it's a good boot and a lot of people wear it. I've never heard any negatives about the boot. So, I'm stoked to try it out these next couple days and bring it into the race. I would probably say with the bikes and since it's pretty much the same setup—the plastics are a little bit different. There's obviously little things that are different to the bike compared to my bike. Different motor mounts. Obviously, there's a lot of different factory parts to it than my bike, which I'm super stoked to try out and test and find what's comfortable for me going into this weekend. Also, like you said, these last two rounds being my home state, Pala, I ride all the time. So, I'm kind of stoked for the race to be a track I always ride at, because I feel like if it was maybe a track I've never ridden at, it might be a little bit more difficult to gel with everything and kind of be comfortable, but I think I'll be comfortable either way. With it being a home track, it makes it that much better.
The last question I'd like to ask you is just who would you like to thank for helping get you to this point in your career?
I'd like to thank the Lord for keeping me safe, my mom and dad, my little brother, my grandma and grandpa, Jimmy Sloan, Free the Peeps, JimmySloan.com. Nate Ramsey, and just everyone that has ever supported me throughout my career. It's a privilege for me to do what I love as my career and make it my job. They say, "If you're having fun...if what you're doing is fun, you don't work a day in your life." So, I'm just super grateful for everyone that has supported me to help me get to where I am today. There are so many names that I could name off for hours. Obviously, the Rockstar Energy Husqvarna team for giving me this opportunity to finish out the last couple rounds for them and to hopefully prove to everyone out there, show them what I can do on a factory bike and just hopefully really get my name up there in the top ten and get some good results and finish out the season strong.
---
Watch the full interview with Varize: