Crawfordsville, IN
Ironman
Lucas Oil AMA Pro Motocross Championship
Jett Lawrence really jumped on the U.S. radar with his shocking performance in the first A class moto at Loretta Lynn's in 2019—the then-15-year-old Australian won in his very first moto ever at the Ranch. Just like that, he became the dynamic new star of GEICO Honda's long running amateur success program. He was really the third rider on that amateur squad, though, because Jo Shimoda and Carson Mumford were already there, part of longer-term development deals.
Shimoda would get his chance to shine later, when he actually passed Lawrence to win a moto later in the week. The young Australian, instead of being bummed about the loss, was instead pumped that his buddy got a win. Except he never called him Jo Shimoda. He called him "Sushi." This was an uncharacteristic and unexpected turn. What was up with this young Aussie? His attitude! His nicknames! His must-see podium speeches!
Thus, Jett and Jo became a bit intertwined, as teammates, as riders with international experience, and as fellow rookies. The styles were different, though, with Jett the instant sensation and Jo more of a slow, steady build. In every race, eyes are on Jett from the start. You often don't notice Jo at all, until you look in the results column at the end of the day and notice another solid performance.
They turned the performance to another level over the weekend in Indiana. Jett scored the fourth 250 Class overall victory of his career but his first-ever 1-1, Jo scored the second podium of his career, but his 2-3 for second overall exceeded his 3-4 scores that also gave him second overall at Southwick. The two youngsters (Jett is 18, Jo 19) are no longer teammates, but the friendship remains. They bounded into the post-race media coral together, bench-racing about their battle in moto two, where Jo led and Jett had to get around him. They came close but avoided contact. Then they tried to remember if they've ever hit each other before. Jo seemed to remember a close call at Southwick, Jett thinks it's been clean the whole time.
"I call him Joseph," said Jett, instantly into the names. "Also many other names. I love racing him because we both have the respect for each other. We might get close, but if we hit it's never intentional. We've gotten close to hitting but not on purpose, we haven't done that. We have that respect, which I feel in the 450s I feel like a lot of guys have that respect, but in the 250s, they don't care. They're racing for their life! Had a good battle with him and once I got around I was able to get that cushion."
We all know Jett as a dynamic talent. As good as he has been thus far in his career, he was a step better at Ironman, topping the first practice session by a whopping three seconds. It was his day from there.
"I don't know! I guess I slept on the right side of the bed," Lawrence said of his dominating pace. "It was just a good day. I was having fun out there, track was sick. I came in and I was like, 'What are the other times,' and they said second did a 2:03, and I was like…'Sorry what? Did I cut the track somewhere?'"
Jett says he actually prefers not to be fastest in qualifying, but on this day he couldn't help it.
"I was like, dang it, I didn't want to be P1. I'd rather have the Star guys ahead of me, not to just get inside of them, but just so I can kind of strategize it a little, if they go here I will go there. I can just think about what could happen and how I can get the best opportunity."
Jett had his starts dialed on this day—finally turning the corner after a mid-season slump off the gate.
"My dad told me, 'Stop thinking about it,'" he said. "'You're a good starter. Just visualize it and do it!'"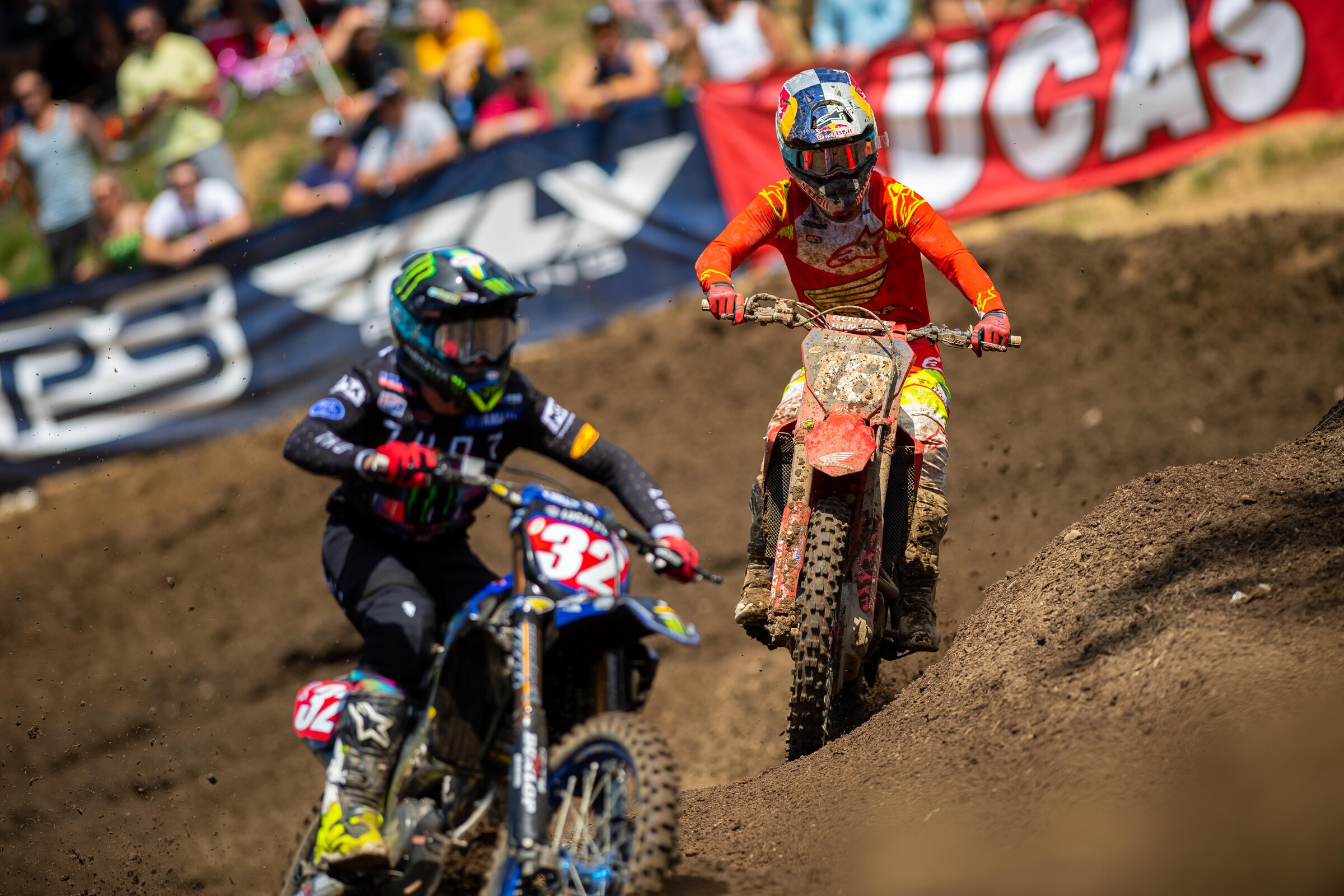 His only true challenge, speedwise, came from the stalwart Jeremy Martin, who cranked it up to ludicrous speed and tracked Jett down in moto one. Then he crashed.
"J-Mart came in and was pressuring me really hard," said Jett. "I was pushing, I was giving it everything. He had a few more better outside lines, but the team was telling me where he was getting me and stuff. Once I found those lines, I was able to get a little gap on him, and then sadly he ended up going down. I'm praying he can get back, I love racing the guy. You always know with him he's going to give it his all and it's going to be a good battle."
"Second one, I had such a good battle with Joseph," he added. "It was so much fun."
For Jo to be up there battling Jett, he needed to actually get a good start for once. Actually, this time he did it twice. He positioned himself in about fifth after one lap of the first moto and got around Max Vohland and Justin Cooper, then inherited a position from Martin's crash to finish second. He backed it up in the second moto when he grabbed the holeshot—the first Kawasaki holeshot of the season. He came in so hot to the second, 180-degree turn he almost went down, but he stayed up and led the first lap before he was overcome by Jett Lawrence for the race lead. While Lawrence was on another level, Shimoda did his best to keep touch with the #18. Still, his second place in the moto is a new career-best and his second overall ties his Southwick best. The difference for Shimoda this week was a lot of practice and a bike setting he came across during the week while training. Then on race day, everything came together.
"Just did so much practice," Shimoda said. "And we did suspension testing, which made it have a better drive out of the gate. I think that also helped it too. ...Like the suspension guy had a good idea and I tried it and it was working right away."
"Actually, so where it came from was, I rode their 450 one day and the setup on the 450 was better than my current 250 suspension," he continued. "So, I told the team, 'I want that suspension on my 250.' And they're like, 'We're going to try and match that setup.' And it worked out good."
And to help, Shimoda started off his day better with qualifying, which he has mentioned a few times now after several races. Getting the ball rolling with a solid start to qualifying allows him to head to the gates for the motos knowing he does have what it takes to compete with the leaders.
"I mean definitely, when you know you're top-three speed or top-five speed, you can imagine the race better," Shimoda said on gaining confidence in the morning qualifying sessions. "At the gate you don't have to worry about the pace, you already have the pace. So, you just need to get the start and just do the same thing."
Shimoda's better start to the day coupled with his better bike setup and confidence led to better starts in the points-paying races, which led to better results. While his rise in the results column has not been as rapid as Lawrence's, Shimoda's steady and calculated approach is paying off. Still, the #30 knows he has to continue to work in order to continue to battle for podiums and fight for race wins.
"I need to pick it up 1 or 1.5 more seconds and I can fight for the front," Shimoda said. "But overall, it was a good day. Good day for me, happy with the bike and the team."