Hurricane Mills, TN
AMA Amateur National Motocross Championship (Loretta Lynn's)
Amateur National Motocross Championship
With the 40th Annual Monster Energy AMA Amateur National Motocross Championship at Loretta Lynn's Ranch up quickly, we thought we would celebrate four decades of world-class youth and amateur motocross racing with 30 Loretta Lynn's stories from years gone by.
There have been times in the history of motocross where a giant paradigm shift takes place, when a new thing takes the place of the old one. Think about it: We went from wearing open-face helmets to full-face ones. We went from leather riding pants to nylon and other lighter, more breathable material. The Jeremy McGrath–to–Ricky Carmichael transfer of power happened in a little more than a month (January 2001). AMA Supercross went from two-strokes to four-strokes in between the end of the 2005 and the beginning of the 2006 seasons. And Loretta Lynn's itself was part of a big sea change in 1982, which is when the AMA went from having nomadic and separate Youth and Amateur Nationals to one combined championship with a permanent home.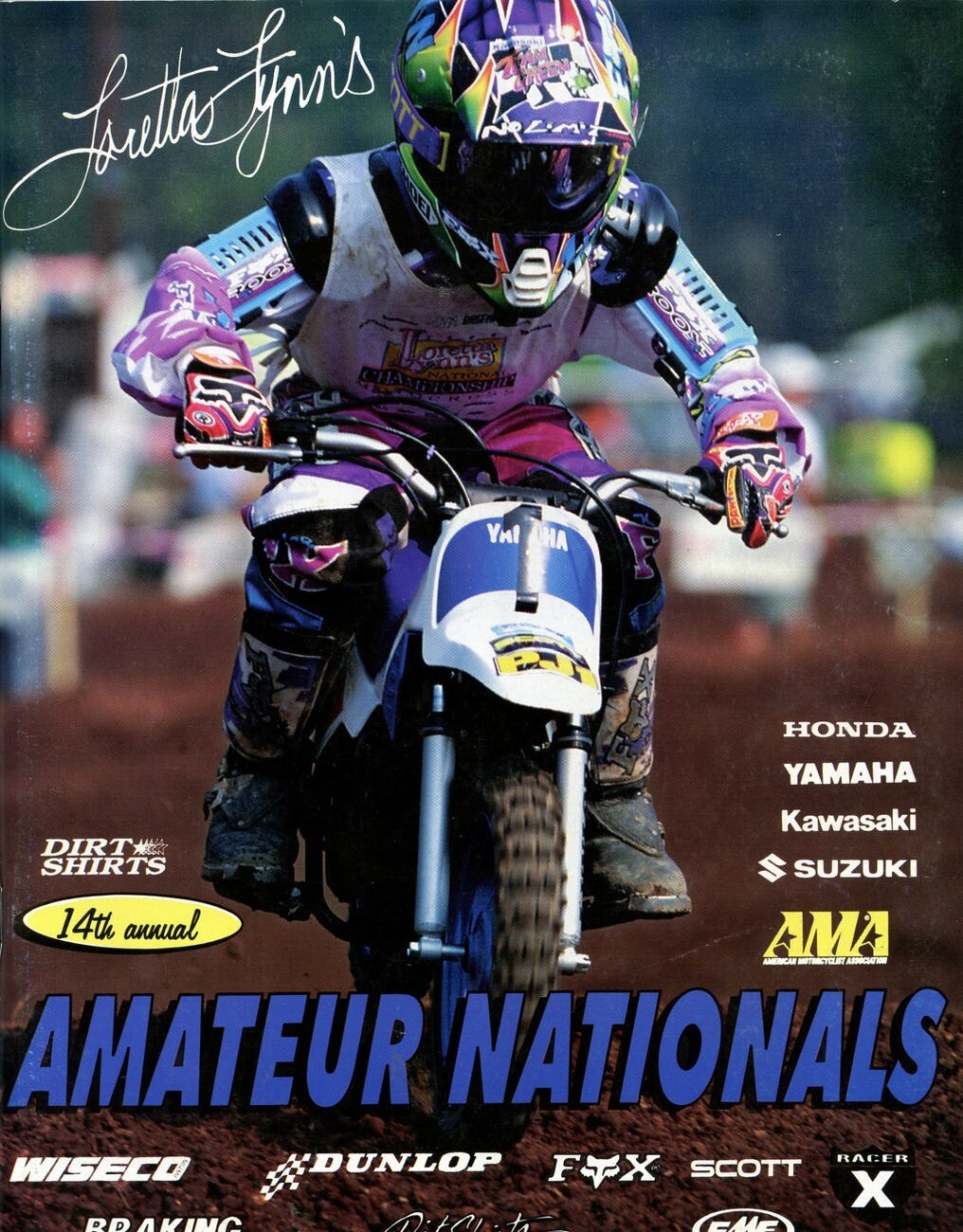 And then there was a big shift at the Ranch itself in August of 1994. That was the year Ohio businessman and motorcycle enthusiast Bud Maimone introduced his brand-new Cobra minicycle to 51cc Pee-Wee racing. The Cobra was a little work of art, a performance minicycle made for kids who wanted something more powerful and better handling that the Yamaha Y-Zinger, a bike introduced in the fall of 1980 that really didn't evolve at all in the following years. Still, the Y-Zinger had been undefeated at Loretta Lynn's since 1982. It was the perfect first bike for many kids, but it was easy to outgrow by the time you hit six or seven years old. Bud Maimone changed all that with his Cobra.
The bike was introduced in the summer of 1994, and with it came some instant drama. As a motorcycle must be available for sale in the U.S. to be raced legally, Maimone's assembly line in his Ohio garage was trying to churn out the little bikes as fast as he could, but he was cutting it close to be eligible for Loretta Lynn's that year. Few bikes got into the hands of the public, but Maimone was able to convince the AMA that he'd reached the magic number of 50 units, though few of them—three, actually—made it to the starting line at Loretta Lynn's in 1994. That didn't sit well with some of the Pee-Wee parents, especially since one of the three Cobras was in the hands of Bud's own son, Brent Maimone.
What played out that year was an epic battle between Brent Maimone on his new yellow Cobra and a little kid from Florida named James Stewart on his old white Yamaha Y-Zinger, who just happened to be the defending class champion and was already starting to show up on the radar. Needless to say, the 51cc (7 to 8) Stock event played out in dramatic fashion, starting with the very first moto for the Cobra—but not because of the Cobra. When Stewart's bike started coughing, Big James, his father, came out of the mechanics' area and crossed the track to help, which in the rulebook is known as outside assistance. Stewart was DQ'd from the moto, his championship hopes dashed.
But the kid didn't quit. Despite being out-powered and out-suspended by the Cobras in the class, Stewart managed to win each of the last two 51cc motos that year by practically riding the wheels off of his Y-Zinger. And then, just like that, the era of the Y-Zinger was over. The very next year there wasn't a single Yamaha Y-Zinger in the 42-rider 51cc (7-8) Stock class; everyone had switched to either a Cobra or another new minicycle that made it to market, the LEM. Turns out James Stewart was the line of last defense for the Y-Zinger, as well as the last kid to win the title on one (1993) in this class. The paradigm shift was complete. Cobra has been the dominant force in this class ever since.
But the Y-Zinger did not go away completely. Within a couple of years, the AMA made a change in class structure that basically gave the Y-Zinger its own class for younger kids who might not be ready for a Cobra. It was called 51cc Oil-Injected class, later changed to 51cc Shaft Drive. And beginning last year there was another new pee-wee class that catered to one particular little dirt bike: the Mini-E (4-6) class for electric minicycles. (Full-sized electric motorcycles themselves might end up being a part of another huge paradigm, but that one may take a lot more time!)
If you want to know more about the Y-Zinger and its history and importance, check out our colleague Brett Smith's We Went Fast "Little Giant" feature and podcast about the amazing little motorcycle on WeWentFast.com.
---
Main Image: Bud Maimone by Racer X Archives