Our own Phil Nicoletti had a rough week again last weekend at RedBud. His return to the Lucas Oil AMA Pro Motocross Championship has not gone to plan. Unfortunately, this time, his misfortunes have landed him a torn ACL which will at least keep him out of Southwick this weekend while he reevaluates his plan moving forward.
Phil's a warrior though, and he powered through answers to your questions even as he was getting the bad news about the ACL. Bad News Phil!
Do you have a burning question you want to ask Phil? Send your question in to phil@racerxonline.com and Phil will be glad to answer.
Hey Phil,
First off, miss having you up here in Canada, was a bummer the team shut down. Any plans to ever come back?
The real question though is I noticed you were using a suspension set up that I've used for years, SSS is great stuff. I also noticed your forks now say KYB on them. Did you switch or is it more of a sponsorship/advertising thing?
I do know you were questioning how good the average Joe could set up your suspension until you started using it and then you were super happy with how great it was. What's the deal?
Thanks, and good luck the rest of the season!
Curious Rooster
Rooster,
The Canadian dream still might be a possibility, ya never know. Going to Canada now isn't very fun with how the country and government is with COVID-19. The MX series and AMO series have finally started up there at Walton, Gopher, and Sand del Lee. They had unbelievable turnouts which is badass for those tracks. They've been in a pinch for over a year, so it's great to see people going riding and racing and supporting those tracks.
As far as the suspension question, my SSS stuff worked great. There was no doubt about it. Mr. Joe Skidd was great to me. The initial plan was to run SSS for the outdoor series. The ClubMX team was running Enzo. Like anything, racing cost money. A lot of freaking money! I was going to have to come out of pocket for my own suspension program. At that point in time, I wasn't in the position to pay for anything. So, I went the direction with the team for the convenience and price factor.
Hey Phil!
Man, what happened to your knee at RedBud? Do you know yet? I know you're hard on yourself. Myself being from NY the only way I can describe the way you act is the same way I do; it's called tough love. When we were younger, we wanted something we had to work for it, if you messed up your parents and friends made you aware of it and never let you forget it. People just need to look at the reality of their life and stop sugar coating it. If you sucked, own it, if your buddy sucked make sure he knows it, so he does better next time! If your buddy did well, he doesn't need a good job to make him feel better, he should have delivered long before:-)
I appreciate your honesty in everything. Don't ever change!
Paul
Paul,
I grew up with a lot of tough love, no doubt about. When I was a kid, it sure as shit felt more like tough living than tough love. But that's just the way it was. Trust me, I ain't the only one that was brought up that way. The tough love that you received as kid slowly turns into tough love and criticism you bring upon yourself. You don't need the old boy there anymore ripping you a new one like you're 11 years old, because you went 32-1-1 at a regional and missed qualifying for Loretta's by one spot. When you hit a certain age, you know if the effort you put in was worthy or not. Some people are good at bullshitting themselves though. I always felt too guilty if I was happy go lucky after a shithouse result. Actually, that's the case even after a good result.
Hey Phil, you've ridden a lot of Yamaha 450s through the years. How do all the teams compare? Does a Yamaha 450 just feel like a Yamaha 450 or is there a huge difference between like a JGR bike, your Canada bike, the ClubMX bike and even the old NFab team you were on with Kiniry? Does any of it matter?
Yamaguy
Yamaguy,
Man, now that you say it, I've spent A LOT of years on a Yamaha. Pretty mind blowing. Also it's pretty bad I didn't even realize this until now! Seven total years riding the Yamaha brand. As far as the teams, there were a lot of differences. One of the main differences was budget and personnel. Obviously JGR was way superior in that department. With the parts and money, there was never a worry when coming to the decision to cut corners. The Rockstar Energy OTSFF team in Canada ran an awesome program for the budget and it being "Canada." I was really happy with how it was. Money was spent in the right places. Small amount of employees, but very efficient and professional. But as far as the bike, obviously JGR's Yamaha was top notch. All the fancy parts, transmission, electronics, etc. My Canadian bike would rank second, for what the budget was and how good we got it. My ClubMX bike is not far off of the Canadian program. It was hard on the Club guys because adding a 450 program mid-way through their season wasn't expected. It's hard to find added budget when the budget is already spoken for. Then the NFab team is last. I say NFab, but NFab was just title sponsor. They had nothing to do with the way the team and bikes were managed. But at the end of the day that year it was a privateer effort, and it was hard to get parts. Everyone did their best with what was there. I rode for that team in 2013 and the following year I had went to JGR, and NFab and St. Lawrence Radiology came over with me as sponsors. I felt spoiled! Once you get to the level of a JGR team, it's incredible. They have so much to try and make you comfortable, I thought I had died and went to heaven. Those were good days!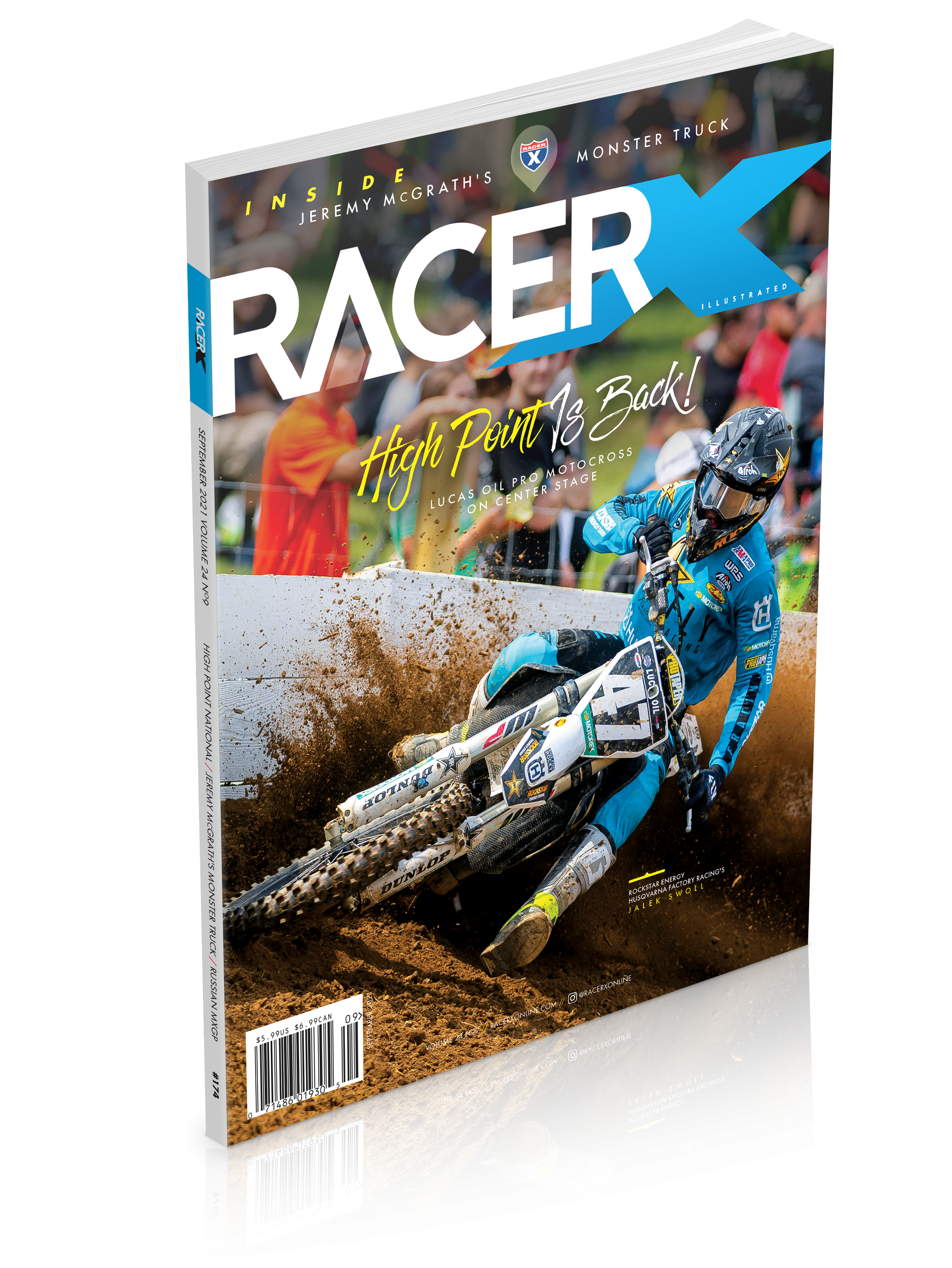 Racer X Illustrated Motocross Magazine
The September 2021 Issue
Inside the September issue: The High Point National returns to the Pro Motocross calendar with a great race and a surprise winner. The 2021 FIM Motocross World Championship also got back on track, thanks to a tricky visit to Orlyonok, Russia. New York's Unadilla spent 15 years as the center for international moto supremacy with the 250cc U.S. Grand Prix of Motocross. Jeremy McGrath goes big—very big—in a monster truck to celebrate his upcoming 50th birthday. These features and much more in the September issue of Racer X magazine.
Read the Issue Now
Preview the Issue Now