Salt Lake City, UT
Salt Lake City 2 (East/West Showdown)
Monster Energy AMA Supercross Championship
Entering the 2021 Monster Energy AMA Supercross finale, Monster Energy/Star Yamaha's Justin Cooper only needed a 17th-place finish in the 250SX Dave Coombs Sr. East/West Showdown in order to claim his first professional title as the 250SX West Region champion. In the 250SX West Region heat race, Honda HRC's Hunter Lawrence (third in the points standings and still mathematically able to win the title) gave Cooper a bump in the first turn that sent him wide and off the track. The #32 managed to climb to 13th by the end of the first lap and then managed to finish eighth to qualify for the main. Come the showdown, Cooper was eighth place after the first lap and knowing he did not have to push to win the title, he cruised it home for a ninth-place finish to earn the #1W plate.
Cooper spoke with the media after the race.
Racer X: Justin, what was the day like for you, again having that big points lead but knowing that you still had to get it done in a weird environment where Dylan Ferrandis last year had to go to the last chance qualifier, you saw Austin Forkner go down… Crazy things have happened. How did you keep your composure today and kind of navigate the situation, especially again in the heat race when you were bumped off the track and were immediately in dead last to start the night. How did you keep it together today?
Justin Cooper: It all started off great with practice. I felt good on the track all day. I felt good with the bike. Was down with everything. I even got the holeshot in the heat and Hunter ran me off the track. That got my heart rate up a little bit. Just tried to stay calm through that. Just wanted to get straight to the main. I didn't want to go through the LCQ. Got the pit board saying I was in P9 and I think I got eighth in that. Awesome to just go straight through there. I was lining up on the outside there and I just didn't really get in a good spot in the first turn. I was probably outside of the top five. Just cruised it on home from there. I didn't really feel the need to push. I really just wanted to take this thing home. Really pumped for the team and for myself to pull this year off like this, seeing where we were before the season. It feels great. Like Colt said, it's really not setting in yet, but I'm sure it will over the next few days.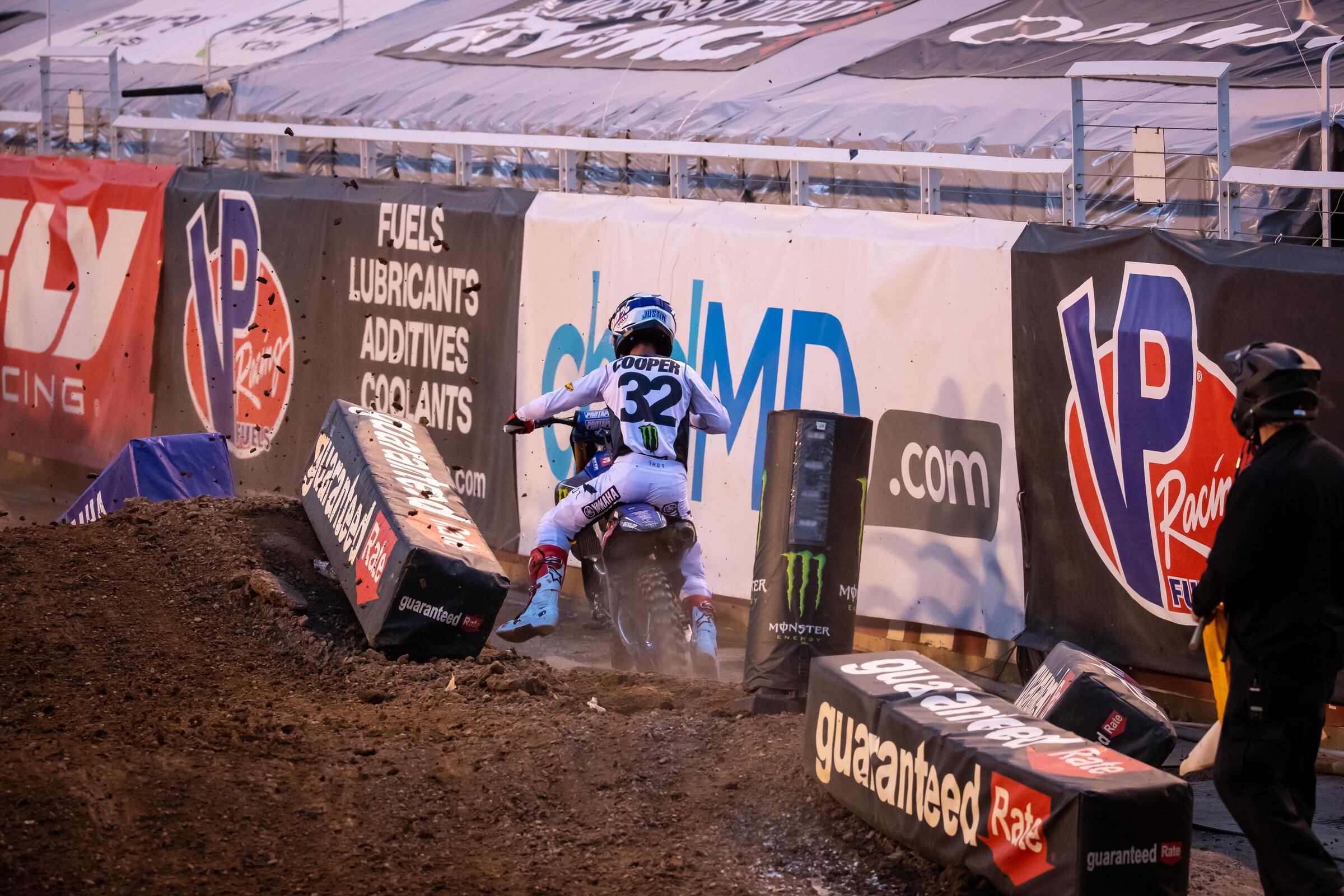 You weren't riding as fast as you could out there. Was that something that you were just kind of laying up for the title, or did you find yourself stiff out there at all?
I didn't execute the start. I was on the outside. I just really didn't feel the need to go up to the front. It wasn't really a race I wanted to be a part of. There was a lot of battles going on in front of me. These guys were getting pretty aggressive. Just hung back and did my own laps. Just clicked off the laps and stayed out of trouble, stayed where I was. I knew I was in a good position to win and didn't want to throw anything away. When you're in the mid-pack like that, a lot can happen pretty quick once you're trying to move through the pack and make some passes. So I was just pretty content with where I was. If I got a better start that would have been a better story, but given where we were in the pack I kind of just settled in and did our laps.
Coming into this weekend you obviously had two weeks to sit on wrapping up your championship where Colt only had a six-day turnaround. What was that like sitting for two weeks thinking about wrapping this championship up today?
It was tough. I wanted to keep going after that Atlanta round. We finished our eighth round and we had one round left. We had two weeks to sit on it, like you said. It was honestly pretty tough. You obviously go through all the scenarios in your head and you just got to sit and wait for the race. It was a long two weeks. Even today was so long just going through all the practices. I just wanted to get to the racing. It feels so damn good to wrap this thing up. It just takes so much pressure off. I really put a lot of pressure on myself to get it done this year. Been runner-up the last couple years. Had to make it happen at same point. To really just get it done is awesome. It's awesome for the team, and we can start getting ready for next year.
Bonus check. When that thing hits the bank account, what are you buying?
I think I'm going to have to stop on the way back from Vegas and do some shopping, spend some of it that way. Then you've got to pay off the house and set yourself up for your future. That's important stuff!
Watch the full Salt Lake City 2 post-race press conference below.