It wasn't supposed to happen this quickly. Ricky Johnson, the dominator of the sport to that point, had taken a young teammate under his wing to help build Team Honda's future. That young rider, Jeff Stanton, improved massively, becoming a weekly podium guy, but Johnson remained on top, starting the 1989 Camel AMA Supercross Series with five-straight wins. At round six, at the old Fulton County Stadium in Atlanta, the young student beat the master. RJ went down while trying to take the lead from Stanton, and Stanton sailed to his first-ever supercross win.
Eight days later, Johnson was landed on at the AMA National Motocross opener in Gainesville, Florida. His wrist would never be the same, and suddenly Stanton took over the top spot in the sport. "Six-Time" Stanton, as we know him now as a reference to his six AMA National Championships, was born early in that 1989 season, with Atlanta serving as his real kickoff.
In 1987 and 1988, Stanton rode for Team Yamaha and served as a solid, workhorse type rider, excelling especially in the 500 Nationals on the antiquated YZ490. But Honda and Johnson saw the potential for more, so they signed him for the '89 season.
"Ricky and I did everything together. All off season I lived with him, I trained with him, I rode with him," Stanton explained to me and Steve Matthes in our latest Re-Raceables Podcast. "I felt good. You wanted to be on American Honda, and I got to train with the best. So I felt good, and I had some podiums to get the season rolling. It was just a matter of time. I mean, he [Johnson] was more dominant than anyone, at that time, but you get a little luck on your side, and that's what happened in Atlanta."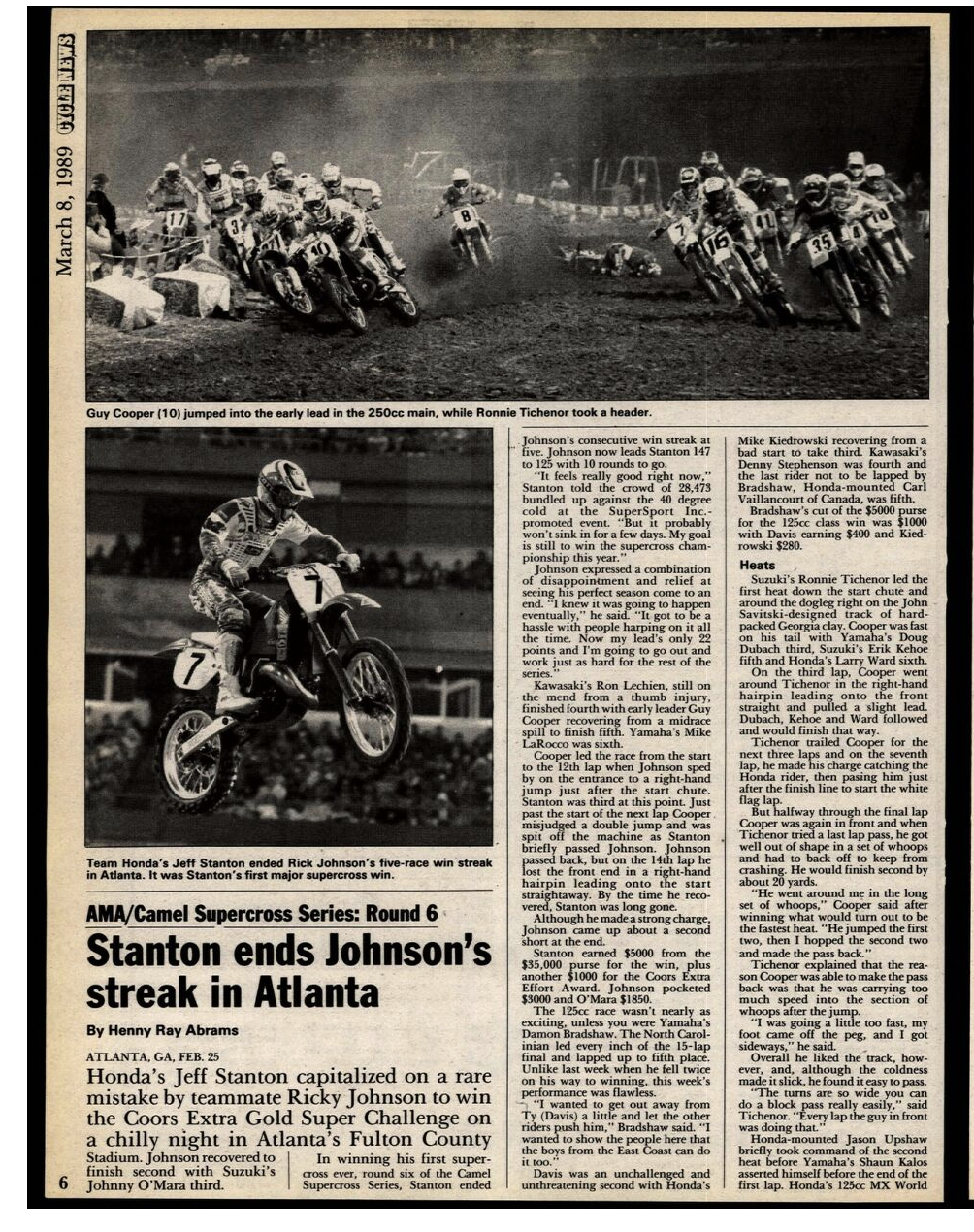 Stanton was second in points coming into the race with a bunch of podiums. Did he see a win coming?
"Absolutely," he says. "I could see my progression getting better. We were coming to the east coast races when I liked the dirt and had more friends and family coming there. So I felt like it was a matter of time and getting a little luck on your side, and it happened at Atlanta."
That Atlanta '89 race is a classic, although overshadowed by the legendary 1990 event, which many (myself included) believe is the best supercross race ever. The '89 battle is no slouch, though. Another Honda man, Guy Cooper, led early and got into a big battle with Stanton. Then Stanton, who said before the race he was willing to ride with his feet off the pegs and go off the track to try to get the win, did exactly that. His feet bounced off in the whoops and he went off the track. By then, Johnson was on his patented charge to the front and was eventually able to make his way into the lead. Win number six to start the season seemed inevitable. But Johnson got stuck behind a lapped rider, and this allowed both Cooper and Stanton to catch back up. All three Honda riders negotiated a tricky rhythm section side-by-side-by-side, with Cooper getting kicked off his bike and flying through the air without his motorcycle! As Cooper was setting up for a thud of a landing, Stanton got inside of Johnson to take the lead. Johnson fought back and tried to slide past Stanton in a bowl turn, but he lost the front end and crashed. That was enough for Stanton to take the win.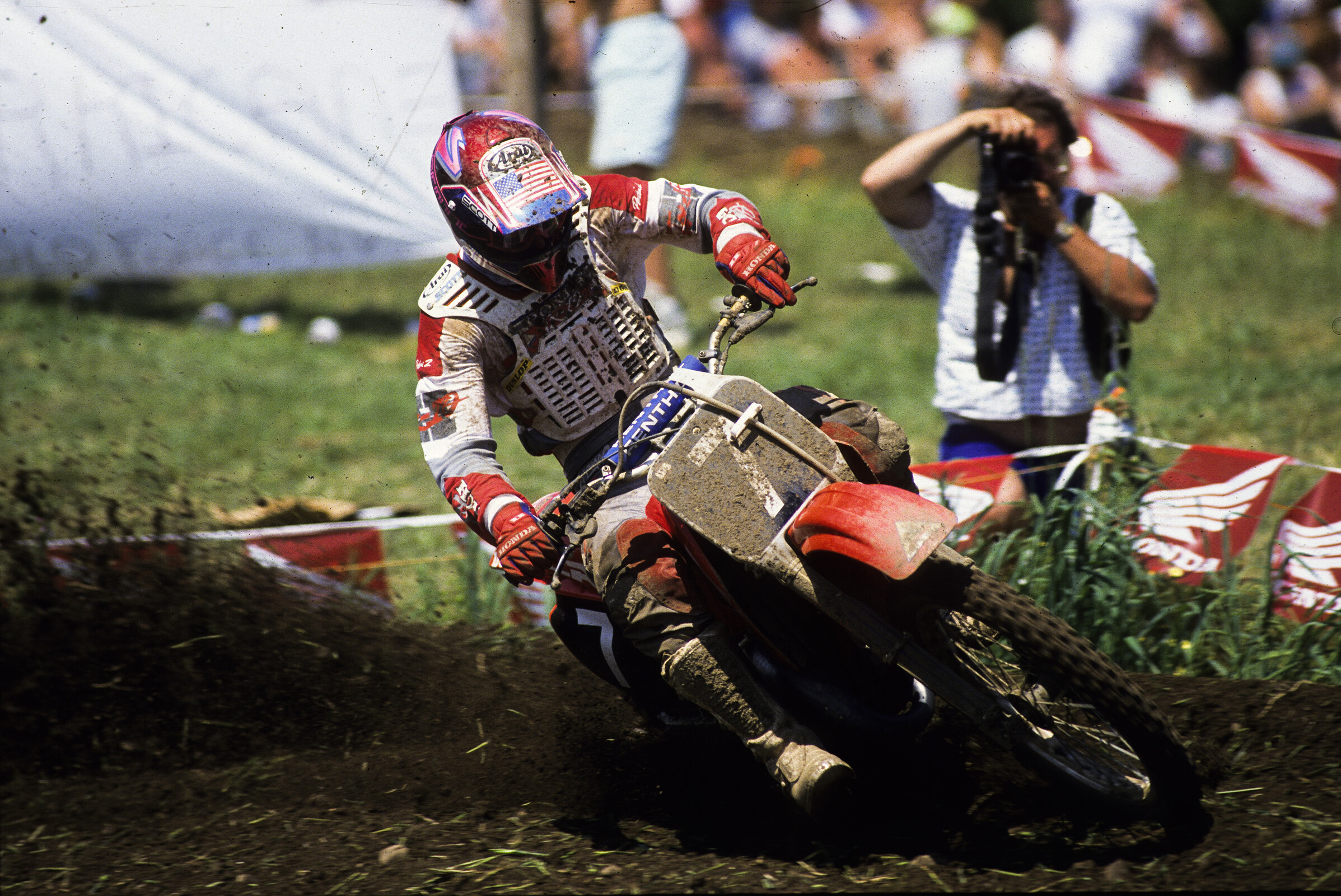 This led to the inevitable question of Stanton, now armed with extra confidence, against Johnson. The world never got to see the answer, because Johnson got landed on the next weekend. From there, Stanton rolled to a three-race supercross win streak and a relatively easy roll to the 1989 Supercross Championship.
"I would have believed there was a zero percent chance of being the supercross champion at the end of '89!" laughs Stanton today. Before the season, he had but one career podium in supercross, and that was the '87 Daytona mudder.
"Could I have believed I would have been second or third in it, after those first five races? Absolutely. And then we all know what happened after Atlanta, unfortunately [with Johnson's injury]. It was great for American Honda. They brought somebody new in, they put him with the best guy, and it worked out. Really, American Honda is the hero in the whole situation. Dave Arnold hired me and it worked phenomenally for them."
Today, teammates training with each other is commonplace. It was a new concept back then, and RJ was the innovator.
"He offered!" said Stanton. "I wasn't rolling in the money at that point, I wasn't ready to go buy a house in California at that time. So Rick said, 'Hey, come live at my house for a few months during the off-season.' I got to ride with the best during the off-season, and I say this all the time: if you want to be the best, you need to learn from the best people.
"What I learned from Ricky more than anything was quality over quantity," continues Stanton. "You could go out, ride your bike five or six laps and then pull off. What I learned from him early on was you get out early, you get in your laps early on, and you move onto the next thing. Our goal was to always be done by 2 p.m. in the afternoon. You get family time and you've got other things to do, or more training. So it was great to learn from someone who had put all the pieces of the puzzle together already. It was multiple things. Learning the technique by putting in your laps. Yeah, I had the training down, but it went to another level, he had a trainer out there he was working with and that helped a lot.
"It was the start of what is going on now. Ricky had a friend who owned land down by the Mexico border, and he let Ricky build a supercross track. So he had his own private supercross track in 1989. No one else rode on it and no one else knew about it. John Savitsky of Stadium Dirt Designs built it, and it was tucked up into the mountains. It was an awesome track and the two of us were the only ones that rode on it. That right there was kind of the start of the whole training facility thing."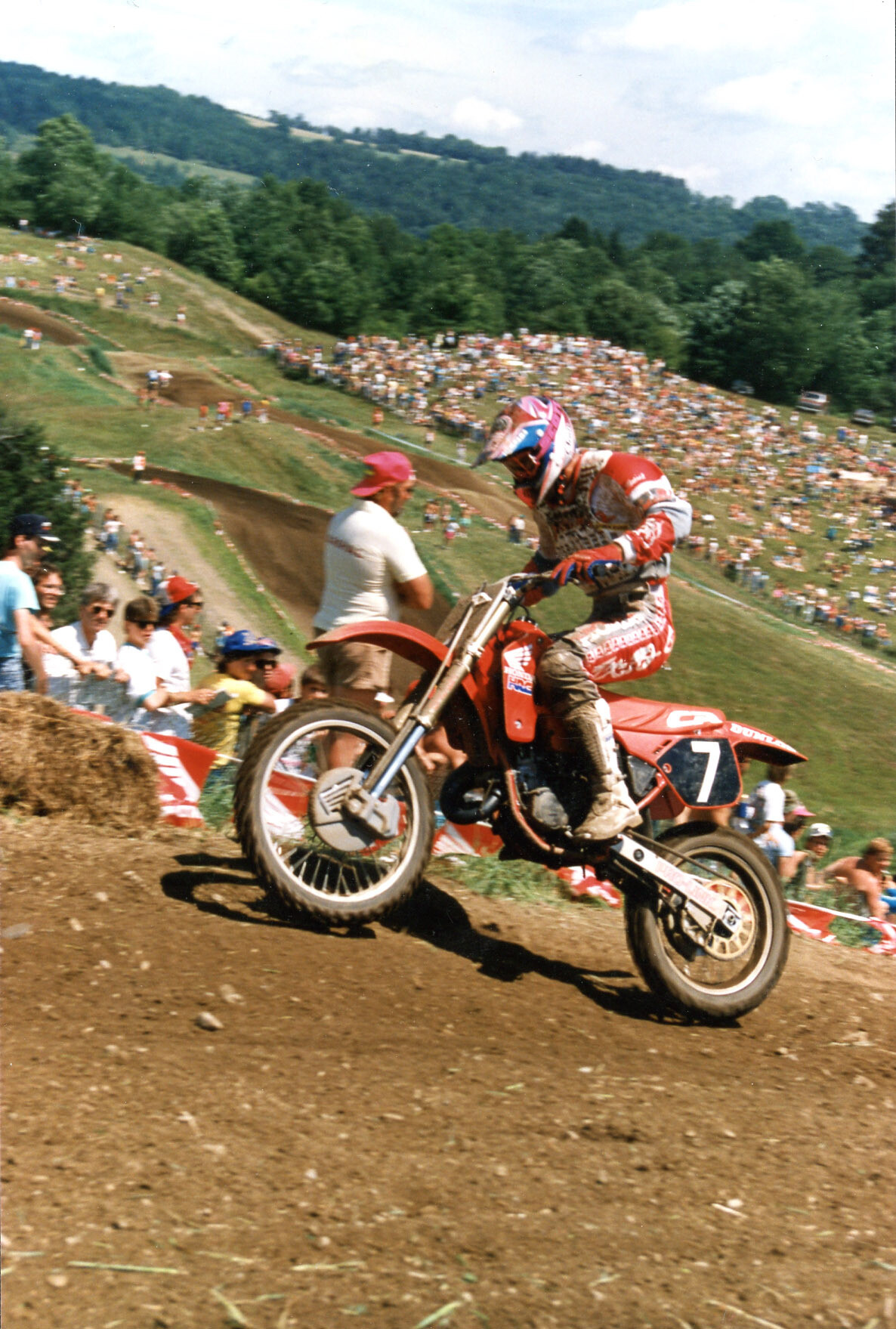 The other side of this story is Honda's incredible run of dominance from 1982 to 1996, which is still looked back wistfully today.
"Listen, no one gives [Team Manager] Dave Arnold at Honda enough credit for that," says Stanton. "The Team Managers back in those days, they didn't answer to anybody. Whatever it took to win races, that's what they did. They hired the right people, heck, they had the illegal cutting of parts, cutting of frames, hey, whatever it took to win a race, you just did it! That's gone, that's been gone for years. Dave was absolutely hands on. He wasn't afraid to cut a shock or a frame apart because he had a dream that the angle could be better. Wouldn't even ask anyone over in Japan, just get to hacking and cutting. Now the team managers answer to Japan, it's so different."
Many things are different today, but the pace of change at the top was incredible in that pivotal year. The late 1980s were the Johnson and Jeff Ward show, with the likes of Ron Lechien and Johnny O'Mara still in the mix. By the 1990 season, Stanton was champ, and the Frenchman Jean-Michel Bayle and teenaged sensation Damon Bradshaw were emerging as his main rivals. So much had changed in one year, and it would keep changing. By 1993, Stanton, Bayle and Bradshaw were pretty much done, and a young Jeremy McGrath took the reins for Team Honda. Those four years from Atlanta '89 to McGrath's breakout rookie season feel like decades had passed.
Things can happen quickly in racing, and you have to be in the right place and the right time to take advantage. That was Jeff Stanton and the 1989 Atlanta supercross.
Make sure to listen to the Re-Raceables Podcast episode where me and my co-host Steve Matthes look back at the 1989 Atlanta Supercross.