Houston, TX
Houston 1 (East)
Monster Energy AMA Supercross Championship
In a close battle for the opening round victory of the 2021 Monster Energy AMA Supercross championship, Ken Roczen narrowly lost the fight to Justin Barcia. However, the second-place finish certainly kept Roczen's head held high as he looks forward to the second round this Tuesday. Why is that? Roczen explained his positive demeanor following the race while speaking to the media via Zoom call.
Racer X: At the opening round there's all the jitters because you don't know if your bike's good, you don't know if you're good, you don't know how you stack up. Now that you've gone through this first round on that new bike and got through it, what's it feel like now on the back end of this?
Ken Roczen: Really good. It really feels like it's been forever since I've raced, since I didn't ride outdoors. This race though was the most normal race. Salt Lake did not feel normal whatsoever but coming here and having some fans in the stadium, it just had a little bit of the sense of the good old days, let's call them that way, even though we're not quite completely there yet. But I just had fun out there. It felt like we were in the middle of the season, to be honest. I think there was a lot of madness going on behind us. It was nice to stay away from that. Like I said, I just changed my complete outlook on the whole racing side of things, so I really just tried to race today and enjoy myself. That's exactly what I've done. So, I'm really over the moon with tonight.
How important was it to shake the rust off? Or did you shake the rust off this first race after what you missed last year?
Since I didn't race outdoors, yes. It has been a while, but in general the mindset that I was in is that this is… I've done it. I'm almost 27 now. I've raced plenty of seasons. So, I kind of know what to expect. It's really what you do with that mindset. So, I didn't really feel too rusty out there.
During the main event it seems like you came up on Bam-Bam [Justin Barcia] twice in that same corner, but you held back. Was that kind of season management? Basically saying, "This is the first race - let's get through this one healthy and maybe not push it the first race?"
Well, you've kind of got to pick your battles. When the ruts get deep and they're tacky like that, to make a block pass right there, and you don't want contact because sometimes it just happens where you lock bars a little bit. Being in ruts like that, if we both go down then we're both going to be mad. It just doesn't really help us. So, I was kind of just trying to pick my battles. If I felt like that I had the edge on that, I would have made it happen but it was just one of those things. He was really high on the rut, almost at the very top rut. I came in at such a steep angle, and for me to make that pass, I have to take his line away. If he doesn't expect it like that and if he slows down or I clip his front wheel or whatever, especially being in the ruts right there, we would both go down. So that's how I thought of it. Could you have made it happen? Probably, but at the same time I was just picking my battles.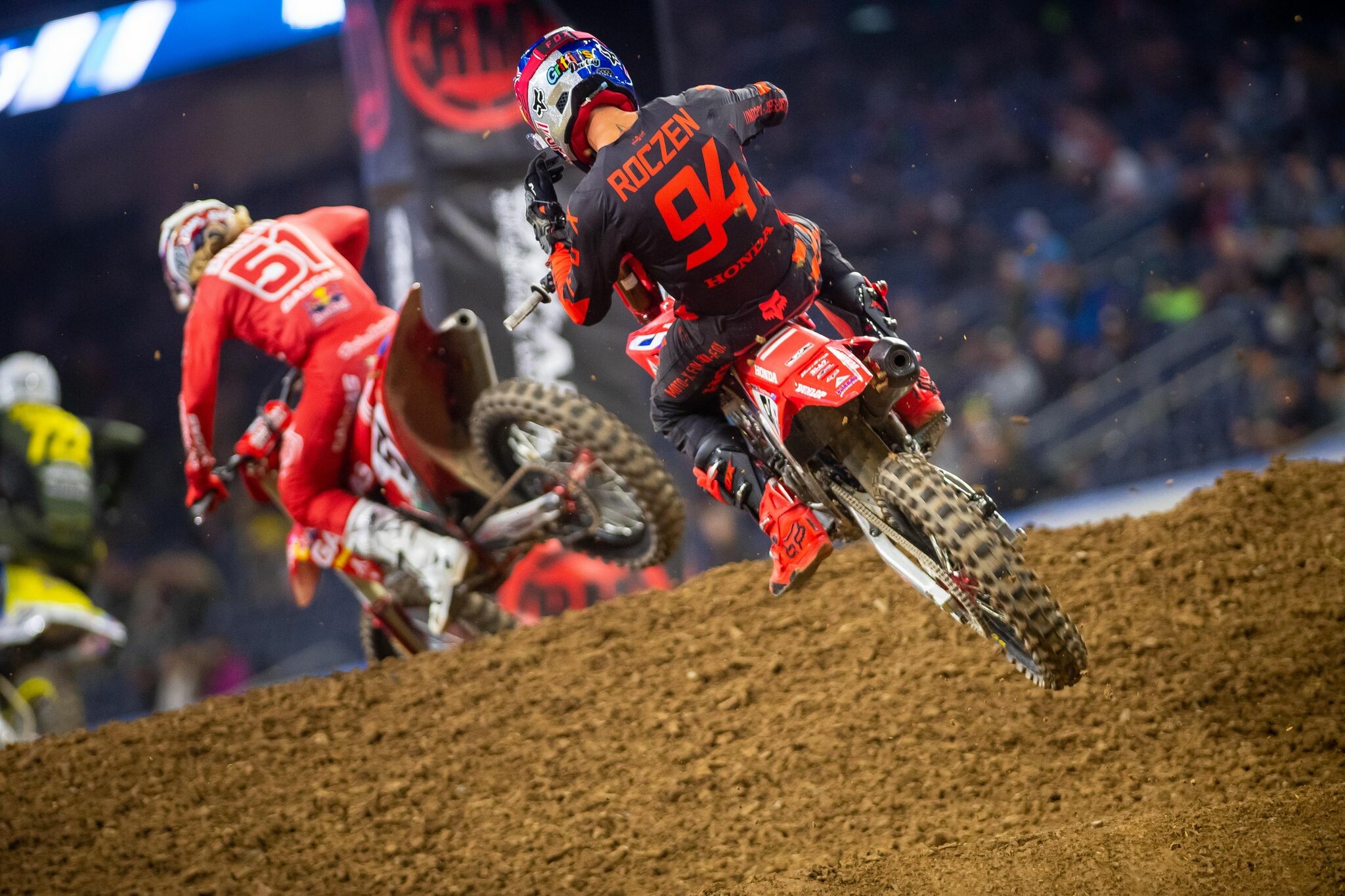 Was there any other part of the track you felt you could gain on him? It seemed like that was the only part. He was fixing those mistakes and taking away your lines.
After the whoops for example, he was on a different rhythm. I was still doing the three and quad in the beginning. But at the same time when he was right in front of me, I don't know… I could have quadded, but since he was right in front of me, I always had the sense of if I quad since he's jumping onto the tabletop and off, I have to check up a little bit. If I jump, I feel like I would land on him and it would be just too sketchy. So again, kind of just picking my battles. Then the other half of the track was just too easy. We had half technical and half easy track. So, I just couldn't make it happen. I really couldn't. And then after the beginning when we were really close, I was never really close enough to even put in an attack, really. My knuckles are bruised like crazy from the dirt being so tacky!
It kind of seems like you have a little different mental outlook too. I think we were all looking for the storybook ending with the injury years ago, and now it seems like all you're saying pre-season this yer is that you just want to enjoy the races and whatever happens, happens. You weren't making any bold claims about results. Do you feel like you have a different outlook going into the season this year than past?
For sure. My off-season was super mellow and low stress. I was kind of by myself quite a bit in California, not surrounded by a whole lot of riders and a lot of activity and having a stopwatch race every single day, and I think that helped me. Just coming back, since I didn't race outdoors, I took quite a bit of time off and to come back from that, it just takes time. As a racer it's really difficult. You tend to go back to practicing and then you want to be good right away, and then why are the other guys so good and you're not? You get winded right away, which is all completely normal. That is the whole point of letting your body rest. Then you build yourself up all the way to the first race. There were no freak outs. I did a lot of different work this year. Different structure. We're kind of just moving some things around, learning a lot of new stuff. I think it's paying off. Again, I know everybody and even after this race people are probably going to be like, "Oh my god, it's going to be him, them, them," whatever. It's just one race. But all I want to do is enjoy myself out there, and that's what I did. I'm sure there will be weekends that it will be a little tougher than tonight, and maybe not the result that we were hoping for, but it's all about what you're going to do with it.
The heat race, jumping the quad behind Justin. That was close. That was a close one.
Yeah. Honestly, I wasn't too worried because the last one wasn't that steep, but at the same time the take-off was so flat, and you hit it with so much speed. I saw he kept hitting it and hitting it and hitting it. I'm like, man, if I want to do it in the main, right now is the best time to do it because I have somebody in front of me that is doing it over and over. Honestly, when I watched it on the screen on what we saw on film I was like, "What the heck was I thinking?" Because I literally landed off the finish line jump and you thought I'd be doing a parade lap and then just tried to jump it. So, I was just a little bit too cautious and tried to get the pump and I didn't and clipped it there. Got it dialed though in the main event. I was pumped. We were doing it pretty much every single lap. I don't know if the guys were doing it behind us. Especially since they fixed up the bump, here is my theory about it. If they fix it up and the berm is sweet, it will be a lot faster especially if you grease it. But if it gets super rutted and you jump the quad, then you have to hit some of the top ruts and they get super bumpy, then I don't think you would necessarily be gaining that much. But I did it, cased it, and then did it in the main and we did it the whole time. It was fun. It was good.
I feel like you guys kind of learned to slow down, set up, and then seat bounce and pop and try to get that lift, because there was no lift the other way.
Totally. What made me mad the most is that for how small the finish line was, I swear to you out of 28 laps, I probably cased that thing 24. I don't know what I was thinking! I was always just trying to push the bike down to go as low as possible and clipped it every time.
You debuted the new Honda tonight. Was there anything that you discovered during the main event? Any changes to be made?
I honestly did the slightest little changes to the motorcycle throughout the whole day. The nice thing is, last year's bike, when you would do a couple clicks the bike was almost unrideable, because it made that much of a difference. This bike is super consistent. We might make a change and sometimes I didn't even notice it that much. So, I guess with how consistent this bike is it's really good. I think there are little things to improve on, but at the same time I'm not worrying about it right now as we have a lot of races in a row here and there's no time to test anyway. I'm just knocking it out of my head right now. Deal with what I have. I feel like the balance of the bike and everything is really good. It's the first race on a new bike. So, once we go back to Florida, we'll debrief with the team and see what we can do different. But at the same time, it's been working all right. This is about as tacky as you get of a track. It got broken down and we got ruts. I actually thought it was quite bumpy and the bike handled it well.
How did you feel personally? How's the health, the fitness?
Really good. I've done a lot of different procedures training-wise and I actually felt really solid. I think we did about 28 laps and I wasn't really looking at the time or anything like that once, which that's always a good sign. That means you're just right in the battle, right in the moment. I think that's what makes racing the funnest. It's not a good sign when you feel like crap from the beginning on, and then you're halfway through the moto and you're like, "How am I going to survive this?" So, there was none of that tonight, so that was awesome.
They read a little piece tonight during the broadcast about you sharing a ride [private jet] with Tomac. You rode last week before the race with Barcia at the TLD track. Is this the new thing? The older guys, the more mature guys, you guys can do this?
I think so. Times have changed. I think a lot of us are starting to put their egos down. If anything, it helped all of us because we all ride in our separate little bubble, and then when we came down to the TLD track it was a breath of fresh air. Obviously, we offered as well that those guys can come up and ride our track, especially with the limitations of public tracks. There's really nothing that is that great out there, and not as many tracks anymore. So, I think the teams within, and I, certainly, have already talked to multiple people that we will probably start doing this in the future, meaning just swapping out tracks. They're all in the same spot there anyways. I don't really know what the problem is with that. We all benefit from it and we're all in the same spot there. So, it was nice. It was a breath of fresh air. I think it helped us just being around some of the fast guys. It kind of felt a little bit like we're at the race already. It just feels familiar coming here. So, it was a great idea.
Do you think that it's a disadvantage with intensity? You go back to RC [Ricky Carmichael] with his intensity, he wasn't riding with anyon . Is that a disadvantage? Or are you guys at the point in your career where you can separate that?
It depends on where you're at mentally, too. RC, he was never allowed to ride with anybody else around. Now look at them [Bakers Factory]. They have four really fast guys, including 250 guys, maybe even more. They pretty much do a race every single day. It sure has its benefits, but at the same time I just look at it as it gets old. We race enough throughout the year. I'm still around fast guys. Obviously, Chase [Sexton] coming to the track, and we went to Stewart's, and I'm around Adam [Cianciarulo] all the time. We still have some of that. But I'm just better off doing a little bit of my own thing and kind of just pick my battles and get some confidence, and then we race enough when we get to the races. That's my theory behind it.