Trentino, Italy
MXGP of Pietramurata (ITA)
FIM Motocross World Championship
Factory Monster Energy Yamaha star Ben Watson is one of five MX2 Grand Prix winners this year in the FIM Motocross World Championship and is set for a big career step for 2021 in the MXGP works team.
Watching the 23-year-old fly through the waves section at the feared Lommel sand circuit in Belgium this summer was one of the most electrifying sights of the MX2 2020 campaign where a small group of new names have come to the fore for their speed and potential. Watson, who recovered fantastically from a miserable 2019 where two injuries stalled his progress, took a third, second, and first—his maiden Grand Prix win—at the hardest Grand Prix track of them all in just one week.
The show of fitness, skill, and maturity was enough to turn a proposed 2021 Yamaha Motor Europe contract with a satellite team (he has to move out of MX2 due to the 23-year age-ceiling) into an ideal learning slot as a third rider in the MXGP Monster Energy Yamaha factory squad.
Watson and his older brother Nathan have long been on the UK radar as child stars destined for the highest level. Ben took a slightly slower and tougher route after a bad foot fracture caused him to miss most of the 2016 campaign but his abilities were noticed by the Belgian Kemea Monster Energy Yamaha crew and he was signed at the end of 2017. In 2018 he rose to fourth in the world. Nathan would successfully head into Enduro with Red Bull KTM and substituted admirably as the Brits made the Motocross of Nations podium at Assen last year.
Ben follows Tommy Searle and Max Anstie as a British Grand Prix victor in the MX2 class this decade and used the condensed COVID-19-shaped championship to make another noticeable leap in his development.
Racer X: The upsurge in results and going from being a guy permanently on the edge of the podium to one who has collected five trophies and a GP win, is that all due to more confidence?
Ben Watson: So much of this sport is in the mind but I don't feel that something has "clicked," let's say, and I'm struggling to explain what has changed. I just feel a lot freer; free in my riding and freer from the pressure I put on myself. I'm enjoying my racing more. I'm more excited and I think that's showing in the riding. I'm making some good starts. When that didn't happen in the past it was affecting me. Now, if I don't start well, then I'm still able to get into it more and push harder. All of these feelings are having a positive influence.
Yamaha have really done their homework with the YZ250F this year because for the two previous seasons you were always losing out against the KTMs and the Huskys from the gate. It's very positive…but then is it also frustrating that it came in your last year in the class?
Everyone has worked really hard to make that happen because it was a bit of a struggle the last two years. Unfortunately, it took a bit of time to make that big step but I'm glad it came for this season especially because we've had quite a few "one-line" tracks where starts have been 70 percent of the race. The work has paid off. I'm not angry that it took a while to get this good because development takes time and I'm grateful that they managed to find that change.
The team wanted you to be more aggressive and more decisive over the course of the last two seasons. Do you feel you achieved that?
It was something I wanted as much as they did. They were pushing me to do the best that I could and sometimes I just lacked that intensity at the beginning of the races. But, you know, I'm not travelling around the world, training hard and making sacrifices to come to races and not give 100 percent. It wasn't the fact that I was reluctant to push at the beginning, I just had something holding me back and I think it was connected with not being free to really express myself in my riding. I never had pressure from the team because they knew I was doing the very-best that I could regardless of the result. They understood that and I think it's a big thing, a big show of support that a rider can have; for me especially. I believe it was the pressure I was putting on myself that was holding me back and not allowing me to be relaxed and being able to ride like I can. Sometimes I'd go training and ride a lot, lot quicker than I would in the race. So, it was about unlocking those few pieces and now I feel I am having a lot of fun out there.
You worked intensely with Jacky Vimond prior to 2020 and evolved rapidly. Did you miss some of that input and collaboration this year?
Jacky helped me massively to go from 15th in the world in 2017 to fourth in 2018. I spent and enjoyed every single day with him, whether that was just an hour training in the morning or being at the track all day and then going to the gym in the evening. Still now we have a great relationship even if we are not working together. I went cycling with him the day before the race. We have a good friendship and I respect everything he did for me in the first year with Kemea. I don't necessarily miss him at the races because I know if I was struggling then I could pick up the phone or stop by his camper and he'd offer his help. He knows me very well after working two years full-time together. I learned so much, and I knew from him what I needed to work on for this season. Maybe, sometimes, to step away is a good thing, otherwise you just end up doing everything someone says and you are not thinking so much for yourself and analyzing what you are doing and whether it is correct for you. This year I was by myself so when I was training I was really thinking and planning what I needed to do, rather than being told. There was a lot of realization, and I was able to work out a lot myself based on what Jacky taught me and it paid-off.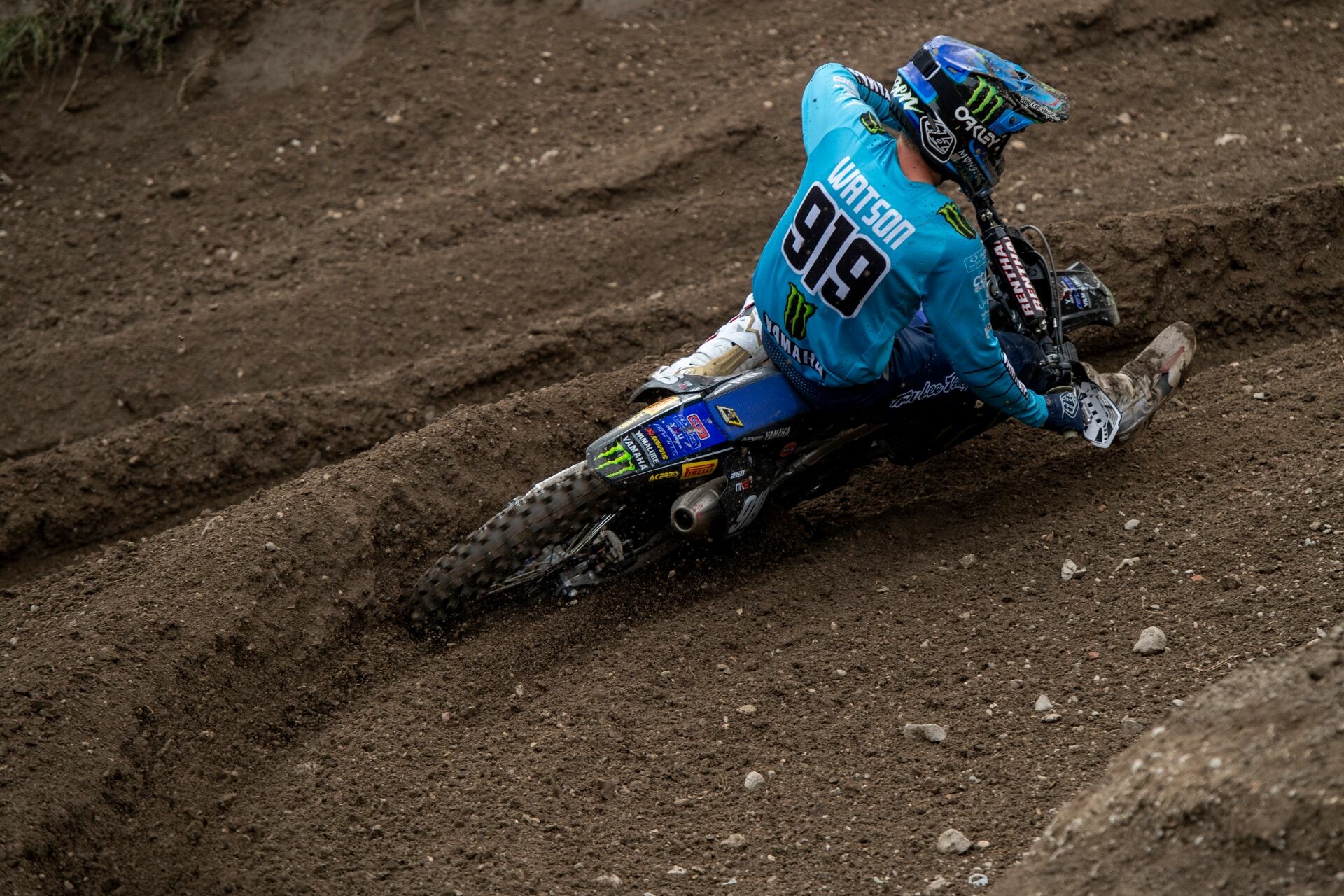 What are your feelings and impressions of the 2020 "COVID-19 Championship"? Could you keep on racing like this with many back-to-back events?
I've really enjoyed it! Everyone is here, everyone is still able to race and it is still an 18-round world championship at the end of the day. You don't stop giving 100 percent just because you are at the same track three times and the format feels a little strange. I like the triples and then moving to another location for the same schedule. The one-days as well: I like them, despite the one-lap qualification session not really being "my thing." I prefer a heat race. The one-day format is about a) who can get into it quickly and b) who has the best overall package. Some riders need that Saturday to work things out and get ready for Sunday but if your team is really switched on and you know what you need to set-up for a particular race then you can be good-to-go immediately. Living a week in a camper and not being able to socialize, being careful of where you go and what you do can feel like a long time. Even without the constraints of COVID I think it would be pretty good racing like this. Though not having the fans is a big thing, especially for a Grand Prix like Lommel which is the second-closest GP to home and where there is usually a lot of British fans. I was on all three podiums this time and won my first GP there. I missed the support at the track, but people were obviously still watching because the amount of messages I had after the race was unbelievable. It's a shame for the fans and also for us. Hopefully, it won't be long before they are back.
How much of a relief was it to get confirmation that your Yamaha MXGP contract would actually take you into the factory team and how do you feel about some big names dropping out of the class for your rookie year in 2021? More possibilities perhaps?
It makes it interesting. Obviously with the COVID situation it is a difficult period for teams and brands and I'm really thankful that Yamaha could find a third place for me in the factory team and they have belief in me. I came down from the podium after that GP win in Belgium and the [Yamaha management and MXGP] guys where at the bottom saying "welcome" and I didn't know anything until that point. It was a huge relief and I'm really excited to step-up and have a fresh start. I've had three years at Kemea now and honestly it's been a great time. To stay with Yamaha and be in the next awning along I feel like I am still in my "family," let's say. A few guys leaving MXGP will clear-it-out a bit because at the moment it is really, really stacked. Even the ones who are retiring are still pushing so hard and making results. I don't quite know what to expect at the moment, but I cannot wait to get started with the new bike and team.
You are only the third British rider this decade to do so well in MX2. How does that feel and what are your views on the dearth of other Brits coming through because there don't seem to be too many showing their potential in the European Championship feeder classes…?
It's difficult to explain. I had my parents and my family giving 100 percent for me and basically dedicated their lives to getting me where I am now and for some people now the sport is so expensive. I've been fortunate to have good support and good people around me and have opportunities on the table because as long as I was riding well as a kid then I could keep moving forward. It is sad to see a series like the EMX125s—this is supposed to be the steppingstone to EMX250—and by the third race in Lommel there was not one Brit in the class. I was watching the live timing and talking with Marnicq [Bervoets, Team Manager] saying that it was really strange there wasn't a single Brit. He asked if there were any good young riders in the UK and I said I didn't really know because there is no "real" British championship for the kids. There are too many parallel series. There needs to be a single, British championship that carries some prestige. Money is a big part of racing of course but I think some of the fast guys need to try a couple of European rounds and measure themselves. If they are good enough on a bike and are showing what they can do in front of a GP paddock, then the opportunities will come.
Like you did in Bulgaria? [Watson made his EMX250 debut as a wild card 15-year-old at Sevlievo in Bulgaria and put his name on the map with victory]
Exactly. I didn't even know if I was going to be in Bulgaria that year. The team were not able to take my bikes because normally my Dad was carrying them in the van. Thankfully Roger [Magee, Team Principal of Hitachi KTM fueled by Milwaukee] was able to get a bike in the truck so my Dad and I flew out and I won the first race of the EMX250 championship and had the red plate! From there on I showed my potential a few times. Even if I didn't compete in the next three races I knew I had eyes on me when I turned up next. You just have to take that risk, get to the races that you can and give all you have to show what you can do.
---
*Main image courtesy of Yamaha Racing.