Millville, MN
Spring Creek
Lucas Oil AMA Pro Motocross Championship
Blake Baggett has really flipped his 2020 season around since his win in the second moto at RedBud 2 and looked every part of that rider again at Spring Creek. With 2-2 scores and hounding race winner Adam Cianciarulo the whole way home, there was a lot to be satisfied with from Baggett's perspective. Justin Barcia on the other hand has struggled with starts of late and it's forcing him to salvage as many points as possible each moto. He did a solid job of that at Spring Creek, coming from way back in both motos to pick up 5-4 finishes on the day for third overall. Both riders spoke after the action about their days.
Racer X: Blake, two consistent motos, 2-2 on the day. Seems to be that things are really clicking for you the last couple weeks. You want to walk us through your day and how you feel heading into the final part of the season?
Blake Baggett: Things were good today. Two-two. Of course, I would love to have Adam's results of a 1-1, but I gave it my best shot. I gave it everything I had. There were some places where I maybe left some out there and wasn't able to get the job done. Definitely heading in the right direction. It's been a huge improvement from the beginning of the season. Moto two at RedBud kind of got some things sorted out. It's been unreal.

Blake, that downhill, you were going really fast going down there. Was there something that you were doing differently? Were you dragging the rear brake with accelerating to get over some of those bumps? Were you just late braking?
To be honest, I have no idea. I was just sending it. Pretty much just wide open from once you crested the top. It was pretty slippery up top, so once you crested it and got headed down the hill it was pretty much wide open, and then try and find a good six-inch path of somewhere where there was the least amount of bumps, or whatever I thought was the least amount of bumps. It's one of those things where you're just pinning it and then on the brakes.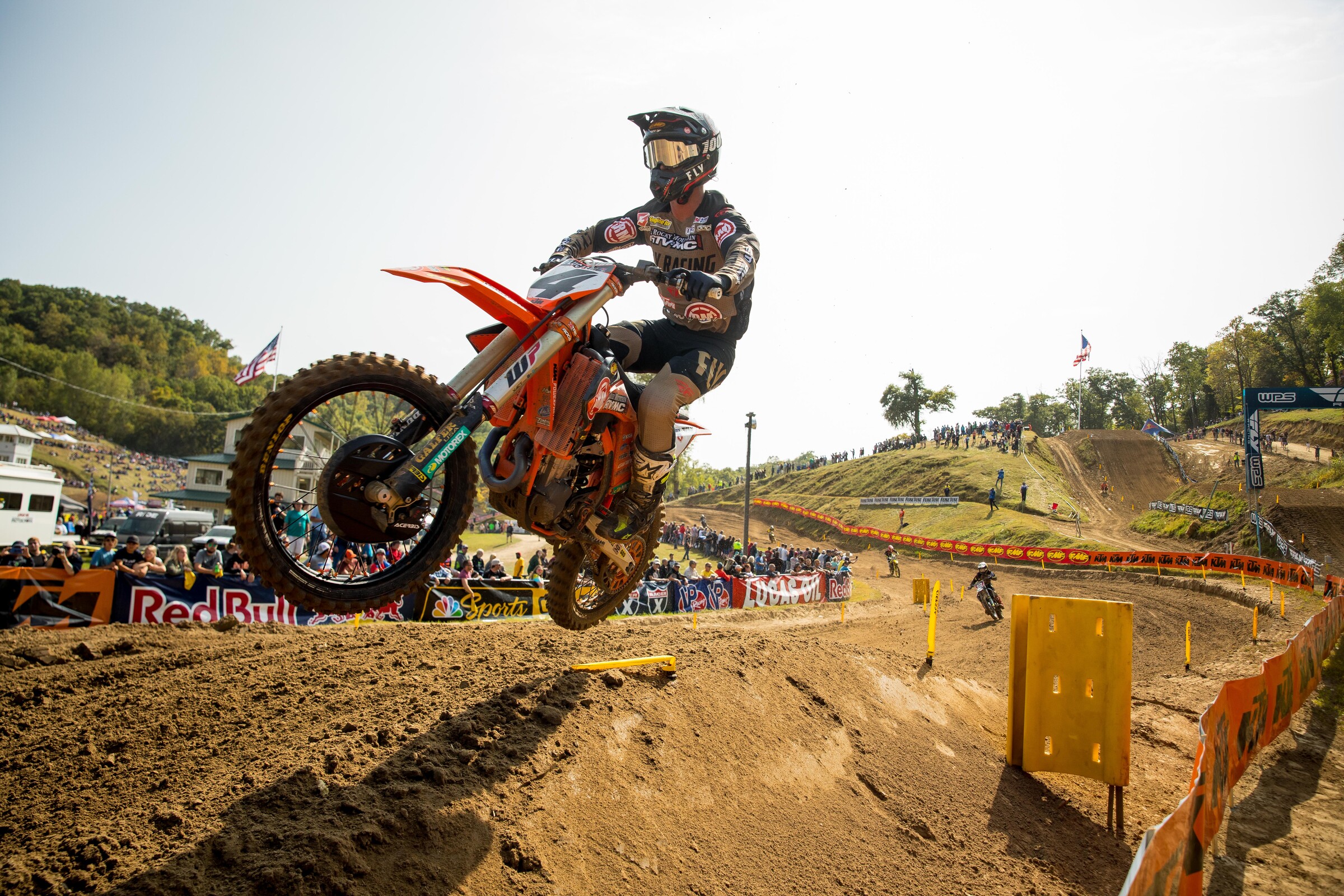 It seemed like the track wasn't ripped extremely deep. Do you like the way it transformed, or do you think it made everyone closer together?
I definitely think that it could have been ripped up and disked. It was so fast. It was scary fast in some sections. You were just wide open. I think it definitely could have had some more lines and some more ruts and maybe would have made it different. It was just slippery, and then you had the cushion and you're just searching for traction.
Justin, third place on the day. Five-four. Do you want to talk us through how Spring Creek was for you today?
Justin Barcia: The day was good. It was definitely a struggle. I didn't really feel very comfortable all day. I was making tons and tons of changes, searching for the good stuff but it never really came to me. I just pretty much rode as hard as I could all day and did everything I could. Honestly, I got quite lucky with what went on the second moto and I was just able to charge, charge, charge and put myself in good positions. But all in all, it was an extremely difficult day for me. Obviously, those guys, Blake and AC, rode extremely well. There was a lot of other guys riding extremely well. It was difficult but stoked to be on the podium for sure.
Blake, a couple of interesting lines today. The one I'll ask you about is the left-hander sort of right after the whoops. You make a right and then you were jumping over that berm, it seemed like, and just hauling ass through that. Was that something you just had to do because you were carrying so much speed, or was there just something there that you felt was working? That was cool.
Baggett: I really don't know. It was just one of those things where I think I ended up there somehow and then just kept going there. The track was so weird with the way that it had the soft cushions. It was just a super hard base. Most people were running the paddle tire and as soon as that tire hits that hard, slick stuff it's an unguided 450 at that point. So just holding onto it and trying to sort of point it in the right direction.
You mentioned on the podium that after last week you realized, "I like this. I remember how this feels." Was there anything that's changed during the season?
Yeah. We changed a clutch assembly part, a part on the bike that has to do with the clutch. We changed that for the second moto at RedBud. It changed a lot, to be honest. It's like riding a whole different bike.
Blake, that's got to feel good to be able to throw down a 2:03 that late in the race. Were you surprised how well Adam responded to you at the end of the race there? Because you were pushing hard.
Yeah. I was trying to catch him off-guard. I had to do a little reset back there and he didn't budge. He stepped it up, for sure. I felt like I got to his rear wheel and then he went. I was doing everything I can behind him. I'm sure he didn't see it, but I was trying everywhere there was. Inside, outside, top, bottom. I was going everywhere, and he was solid. He rode awesome. He did great. One-one on the day. Both motos I gave it my last-ditch best effort to get in there towards the end and he responded. So, I'll just move on and maybe me and him will be battling again in Jacksonville.
Justin, how deep is this field? No matter where you are in this pack, it was inside the top ten, there's always a battle. It seems like you're battling more and more within that fifth, sixth, seventh place spot. It seems deeper this year than it has been the last couple.
Barcia: I don't know. I don't think so. Obviously, the field is stacked. I think it's always stacked. I'm just making it look like that just because I start pretty much last place every race. It's brutal, man. Everyone's on it. You go through a pack of guys and then you get a break, and then there's another pack and then the leaders are up front. It's no joke, for sure. Everybody is riding really, really well. It's definitely not the funnest thing coming from the back. There was years where you could do it. Your question, yeah, the field is definitely stacked. It's obviously more than some years, but it's definitely pretty gnarly battling with the guys. It seems like I always kind of come together with somebody, unintentionally or not. Even today, I passed [Joey] Savatgy on the outside and he came together with me. I didn't think nothing of it, and I saw him at the start of the second moto and he was like, "Sorry, dude. I lost my rear brake." So, it was kind of one of those like, finally it wasn't me! [Laughs]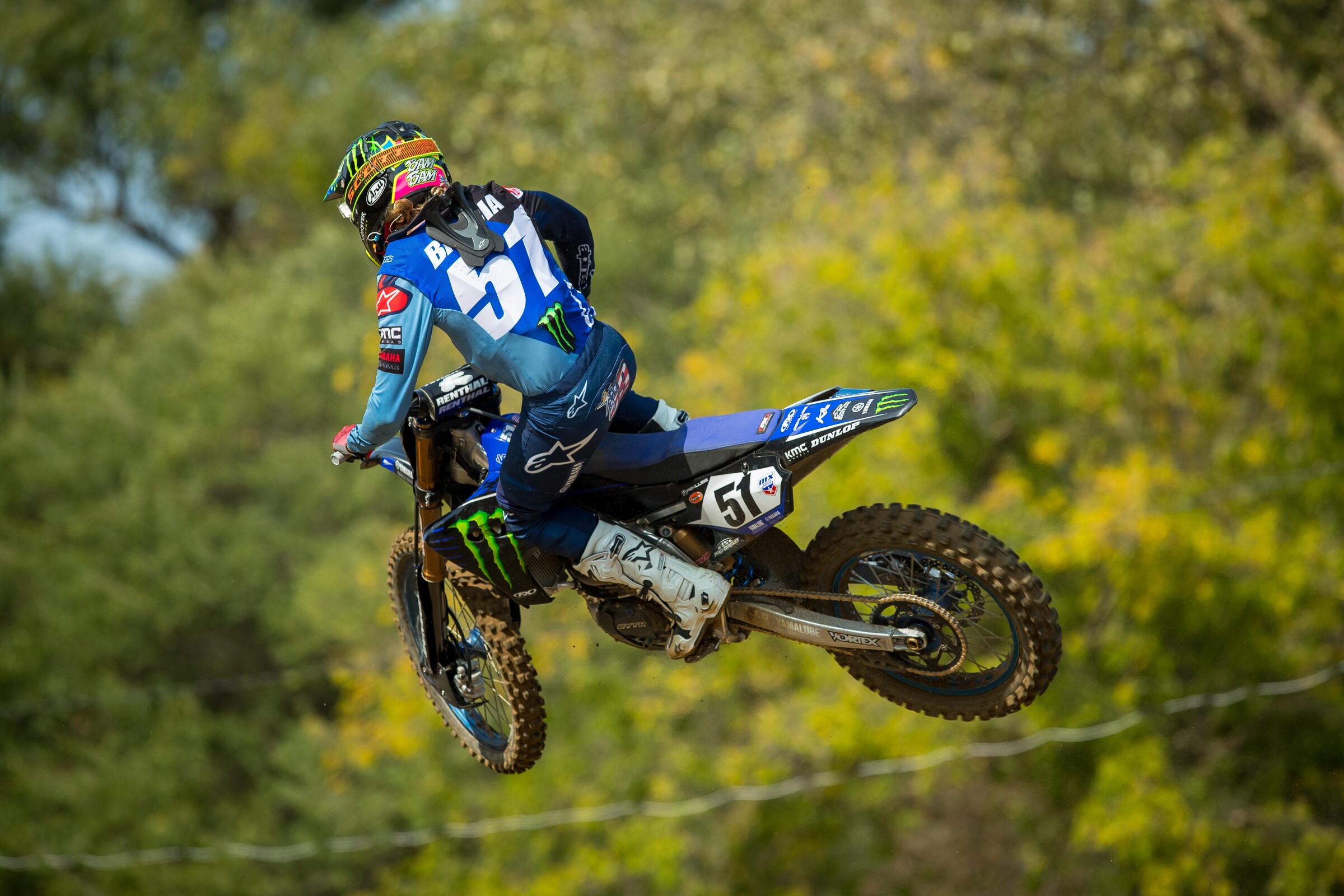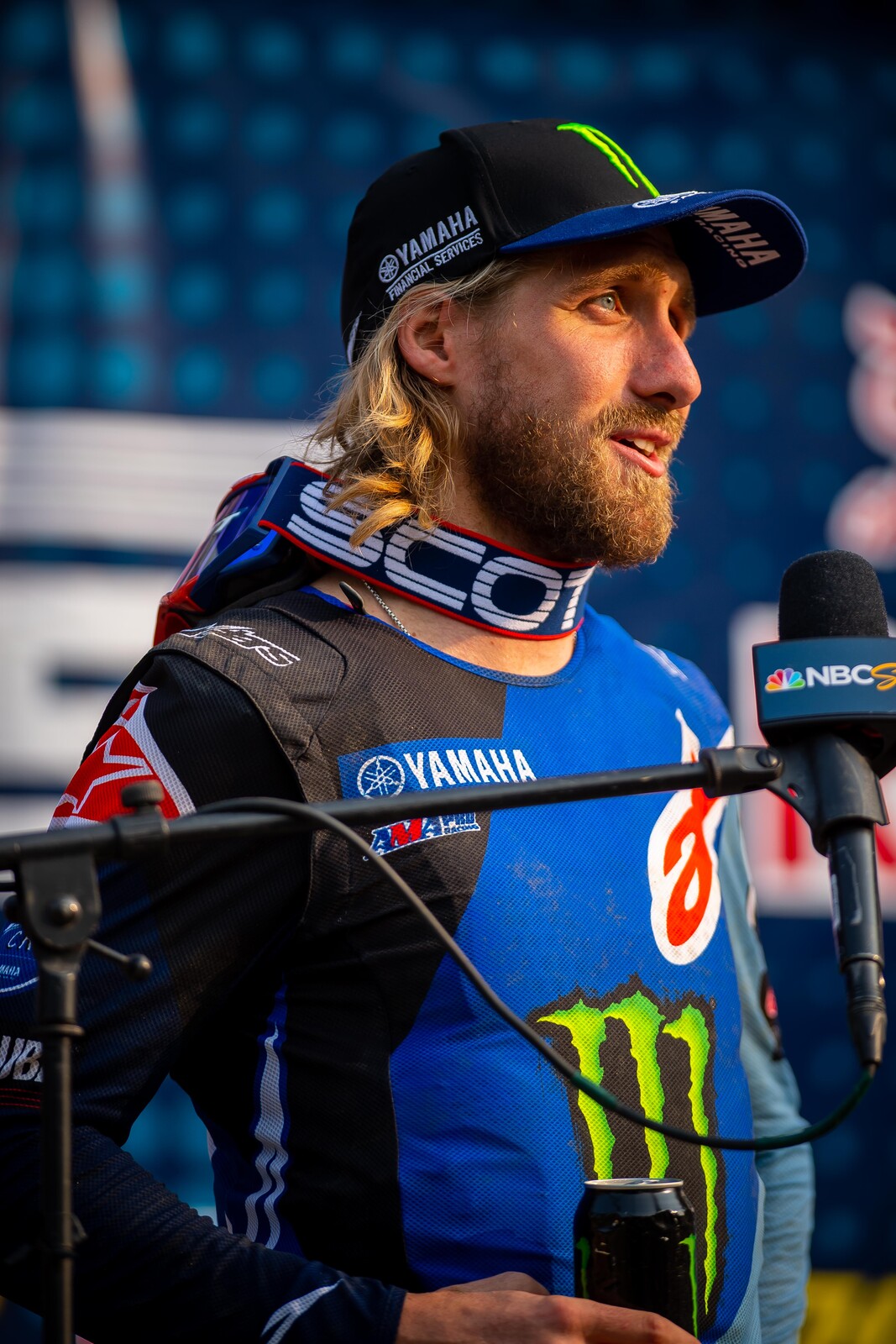 Blake, it seemed like after the first moto on the podium you were really excited over the possibility of getting an overall win. Now that things are rolling for you, are you still happy to go 2-2 and have a solid podium day, because that's better than where you were at the beginning of the year? Or are you getting antsy now to get a victory kind of while you're hot?
Baggett: Yeah, getting a little antsy for sure. No, I'll take a 2-2 definitely. I'll take that bonus money all day, every day. Excited on the 2-2. The first moto I felt that I was there. So, Adam, I attacked, and he responded so I wasn't able to get that one. When I felt like I got close to him, he responded again. I'd love to get an overall win. It's been a few years now. Just got to try to be better.
Justin, this was weird obviously the fact that we're racing in the fall. That wasn't the plan. Is there any merit to this? Have you thought to yourself at all, hey, this wouldn't be bad? Obviously, you'd want to know about it in advance so you guys aren't riding for three months just waiting for more info on when racing would return, which is kind of what happened this year. Do you enjoy racing this time of year, or do you wish everything was just over like it normally would be?
Barcia: To be honest with you, I've enjoyed the weather. The weather has been great. I can't complain about that whatsoever. I think with the COVID[-19] and stuff, the track prep, I don't know if they're trying to save money or what because that's what it seems like. I would say them not ripping up the track this weekend was very strange, but other than that, I think this is great. And we had plenty of time to test before the season which was sick. So, I think it would be lovely if supercross and motocross could work together and give us more time to get our bike setup and things like that. Obviously, I live in Florida and I like the heat and stuff, but all in all today was a beautiful day out there. It was cool. I've been doing this for a long time, and you get used to where you go the same time every year, and this year the trees were changing colors. Not to get corny or nothing, but it was pretty cool.
You can you can watch the archive of the 450 Class press conference or listen to the audio from the Spring Creek National post-race press conference below (the 450 Class starts at the 29:38 mark).