Buchanan, MI
RedBud National II
Lucas Oil AMA Pro Motocross Championship
At the RedBud National 2 on Monday, Rockstar Energy Husqvarna's RJ Hampshire finished 2-3 for his first overall win of the 2020 Lucas Oil AMA Pro Motocross Championship. Dylan Ferrandis (Monster Energy/Star Racing Yamaha) finished 5-2 for second overall, Shane McElrath (Monster Energy/Star Racing Yamaha) won the first moto and then finished tenth in moto two to take third overall, and points leader Jeremy Martin (GEICO Honda) finished 11-1 for fourth overall.
All four riders spoke with the media on Tuesday night (with Monday being a holiday and riders taking late-night flights), in a press conference that was hosted by Casey Huntley, representing MX Sports Pro Racing.
Jeremy Martin: I struggled a little bit in practice. I learned a couple things from the first RedBud, so we tried a different shock in the second practice session. I ended up running it in the first moto and right away I was like, man, this was a mistake. I was pumped up pretty good. I almost passed Jett [Lawrence] and then I knew Dylan was on me. Unfortunately, we came together going down that inside there. I knew that the line, there was one more option inside but I knew that they came together. I basically had the tightest line that was going to be in that turn. Then I went down and I was just in damage control at that point. Ended up 11th. Then moto two, switched back to the old shock and got a good start and was able to get in the lead and win the moto.
Racer X: Dylan, once again you didn't have the easiest day, but managed to do some damage control both motos, kind of like we've seen many times this season so far. Can you walk us through your day and how both motos went for you?
Dylan Ferrandis: Tough day again yesterday. My crash from RedBud 1 was a little bit a problem. I hurt my shoulder, and from that was a little bit difficult for me. But I just want to save my championship. I wasn't in the best position because I rode a little bit with the pain, but we see when I was with the adrenaline and getting into the race I had no problem and I was good. I could ride like I know. It was two difficult RedBuds. Losing the red plate and some points was definitely not good. I think I saved my championship regardless of my crash and my small injury. We have ten days now, 11 days I think, to recover and get ready for Millville.
Shane, third overall on the day. How did that feel to grab that first moto win this weekend?
Shane McElrath: It was definitely good for momentum, for confidence, for everything. It was a tough track yesterday. I think everybody else kind of had their struggles with it also. It was nice to start up front in the first moto. It wasn't easy, by any means, but we were all up there running the same pace. We all were making mistakes and kind of running the same lines. It was kind of the same scenario in the second moto, just a bad start made it that much worse. Everybody I think struggled with passing yesterday. It was just kind of weird how the track developed. It was a tough track when you didn't get a good start. That's really what hurt me in the second moto. I spun as soon as we took off. Going over the gate I was already a wheel behind everybody. So it was pretty unfortunate because I felt really good after the first moto. I'm not really that good in the first moto, normally. It takes me a while to get going. That's something that we're working on. It was cool to get a good start and to run the pace for a while. It was a weird race, but RJ making those big mistakes really kind of brought us all back together. It was nice to get the lead with just over a lap to go. I was like, alright. I'm pretty bummed with how the second moto went just from the get-go. It was a tough moto. I was surprised I got on the podium. I'm ready to go racing at Millville.
RJ, just kind of piggy-backing off of what Shane said, can you walk us through that first moto with a couple laps to go?
RJ Hampshire: I wasn't really like, "Yeah, I'm going to get this win." To make the same mistake three laps in a row is kind of ridiculous. I don't really have an answer for you. All I had to do was chop the throttle a half second and I would have been perfectly fine. I'm lucky to even have stayed on the bike. I checked the tree that that third time, whenever Shane did get by me. But it just was that bank, it was weird. My bike setup was a little bit low in the rear also to start that moto, so I was struggling to kind of get out of my corners. On the exits I would get on it and it would squat the rear and I couldn't really control it. I think someone else blew out the bank before I did. I should have learned from the first time. Other than that, I don't think I really had many mistakes. It was just literally the one spot three laps in a row. I pulled a little gap and then made a mistake and got it going again, made another mistake. I gave that one away. Like I said, just got to limit those mistakes and if I make it once, not make it two times after that. It's kind of common sense.
Shane, this is kind of a loaded question, I would say, but as far as overall points, do you think it would be interesting and good for the sport if we paid overall points as opposed to moto points? Because you would have actually made more points finishing third if they paid overall points.
McElrath: I think that's really what outdoors is about. It's twice the length, twice the guys, and therefore twice the points. You've seen it with Dylan and J Mart. A 15-point swing in one weekend between two motos isn't unseen or unheard of, and same with the 450 class. Zach went 1-1 and the next race he only scored 30-something points. Truthfully, it's good. It obviously separates a lot of people because there's some people that can only do one moto good, and then maybe a good start and kind of run the pace for a little bit. J Mart has won two championships pretty dominant, and that doesn't just come from squeaking by. With supercross, there's guys that can get away with kind of shorter stuff, but outdoors, it's a totally different system but I think it really kind of plays into the sport from a different perspective than supercross does. It suits different guys. It brings a different crowd. For us as racers, we look forward to outdoors towards the end of supercross just because we need a change. Me personally, I enjoy both. I've always done better at supercross, but I hate to look at myself as a supercross rider because I want to be good for two motos. I want to be good for 12 rounds. This year it's a little shorter, but it's a different set of goals also.
RJ, this year you're third. You were fourth overall last year so you're not extremely better, but you seem to be a lot more relevant this year, both indoors and out. Besides the bike though, what would you attribute your consistency and kind of your rise to the front of the pack this year?
Hampshire: There's a lot of things. Kind of just my mental side to it and having Aldon [Baker], that definitely helps out. I ride with Zacho and Coop every day. We ride with the best guys. So I think that's what it was, was getting the race situations into practice every day and just having that intensity. I find it a little bit more comfortable now whenever we go racing.
Would you say that you're doing more work this year with Aldon, or just more efficiently you're working?
Oh, no. Definitely more work. You train as hard as what you know, and that's what I was doing. Just kind of another level once I came over here.
Jeremy, let's talk about that pass or the attempted pass by Dylan. From your point of view, how did you see that?
Martin: I almost made the move on Jett, and then I didn't quite get by him. I lost a little bit of ground. I knew Dylan was on me. I had some arm pump. I had a different shock on and it just wasn't good. It was too low in the rear and I was struggling a little bit. There was the very inside and I took the second one right over. I shut off and the lines basically met into one into the first one, or into the inside. It was a bit unfortunate, for sure. What happened was when he came in we hit some braking bumps. We were getting in there and his right handlebar smashed my elbow. Then when it hit that, I was like game over at that point. Then I went down, and then he ended up going down. I actually went and watched the footage after the race and I was pretty heated. I was definitely like, I know Dylan is faster. He is better. So I was a little bit surprised that he threw it in right there because we all know that he's got good corner speed and he's crazy fast. I got up and tried to do what I could do, but just move on.
Dylan, from your perspective, what did you see there?
Ferrandis: Like Jeremy said, I don't really know what happened because I came in the corner and I expect to have more speed and we touched. It's difficult to explain. I think it was a racing incident. For sure, I should have maybe waited a little more to try to pass but I wasn't in my best position yesterday. Maybe I was a little bit too much wanting to pass as soon as I get the opportunity. Nothing else to say.
What was the double-header like? Did it feel any different physically to race on Monday? Jeremy, what did you think?
Martin: It was fine. I'm willing to adapt to any situation. I welcome change. I flew in Thursday and then we raced Friday. We hung out Saturday and hung out Sunday. I was going stir crazy in the hotel room and stuff, and raced Monday. I definitely don't mind the schedule that we're on right now as far as racing one day a week and then kind of getting home and getting back to work and feeling stuff out and getting back on the weekend. The double-header was cool. We basically banged out two races, boom, back-to-back and then now we got a weekend off. So it works out.
Did you feel just as fresh Monday as you did the Friday race?
Yeah. I would say so. I was maybe not quite as fresh, but I was as good as I was going to get.
RJ, how did you feel physically in the Monday race?
Hampshire: I felt pretty normal. It was actually kind of cool just to have two days that were pretty chill. Usually we get home and Sunday will be our travel day and most of the time Monday we're back at the track. So it was nice to have the two days off. Actually I felt almost more recovered for that Monday race than what I was for Friday. Same thing Jeremy said. It was kind of cool just to do something different.
Dylan, with the shoulder, do you think it's going to affect your riding or prep going forward?
Ferrandis: No, I don't think so. We saw that at two races in a row I was able to race and perform at my best. So I was struggling mentally yesterday because I didn't know if I could endure the two motos physically with my shoulder. That was more the problem what caused me to maybe not be 100 percent on the start or maybe I didn't trust myself enough. But I did my two motos great. The speed was great. Physically I was there to the end. So I don't think it's going to be a problem. Now it's about recovering. I think my last three races was really hard on my body physically and I've always been there and always feel good. So I just think now it's about to recover on my small injury on my shoulder and be ready for the next one. Also for sure improve on the start. But I think physically it won't be a problem. We worked so hard to prepare this outdoors. Take one week or more of rest, without riding, without working, is not going to be a problem.
RJ, really the crowd is a huge part of RedBud and there was a small crowd there of the amateur racers. Does that have an impact? That first moto was such a great battle. You get to celebrate on the podium winning. Does it feel different to have a smaller crowd at a race like that?
Hampshire: Honestly, I don't know if it was for everybody, but I know at the end of that second moto whenever Dylan and I were kind of going at it, just the small amount of fans that were there, they were going crazy. That was cool. I think the biggest thing is just the podium celebration. We're not looking at fans, we're looking at cameras, and that's about it. I wish we did have fans there for that and of course to put on a better show. I'm just thankful we get to go racing still.
Dylan, has your strategy changed at all? You've definitely been making life hard on yourself by starting mid-pack in the motos, but you're definitely keeping it interesting for all of us fans.
Ferrandis: No. The strategy there's no difference. The goal is always to start up front and win the moto. So no, there is no strategy. The only thing is now I know my main rival is Jeremy so I know when he's in front of me it's not good. We are what, six points now? I don't remember. That's the only thing that matters. But when I'm on the gate the strategy is always the same. Trying to get the best start as possible. I know just being in the top five, top eight at the start is enough for me, so just do that and win motos. That's all I want to do. That's my only goal.
Shane, was there any sort of agreement in the pits, say, in strategy as far as maybe let's not go for LaRocco's Leap? You guys were doing it on Friday, but you were saying the track was a little bit deeper. I know your teammate, Ty Masterpool, he looked like he washed out trying to go for it on the outside. Was it something that you decided before the moto not to do, or was it just sort of in the moment?
McElrath: It's kind of in the moment. Once you get out there, you kind of feel how the line is going to be, especially for the first moto. They prepped the inside. I think that was where I passed RJ back because he went wide. I knew that they had prepped the inside. Ty, he's kind of a young kid that's kind of fearless. Each practice these last two rounds, we'd come back, "Hey, Ty, did you hit the leap?" Because he's the one who will try it even if it was muddy. For me, I'm obviously a lot bigger than Ty. I jumped it one time yesterday and I barely—I actually clipped it a little bit. I'm like, I'm not doing that anymore. That was in the second moto. So it really comes down to being in the moment. The second moto, I went wide to try and jump it and people would dive on the inside and face out and pass me.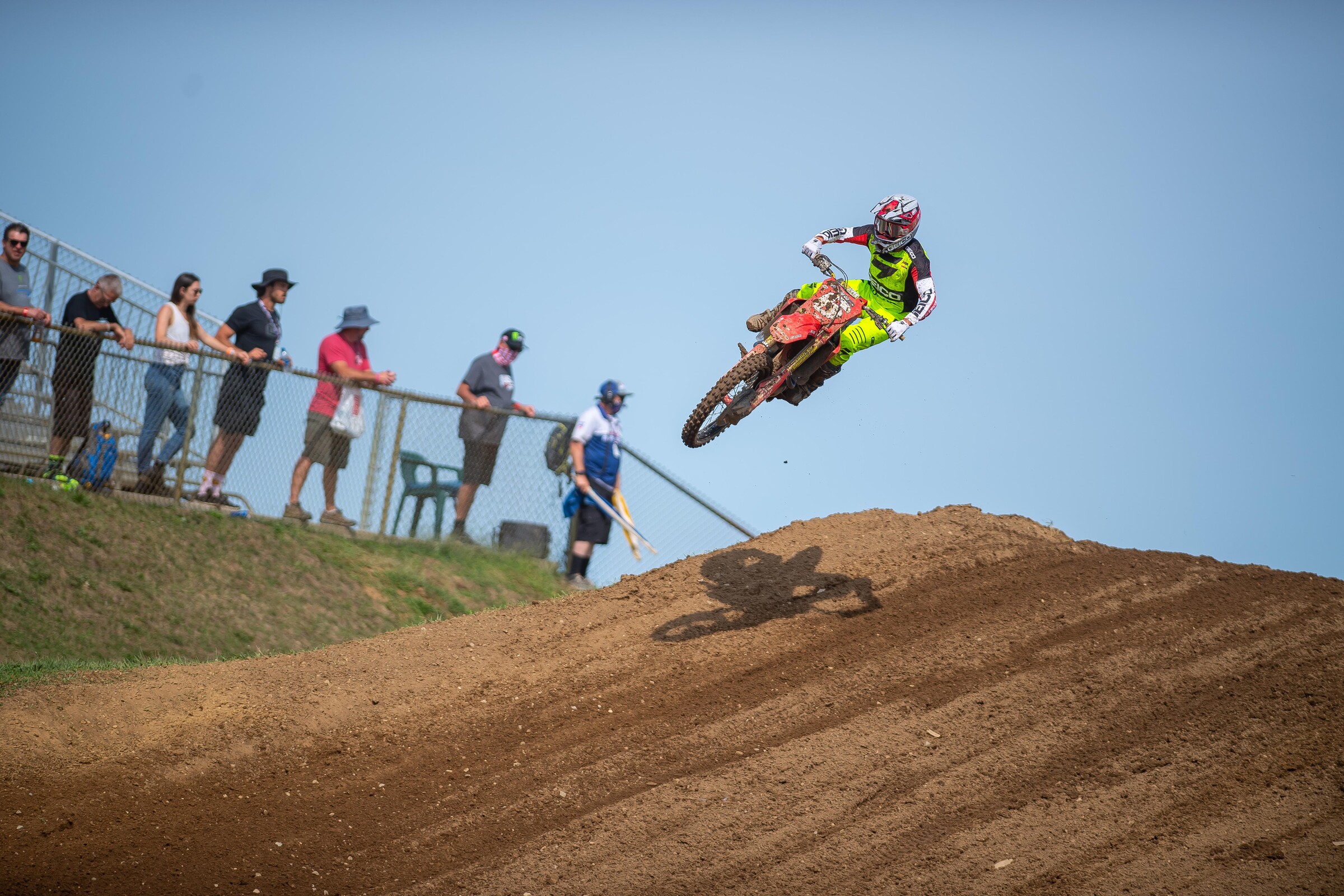 Jeremy, when you guys get back to the truck and you see all the Star Yamahas hucking the leap and you know you're basically losing maybe four-tenths, a half second each lap there, maybe it's more. Is that something that you guys talk about? How are those Yamahas getting over it and we're not?
Martin: No. I knew that they were going to pull the trigger on it. I know the bike, the power that it has and stuff like that. There's no way. I know my brother did it, but there's no way I could have made it! I've done it before. I did it a lot when I was on the Star bike, but I didn't have it today. It's just like qualifying, in the morning when she's deep and she's soft….the GEICO Honda is fast, man. It's the fastest GEICO Honda I've rode since I signed with the team in 2017. We're just doing what we can. I have to try to make it up everywhere else. The guys riding the Star bike, they know.
What do you do during this week off?
Martin: For me, it's just back to work. It's raining here right now. I'm looking out the window. It's full on starting to be like fall up here in Minnesota. I'm just going to enjoy the week, get back to work, see if we can find some more speed and get ready for the home race.
You can also watch the post-race press conference from the RedBud 2 National.