Hurricane Mills, TN
Loretta Lynn's (National)
Lucas Oil AMA Pro Motocross Championship
At the first round of the 2020 Lucas Oil AMA Pro Motocross Championship, Rockstar Energy Husqvarna's Zach Osborne won his second 450 Class moto and by doing so, earned his first premier class overall win. Osborne's 2-1 finishes bested his teammate Jason Anderson's 1-6 as Monster Energy Kawasaki's Eli Tomac's 7-2 finishes earned him third overall.
Following the first round, all three joined the media for the first press conference of the championship, which was hosted by MX Sports Pro Racing's Brandon Short via a Zoom conference call.
Racer X: Jason, great day for you. You once again were in that position to get that elusive first overall win. Stellar first moto, getting out front early and able to open that gap. Talk about just how that dynamic kind of played itself out and how that carried over into moto two and how that kind of unfolded. Everybody has been talking about how difficult this track was today, so kind of take us through your day and give us some insight into how it all happened.
Jason Anderson: First moto went really good. I got up front and I think just honestly a clear track. I think if anyone were to get up front like I was, I think that clear track would have helped them out and got them up there. To get to be able to take your own lines and figure it out while other guys are just getting cross-rutted battling and stuff like that. That was good for me. Second moto, I was in second behind Zach. I kind of started tightening up a little bit, so Eli went by me and I was going to try and learn from him but I kind of blew up a little bit. So with three laps to go I kind of ran into a lapper and lost third place and kind of just got train-rolled by all the other guys and ended up in the back. But at the end of the day, P2 for overall for the first day is not bad. I'm on the podium, so I'm stoked.
Zach, talk about your day. Congrats on the first win. You've been building a lot of momentum, it seems like, going from supercross carrying it right over into outdoors. Especially considering you came off an injury that really sidelined you for an extended period. How has this come about? Are you surprising yourself a little bit with the riding? Did you come into today feeling like this was your day? Take us through your day.
Zach Osborne: Honestly, I woke up a little bit on the wrong side of the bed! I was a little bit not in the mood for it this morning, but the track was really good when we went out. Right off the bat I kind of felt the flow and was able to get into the mindset pretty quick. For me, it was just an execution thing. I knew that I needed some good starts, which the first one was not great. I was around maybe tenth or so. Then the second one obviously with the holeshot was really, really good. It's a great way to start. With this whole thing being a pretty fluid situation, we never know when the series is going to end and how everything goes, so I knew that it was important to strike early, and even if I didn't win today take as many points as I could and try to build some momentum. So to get the win and take the red plate is really awesome.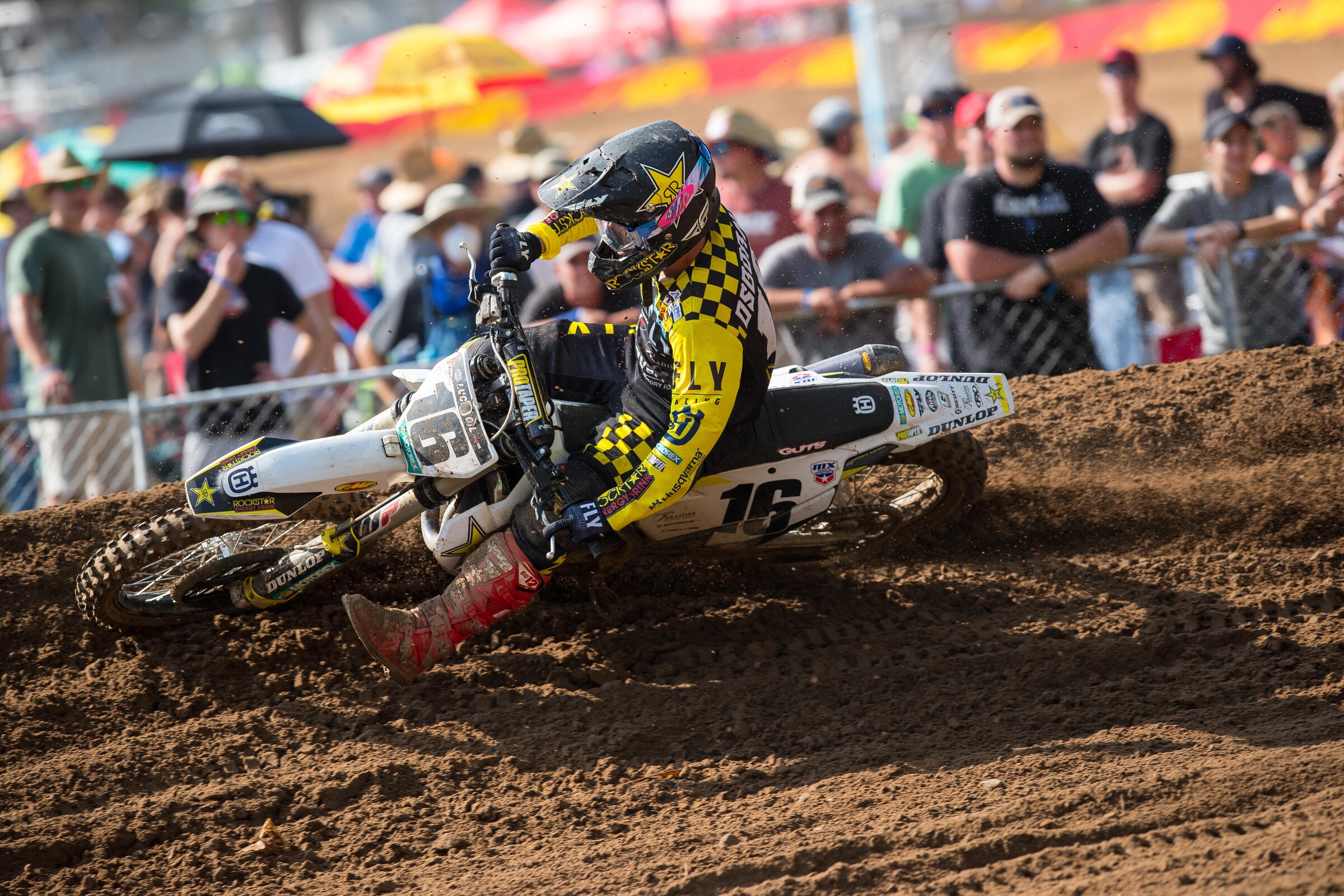 Eli, I think a lot of people are wondering. Moto one was not the Eli we've come to know in outdoors. It seemed like maybe a setting, something just didn't seem right. You bounced back in a big way in moto two. Got a podium, still got on the box. Take us through it.
Eli Tomac: Moto one, after halfway, I just started going backwards. I wasn't comfortable with the lines. The ruts were crazy today. There was ruts everywhere. If something wasn't quite right in that condition, it's really easy to struggle, and that's what I was struggling with. Made just a front end change for moto two. Got back to what I've been on in the past, and it worked. Obviously was a little bit behind and Zach was riding really well, but glad to be somewhat normal for moto two there.
Eli, I saw you [stuck in the mud] in practice. Have you ever been stuck like that since you've been on a big bike?
I don't think so. That was pretty funny. Not funny that I lost the practice, but I jumped the little braker bump and then totally just stuck my front end into that mud. It was like a bottomless pit. Then it was like quicksand mud. I couldn't get that thing up. They to winch it out.
When you were behind Zach, he was quadding out of the Ten Commandments. Did you see him doing that? Typically that's something where you're a guy that goes for the bigger sections.
I missed that. I got told that, too, after the race. They were like, "Zach was quadding." I missed it. I was just doing triple and that was it. I'll have to save that for next weekend, I guess.
Eli, did that first moto remind you a little of A1? Like, Oh shit, here we go? I have 18 motos to go. We'll make it happen?
A little bit that way. I'm always trying to improve what I have, my platform with what I've got. Of course it didn't work during the race. Sometimes you get it right, sometimes you don't. But then I go back to my old stuff, and it was all good that way. It's always a fine line for what works at the practice track and what you think is sweet. Then you take it to the race and sometimes it works, sometimes it doesn't.
Zach, I know one of the biggest hurdles going from 250s to 450s is getting over that jersey shock, the names on the back of the jerseys and realizing you belong there. You were dominant in 250s. You move up. Now you've won two in a row. You won the last Salt Lake [City Supercross main event] and now this one. Are you getting to that point where you're starting to feel like every time you line up, I'm a contender for a championship, wins, etc.?
Osborne: Yeah, for sure. It's coming. It's hard to make that transition. Obviously last year I was hurt for half of the supercross season and missed a lot of time on the bike. Then the Salt Lake thing definitely helped me a lot, as far as just overall confidence and a sense of belonging, like you said. So now I definitely feel I'm in more of a position where I'm not panicking. I can go out there and kind of ride the way I train and ride within my means. It's more just straightforward racing. That's what I feel like.
You and Jason, one two, two races in a row. The dynamic of that 450 team is becoming definitely one of the dominant teams in the paddock. Is it feeling any different? Is the dynamic a little different with the way you guys are riding?
No. It's pretty lighthearted, loose-ended.
Eli, in that second moto, it looked like you made a pretty good push, almost got up even with Zach and then he seemed to get away again. Did he make more of a charge there? Was there mistakes that you made? What was going on at that point in the moto?
Tomac: I think it was both. I got close, but then I was pushing hard to get to him. It was so easy to lose big time. I jacked up a corner or two, and then he would slide away two or three seconds. Then after that, I kind of ran out of time for making those charges. We definitely had our favorite parts of the track. I felt like after the Ten Commandments I was catching him, and then on the other side of the track it was the other way around. He would pull me where that old amateur finish line area is. It was back and forth that way. That was it. I was just giving too much away on one half of the track.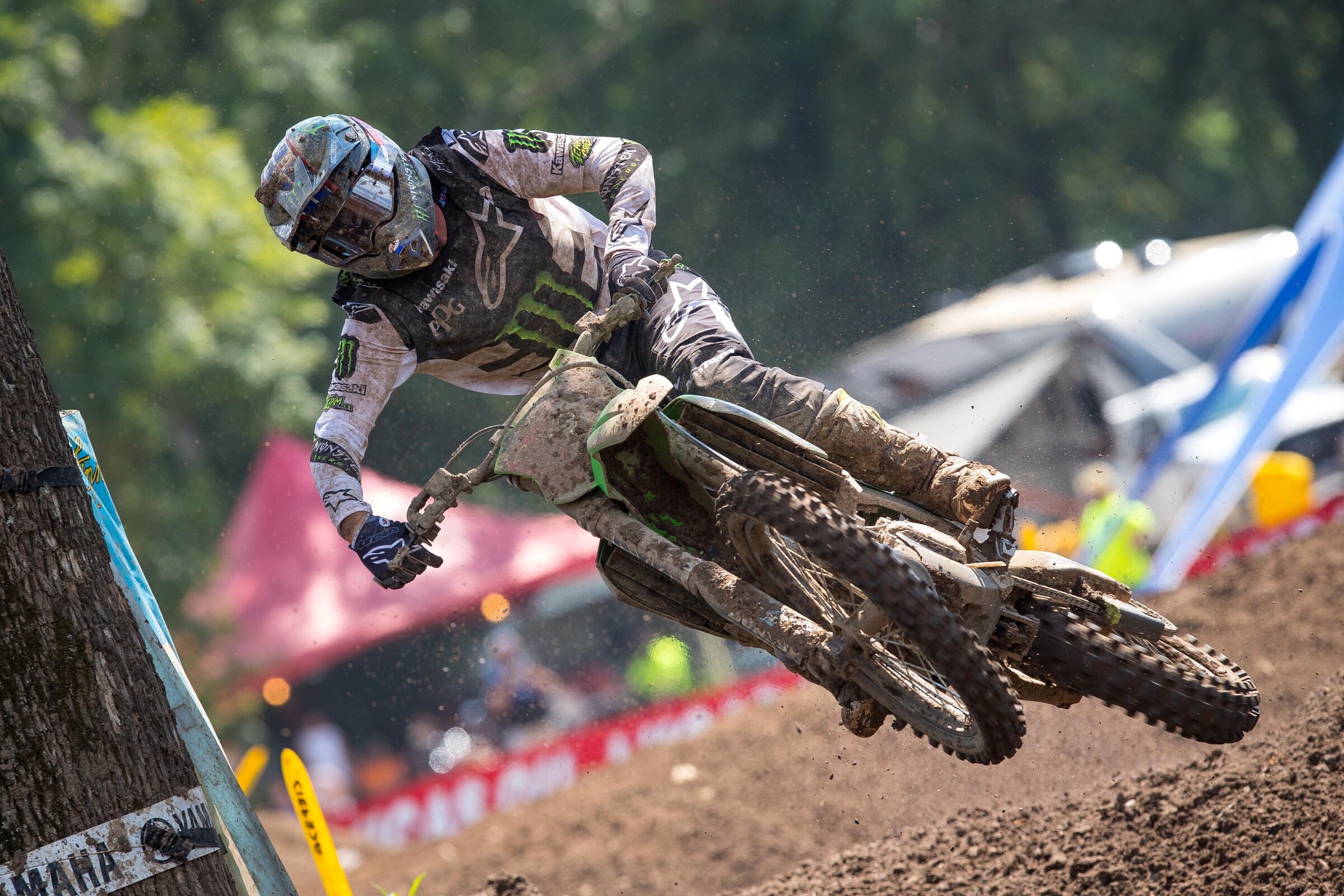 I think at some point all three of you guys have won titles at Loretta's. What was it like coming back there? How did it work as a pro level track?
Tomac: Today it shaped up with a lot of good character. I think the only mistake of the weekend was they ripped the track crazy deep on Friday, and then the rain came. So if it would have been sealed, it would have been a way better racetrack for less sink holes in that sense, but character building on the day, I think it worked out better than I expected for what I was thinking Loretta's would turn into for a national.
Osborne: I thought it would be a good track. There were a lot of concerns about it being too small or too narrow or this or that or the other. But it shaped up pretty gnarly. Some of the ruts were… The one before the Ten Commandments out of that left-hander was 200 feet long. The thing was forever to get to that corner. Like Eli said, had they not gotten so deep trying to have a press day yesterday, I think it would have been a better racetrack. But it did shape up pretty gnarly. I think next weekend is probably going to be even better with what they learned this weekend.
Anderson: I thought the track was actually really gnarly. It kind of shaped up better than I expected it to shape up. All in all, I thought it was a good racetrack. Maybe a little too gnarly, because it would be nice for us to be able to move around when we race, try different lines, but at the end of the day with the amount of rain we had and stuff like that, we can't complain. Hopefully they don't till it as deep before the rain comes, if it comes again next time. Crazy track.
Eli, we kind of heard with the supercross title and you're a dad, you say that you don't necessarily see retirement in sight. You're just in a good space. So what is it like going to the races now? Do you literally feel different mentally, or even during the week when you get on your bike? Everything we're hearing is that you're kind of enjoying racing more than ever.
Tomac: I'm still enjoying it. I'm not saying I'm going to stop next year. My current contract right now is through '21. I'm not saying that's the end at all right now. Still enjoying it. It was great to get supercross, but that doesn't mean it's the end of me next year.
Whenever someone gets married or they have a child they're always like, they're going to slow down. It doesn't seem like it's going that direction. You seem to be enjoying life at the races more than ever after this stuff.
Oh, yeah. I still love it. I just do better when my home life is good, and it's good right now. So that translates to better riding for me.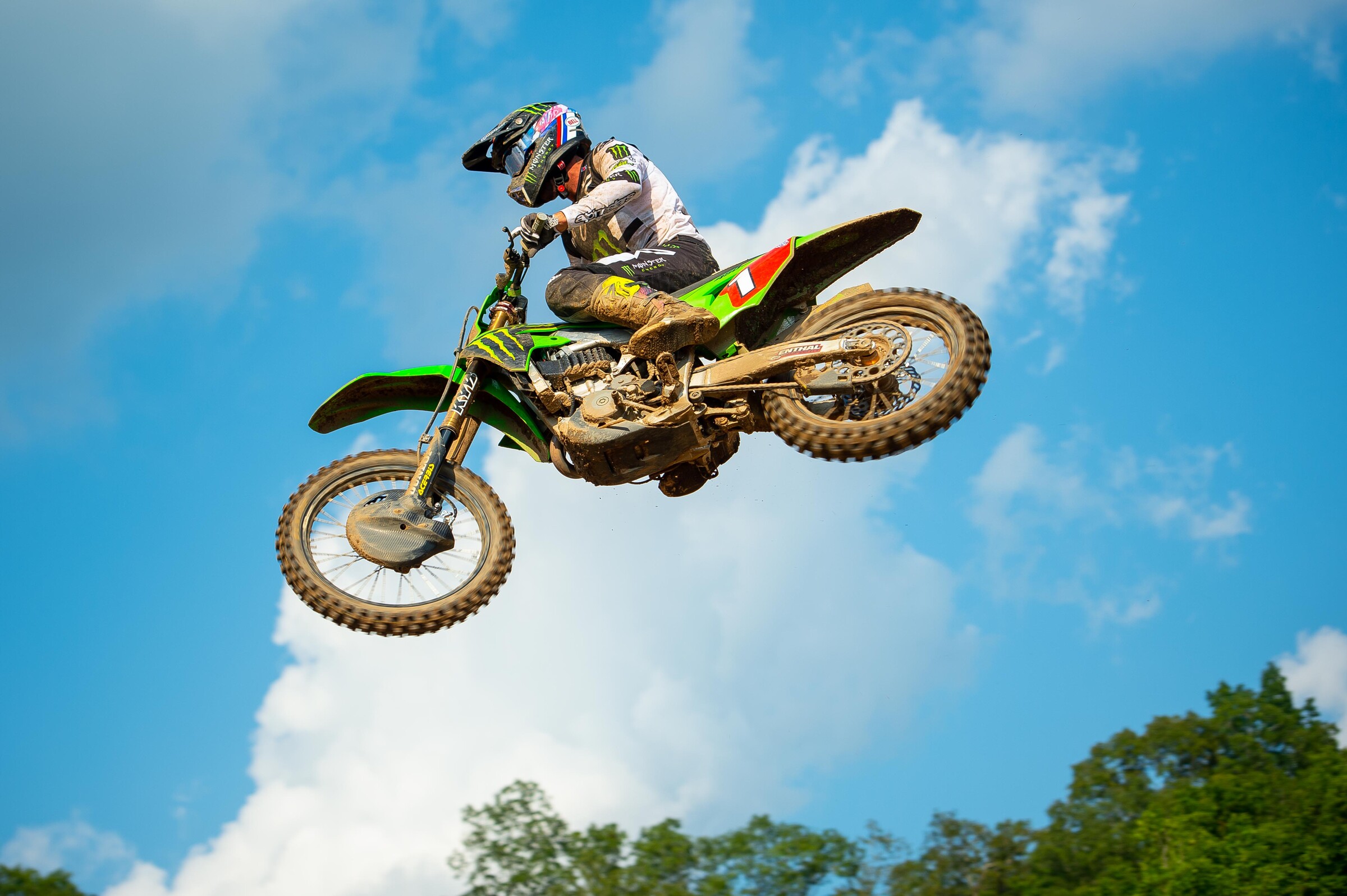 Zach, you got up on the wrong side of the bed. What was the problem this morning, man?
Osborne: I don't know. It was just one of those things. You wake up and some days you can just bleed that confidence and know that everything is going to go right. Today was just not one of those days for me. I was like, we could be under the gun right here. Luckily like I said, I found some good flow and had a good first session and a good second session. That led into the races. My arm pump was actually quite gnarly in the first moto from ten minutes to 25 minutes. Then finally at the end I kind of loosened up. Other than that, the motos were really good for me.
Zach, that pack you were in in the first moto, there were like nine of you going back and forth. Marv at one point, Cooper, Barcia moved up, Eli was in there for a while, Sexton was in there too. What was that battle like? Is it different the first moto of the year when no one quite knows where everybody stands?
Yeah. Also today, it was what I call a status quo track, where you're not going to go faster than 1:57, but two mistakes will put you at a 2:04 before you can even know what happened. So that made it even more tough because the battle was quite intense. There was a lot of guys, like you said. Also you're trying to not make mistakes while still going at a decent rate of speed. It was a techy track in the first moto, for sure.
Jason, with Washougal being canceled and it being across the country, does it help for recovery having you guys just literally be home-based in Tennessee having two rounds back-to-back? Or are you guys going home, or are you guys staying?
Anderson: I'm going home. I got my flight out in the morning. Just to Florida is not that far. I think it's just going to be like a normal weekend. We're just coming back to the same track. I don't think it's going to change much going here or Washougal. Only thing is we don't have to fly out on Thursday to go to Washougal from Florida. So it's basically just normal for us right now.
Osborne, it looked like you were the only rider that was by the mechanics area where you step-on, step-off before that little tabletop. Do you think something simple like that was a contributing factor to your performance? And do you know why some of the other riders weren't following suit?
Osborne: Yeah. I watched a ton of motos last week from the amateur race and just kind of did some research. I saw some guys doing it last week. Then this morning I saw some guys doing it in the 250 practice. I just didn't like that triple turning. Also when you triple, you get into that bump and then you'd go up the face and it was just kind of a lot of energy. So I felt like if you go scrub and then jump on, jump off, or double double or whatever you want to say, I just felt like it was a big energy saver for me. It was for me more easy and more consistent than trying to triple. Those ruts on the face were quite gnarly. AC crashed there big in the first lap or second lap of the second moto. I just felt like it was a safer option.
Jason, you alluded to it on the podium in the first moto. You were saying that even though you're not with Aldon Baker, you're still doing a lot of similar stuff and some of the guys you're riding with. So just give us an idea of what your program is these days.
Anderson: Basically the same stuff. I ride my road bike. I go do my motos at the track and stuff like that. Everyone thinks it's a huge change and everything like that. It's not really so much of a change. Maybe I change a little bit of stuff on my gym, or maybe I'm not on the road ride at 8 a.m. Sometimes I sleep in now! That's about it. For the most part, it's similar. I'm doing the same amount of hours of training a week, just maybe mixing it up, changing it up a little bit. One thing, I have not touched a rowing machine since I stopped working with him because I am not down with that thing!
I know you and Zach and everybody at your team has fun on the weekends, but you've got a pretty dynamic group of personalities I think that you ride with, with the Lawrence brothers and Dean. So there's got to be some fun there Monday through Friday.
Yeah. Honestly, our whole group that we have Monday through Friday is awesome. It's Hunter Lawrence, Jett Lawrence, me, and Deano. It's just kind of us four. We ride at the 83 compound which is Reed's old place. But at the same time, we always decide to try and go ride the other places. In Florida luckily there's a bunch of tracks and a bunch of people have facilities and stuff like that. But it's cool because we keep it low-key and we enjoy ourselves, but at the same time we're grinding. We're working hard. Between Jett and Hunter, it's nice to have that youth. You know what I'm saying? They're very enthusiastic every day you show up to the track. They're always spunky. Me and Dean have been friends. We really just try and help each other out. If he does better than me, I'm happy for him. If I do better than him, I think he's happy for me. But it's a good dynamic we have. I'm enjoying it.
Eli, does it bother you guys that a rookie comes in like Chase Sexton and has the fastest qualifying time? Just sort of like AC did in supercross? Or are you guys just like, it's motocross qualifying. It doesn't mean as much as say a heat race for supercross?
Tomac: [Laughs] If he does it nine weekends in a row like AC then yeah, it's going to bother me. But I don't know. If it's one or two then whatever. There's always a big learning curve that way. We'll see what he does.
Zach, you seemed to excel when the track was getting worse and worse throughout the motos. As a bit of a smaller guy with a more unique riding style, what do you attribute to feeling comfortable in those type of conditions?
Osborne: Growing up on the East Coast, mostly. That's kind of the stuff that I rode every day as a young kid. That's where I'm most comfortable. Also, when I was in Europe, the deep rutted tracks were my best tracks. It kind of just so happened to be. I guess that was one thing that I leaned on when I came back here was you're good in the deep ruts, or whatever. So it's just a confidence thing more than anything, I believe. I would say I tend to struggle more on the really hard stuff with a lot of throttle control. That's just not my style at all, and that's not how I ride. So today kind of suited me down to the ground.
You can listen to the press conference below and you can watch the archive of the press conference as well.