Salt Lake City, UT
Salt Lake City 7
Monster Energy AMA Supercross Championship
Monster Energy/Star Racing Yamaha's Dylan Ferrandis clinched his second consecutive 250SX West Region championship on Sunday night in Salt Lake City, Utah. The Frenchman brought home his Yamaha YZ250F in fourth on the night to wrap up the championship.
However, he dealt with a fair bit of drama throughout the day as he needed to take a trip to the last chance qualifier and had a mid-pack start in the main event before the red flag fell. Unfortunately, championship rival Austin Forkner was the cause of the red flag and there is no update on his condition at this time.
Ferrandis cruised it home after the restart to end his 250SX class career with a top five. Ferrandis spoke with the media via a Zoom press conference call after the race, hosted by NBC Sports' Daniel Blair.
Daniel Blair: Dylan, there was a stat that came up on the broadcast that it was your first last chance qualifier ever. What were you thinking? Go back to the corner when you were down. It took forever to get going. What's going through your mind at that point knowing that uphill battle was coming?
Dylan Ferrandis: It was tough. When I was a kid, it's funny because I always watched supercross and I always think the LCQ is not good. You must not go to the LCQ. I'd never been before in my last four years of racing supercross. Just the last round going to the LCQ was difficult mentally because you know you're going to have a bad gate, and you still have to do it. Before you do it, you know you're going to have a bad gate. So, it was tough. Crashed in the second turn of my heat and crashed with another rider. Their bike was stuck on my bike. I said, okay, let's regroup and go back. I finished tenth, like less than one second to ninth. Went back to the truck and fixed the bike to be ready for the LCQ. It went well. Good start. I won it. I know in the main I will have to give everything I had. When I saw Austin down, I knew that it was over. I will just have to finish the race to win. It was unfortunate for him, but that was for me a big relief, I want to say.
Looking back last year and the way the championship was won on the final round, there's obviously always talk of some luck came into play with that one. Does this one feel different for you? Does it kind of knock that chip off the shoulder?
I feel like I was definitely in the position of Adam [Cianciarulo] last year, where that was exactly where he was. That was tough. That was hard to manage because I never been in this position before. It was new for me. So, some pressure. I feel like I was confident on myself, my physical program and my skill and everything, and then in the practice we saw that the lap time was really good, and the speed was there. I was more scared about when someone else wants to win so bad what he can do. I remember me last year, what I was thinking about [what] to do if I had the chance to beat AC for the title. That's what scared me a little bit today. Austin was really aggressive as we've seen the last rounds. I was just a little scared what he could do. If he made a pass and beat me, something, but if he makes me crash and I get injured or whatever… That was really what I was scared a little bit about. It was tough. It was a hard day mentally. I feel I made big progress today and for the future it helped me a lot. It was one of the hardest days of my life in racing. That was really hard.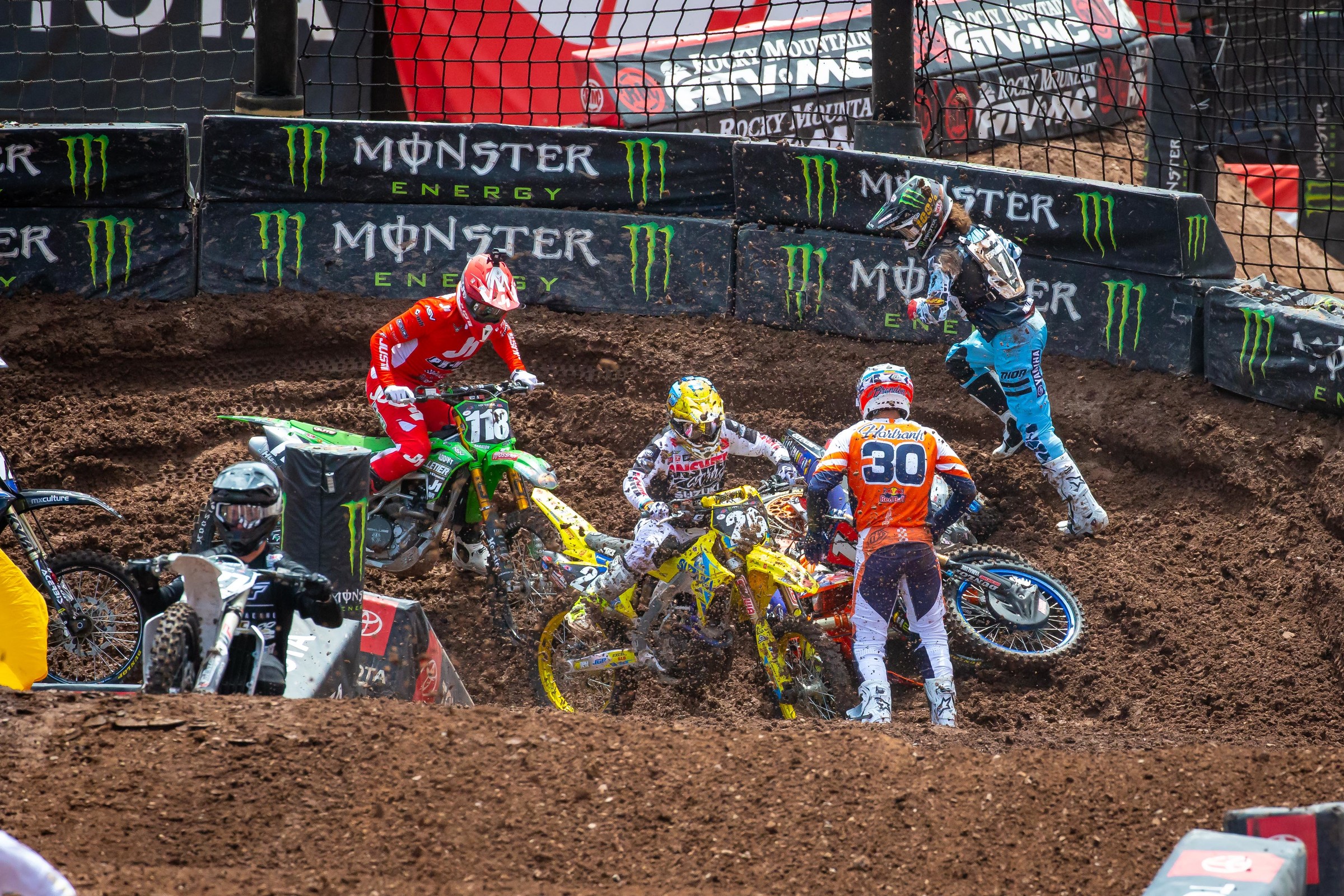 Again for the mental side of stuff, on the podium you're always smiling. You always have a very positive attitude even with the LCQ. I want to know internally what you're going through. Are you that calm inside? Or is there turmoil during those times when you act so cool on the outside?
I was like this because with everything happening in the world right now, in my position we are lucky to race and do what we like. So that's why even if I didn't win the championship today, I would be mad for sure and sad, but I cannot feel like there is other things in the world that we need to think about. When I fell down and I had to go the LCQ I said, "Okay." I was really calm and made good work in the LCQ. I said, "Okay, let's good. We'll see what happens." Still tried to be positive because I really feel that in the mind makes a big difference to have people around and to be always positive and try to enjoy life. Like I said, I was looking for this title for sure, but if I didn't have it, last year I was lucky to have it and there is other things in the world. I just grew up or so and I'm older now. I try to think differently and don't be always sad. Every time I don't win, I'm sad obviously, but that's not good for me and the people around. So, I try to work on that.
At least the cardboard fans can't boo in Salt Lake City. You didn't have to worry about that.
I want to say when people told me there would be no fans, I said 'At least nobody will boo me.' But still I miss the fans.
After the race you said this was the most difficult day in your life. I was wondering if you could kind of explain about that a little bit.
Just because I have to go to the LCQ. Like I said before, the LCQ as a rider is a nightmare. You just don't want to go there. You never know what can happen. I always don't want to go there, and it happened today on my last race of the season. So that's why it was really hard. Emotionally it was difficult because you go in LCQ you know there's a chance you cannot qualify if anything happens and you know you're going to have a bad gate pick of the main, so it was hard. It was just hard to manage. To still win the championship this way was just a big relief.
In that first gate drop, you're ninth. You obviously probably looked around and saw Austin up there in second. How panicked were you? What was going through your mind in that moment when you had to get forward?
Honestly after one or two laps I was pretty confident because I knew I had the skill and the speed and the physical [fitness]. So, I was kind of ready to battle. I wanted to go out front and give the best and see. Honestly, it's when I see Austin down, I say, "Okay, I don't need to push anymore." I just cruise all the main for the second start. Before that, I saw that Austin was second or third, but out front. I was like, "Okay, let's go." I was ready for that. I planned to give everything I had anywhere.
It's great to see the kind of emotion you showed on the podium. Can you talk a little about the emotion you were feeling up there when you got the number one plate again?
Yeah. I still don't know why I'm emotional like that. It's probably because I come from a small town in France. To move from there and live in the U.S. and chasing my dream and won two times back-to-back championship is just a big, big dream come true. So that's why I think I get emotional. Like I said, it was a typical day for me. I had a lot of stuff to manage to get this championship. So, I was just proud and happy, and I let all the emotion go.
When you guys had the first start of the 250SX East/West Showdown and you come around and you see Austin down, do you know at that point the title is yours? I even saw you kind of look to the crowd figuring out if it was done. Was it hard to be motivated and focused for that fifteen minutes because you knew it was already mission accomplished?
What was crazy is that when we had the red flag I came to my mechanic, so I knew obviously Austin was out. I saw my teammate Justin Cooper went to the pit, the paddock. So, I was like, "What happened?" Maybe he crashed and he's not going to ride. If he doesn't ride, I'm already champ. I don't need to ride. He banged his bars and he just asked his mechanic to fix it and just goes back. So, when he came back, I was like, "Okay, yes. I still have to ride and finish in front of him." If he won, I had to finish something like 13th. I think about it, but for sure it was something big to manage today. For sure when I saw him down I kind of say, "Okay. Now I just have to cruise for the second start, and it will be okay." He gave me the task; I want to say.
There was an inside gate open, maybe three from the inside, four from the inside. Did you see it? If you did, why didn't you take it?
In the main event there was a gate open on the inside?
Yes, there was a gate three or four from the inside.
That's weird. I haven't seen it. The thing is, we were a little running late. I didn't see it. I feel like there is a flag with a number everywhere, and that's why I went outside. If I saw that, I would go. After when we made the restart, they didn't want us to change the gate, so I had to go outside. I could take the gate of Forkner, but they didn't want us to do that.
You're moving up to the 450 division. We talked earlier in the year. We were in an elevator at one of the races and you said you watched the 450 guys and you're starting to somewhat file away information on these guys because you knew you'd be racing them. Knowing that you're moving up now, how does it feel knowing that the next time you're on a supercross track it will be with Eli and Cooper and Ken Roczen? That's a big, big step coming.
Yeah, for sure. Like Eli said, the 250 [class] is a little crazy and wild. I feel like it's time for me to move to 450. We will see. I'm getting older also and I think I have what it takes to ride in front. I don't know if I will be one day able to win a race, but for sure I'm working out and I will give everything I have to do it. I will try for sure. I really want to move to 450 for next year and be ready to battle with those guys. That's a dream to ride the 450 supercross. I definitely want to do it. I hope to have a good winter and to finish on a bike and a good team and be competitive for next year in 450 with my first year. I feel like I can do something great when I see AC doing what he did this year. We were battling together last year. So, I kind of feel confident of what I can do in the 450, but I know also it's such a big move and difficult move. So, we will see. That was my last 250 race. Ready to move.
If you prefer to watch the press conference, watch the archive below: