Salt Lake City, UT
Salt Lake City 5
Monster Energy AMA Supercross Championship
Welcome to round 15! After two rounds of the same basic layout with racing in each direction, we have an all-new layout for Sunday. Weather conditions should be very good, even if on the warm side. The bigger question will be the moisture level. The dry, summer air will have taken an effect after heavy rains a week ago. Even in last Wednesday's main event, it was apparent that the track was headed back toward a hard and slippery base. The relentless Utah sun will be a hard foe to tame at least for this round.
For the first time here in SLC, the starting gates have been moved from the middle of the track to one side of the stadium. The start was fairly short for the previous two rounds but now will be the length of the stadium, similar to the first two SLC rounds (rounds 11 and 12). Bending into a long left (extending past two lanes), the first rhythm presents a great opportunity to build a lead with the holeshot. The fastest option will be 3-3-2 but it might be too chaotic off the start to execute. Look for riders to try to put triples together on that first lap.
After a bowl berm, riders will head back the other way and into an interesting rhythm. There will be a few ways to tackle this but I like one particular approach. If riders can do a wheel tap/bounce over the first three jumps, they will be set up for a triple and then on-off the final tabletop section. If they really wanted to get frisky, they could even try to quad out of the section. That option will be most impacted by the transition from triple landing to step-on take-off jump. The subtleties of those angles and transitions are critical for putting big combos together.
The next section has a small roller leading into the only whoops section of the track, immediately followed by two doubles. The whoops have been a big talking point in the SLC rounds so look for more of the same.
A long sweeper is up next and then it's back onto the start straight. Instead of following it all the way around to the first turn, the normal track turns left into the first lane and into the finish line jump. Watch for riders to stay as tight as possible in this left but that will be determined by the necessary speed build up to make the finish line jump. If this finish line jump is difficult, this will be a very vulnerable spot. Riders will be torn between swinging wide to get the needed run but also knowing the door is wide open to a block pass.
Landing from the finish line jump, riders will hit a small double and into a bowl berm. That bowl berm leads to a small double and then the only supercross triple of this week's layout. The 250's will want to carry as much speed as possible over this double so the triple is a tad easier. The triples have been tough for 250's, SLC's elevation really taking a toll on torque and horsepower. The landing will be key, too, though, because immediately after comes a tight left, which puts riders back into the original rhythm section and onto the second lap.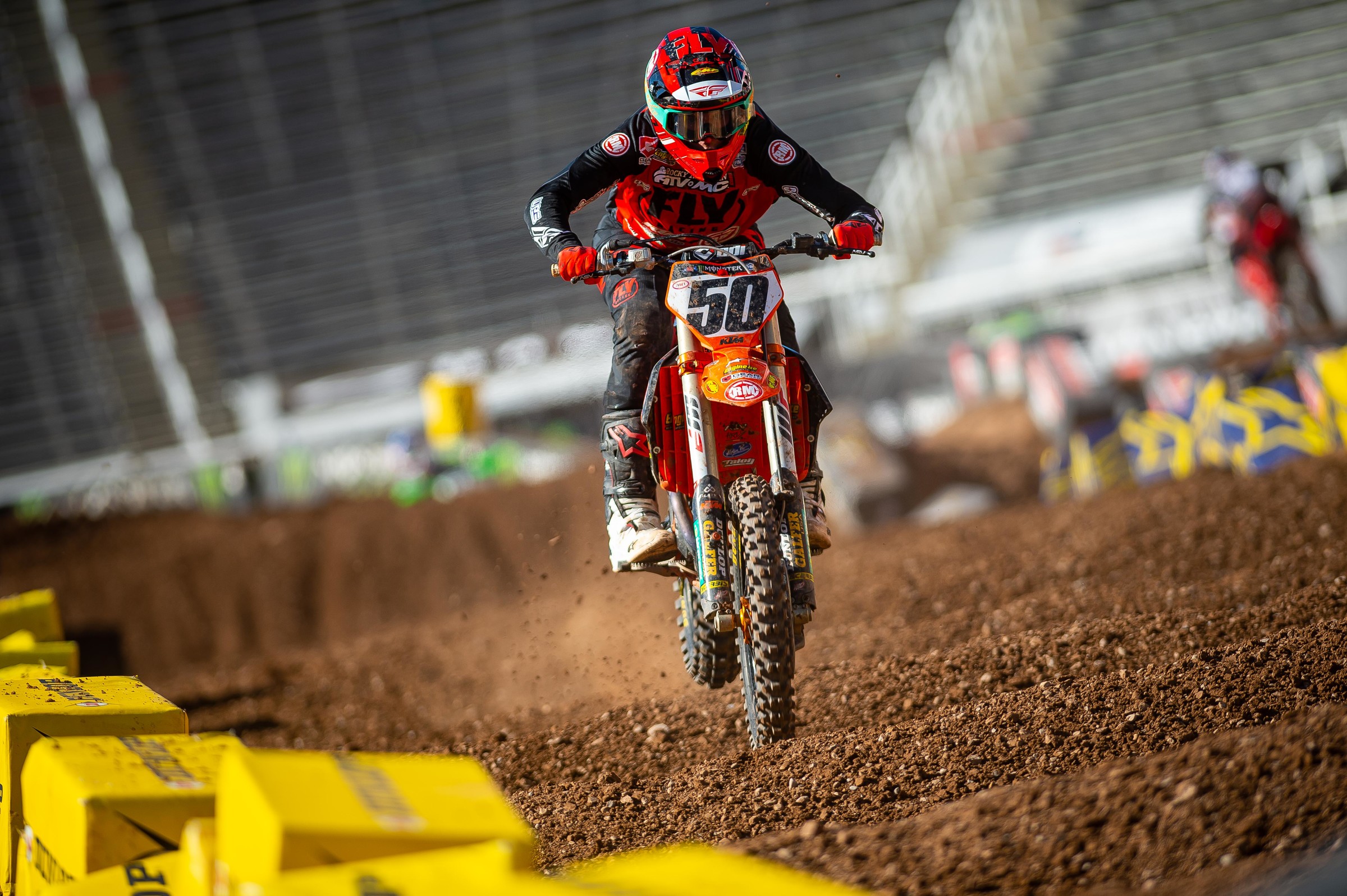 Fantasy Talk:
Fantasy moto is all about timing. That timing was not in my favor on Wednesday but I believe it will be tomorrow. I took a huge gamble by passing on both of the Lawrence brothers but I will be locking them in undoubtedly for Sunday's race. In that case, my timing was right. The rest of my 250 team did fairly well as Cameron Mcadoo, Christian Craig, and Justin Cooper all scored big points. The one mistake I made was hastily picking Luke Clout. I didn't see that he was an all-star and that's simply a result of too many things happening at once. I was camera spotting for NBC Sports, doing Instagram Live for FLY Racing and Racer X, and getting Starbucks for Matthes and myself. No excuses, just idiotic mistakes made. I had a decent 250 score but my FFL of Justin Cooper cost me 7 points as well as my lack of awareness on Luke Clout. As for Sunday's picks, I love the Lawrence brothers, Christian Craig and McAdoo are still big value, Mitchell Oldenburg is still lurking, and Carson Brown regained a bit of value with a 3 handicap.
In the 450's, I blew it. I went with the unorthodox strategy of picking 4 all stars. My hypothesis was that the qualifying would be unpredictable and the handicaps didn't leave a lot of big upside. I wasn't terribly wrong in that theory, but my all stars let me down. Justin Barcia DNF'd with a broken wheel, Justin Brayton had a stomach bug, Jason Anderson crashed early, and Dean Wilson didn't ride to his potential. It just all came crashing down for my "zig when others zag" philosophy. So, for Sunday, I am going to full send mode. If you have a high handicap and look frisky, you're probably on my radar. I need a huge bounce back race. Mediocrity is not rewarded (looking at you Weege). My full send mode will be high risk/high reward and very likely will result in cursing. Maybe, just maybe, I will get it right and throw up a high 200's/low 300's score, though. That's what dreams are made of.
Bold Predictions:
Cooper Webb heads down early for the 250 main event start and boo's Dylan Ferrandis just for fun.
Ken Roczen inks a deal with WebMD.
The 450 holeshot is either on an orange or white bike and the 250 holeshot is by a blue bike.
Congress approves a plan to make Suzuki great again.
Following their TV interview last week in a hot tub, the SmarTop/Bullfrog Spas/Mot Concepts Honda makes a seven figure offer to the Lawrence brothers, undeniably seeing the future of all moto media happening while in bubbles.
My Picks
250
Dylan Ferrandis
Austin Forkner
Justin Cooper
450