Jeremy Martin to Forgo Remainder of 250SX East Championship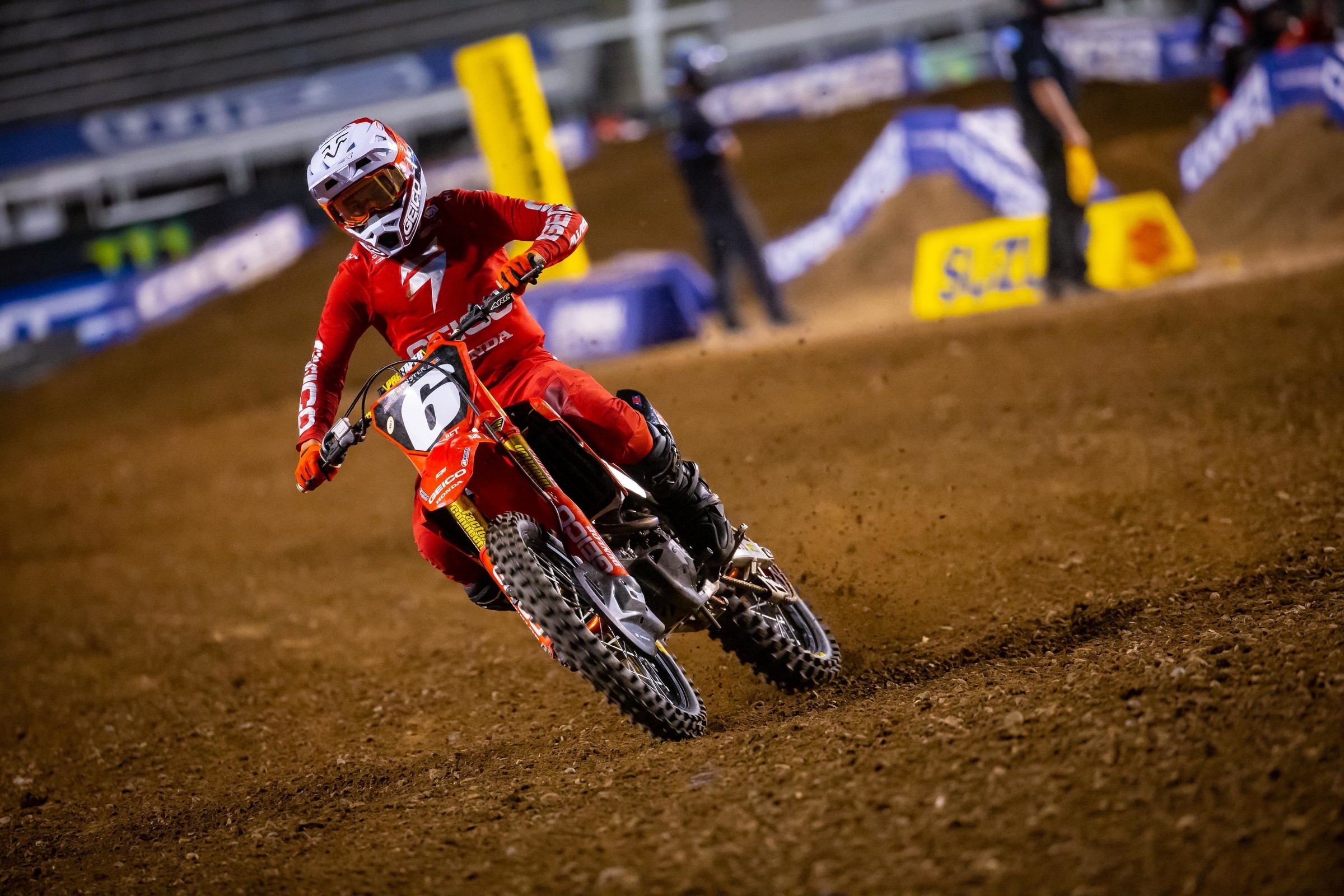 Salt Lake City, UT
Salt Lake City 3
Monster Energy AMA Supercross Championship
GEICO Honda has announced veteran Jeremy Martin will forgo the remainder of 250SX East Championship in order to remain eligible for the 250SX class in 2021. Martin, who did not compete in an AMA points-paying race in 2019 after suffering a back injury during the summer of 2018 in a crash that resulted in a burst fracture of his L1 vertebrae. In December 2019, Martin and the team announced his back injury had barely healed, meaning he would have to have another surgery to redo the procedure that had already been done and he would have to miss the entire 2019 racing season.
Martin returned to racing in the fall of 2019 for several off-season races, including the Monster Energy Cup and the Paris Supercross (neither an AMA points-paying race). In February, Martin lined up for the Tampa Supercross main event on February 15, his first race back since the crash and his first AMA Supercross race since the Las Vegas Supercross on May 5, 2018—651 days (21 months and ten days) prior.
Now, Martin will pull out of the 2020 250SX East Region Championship with three races remaining, as he sits fourth in the championship at 105 points total, nearing the 135-point limit. Pulling out of the remainder of the 2020 championship allows Martin to exercise the second year of the contract he signed with GEICO Honda that he signed in December 2018 when it was announced he would miss all of 2019. Remaining eligible in the 250SX class allows him to race for GEICO Honda team in the 250SX class in 2021 instead of moving to the premier class for 2021 (which GEICO Honda does not compete in), where limited factory rides are available.
Note: GEICO Honda's Chase Sexton (2019 250SX East Region champion), Monster Energy/Star Racing Yamaha's Dylan Ferrandis (2019 250SX West Region champion), and Monster Energy/Star Racing Yamaha's Shane McElrath will all point of the 250SX class at the completion of the 2020 championship and will move to the premier class for 2021. While Sexton has a deal lined up with the Honda HRC team, it has yet to be known where Ferrandis and McElrath will end up.
Below is the very honest, full press release on Martin's situation and the full recap from the Salt Lake City 2 Supercross.
SALT LAKE CITY, Utah—After missing the entire 2019 season to recover from a serious back injury, including undergoing three surgeries, Jeremy Martin's 2020 comeback to supercross racing will go on hiatus following his third-place finish Wednesday night at Rice-Eccles Stadium. In full transparency, Martin has reached the AMA's eligibility limit of points in the 250SX class, and any additional points scored would force him into the 450 class for 2021. As there aren't any openings in 450 factory teams in 2021, and GEICO Honda doesn't campaign the 450SX class, Martin and his team are seeking an additional year in the 250 class to improve his performance and health in the quest to earn a factory ride in the 450SX class for 2022.
By remaining in the class, Martin can honor the second year of the two-year GEICO Honda extension signed prior to this season, as opposed to moving to a more competitive class without a chance at top equipment.
"I'm 27 years old now; would I want to be racing 450? Absolutely," Martin explained. "But sometimes you have to take the longer path, which right now is to lick my wounds and try to keep rebuilding myself in supercross, so I can win races and championships for GEICO Honda next year."
Martin will return to action for the Lucas Oil Pro Motocross Championship, which is slated to begin in July. (That series doesn't have points eligibility rules.)
"I haven't won races this year in supercross, but a lot of people didn't think I would even be competitive coming back from an injury like I had," Martin said. "To go to the 450 class in supercross after not even nipping on the heels of winning races in the 250 class, I can't think short-term like that. I wouldn't be able to get a ride, so it would be a terrible move for my career."
"Physically, I'm not at the level I was at in 2018, although I think I'm mentally stronger," continued Martin, who has scored three third-place finishes this season and is fourth in 250SX East points. "After all the rehab, the pain, going and getting a regular job, I appreciate having a job racing a dirt bike, but physically, I'm not ready to go into the 450 class and be competitive there. I felt like I was ready in 2018, but when you don't touch a motorcycle for a year and a half, and all those guys that are winning now are racing every weekend and training every week, it takes a long time to build back up."
As for last Wednesday's race in Salt Lake City, Martin's podium was the best result for the team. Teammate and defending 250SX East Champion Chase Sexton had a disappointing night, with a crash early in the main event dropping him deep into the field. He clawed back to salvage points with a fourth and is tied for the series lead with three races remaining.
"I just washed the front, and that's about it," Sexton said. "I came from pretty much dead last, and that was all I could do. I've just got to do better Sunday."
Martin rode a lonely race in third, one position better than in the first Salt Lake City race.
"Last Sunday was absolutely pitiful for me," Martin said. "I got a good start and my arms locked up after lap three. Yesterday we found a practice track that was extremely hard-packed, and we found more comfort. We could use a different front tire angle and get some grip."
Rookie Jo Shimoda overcame some hurdles to put in another consistent ride, finishing eighth.
"I was struggling in timed qualifying, where I was 10th," Shimoda said. "On to the heat race, and on the first lap I crashed in the first turn, which bent my clutch lever. The whole moto, I rode with no clutch, but I was able to finish ninth to get to the main. That gave me a far outside gate and right after the start, the holeshot device came off, so that put me into last place. I was actually pretty happy with my riding, as I was able to catch up to eighth for the day."
Racing resumes Sunday, June 7, back at Rice-Eccles Stadium.