Welcome to Racer X Next, where we interview up and coming amateur racers. We'll check in with racers on topics such as their training program to qualifying for and competing at the Monster Energy AMA Amateur National Motocross Championship at Loretta Lynn's Ranch, and much more.
This week, we talk with Team Green Kawasaki's Ryder Difrancesco.
Current Age: 15
Hometown: Bakersfield, CA
Instagram: @RyderDifrancesco199
Team: Monster Energy Team Green Pro Circuit Kawasaki
Classes: Supermini 1 and Supermini 2
Racer X: What's going on? What are you up to?
Ryder Difrancesco: Nothing much since this quarantine started. Just riding and kind of enjoying the time off. I've never really had this ever. So I'm enjoying it and also putting in the work.
Where do you ride out in California?
Jett Reynolds is from Bakersfield, so he has a compound that he built about two years ago. There's a track there, and then there's [one] an hour north of my town called DT1 so we ride there. Then if we can, we can go down south and ride [Fox Raceway at] Pala and all those tracks.
How was your spring before everything got shut down?
Good. I started Daytona. I won one class and then I fell in the second one. I went to Spring Nationals in Texas and I won all my supermini classes and then third in schoolboy one in the 125 class. So they went good.
Now that we're back to racing, what are the next races you plan to go to?
My first regional would be Utah which is next weekend. Then Loretta's in August. If Monster Energy Cup goes on then I will race that, but if it's not then I'll get on a 250 after Loretta's.
What are your goals for Loretta's?
Obviously try and win, but top three is my goal, and try my hardest. My goal is to go pro in the next couple years, probably three or four years, I'll hopefully sign with Kawasaki. That's my goal.
Do you have a trainer or anyone? You mentioned riding with Jett, but is there anyone industry-wise that you train with?
I mostly ride with Jett, but I have a trainer, Ivan Tedesco. So any time I get down south or he'll come here and ride with me. It's good. He obviously knows a lot. It's someone to listen to and it's nice having a schedule every day to do something and put the work in. He also tests for Pro Circuit, so I'm always down there and [I] test with him too.
How did that come about? How did you get connected with Ivan, through Pro Circuit?
Yeah. I've been with Pro Circuit for a while. I obviously needed a trainer. I was starting to get on big bikes. So he's been around PC for a long time too. Mitch [Payton] hooked me up with Ivan.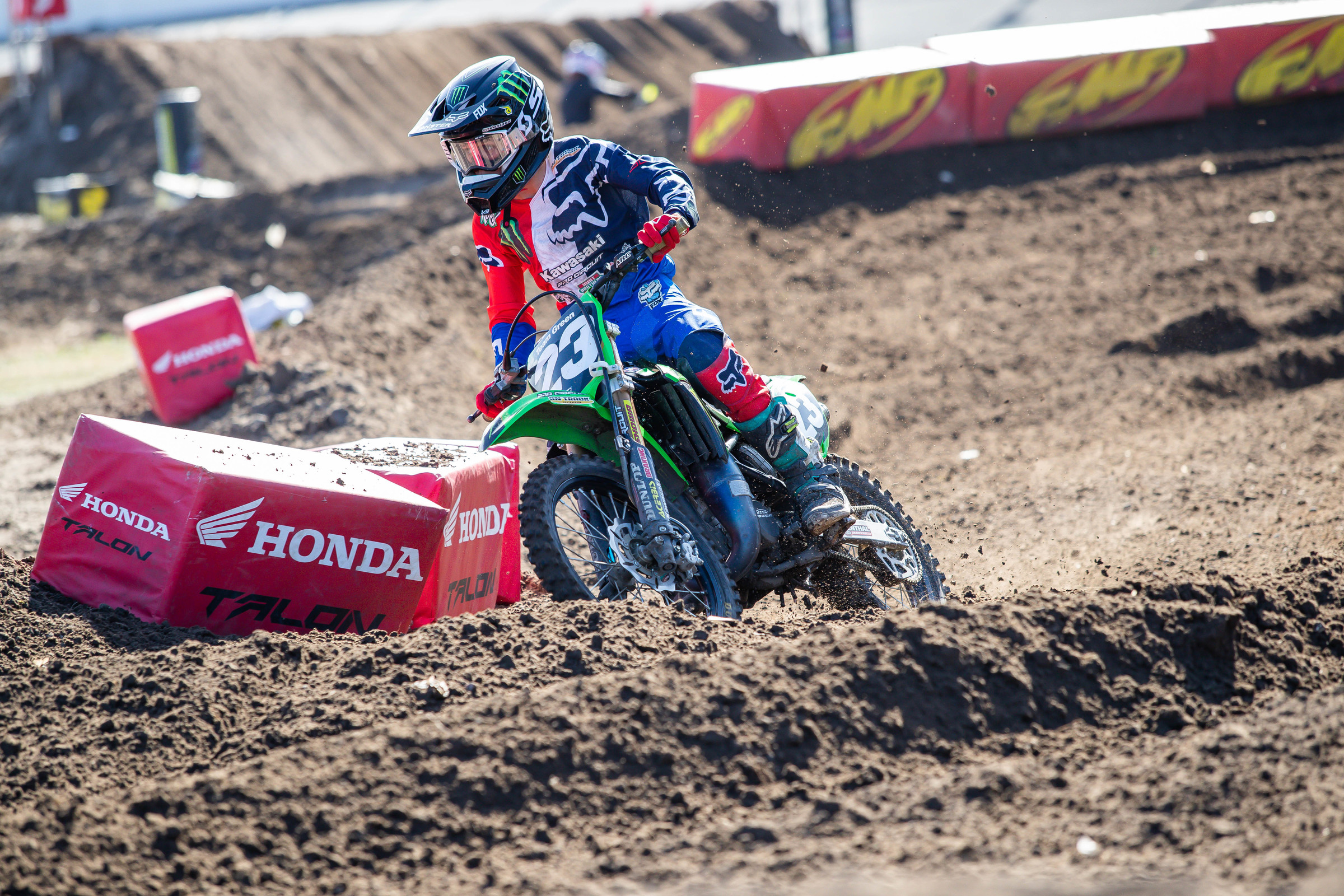 How did you get into motorcycle racing?
My dad has been doing it ever since he was six or seven years old. My grandpa actually owned a track here in Bakersfield, so it's kind of always been in the family. Once I was born, I was kind of always into it and always on a motorcycle track. They got me a bike around two or three years old and I've been riding ever since then.
What do you think about the supercross race format that's going on now?
I like it. I don't have to wait a whole week to see supercross. It's every couple days. I like it just because I don't have to wait so long. If I was racing, I think it would be good just because you're racing every four or five days, so you're constantly improving. I think it would be good.
What guy do you like to watch the most?
My favorite rider is probably Eli Tomac just because he's so fast and he can always win no matter what place he's in.
---
Main Image: Andrew Fredrickson