Society Hill, SC
Camp Coker Bullet
GNCC Racing
After launching last year, the Monster Energy/Babbitt's Kawasaki Team Green GNCC squad now has a win, courtesy of Australian veteran and 2010 series' champion Josh Strang, who scored a victory last weekend at the Camp Coker Bullet GNCC in South Carolina. This win was especially big, because it marked the first loss of the season for FMF KTM's Kailub Russell, and Strang's first victory since 2016.
We chatted with Strang a few days ago to learn how it happened.
Racer X: What's your schedule here a few days after the race?
Josh Strang: Today I got to go for a ride here. It's like five minutes down the road, just a little track. Still a little fatigued, actually, so didn't do a whole lot. Just some technique stuff and a little bit of fun. Sweating it out a little bit. Now I just had some lunch and I was catching up on the Lance Armstrong documentary, the 30 for 30, on ESPN. That guy's a badass. He did some crazy stuff. If Lance went down the road right now cycling, I'd probably drop the phone and jump on my bike and try and catch up and say, "G'day."
Yeah I wouldn't blame you if you want to end this interview right here and go! It's funny because in your thing, you battled Kailub Russell for the win over the weekend. You've been battling Kailub Russell for wins for ten years now. Occasionally some of the battles did get gnarly, but I never see that level of mentality from you guys where you're like, I'll try to end this guy if that's what it takes to get that little extra. That's the what you see from Lance. He was all in!
Yeah. I don't know why that is. Maybe our bonuses aren't big enough or something like that! For me personally, I'm not the person that wants to just end someone. I want to do something competitive. If I can go race Kailub or someone, even if it's third or fourth place and we battle down to the finish line, that's what I want to do. That's why I enjoy, more the excitement of battling with someone. If it's for the win then it's even better. On that subject, my last win actually was when Kailub and I crashed together. That one didn't end well. Kailub and I were not on speaking terms for a while there. It was a racing incident and I think he now agrees. I don't know. It was a racing incident. He came off second-best that day, from what I remember. I would never try and take someone out. That's for sure. That was funny coming into the last few turns or the last half-mile after he had crashed. I was like, man, the last time I won, Kailub crashed too. Hopefully all these people don't think that I just took him out again, because it's definitely not me!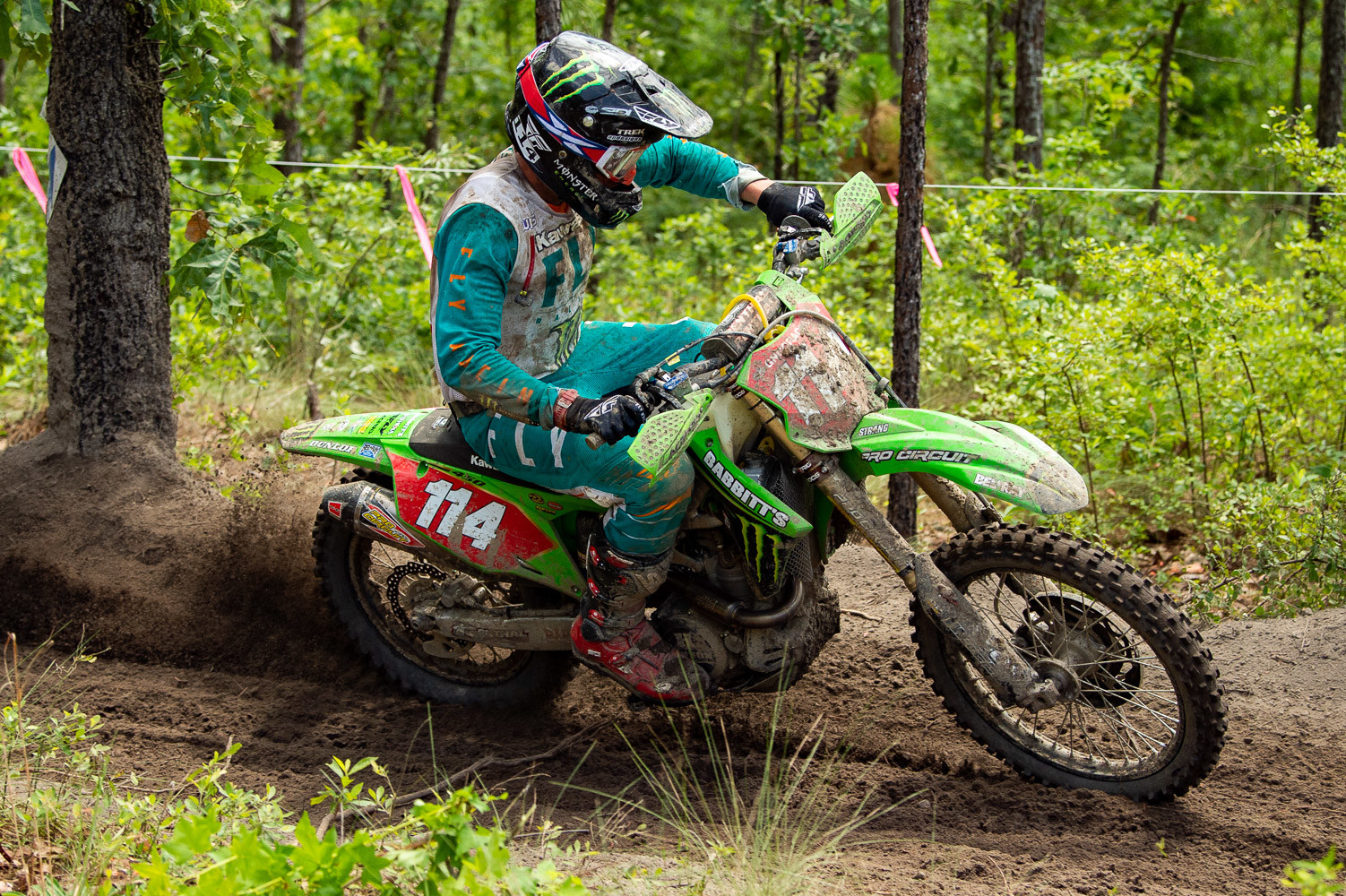 Let's talk about how the race unfolded. You won and Kailub had his big crash and ended up in a fence, but it's not like he was cruising with a lead and then crashed. You guys were going at it all day and you had the lead for a while.
Yeah. The last lap was fast. I felt like I was in control, not riding over my head the last lap. He was right there. That's what was difficult. If I made a mistake, he was going to pass me. There was no doubt about it. I watched some of the highlight video stuff and he was closer than I thought, but I don't think close enough to show a wheel or anything like that. It's unfortunate he crashed. I went and saw him after the race and he told me where he crashed. It would have been a big one. Glad he seems like he's not too beat up. So that's good. I think if he hadn't have crashed, I think he mentioned that was a section that he was going to try and pass me. I remember him passing me the lap or so before. When I think about it I'm like, I didn't know where that line was. He most probably would have got me there. But then if it wasn't there, there was probably half a mile of grass track kind of stuff there right near the end that would have been interesting.
That's what I'm saying. You had the speed all day. The last race, two weeks before that in Georgia, you were in the mix. A whole season you've been on the podium every race and you're getting closer and closer to the lead, and then you win. The confidence has to be back, man.
Yeah. It has been a good year. I'm really happy with how I'm riding. People are going to be saying there's three or four guys out injured, but that's part of the sport. I've been doing it for long enough. You can't be on the sideline and get a podium. So that's just part of it. I just feel like I've been riding well. I'm confident but I feel like my riding hasn't changed over the past six months, so it's not like I have increased confidence. I just feel like things are starting to come together, and the races are just going better for me. It's hard to get overly confident when you're racing with someone like Kailub. I've said it many times. He's won 62 races or something like that. That's not by fluke. He didn't do that just by getting lucky. He's a good racer. On the weekend, I know he crashed, but if he didn't it would have been a much more difficult race the last three miles or whatever it was. I'm confident and I feel like I'm riding well, but it's still early in the year. I just want to keep plugging away and having fun.
Now that you're back in these last-lap fights, and in the GNCC the last lap is like a whole other thing, what is it like being back up there? What's the difference to having a guy right on you or being right behind someone the last lap, last couple miles, compared to other races?
Yeah. Coming into the last lap, Kailub for one had to fuel twice. So when he gassed the second time I tried to get away a little bit like I did the first time, and it just didn't work. I think maybe I was a little fatigued so I couldn't push as hard. Then he was probably a little more intense in his riding, so he caught up as well. So going into the last lap I think he was a second or two behind me. It's hard to break away when you're together. I just figured I was going to ride my race until I felt like I had to push. I think about halfway through that lap we started going fairly quick. There was a few more mistakes and stuff there, the last lap is intense. Like I said, if it came down to the last three miles it would have been worse or better, however you want to look at it. Definitely would have been exciting. It's good. I'm excited that it's a couple races in a row where I've been towards the front the last two laps. That's what the racing is about. You need to be there at the end to have a good result and starting to click it off. Hopefully we can keep doing that.
You say the last six months have been better. What changed?
Honestly I think just the second year with the team has been good. I'm just enjoying life, away from racing as well as the racing. I enjoy training. I enjoy time with my family. Even at the track the GNCC's, I've got the little seat for Maverick [son] and we go mountain bike the track on Saturday morning. I really enjoy it. I think it just steamrolls into the race weekend and the race day.
I'm going to guess here. This happens every time at GNCC. Have you had races that were harder, gnarlier, more tired physically that you didn't win than this race that you do win? I always hear that it goes this way usually.
Yeah, probably. Honestly, I was pretty cooked on Sunday. I couldn't really eat much dinner on Sunday. The John Penton two years ago I think, I remember dry heaving when I crossed the finish line after another battle with Kailub. But not for the win; it was for the second. I was dry heaving. That one was real bad. The doctors had to give me an IV at the track. So in recent times that one is probably the worst one I've had. But they're all difficult, man! It just depends. Now that the weather is heating up and we're a couple of rounds behind in the schedule, the next few are going to be difficult, just getting hotter and more humid and that sort of stuff. I don't think they'll get any easier. All the people just want to get out of the house and come race. So I think the tracks are going to be beat up. We're going to be in for a tough ride, I think.
So this was not one of those races where everything was just flowing and everything just came easy.
No. You got to work for all of them. I did feel like I had a solid race. I felt like the race came together for me. For the most part I didn't have any issues, which always makes it easier. None of them have been easy, so if there's more to come I don't expect those ones to be easy too.
What was this like for your team? I know technically it's the second year for the team, but there's a lot of veteran GNCC guys on that squad, and to get a win, I don't even know… When was the last time a Kawi won? Eight years, ten years? I guess Paul Whibley's days, maybe? That wasn't even Team Green. They had to be so pumped.
Yeah, I think so. Freddy [Andrews] and Joey [Mauer] work hard. I think they just want to see us, Jordan [Ashburn, teammate] and myself, put in the effort. That's the same as myself. If I put in the effort and I get a third or a fourth place then it is what it is and I'll be happy with it. I think they're the same. I think for Kawasaki and Babbitt's, Freddy and Joey, they've won a GNCC and they know what it's like. For the Babbitt's Online team and Denny [Bartz], they haven't been able to experience a GNCC win. I think that meant a lot more to them. They were pretty pumped with it. So that was good. Then Kawasaki, second year out on the new bike, so I think they were excited too, especially getting back into off-road. It's definitely good for them and the brand.
If you prefer to watch the interview, watch it below:
How much work did it take to turn the KX450 into a woods bike? Has it been a development process or you pretty much had it as soon as you guys started?[Laughs] I could be a salesman right here. Honestly, you can go buy the bike and you can go race it, no problem. For me, I put an 18-inch wheel on it, a big tank, my handlebars and a suspension setting. So stock suspension, just a setting built by Pro Circuit. No special parts, just for me it's re-sprung and some shim changes and that's about it, man. There's nothing super fancy. We put a PC pipe on it and that, and we go race. The regular customer, it's so easy for them to just get on it. Now they're electric start. It makes it easier to really enjoy riding the bike. It really doesn't take very long to set up at all.
That's good to hear because I think some people who aren't from an off-road background, they might not know that GNCC is rough like motocross tracks now. It's not slow, enduro-technical stuff. I bet you could claim that the suspension on a stock motocross bike is almost set up perfectly for GNCC-type bumps these days.
Yeah, especially for an average rider it probably is set up perfect. For me, I'm a heavier guy too. I'm like 195. I need to go a little stiffer on the spring rate and for my speed as well. But for the average guy to go race, the stuff is probably pretty good. So when I first got that bike, I rode it with stock suspension for maybe a month or two before we finally decided to change some stuff. It's good. I like it. I see a lot more green bikes out there now from the start of last year when the program first came back. So hopefully we'll see more green fenders. Kawasaki is going to be pumped there's more bikes out there so then they'll keep wanting to go racing. That's what it's all about.
You're an influencer now. That's what they call you.
[Laughs] I like to think so sometimes.
Next, I think you guys are going to race at High Point. This whole schedule thing, GNCC hasn't had it as bad as other series, but has it thrown you off at all not knowing when or where? How tough has that been?
For a little while it was. For me, if they announce the schedule week by week or fortnight by fortnight or whatever it is, it doesn't bother me. I'll just pack up my stuff and drive to wherever we have to go. So it's fine. For the regular person, they have to take dates off work and book hotels and stuff so it's a little harder. As far as the training and stuff goes, I was getting to the stage where I was kind of getting burnt out when they announced the Georgia date a couple weeks ago. So I think I got lucky. I probably could have taken a week or two off straight after the first Georgia, but I kept doing some stuff. It's been a no-brainer, really. It's been fun.