We still don't know too much about next week's Moto Fite Klub race, but we do know it has one heck of a collection of old racers ready to do battle. It also has the Travis Pastrana seal of approval—you know if Travis is signing up for something, it's going to be wild.
This is a pay-per-view event running May 12 at 5 p.m. EST/2 p.m. PST.
If you haven't heard, Moto Fite Klub takes place next Tuesday night at an undisclosed location. It's head-to-head racing with Ryan Villopoto, Mike Alessi, Jeff Stanton, Damon Bradshaw, Ivan Tedesco, Jake Weimer, Ryan Sipes, Kevin Windham and Pastrana. That's about all we know. So we called Pastrana to get his take on it all!
For more information, read the latest press release from May 4.
Racer X: We've been trying to keep people on top of the news of when racing will return. Maybe there'll be a supercross race at the end of May. But we know one thing for sure, there will be a race of some sort next week. I don't know what kind of race this is, but apparently you're in it!
Travis Pastrana: Evidently, man. This started out... I got a call from Bradshaw and Stanton. I figure everyone listening on Racer X can appreciate this. I about fell off my chair. I'm like, FaceTime from who? Stanton and Bradshaw? Pretty awesome. Started out as a little bit of a call-out. So I called Windham. Windham is like, "All right." Then Villopoto or somebody knew we could really do this and we could actually make it like this Pay-Per-View Fite Klub thing so people could actually watch it. He's like, we could do it there, and there's a little bit of a cost to actually production and we could have everyone watch. Windham and I were like, can we just go ride for ourselves, just have some fun? Broc Glover comes in. He said, "Okay, look. I'll spend a couple grand. I'll figure out how to drive across the country. Let's figure out a way to make this where if people do want to watch it, that maybe we cover our costs to get there, and then let's be able to raise some money." Broc's son, Dane, has cystic fibrosis. He's like, "I'm always trying to figure out how to work ways to do that." He still rides a lot and does a lot of stuff to give back. So it kind of came full circle to where "let's go ride for fun" and "let's do something" to "let's see if we can broadcast it" to "maybe we can do both and give a little bit back." So I'm still really confused, but hey the geriatric club is going! We're going to make it happen!
Okay. So this is May 12th, like eight days from now, essentially.
Yes.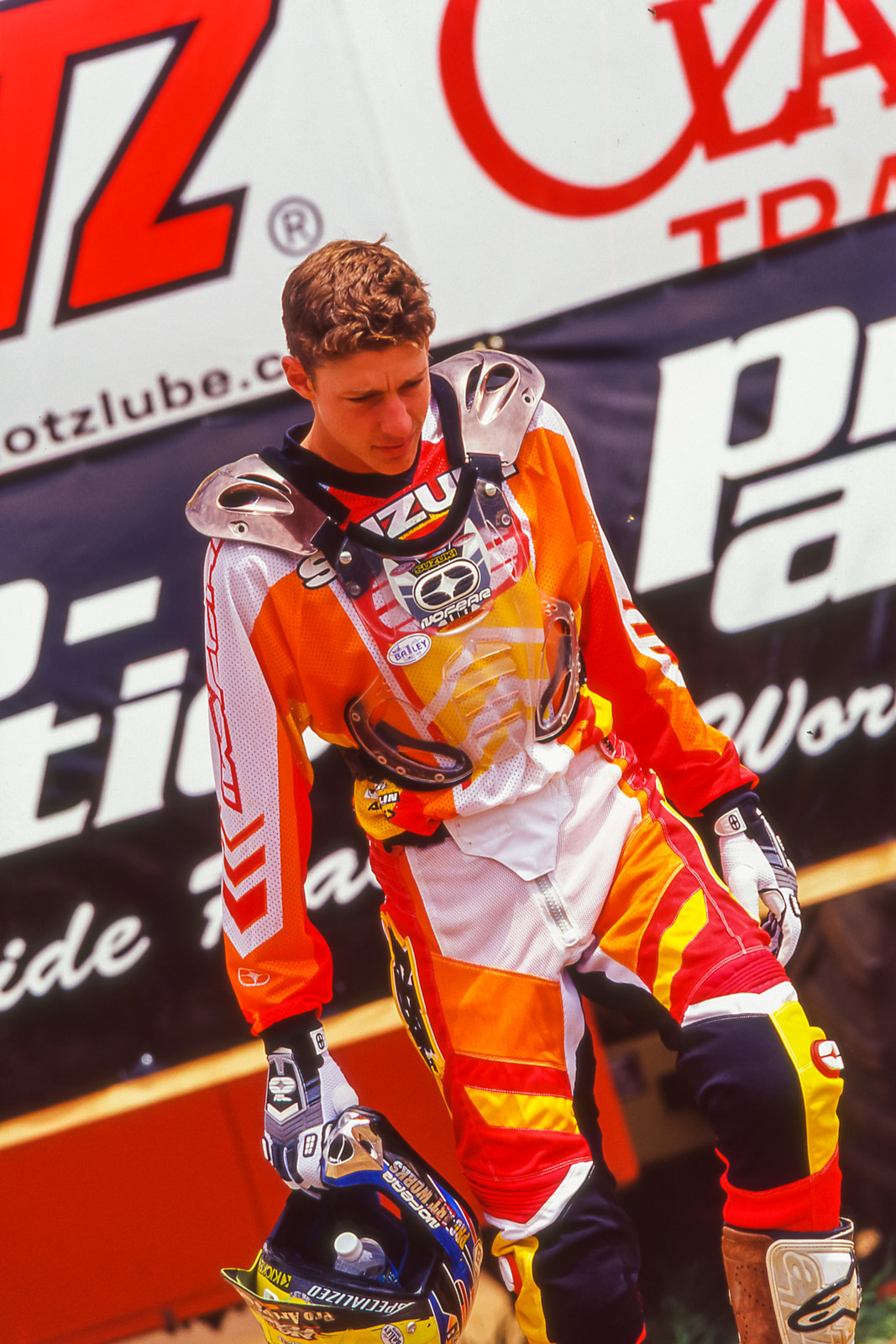 And there will be the night before, May 11th, this is just as cool—a roundtable, bench race, hang out that people can watch?
Dude, I'm more excited about that, honestly. Some of the guys here, obviously Stanton and Bradshaw for me is huge. Obviously you've got Broc Glover. He made me bust out the RM 'Zilla. He's like, "You got to ride that 500." I talked to Ian [Harrison] and Roger [De Coster]. I have KTMs now, but I'm going to ride a Suzuki for a little bit. It'll be fun. Villopoto, Alessi, obviously you got Sipes, Tedesco, Weimer. It's going to be pretty fun. The '90's Motocross guys on Instagram actually had the idea. They're like, you guys are going to be having fun out there, bonfire. Have some beers. Talk old racing. I'm like, yeah, that's definitely what I'm going to be doing. So I think that's going to be on the app or the website for free. We'll probably be talking for hours so join in if you want, don't if you don't. Should be pretty cool.
Yeah we've hooked up with the Fite people and we have the link to watch the race on our website. I want to make the point, yes, you have to pay to watch that thing on Tuesday, the racing, but the money is just going to charity.
Yeah. At the end of the day, everyone is like, "You guys have got plenty of money." Of course, a lot of the guys are saying, "I'd like to cover my costs if we could." But let's go out and let's have some fun. If we're going to do it where we can have other people watch, we can put a little motocross back into the system. I spent $28 at McDonald's yesterday. I can spend $19.99 for a race, I would pay that, personally. If enough people tune in, if anyone tunes in, we should be able to raise some money. All the gear, I had to call Red Bull and beg. I'm actually going to be able to give my Red Bull helmet up for charity, which doesn't happen. I think I got to cut the straps off, so if you bid on that, it's for display only. They don't like those helmets to be out. Ryan's got his Red Bull helmet, too. So everyone's donating their helmet through Road 2 Recovery. The goggles go to Cary Hart's foundation. Cystic Fibrosis gets all the gear. Chuck Carruthers is making me replica gear from kind of the one day of my entire life that I actually felt like I was the fastest person on earth that day.
What race was this?
Anaheim 2. 2002, RM250. De Coster built the best two-stroke ever made. Thing was amazing. Somehow Windham and I botched it every single race. That night felt good until I hit neutral on the step-on, step-off. But anyway, we had that gear. We're remaking it. Going to have a whole bunch of sets to be given away, and then I think Road 2 Recovery is going to have a link up here by next week. Honestly, this is a cluster on our end. We just want to ride. Want to have some fun. Hopefully be able to give back a little.
Why did you guys pick a date so darn close? You gave yourselves like ten days to get this thing dialed in!
Dude, I'm a fly on the wall on this one. Even Nitro Circus, we're pretty loose, but this is really loose. When Stanton and Bradshaw call you and you get Windham to say, "Okay," it's going to be awesome and you just go for it, man. I'm pretty excited.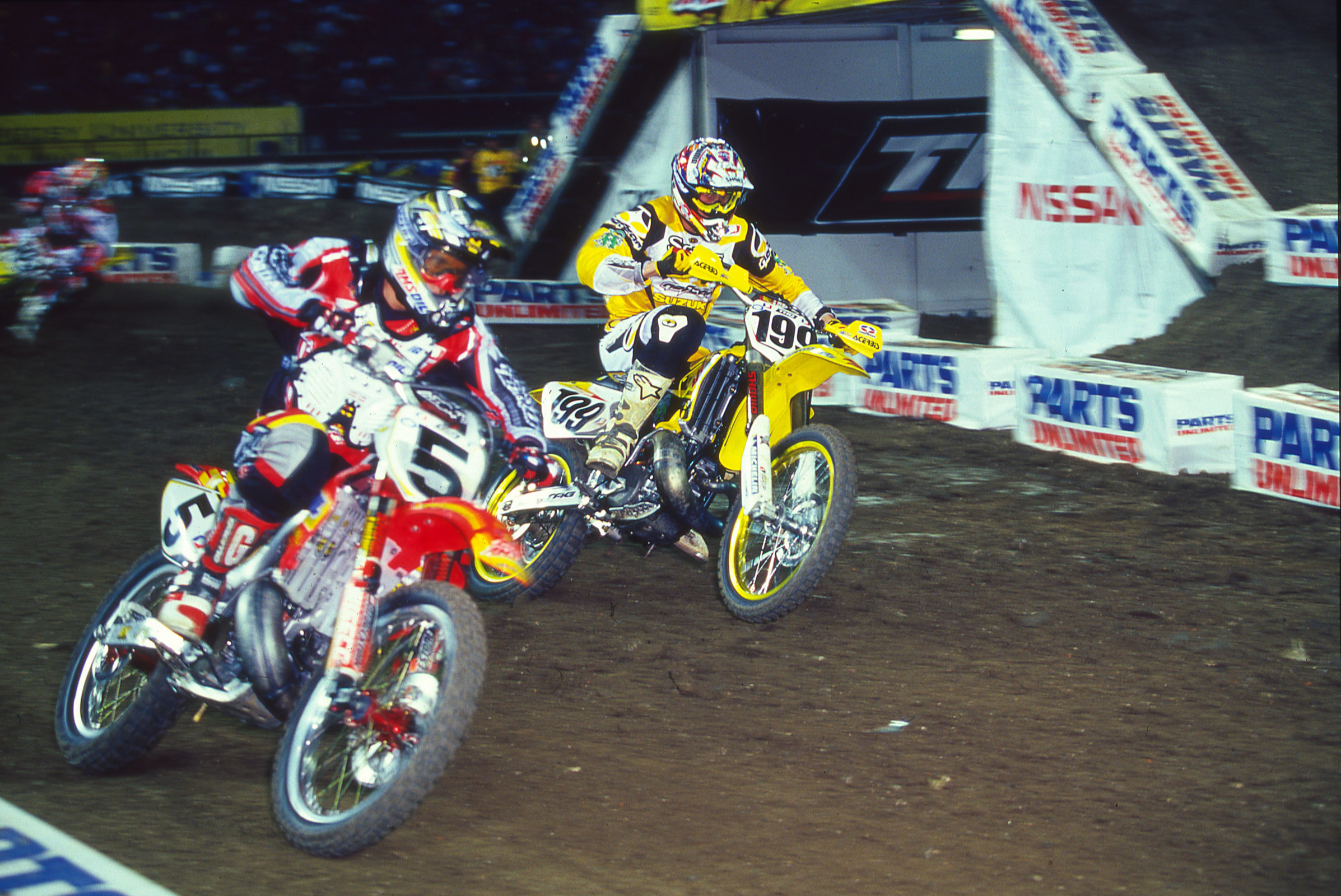 I've heard that with social distancing and stuff like that, you can't bring in an army of mechanics. You've got to wrench on your bikes, and you have to drive out to this event. You can't bring buddies to work on your bikes.
No. We're supposed to keep as minimum people as we possibly can. I'm thinking, did you guys ever watch the movie where Bradshaw and Windham were trying to change a tire when they rode for Yamaha?
In the dunes!
Yeah! One of the old Fox movies, called Fly. I could see a lot of us having black eyes from trying to change tires. I'm assuming we probably won't have to do that. Most of us have been retired for a long time. Wait! Broc Glover knows how to change tires. He's good! We got this!
This is funny because I feel like every time we see you in some sort of a motocross race, des Nations at Red Bud, or Straight Rhythm last year, or now this, I think everyone thinks this is maybe the last time we'll see Travis race a dirt bike. Do you actually ever think you're done? Because they keep pulling you back out, one way or another.
I still ride all the time, but when I say ride, I ride like five laps and I'm sore for a week. I love riding pit bikes with my kids. Moto is in your blood, and every time you say "I'm done. That's the last thing I'll ever do," I don't know if it's boredom or just you think you're better than you were and you get out there. But every time you're like, "I'm having so much fun!" Then you slam the ground and remember why you said it was your last time, the time before. But I love it, man. I love every minute of it. When these guys are coming literally out of retirement… I raced Tedesco a lot in my life. Villopoto was kind of that next generation so I didn't get to race him very much. They're a lot faster than I am now. But man, I still feel like that little kid. I love dirt bikes. It's going to be fun. I'm still skeptical if anyone is actually going to pay the 19 bucks to watch it or whatnot, but hopefully we get at least enough to cover the expenses for the TV stuff. Really the only reason they got off the couch is because, I definitely want to ride, but I want to make sure that it's doing it for a good cause.
Everyone has been so starved for something, some kind of live sports, some kind of motorsports.I don't really care how good or bad the thing is run. I think people are just going to be excited that there's finally something.
We're definitely going to put on a good show. That's the thing. You go out there and you give it your all. We want to do it anyway, and this gives us an excuse to go out and have fun, talk shop, talk crap, probably take each other out a few times.
I think I asked you this two weeks ago. You probably had a super busy schedule of stuff like usual. I'm assuming things messed up because of your schedule as well?
I went from having about two and a half months that I was going to be on the road… My girl is starting school. Lyn-Z, my wife, won the world championship last year in skate, and that was pretty much it for her. She said, "Okay, we're doing school." Taking kind of the mom role and we were going to make the best that we could. But I had an awesome year of racing planned, with racing the US Rally championship full season for the first time in a while. Brandon Semenuk who is just a badass mountain biker world champion, Red Bull Rampage domination, he's been doing the last probably six or seven years where he spent more time driving, rallying than he has… He's still the world champion in mountain biking so he still puts obviously enough time there. We have such a fun team. John Buffum, team manager, who's the winningest US rally driver of all time. Works hard but definitely plays hard still at probably 75 years old. I was looking forward to that. Then, one of my best friends from Maryland was the first offshore powerboat racer to win double world championships last year. We got picked up. I run half the rounds and he runs half the rounds for the Miss GEICO offshore powerboat team. So that is equally scary as it is exciting. I was planning on doing three rounds there. That was going to be my, I shouldn't say vacation time, but all of those offshore powerboat races are on the beach. So we're going to get to go spend three weeks of this year on a beach while you're either on a boat or hanging out with us! Then I'm actually building a track here in Maryland for rallycross and hopefully bringing back supermoto and go-karts. Should be a lot of fun. Still working through the political side of that. Been spending a lot of time now, especially online, with all that stuff, as opposed to actually in person which is kind of easier, I think. Anyway, I've been home and it's been good. I've enjoyed the time.
Are a lot of the things you're going to do at the moment rescheduled and it's just going to be a crazy end of the year?
So, I was running three championships with Nitro Rallycross, the US Rally Championship, and the offshore powerboat championship. There's one weekend in October that I have three events that I'm contracted to do that are all rescheduled on the same weekend! So, as someone that's trying to get a sport back off the ground in rallycross, this has been a nightmare. I had the best year of racing lined up ever, so this has been a huge disappointment. But as a father and as a husband and someone that was really looking forward to spend more time as I got older with my kids, this has been the greatest blessing that I could have ever imagined. So there's good and bad, I guess.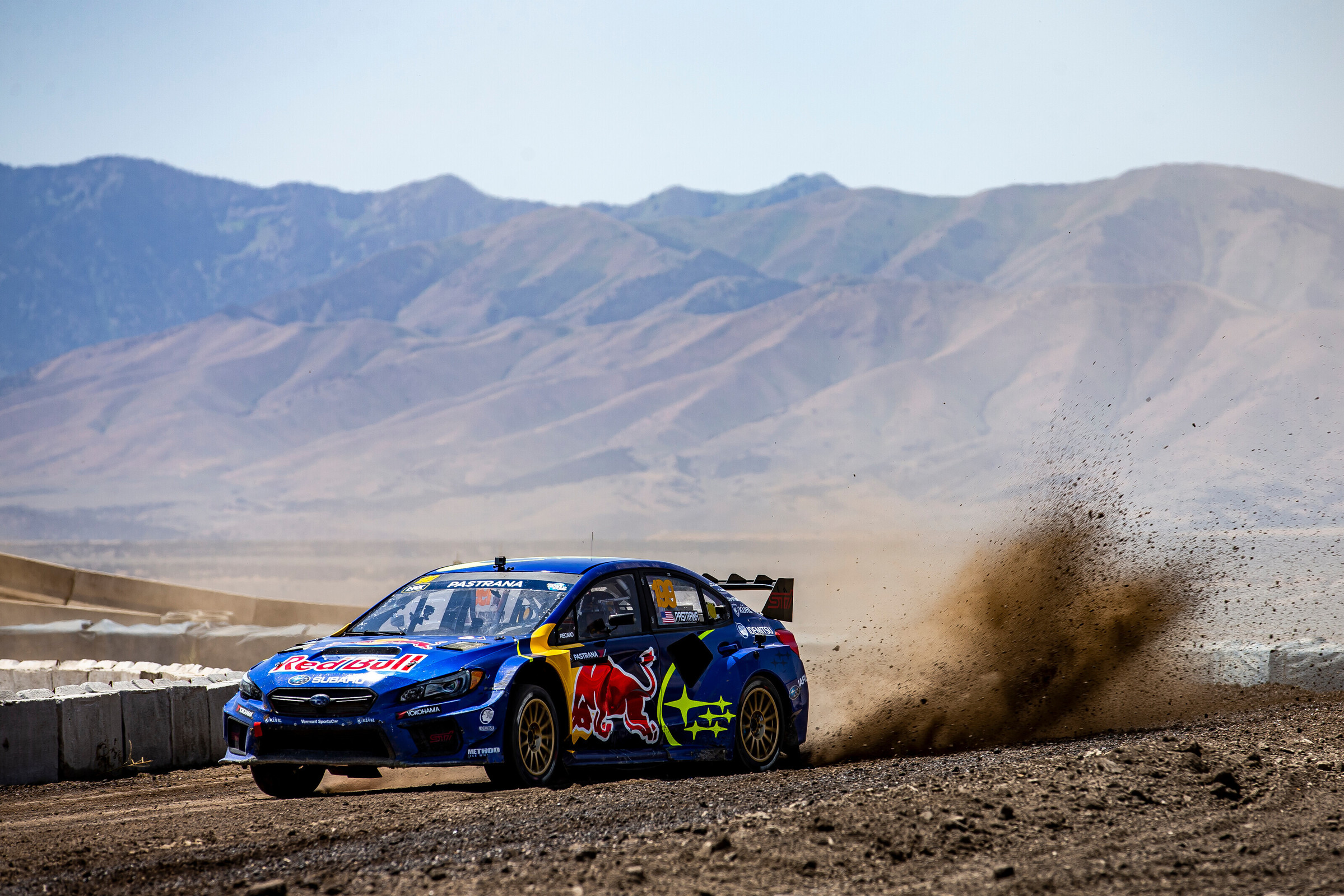 So do we have two of the best extreme sports athletes now playing teacher for the homeschooling?
Yes. I am the teacher, and there are a lot of push-ups. Definitely our kids are getting good at push-ups, pull-ups, and wall squats, because I'm not as lenient as mom is. You've got to have a certain amount of respect. That's the one thing being gone as the father, my wife, she has to do all the roles. It's been neat being able to do, not good cop, bad cop, but you take a little pressure off of the other one to be able to both discipline and have fun with the kids. I would have missed a lot, had the coronavirus not happened. I'll try to implement this as much as I can going forward, for sure.
Okay. That's pretty good. By the way, this is not a minibike race. These are real bikes. You're bringing your 500 RM 'Zilla. Do you know what the track is?
Yeah and also my KTM 250. I think it's a practice track, but we have gates and everything. It's a really nice practice track. Davey Coombs sent us a picture of High Point. I was like, "Guys. It's grass. It looks like Unadilla. We've got to go!" But I guess Pennsylvania, New York, none of that is as lenient right now on what we're allowed to do. Trying to keep as much with social distancing as we can, keep as minimal amount of people as we can.
If you get taken out by Bradshaw would that be like an honor? I feel like Bradshaw could sell take-outs. People would buy take-outs, like "Please take me out. It would be an honor."
Definitely, yeah. There's a few guys that you're expected to hit and that are expected to hit you really hard. I think Alessi. If Alessi makes it around the track without getting taken out, I think everyone else is going to take him out when they come back in! Mike has been a great sport in this whole thing. Everyone kind of forgets. He won Sacramento on a 350 in the 450 class. He got third at Steel City in his second or third ever race? Second race, 16 years old, jumps in the 450 class and up there battling with Carmichael! Everyone kind of knows him as a holeshot kid now. There's a lot of drama that goes around, but the guy was probably if not the greatest, one of the greatest amateurs of all time. If you look at Villopoto, Villopoto to Alessi is the Shae Bentley to Ricky Carmichael. But somehow when he turned pro, he became the greatest 250 four-stroke rider of all time. How do you holeshot Motocross of Nations in the Lites class? That is just awesome!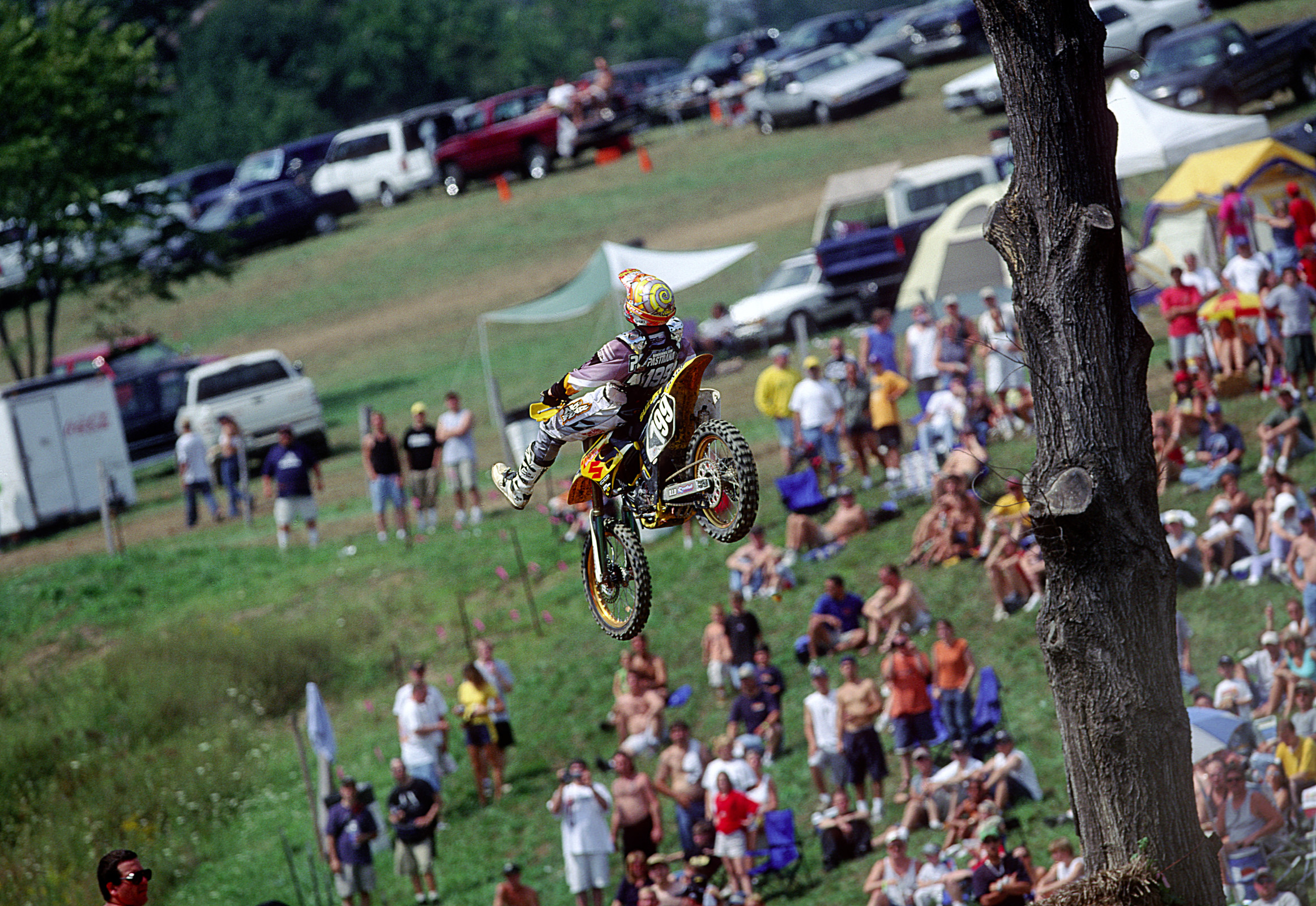 I don't think getting interest or people to tune in will be the problem. I'm just like, how are they going to put this thing together? No mechanics. Ten days. But whatever. You've thrown many things together, so I have faith that you guys will figure this out.
I'm a fly on the wall. I just want to see what these guys say. I'm going to do my best to put on a good show, but this is not a Nitro Circus production. But at the end of the day, I think these guys are putting a lot behind it. I think it has the opportunity to do some really cool stuff. We will, I promise you, it will be a hell of a show!
We appreciate getting time out of you. You're normally maybe the busiest guy ever, maybe not now, but normally.
Been trying to learn how to eRace. It's been rough.
Do you have a sim?
Yeah. I've always had iRacing. As a driver, it's a must. You learn braking points and shifting points, but the only thing I really have going for me in racing in general is I'm willing to take more risk than pretty much anyone in the world. I'm pretty good at calculating, this is worth it, this is going to work out, or this isn't. But when there's no risk involved, it's difficult because everyone just sends it. So you actually have to be better than everyone else. That's really difficult for me!