"So what do you think of Jeremy McGrath?" Had I known 24 hours earlier I'd be asked that question it would have come as no surprise. After all, The King was still in his heyday back then and I was always talking moto. But had I known I'd be in handcuffs and bench racing with a police officer, well, that would have come as quite a shock.
The year was 2000, and I was one year removed from high school. I was attending Santa Rosa Junior College in Northern California at the time, and due in part to my desire to obtain free stuff to support my motocross habit, as well as my aspirations of someday becoming an actual moto-journalist like Davey Coombs, Ken Faught, or Tom Webb, I was running a motocross website called Inside Line Dirt. Most of the content was plagiarized, but in my defense I hadn't had an ethics class yet. Anyway, for a couple years I'd managed to somehow fool the people in charge at Hangtown, my local national, into believing I was a legit news source, which led to press credentials. This year I'd decided to branch out and try to grease my way into credentials at other rounds as well, with the first one being Glen Helen. I still don't know how, but I was able to get in touch with the right people and I got my name on the list for press credentials and started planning the 500-mile drive from NorCal.
It would be one thing if I'd been down there before, or if I'd ever even attempted to drive more than three hours by myself in a reliable vehicle, but I had no such luck. What I did have was a lack of experience, a bad sense of direction, and judgement that was about as trustworthy as the '86 Ford Ranger I'd be bombing down Interstate 5 in. It was brown with a blue passenger door, had more dings than a bell choir, and leaked oil faster than the Exxon Valdez. That's no joke, either. I literally kept a case of oil in the back with me everywhere I went. A tie-rod end came apart on me in a parking lot once, and on a separate occasion, the brake pads fell out on the front driver-side wheel. Luckily I just kept pushing the brake pedal until the pistons themselves became brake pads, but that's another story. The point is a 1,000-mile round trip would be no big deal, right? Especially for an arrogant know-it-all 18-year-old driving in Southern California for the first time.
After printing out multiple pages of turn-by-turn directions (there was no navigation back then), I waved goodbye to my parents, hopped in my poop-colored truck with bald tires, and set off for my ex-girlfriend's house.
Yes, ex-girlfriend. She had moved to Southern California about six months prior. Since my budget was smaller than a privateer's pickup truck, I'd planned on staying at her place while I was in the area. I hadn't gotten permission from her, we weren't exactly on good terms, and we hadn't even spoken in months. She never picked up her phone when I called and hadn't returned a single message, and believe me, I'd left plenty. But I figured if she didn't want me to show up she would have let me know, and I mistook her silence as a green light. I told you, I had the judgement of an 18-year-old at the time! Still do, actually.
Against all odds I made it to Altadena and parked at the curb in front of her house. I'd gotten the address from her friend, which is totally not creepy, and knocked on the door. Her roommate informed me she wasn't there so I went to Jack in the Box, got some food, and tried to call her a few times from a payphone at a nearby low-rent country club. No luck, so of course I decided to try to kill some time by going into their underground cave of a bar and casually ordering a drink. My frosted tips and I didn't pass the visual test for legal drinking age, and a lack of any form of identification that could prove my age didn't help. I still remember how polite that bartender was to me, despite the fact that I was clearly underage and attempting to get away with something that could have landed him in serious trouble.
Worn out and just wanting to get some rest, I headed back to the ex's house. She wasn't back yet so I took a blast of the 100-proof peppermint schnapps (even my taste in liquor was bad) I had stashed and settled in for a nap in the truck, assuming my ex would joyously awake me and invite me in whenever she came back home and saw me snoozing in my beat up truck like a four-wheeled hobo. I was awakened a few hours later, but not by her. It was a pair of Altadena cops (thanks for nothing, Kristina!) who'd been asked to come see what the creepy guy in the creepy truck was doing asleep on the curb in a nice neighborhood. They kindly cuffed me and searched my truck, somehow missing the Schnapps, as they opted to pay most of their attention to my dad's expensive looking camera cases.
I explained the situation, and one of them even happened to be a moto fan and asked me what I thought of Jeremy McGrath. The ordeal came to an abrupt end when the duo got a call and had to go tend to something more important. "Go find somewhere else to sleep," one of them hurriedly said as he removed the cuffs and jumped back in his patrol car. Somewhere else turned out to be the parking lot of a church, where I slept, bothered only by the cramped confines of my little Ranger, for the rest of the night.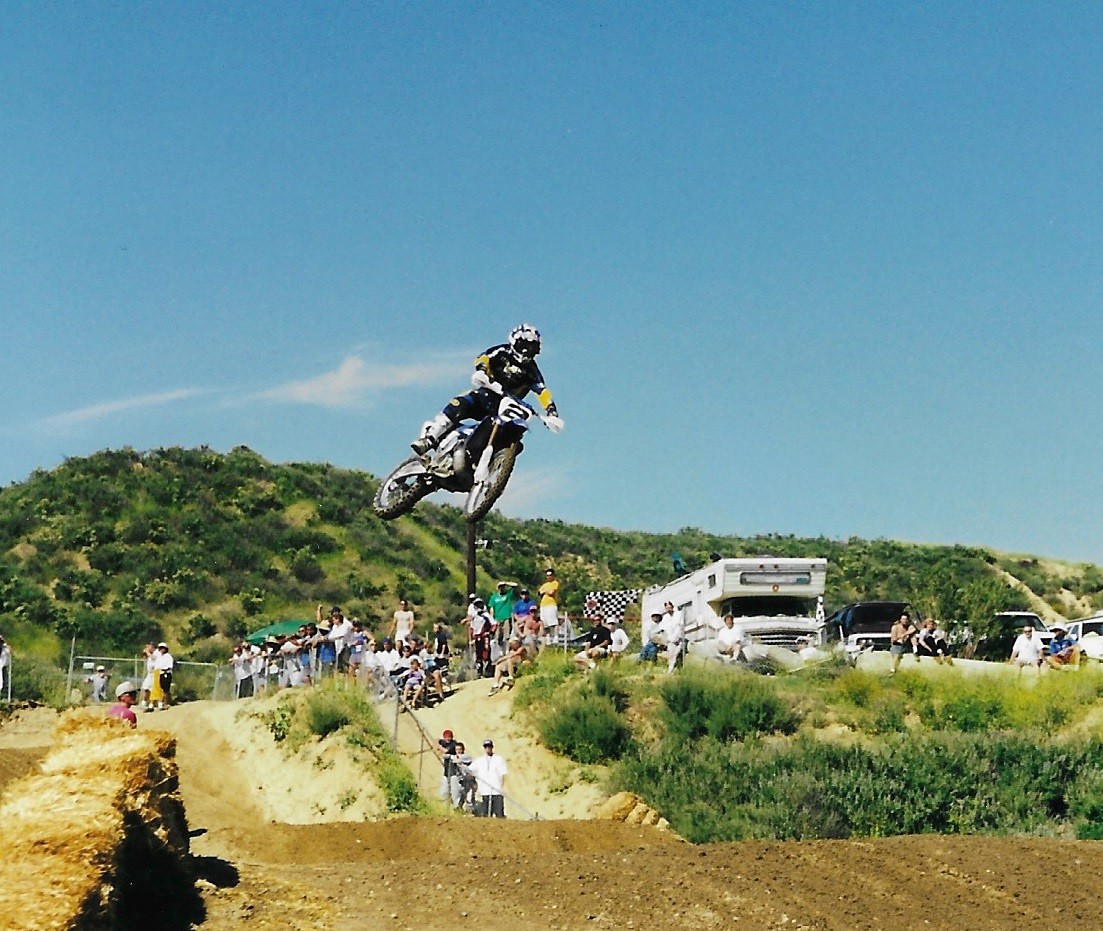 At first light, I woke up in pretty haggard shape. Stale from driving ten hours the previous day, and breath even more sour than a jar of unrefrigerated mayonnaise in an Arizona heat wave, I knew I had to find a way to clean up. I'd finally realized I shouldn't go to the ex's place, so I went back to the country club and slyly shuffled around until I found the locker room. A shower and oral hygiene session later I was on the road to Glen Helen. At one point I nearly missed a critical route change and zipped through four lanes of traffic, out accelerated a semi-truck, and cut onto another freeway, missing a barrier by what seemed like inches. My window happened to be open and most of my turn-by-turn directions went flying out. Luckily there was already so much litter they just matched the landscape. I still had directions to the track anyway, and after fighting a headwind so strong my little 2.3 liter engine could only muster about 50 mph, I finally pulled up to Glen Helen Raceway.
It was the day before the actual national, but there was still plenty to check out. I remember feeling ridiculously star struck when Davey Coombs pulled up and got out of his car, so much so I was too shy to even introduce myself. Had you told me I'd start working for him a decade later I would have laughed at you. I also remember being awestruck at the sheer size of the hills at Glen Helen and wondering how many 125s were going to blow up the next day. Before leaving, I watched some WMX racing, which was pretty much dominated by Jessica Patterson on a two-stroke Kawasaki. Yep, she was fast back then, too!
From that point it was off to Chaparral to snap some pictures at an autograph signing, followed by a cruise over to Orange Show Speedway to check out a freestyle show. I figured I could just tell them I was a reporter covering the event and that would be that, but they insisted I needed a ticket to get in. Can you believe the nerve?! Seeing as how I was now going to have to dedicate part of my budget to a hotel (thanks for nothing Kristina!), I couldn't justify spending $14 for a ticket and bounced. From there I checked into the cheapest, crappiest hotel I could find. The carpet was stained, it smelled pretty bad, and I could hear everything going on in the room next to me. And I mean everything. If there was any consolation it's that Jeremy McGrath and Travis Pastrana were on Leno that night, which, at the time, was huge. I still remember watching it with a huge grin on my face with the volume way up to drown out the couple next door.
The next day was race day, but for some reason I remember very little from that day. In my memory David Vuillemin went 2-2 to take the overall, but what really happened was that Ricky Carmichael smoked everyone in the 250 Class (DV went 4-4 for third overall), Stephane Roncada took the overall in the 125 Class, while my NorCal heroes, Tallon Vohland and Steve Lamson, rounded out the podium. It's strange I remember so little from the race, seeing as how that was the actual reason I went down there, but I was so sleep-deprived at that point (thanks for nothing Kristina and the couple next door!) I probably couldn't even remember how to tie my shoes.
What I do remember vividly was when a couple of drunk guys were completely going nuts because Roger De Coster was standing near them. When they finally found an opening when officials weren't looking, one of them picked up his son, who must've been about six, tossed him over the fence, and told him to get De Coster's autograph. I happened to be standing right there and I gave the kid a sharpie. Only problem was, he had no idea who The Man was and went running around the infield pointing to random dudes and looking back at his dad as if to say, "This guy?" De Coster saw what was happening, and as the kid went running around like a two-legged pinball De Coster gave chase, trying to seal the deal. He finally caught him and gave him the signature, and I promise you it's the only time De Coster has had to run a fan down to give out an autograph.
At the end of the day I was exhausted, but I knew I couldn't afford another night in a hotel. So, as I sat in the never-ending, never-moving line of traffic to get out (it was horrible back then, too) while mentally crafting a story about Vuillemin's big win that day (which, apparently, did not even happen), I decided to just drive through the night back to NorCal. Only trouble was most of my directions had blown out the window earlier and I really had no idea what road to take. Starving and delirious, I drove around looking for any freeway labeled "North" and hopped on the first one I saw. It wasn't the smartest decision, but neither were any of the ones I'd already made on that trip. Finally, roughly six hours out of the way and the sun already shining on another day, I pulled into my driveway, much to the shock of my parents who probably assumed they'd never see or hear from me again.
When I think back about that trip now I remember it being one of the most fun voyages of my life, although at the time I don't think I saw it that way. I learned a lot, only lost seven quarts of oil, and had somehow made it back in one piece. It was a motocross adventure, or more accurately, an adventure because of motocross. And best of all, I'd even gotten some content that I didn't have to steal from Cycle News.
[Editor's note: Today, Aaron Hansel is a Racer X Editor at Large, attending multiple rounds of Monster Energy Supercross and Lucas Oil Pro Motocross on our dime to provide our Saturday race coverage. That's all we really know about the guy.]