Earlier this week, the Greatest of All Time (GOAT) Ricky Carmichael sat down with the top five riders in the 450SX points standings in a virtual meeting to discuss their thoughts on how the 2020 championship has played out so far, how they're staying busy during the pause in racing, and what their typical day is like.
A few days later, Feld Entertainment released a video of NBC sideline reporter Daniel Blair meeting (again virtually) with the top three riders in the 250SX West Region title hunt through six rounds: Dylan Ferrandis (135 points), Justin Cooper (128), and Austin Forkner (122). Like the 450SX competitors Carmichael talked to, the small-bore trio all echoed the idea of while the health of everyone is the first priority, they are hoping to get back to racing as soon as possible.
"It's for sure crazy times right now," Cooper said. "I'm sure we're all itching to get back racing but it's hard, we have to focus on the health of people first and it's definitely a strange time when we're all itching to get back to where we belong."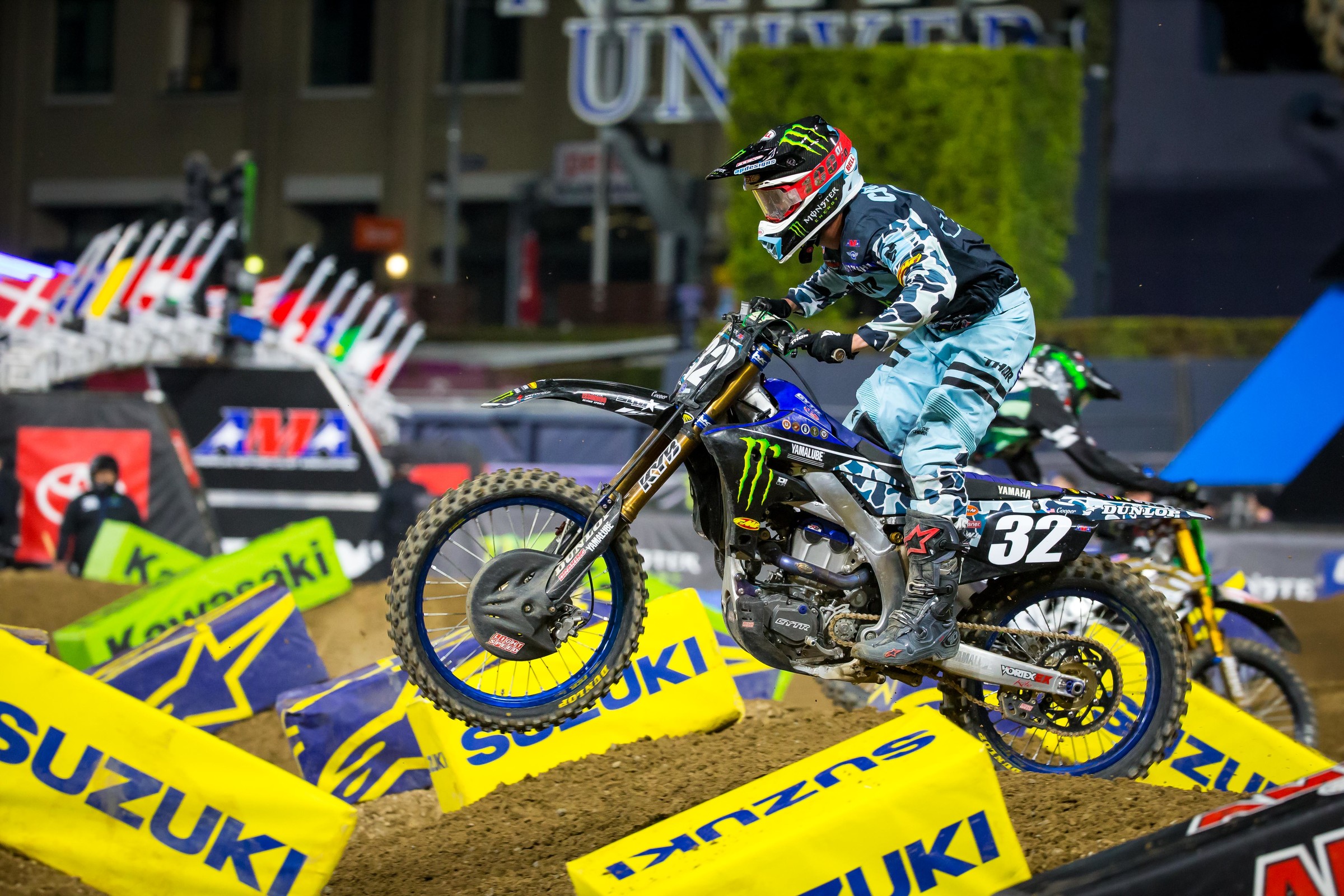 Ferrandis said his extra time at home has allowed him to work on the projects he doesn't get to do during a typical race season. While he isn't riding as much as normal, he noted the importance of keeping his fitness levels up for when the next gate drop comes.
"Try[ing] to stay fit is for sure the main thing," Ferrandis said. "We have been able to ride in California on private tracks so that's still good, but we try to minimize the riding to just what we need."
Ferrandis has found things feel a little different when they cut back on riding.
"For sure when you ride a little less, every time you get back on the bike it's kinda more fun and you enjoy it a little bit better than riding every day," Ferrandis said.
Blair's first remarks for Forkner aren't even about racing, but more so the latest TikTok video he did with his fiancé.
"Yeah, I was kinda forced to do that," the Kawasaki rider said. "That was one of my not-so-proud moments."
There have been rumors of supercross resuming in mid-May but as of today (April 27), the next scheduled AMA race is the first round of the Lucas Oil AMA Pro Motocross Championship on June 13 in Jacksonville, Florida. When this roundtable was recorded, riders were still expecting to race motocross first, and then return to supercross—which could still be the case. Ferrandis said the transition right back into the remaining Monster Energy AMA Supercross rounds after the Lucas Oil AMA Pro Motocross Championship would be hard.
"Going after [outdoors] to supercross I think is gonna be a big, big challenge," Ferrandis said. "Staying healthy all summer and never approaching the burnout feeling is going to be really, really important."
Our Jason Weigandt recently talked with some top riders and former racers to get their thoughts on the situation and came to the conclusion that the waiting is the hardest part. Cooper reiterated that idea to Blair.
"We've all been really waiting for a definite answer but there's no definite answers to be given out right now," Cooper said. "It's hard because you want to keep motivated but you don't really know what you're training for at this point."
Cooper said the team, rider, and trainer all work together to peak in the middle of supercross, and with the truly unknown schedule, it throws a figurative wrench into that plan.
"It's definitely hard not only for me but for my trainer, the team…" Cooper said. "We're pretty much trained to peak right in the middle of supercross, so right about where we stopped, and now we're at our peak, and it's almost like an off-season again. It's definitely a strange time as far as fitness goes."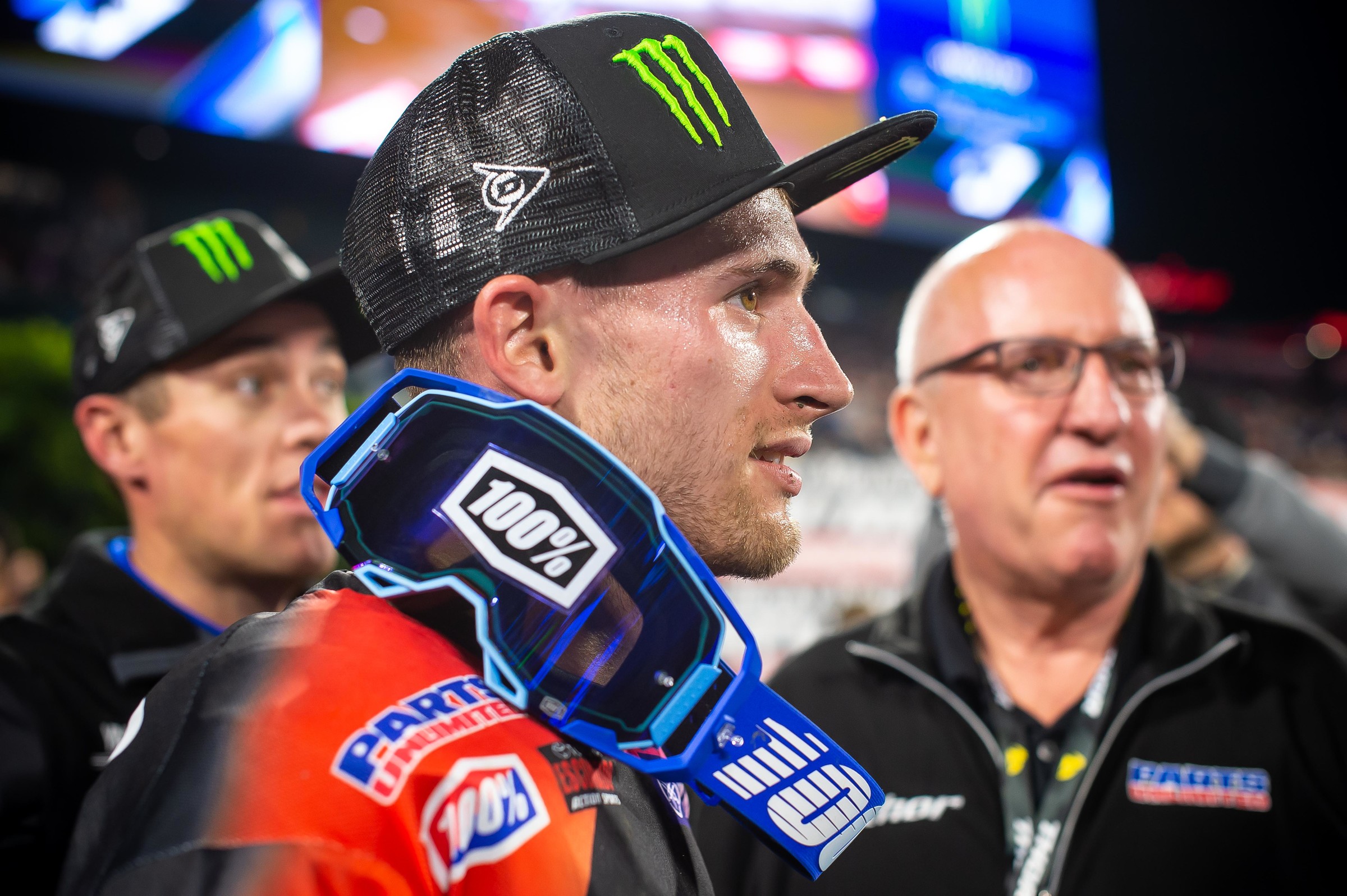 Once the championship transitioned to the East Coast, Forkner started riding outdoors, as teams normally do when the regions swap for the first time. Forkner missed the entire Lucas Oil AMA Pro Motocross Championship last year with his knee injury and said he has been riding with outdoor settings when he rides in Oklahoma, where he's currently stationed.
"Obviously, I don't think where my outdoor setting right now is exactly where we want it to be, but we kinda got a base setting before I left…during the East Coast—the break for us," Forkner said.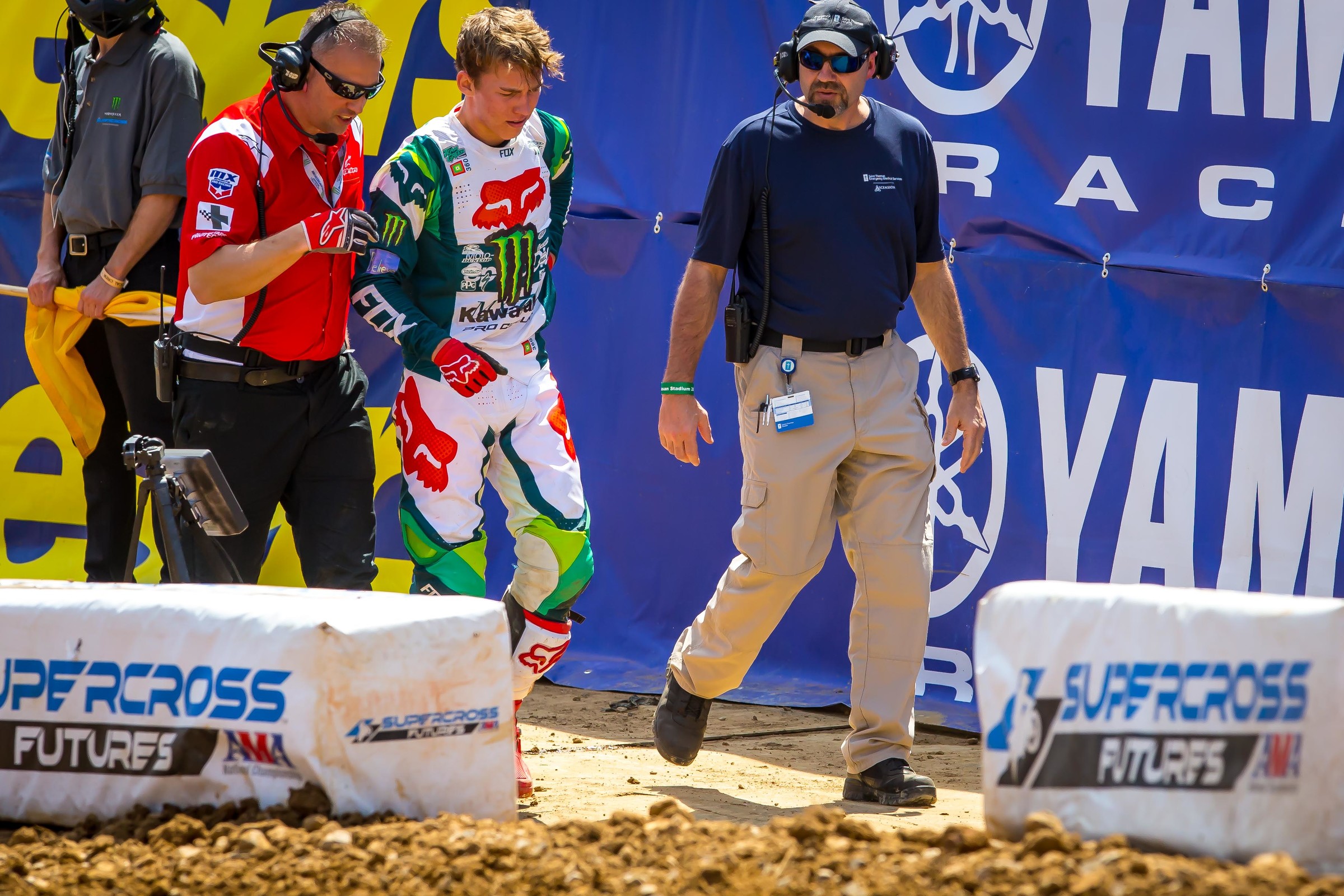 He noted his torn ACL—which he had surgery to repair—is now an afterthought, as compared to the start of supercross in January.
"I'm happy about the fact that I feel pretty much back to 100 percent now," Forkner said. "Even coming in this year, not that I think my knee held me back, but I was definitely more cautious in left-hand turns about dabbing it, and now I don't really care anymore because it doesn't really affect me anymore."
"If anything, the extra time," he continued, "I'm gonna use it as beneficial either way and I'm gonna continue to get better."
Forkner later said he thinks the biggest issue with the pause in the schedule is how it will impact next year's schedule.
"I think the biggest little throw-off thing is that it's gonna throw off next year," he said.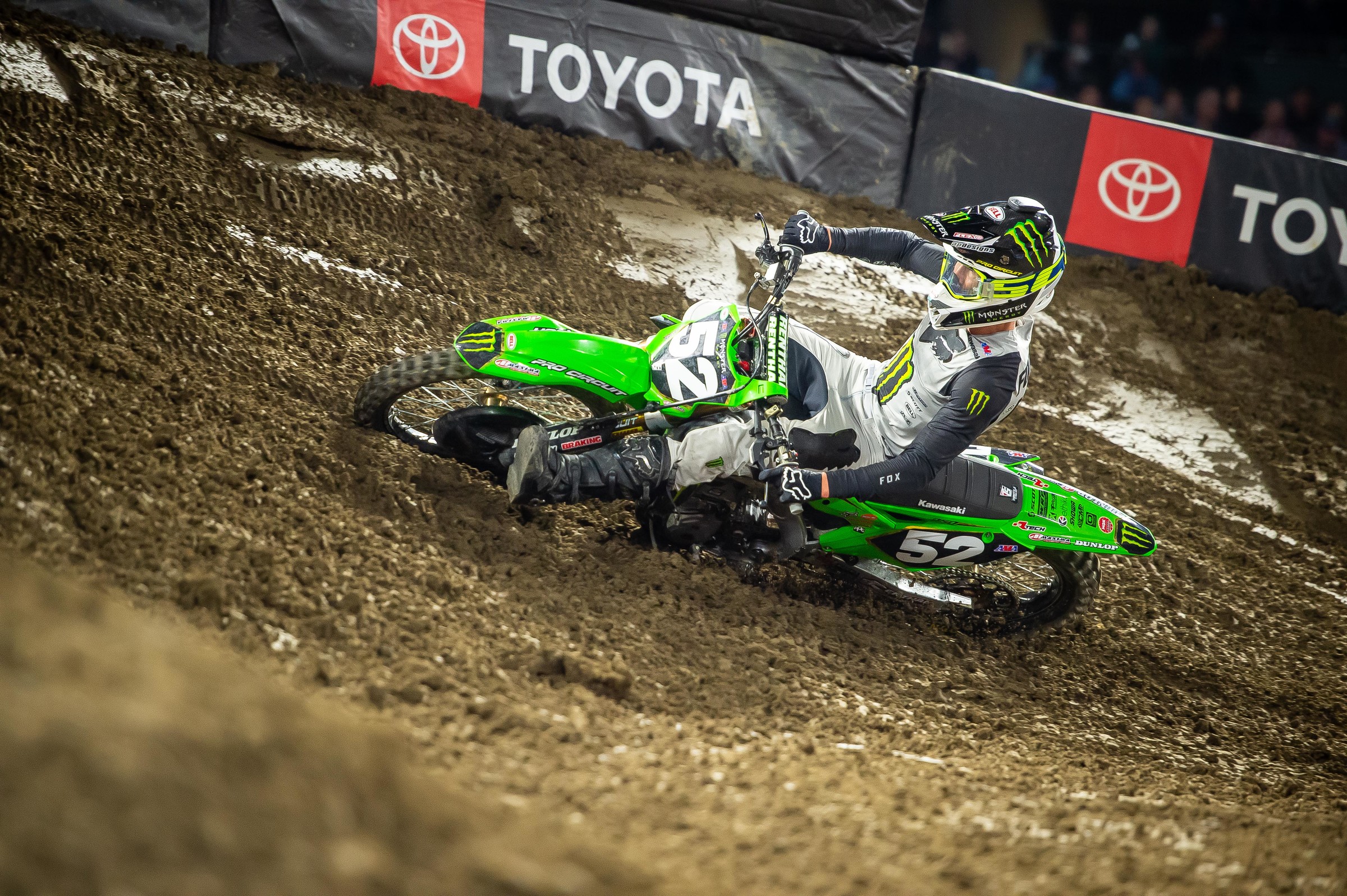 Cooper, who competed on Team USA at the 2019 Monster Energy FIM Motocross of Nations said between last year (his first full year in supercross and outdoors together plus throwing in MXoN) and this year's possible schedule of racing until October-November, added to Forkner's thoughts.
"I've been gone for like a year and a half now straight of training," Cooper said. "I've been really looking forward to this off-season coming up this year, and it looks like we're not gonna get it."
Whenever racing resumes, you can gaurentee these three will be ready.
"It's long enough of a break to where I think if we come back, it's gonna be almost like a whole new season," Cooper said. "It's only four races but everyone's gonna, I think, be a little bit different as a racer, and it'll be interesting to see it unfold that way."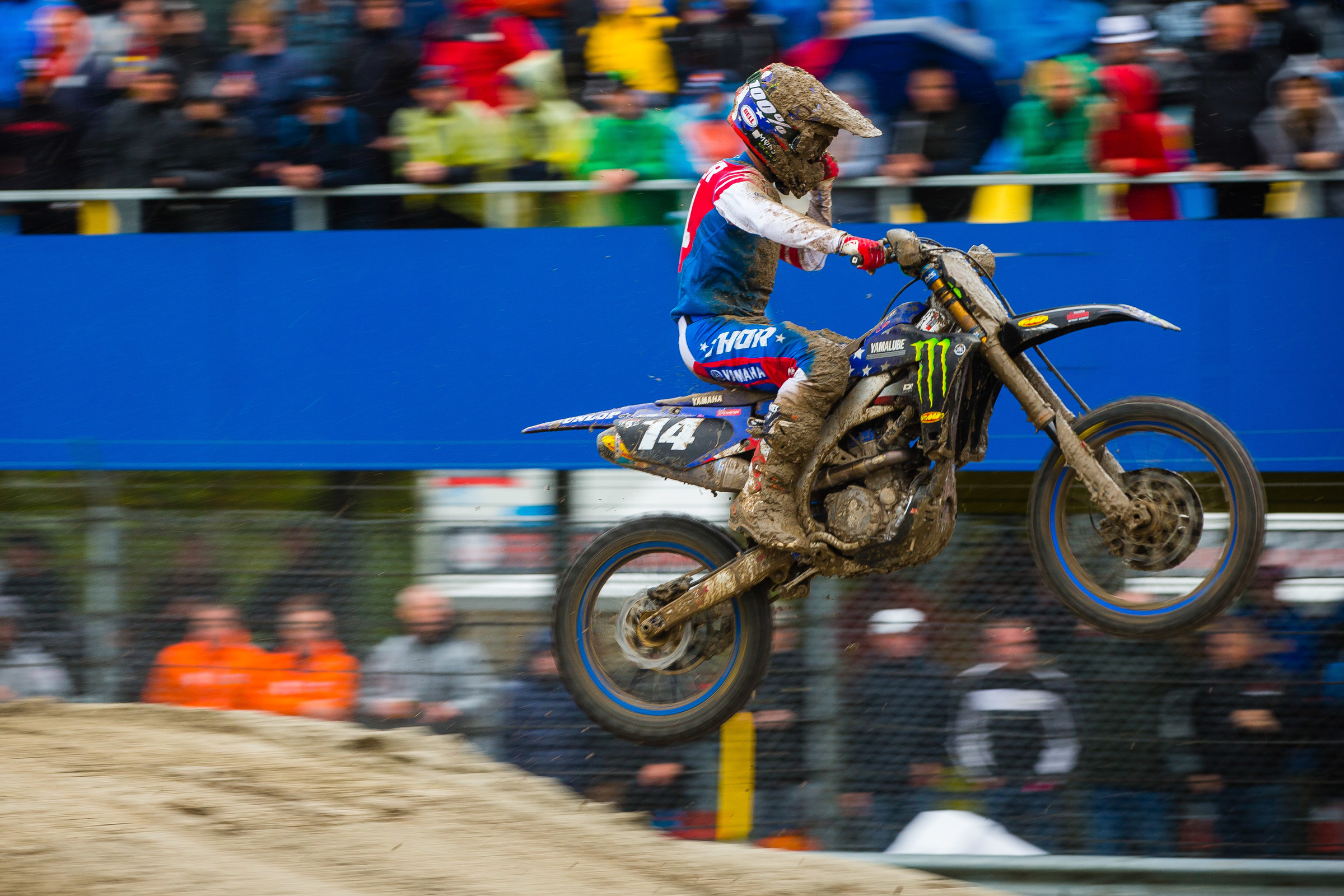 After the precautions are taken, all three riders are excited to return to racing.
"I'm ready to go back out there," Forkner said. "When we get back out there, it'll be worth the wait, I guess. Hopefully."
Watch the full conversation below: