It's pretty simple—if you make your living based on racing, you need to race to make a living. Right now, the producers of the Lucas Oil Pro Motocross Championship and Monster Energy Supercross claim they will get most of the races in, but what if time runs out and that doesn't happen? A lot of people who make their living from this sport are going to be in a whole heap of trouble.
There are only two solutions. 1.) Wait for the government to allow sporting events and races to happen again, or 2) get proactive and try to make things happen.
The Race Leadership Team has chosen the latter. They're trying hard, really, really hard to figure out how to get races going again. And quickly.
What's the Race Leadership Team? It's a group made up primarily of Racer X's sister companies next door. That's MX Sports (promoters of the AMA Amateur National at Loretta Lynn's), MX Sports Pro Racing (promoters of Lucas Oil Pro Motocross) and Racer Productions (promoters of the AMA Grand National Cross Country Series). Who are these people? It's folks like Davey Coombs and his sister Carrie Coombs Russell, Tim Cotter, Roy Janson and Jeff Canfield. Those are some of the big decision makers for those companies. Yes, the Coombs are also our bosses here at Racer X—full disclosure. That group combines with representatives from the AMA and others to create the Race Leadership Team. They meet (on Zoom) every Monday to update racing schedules and conditions, then send out notes from the meetings every Monday night as a press release. Most of the time, the notes are just additional postponements of additional racing dates. We're a month into this now, and we're running out of weekends. Lucas Oil Pro Motocross is rapidly approaching, and teams and riders are desperate to get back on the track.
Time to take another step.
On Tuesday, the Race Leadership Team (RLT) formed a new committee designed to figure out how the heck racing can resume. It's called the Safe-to-Race Task Force. The RLT grabbed up experienced industry heavies to try to figure out every single way coronavirus could be transferred at a race, and every single way they could stop that from occurring. The group will keep meeting until they find solutions. The goal is to create a Safe-to-Race tool kit with complete guidelines on how to go racing, safely.
This is important. This Safe-to-Race tool kit can then be given to race tracks, and then the race tracks present it to local government authorities and explain that, while racing is not an essential business, it can be done safely.
Here are some details:
The Safe-to-Race Task Force will review current processes and procedures for cash transactions, gate admission, race registration, technical inspection, riders meetings, race procedures, podium celebrations, press conferences, autograph sessions, fan participation and viewing areas, parking and camping areas, etc., and recommend new protocols that focus on protecting the personal health, safety and welfare of athletes, fans and staff. The group will review how to accommodate current social distancing guidelines and identify preventative actions that can be implemented during an event, such as hands-free registration, cleaning and disinfecting frequently touched surfaces, and maintaining safe distancing in public areas, as recommended by the CDC. The group will also develop an infectious disease outbreak plan for event organizers that can be shared with their community leaders and local health officials. This group's final product will be the Safe-to-Race Tool Kit.
Obviously, it's a huge challenge to hold public events with social distancing in effect (a 100 percent, no-holds-barred re-opening of the economy doesn't seem likely anytime soon). So, the Safe-to-Race committee must figure out how to hold races under whatever guidelines might exist through the remainder of 2020.
By the way, this includes allowing fans at these races. The NBA and Major League Baseball have huge TV deals which means they can bring in big revenue playing games without fans in attendance. It might be weird, but it still makes economic sense.
It's not the same for niche sports like this one. This sport doesn't have huge TV rights deals. The tracks that host Lucas Oil Pro Motocross races need some fans to generate the revenue needed to run the event. I asked Jared Mees, the American Flat Track contender who also is promoter of the Lima, Ohio Half Mile, if he can run a race without fans.
"As an outside promoter like myself, the only thing that supports the event are ticket sales, and [local] sponsors, and of course you're not going to have any sponsors if there aren't any fans," said Mees. "I can't run the Lima Half Mile without fans. I would lose out very, very big."
It is what it is. As for Monster Energy Supercross, I personally don't know the details on the TV deal, but those races are months away, so social distancing rules might change by then, anyway. Right now, we're talking about the next races on the calendar, which is Lucas Oil Pro Motocross this summer, as well as American Flat Track, Loretta's and others.
"The point being to try to prepare ourselves with the resources and tools that represent the collective interests of a lot of folks that don't have big powerful TV deals," says Roy Janson, the Competition Director for MX Sports Pro Racing.
Roy Janson is the hardest of the hard-core industry veterans, and he's seen and done it all in his time with the sport—which goes back to the 1960s. Roy has worked on both the AMA (sanctioning body) and supercross and motocross (promotion) side of the sport. Roy has raced and wrenched on bikes. He is so OG that he has a five-digit AMA membership number. You and I have six-digit numbers. He is tough as nails and no nonsense. There are no guarantees that racing will come back soon, but just know that the Race Leadership Team will turn over every rock and stone trying to figure out a way.
"All our community wants, even in good times, is two things," says Janson. "They want the hope that racing continues and they get to keep their jobs. And they want leadership. They want to know there's someone out there with a plan. A plan that says, "Okay, here's how we're going to do this." You demonstrate leadership, you fuel the hope they're looking for."
So, what are some specifics? Well, here's the list of people on this Safe-to-Race committee.
AMA: Bill Cumbow, Mike Pelletier, Alexandria Kovacs
AMA Pro Racing: Gene Crouch, Jared Johnson and Joey Mancari
Feld Entertainment: Dave Prater
Ignite Partners: Ken Hudgens and Tim Murray
Motorsports Reg: Brian Ghidinelli and Chris Redrich
MX Sports: Tim Cotter, Jeremy Holbert and Jeff Canfield
MX Sports Pro Racing: Davey Coombs, Carrie Russell and Roy Janson
Mylaps: John Dains and Gabe Ellett
Pro Motocross Organizers: Amy Ritchie and Alan Verlander
USMA: Robert Johnson and Shawn Stewart
Rider Representative: JH Leale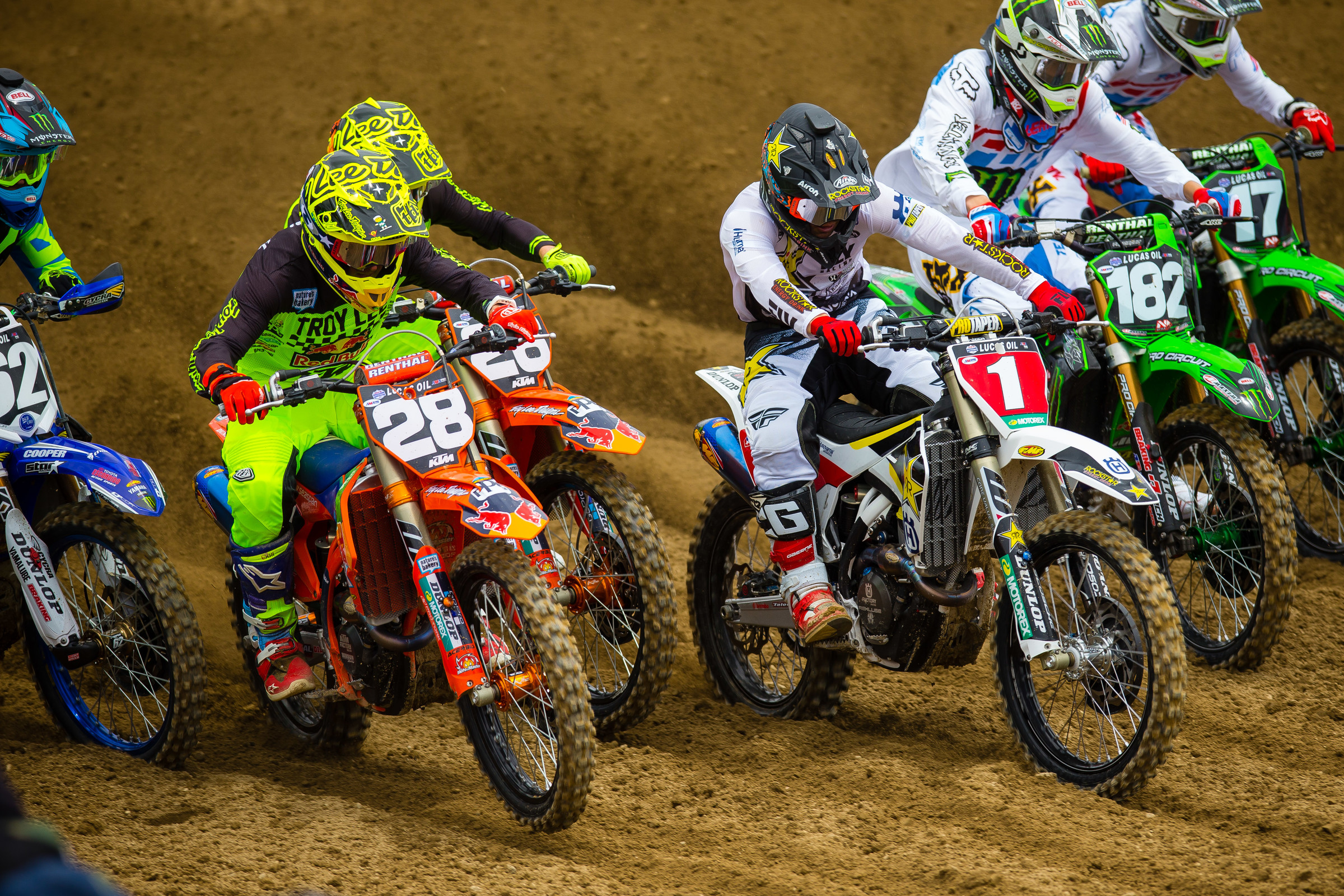 The Safe-to-Race Task Force has also enlisted Dr. Paul Reiman, the Lead Physician for the Alpinestars Mobile Medical Unit, to create a Medical sub-committee. Dr. Reiman will be assembling his own team of medical experts to help guide the RLT through this time.
The hope is that each person can identify challenges unique to their perspective that could present a hurdle toward going racing again. Then the group tries to create a solution to that problem. How do you sell concessions at a race in this environment? How do you sign up to race without sharing a pen? How can spectators watch while not standing too closely to each other? How many fans is too many? What concerns do the athletes have, and how can those be addressed?
The Race Leadership Team is trying to think of everything. If they can solve these issues, perhaps they can convince local authorities to let the races happen.
"Wayne Gretzky said you miss all of the shots you don't take," says Janson.
Now, onto more specifics. Monday's RLT announcement suggested the opening date for Lucas Oil Pro Motocross will likely move from June 13th to June 20th, and the closing date will likely move from September 5th to September 12th. Under no circumstances will a Pro Motocross National be run after September 12th. Go ahead and interpret that this way: Monster Energy Supercross is clear to take any dates beyond September 12th. I can tell you that as of now, the focus is 100 percent on running 11 Pro Motocross Nationals. If the RLT knew for certain there would be fewer races, they would say it. Right now, the goal is still 11. I can also tell you that June 20th start date is very important, because that's a live NBC show date. The TV network would love to air a race on that date, and the series would love to have a race to deliver. June 20th isn't that far away, but the Race Leadership Team will do everything in its power to run a motocross race on that date, and the dates beyond that, until September 12th.
No guarantees, but no giving up.
*Hero image courtesy of Rich Shepherd.