Last week, Jerry Robin and FXR/Chaparral Honda agreed to part ways in what was a bit of a shocking move. Robin was expected to not only compete on the team in Monster Energy Supercross, but Lucas Oil Pro Motocross (which is now scheduled to start before supercross is finished). The move has left the Minnesota native without a team and back to the true privateer grind during this unusual mid-season break. With the change, and the struggle to make a livable wage with no racing to help pay the bills, we spoke with Robin this week to see how things are going.
Racer X: With everybody having to stay at home or quarantined, how are you currently dealing with staying at home or in your quarantined state with the COVID-19 situation?
Jerry Robin: The quarantine situation to me isn't that bad. I feel like everyone's kind of in the same situation where we've got to stay home and kind of just do our own thing. Obviously just get the essentials in. You do these little at-home workouts to stay in shape. Unfortunately, I don't have a stationary bike trainer, so that's been difficult because they want you to not go outside and exercise because you could risk injury and be in the hospital and stuff like that when other people need it. So, it's kind of been a catch-22 on what you can and can't do. It's not been that bad, but it's definitely after a couple of weeks of it it's kind of annoying.
Has there been anything that you can get out of the house and do? How often are you even getting out of the house at this point?
Quite a bit because I've been doing Postmates delivery, just for extra money on the side and stuff like that. So far that's kind of all I've been doing with my girlfriend. We just kind of knock that out every day and just stay busy.
Obviously, most privateers kind of rely on the racing side of things to help pay the bills a little bit. Now that we're all on a hiatus with that, obviously Postmates has been helping, but has it been pretty difficult to work around that?
Yeah, so to speak. It kind of has been hard. Realistically you just don't make enough to live in California. My girlfriend actually does make quite a bit of money herself. She's a professional wedding photographer. So thankfully we have been safe because of her, in certain aspects. So, she's been a huge help obviously on the financial side. I get out and do Postmates whenever I can and make money. So, I've been working hard even off the bike and stuff like that. It is tough, but everybody's in the same boat.
Talk me through your season a little bit. First, I wanted to know what's been the biggest positive you've taken away from these past few months?
The biggest positive I would say that I learned was probably no matter how much progress you have made in the past, let's say like last season I made a lot of progress and going into the off-season I was kind of on a high note, and then you go into A1 and you get slapped in the face in the 450 class. It's like, dang. I did have a little injury in the off-season, and I missed four or five weeks. Then we had a little bike situation where we didn't fully have a program fully put together yet. That's why we ended up racing 450s at A1 on the West Coast rounds. Our 250s were supposed to show up for West [Coast rounds], and then we got asked to do East [Region] because we needed more time. So, we kind of just jumped on the 450 and did it. I guess the biggest positive was no matter how much progress you have made, there's still always room for more. I think that was a good thing for me to get a good grasp of.
Talking about riding the 450 right off the get-go and then having to change your focus and get ready for the 250 class on the East Coast, do you feel like that was in any way a hindrance at all? Or do you think that it just wasn't clicking from the get-go with you?
It kind of just wasn't clicking from the get-go. I never really felt completely at home with everything, on the whole situation with team, bike, whatever. I don't know why that is. Every time I've rode a Honda since 2014, I haven't really loved the bike. They're not bad, by any means, but I never got on it like, "I love this thing." I really did think that this year would change that because we would test stuff and do all that, but at the end of the day I never really felt like myself on the bike. So, I kind of struggled with it, even on my good days. Even when I felt good on the bike, I still wasn't that great. I just think in general I struggled to feel confident on the whole situation.
We heard from Michael Lindsay on PulpMX [Show] this week regarding the departure from the FXR/Chaparral Honda team. Talk me through how it shook down from your perspective.
Realistically, it kind of just came down to money and the whole situation with the pandemic. Riding the 450 and then not getting that much time on a 250. We didn't even get our race bikes until the day of Dallas. Just certain things. It was almost easier to do it by myself because I knew what I was getting and when I was riding. For me, I don't know why, but it just helps a lot. I'd rather have more money invested in myself and just know 100 percent what is happening than have the unknown. For whatever reason, that bothers me. I don't really know why. Me and Michael, we just kind of parted ways. I don't think there's any hard feelings. At least from me to him, I don't have any hard feelings. I think it's the same from him to me. We kind of agreed that things just weren't 100 percent clicking. It's not even just me. It's other people in the team as well. I just think at the end of the day it was best for me to do a program like I had last year and make the progress that I was making.
Now moving forward from the situation, where does that put you with getting a bike? What are the next steps that you have envisioned for yourself in getting a bike or getting support from some manufacturer, something along those lines?
Actually, just today I kind of figured that out. I went over to AEO Powersports, which is a local guy. Thankfully he was able to call Husky [Husqvarna] and we kind of worked out a deal and a price on bikes and stuff like that. So as of now, that's the route that I'm going.
At the moment at least it seems like nationals are going to happen first. At some point you're going to get your national training and all that regimen going and you'll be racing the outdoors?
Yeah, that's the plan as now. Actually, me and Jeff Walker have decided to team up and do it how our original plan was last year. Going into this year our original plan was just me and Jeff kind of knocking this thing out. Now me and him both did part ways [with the FXR/Chaparral Honda team], and that's kind of our plan now to team up and do the original plan. I don't know what his plan is with bikes yet. He does have a Honda. I know he might stick with a Honda, or he might do the Husky deal with me. Either way, we'll have a lot of the same sponsors. We'll put out a lot of video content and vlogs, GoPro videos, stuff like that. That's the plan.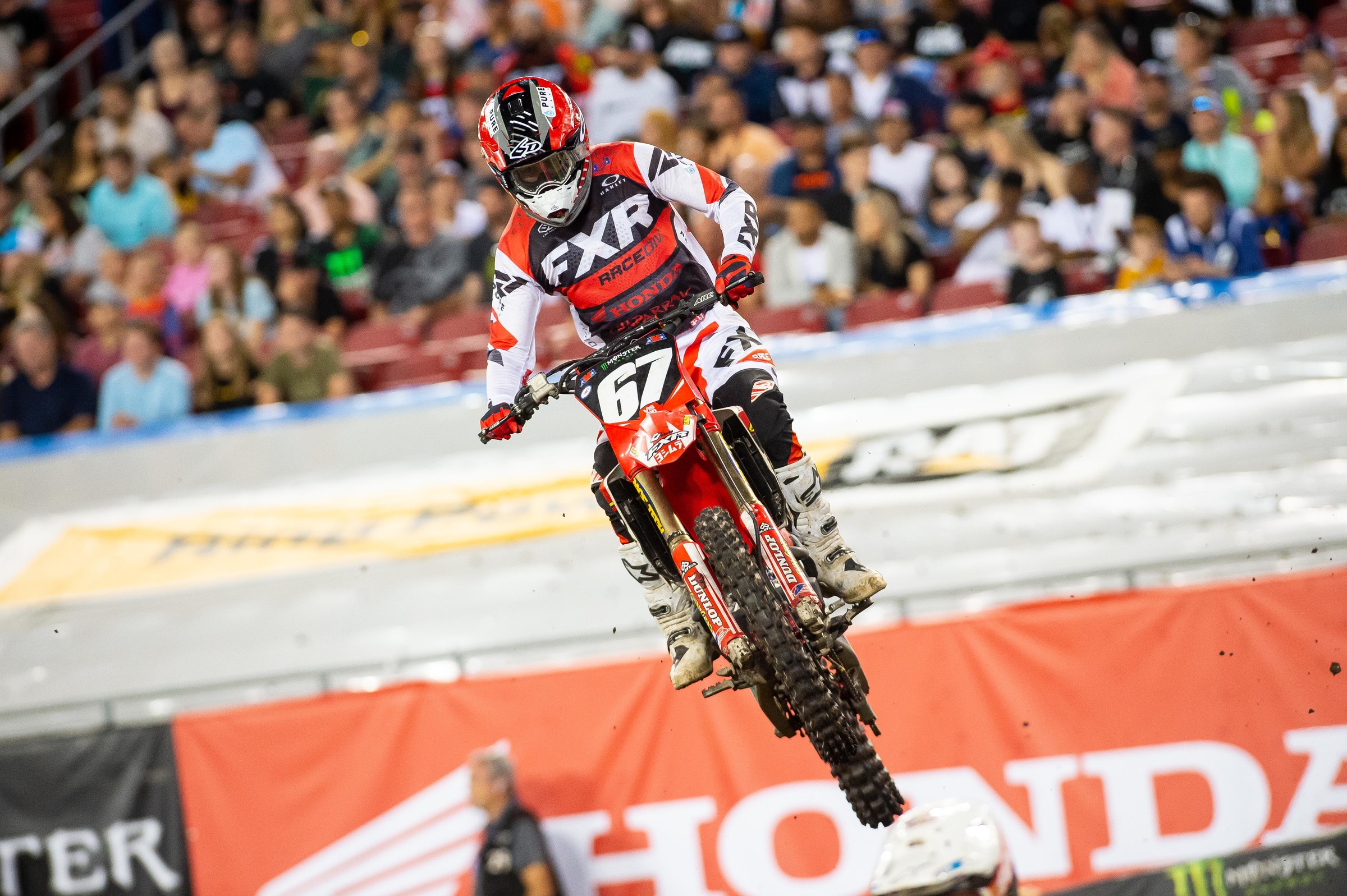 I don't know if you have this kind of forethought yet because it obviously sounds like this is all a work in progress at the moment. Normally we start in California with the nationals, so you can kind of train out here and then move east. For the moment, it looks like we might start east and come back west. Is there any plan to head east early and get some Florida training or anything along those lines in?
There kind of has been some talk of that, but almost everything's shut down out east too at this point, which is kind of crazy. I think in general just from a cost-effective standpoint I'd probably stay here. Once the tracks do open up, it's going to be pretty easy to get my riding in. It's just the fact of things actually opening up. It's kind of a waiting game. It's unfortunate, but at least everyone's in the same situation, so to speak. So, it's not all bad.
Actually, with the downtime, does any of this kind of feel a little bit maybe like a reset or refresh from the grind of everything? Even off-season, you guys don't really get an off-season sometimes. It's right back into training and riding and all that stuff quite frequently. So has this been even like a refresher at all?
Yeah, it is actually. Realistically you're not really supposed to go outside and go cycling or do anything with that. It kind of is nice to get away from the training side. I'd say for everybody it hasn't been as strict. Even when you go into the off-season, in the back of your head you're like, "I want to get better." So, you do more. Even with the term "off-season," you usually never take time off. So, now that we're kind of forced to in a way it's nice. I think a lot of people probably will benefit from it in the end.
I know you were talking too a little bit about nagging injuries and everything. Where is your health at right now?
With my hand, I'd say I'm probably 80 percent. My hand has been healing up really good. The plates, it's kind of hard to say if they're bothering me or not. There's some pretty good scar tissue on it, but it's gotten a lot better in the last couple weeks. So, I'm sure by the time things kind of settle down and we can all start riding and training again, it'll be back to 100 percent in probably a week and a half, two weeks. Something like that.
I asked you this in December when we spoke, and you said at the end of the year your goal would be on a factory ride. I'm sure that's probably still a goal of yours, but with this big hiatus in the mid-season and changing teams and resetting everything, have your total season goals changed for yourself at all?
No. I just think of it as a rough patch in my riding program and everything like that. I think I know where I might have made mistakes from last year to this season preparing. This year I did so many motos. It was insane. To get the longevity part down, which I did do. But then all around I just kind of felt like dead. So, it was just a tough situation. I think now with stepping away from riding, I'll probably come back faster. That's sometimes just how it goes when you get a break. So, I think it will benefit me having a break and going back to a situation that I know will work for me. That's the plan as of now.
Anybody you'd like to thank for getting you through these times right now?
Definitely my girlfriend and my family. I guess for the riding part of it, it would be as of now with AEO [Powersports], Husqvarna, FXR, 6D, Adept Graphics, Cory [McFadden] at FCC [Motorsports] and Tom [Garry] at Signation Sign Group. That's kind of the abrupt list that's going to start helping me. So definitely a huge shout out to everyone there. I think moving forward there'll be more people on the list. It's just hard to say right now with coronavirus. A lot of people are kind of saying, we need to wait a couple weeks. So, we'll go from there.