Eli Tomac has waited his whole life—and specifically since his 2014 full-time 450SX debut campaign—to get into this position. At the halfway mark of Monster Energy AMA Supercross, the Monster Energy Kawasaki rider holds the points lead, but now his season, and pretty much the entire world, has come to a dead stop.
Racer X was able to host an Instagram live chat on video with Eli last week, and we've taken that 30-minute interview, where we tackled a variety of topics, and transcribed it here. This is part one, and we'll have more with Eli later this week.
Racer X: The obvious question here is what are you doing with your day to day right now? We've got all this time, I think. Or maybe it's time work or train. What do you do?
Eli Tomac: It's just so weird. It's straight weird! After Indianapolis, we rode supercross for another week because we really didn't know. Nothing was set in stone yet other than that Indianapolis got canceled. Then you're sitting around waiting and there's so much unknown there. Then Detroit, Seattle, were gone, and then we knew. So I took two weeks off and then literally just started riding some moto on Monday because at least that schedule's there. Even so, there's so much unknown. It's just weird. Kind of scary.
In the Colorado area, is it full stay indoors, don't go out?
Yeah, it's the non-essentials closed. So our restaurants you can order to go, but no one's inside dining. Really the town's a ghost town. It's real here, too, for sure. Even in Cortez.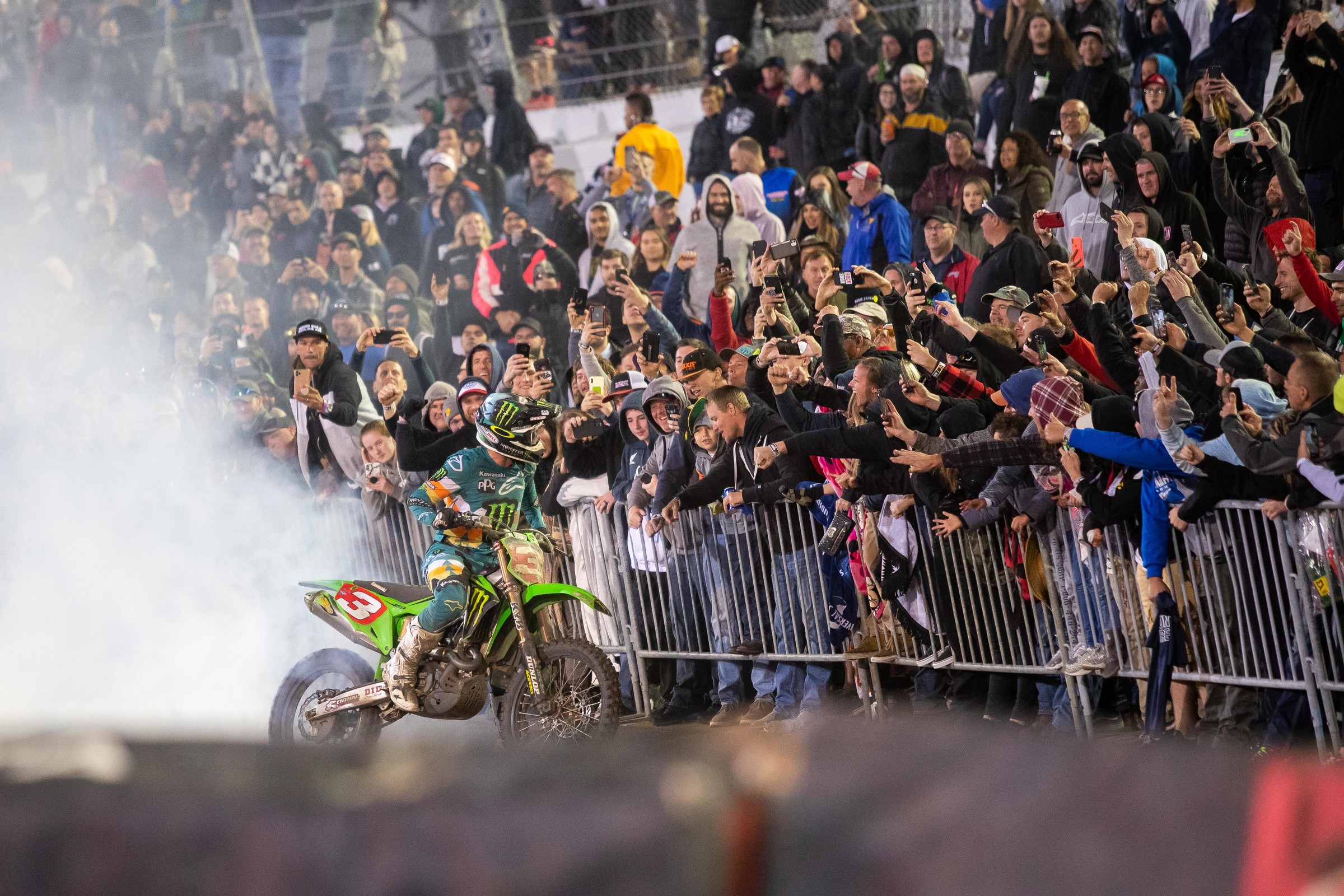 So now we know the earliest there could probably be any racing is June… Feld Entertainment hasn't said for sure, but they're pretty much saying supercross will return after motocross. Are you tempted to use some of this time now as almost like an off-season? This season could go so late potentially, it's almost going to bleed into next year. So, do you almost look at this as cool-down time, not burn yourself out time? How do you play it?
That's the way we're playing it right now. I'm definitely not doing the full-on program. I'm going to try to ride two or three times a week and just be in the saddle a little bit. But that's it, really. I already took those two weeks off, so try to be in the saddle a little bit here and there.
When the season ends in a normal year, say September 1, do you normally take two weeks off? Is that normal? Do you normally take even more time?
Usually we take three weeks off normally, and it depends if you throw in the Des Nations in there. You try to get three weeks. That's about it, and then you got to start riding a little bit of supey for Monster Cup.
So technically, does it feel weird to just park a motorcycle? If you were to say take three weeks off right now, that would probably be just too weird, I would think. Right?
Yeah. It's super weird. We're so just in the groove of going weekend to weekend, and then not having that something, that goal to chase, is really weird as an athlete. So right now it's just like, you've just got to stay healthy and that's about it. Stay in shape. Not burn yourself out. It's really strange.
I feel exceptionally bad for you—and again, this is a small thing, this is only racing, and we know this doesn't mean much compared to what's going on in the world right now, but dude. You basically worked your whole life, and especially the last five seasons, to finally get in this position. You were managing the supercross series. You're in the points lead. That had to hit you even more. If this happened to you in 2018, it sucks, but now you're in the points lead. It has to hurt even more.
It's terrible. All I hope is we can finish the thing. It would be horrible if the thing just ended and that was it and over, for everyone's sake. Hopefully we get those last couple rounds in, whether it's two rounds or one round or all seven. I just hope we get a legitimate finish to the season. Whether we win or lose, at least have a real finish and not have this unknown.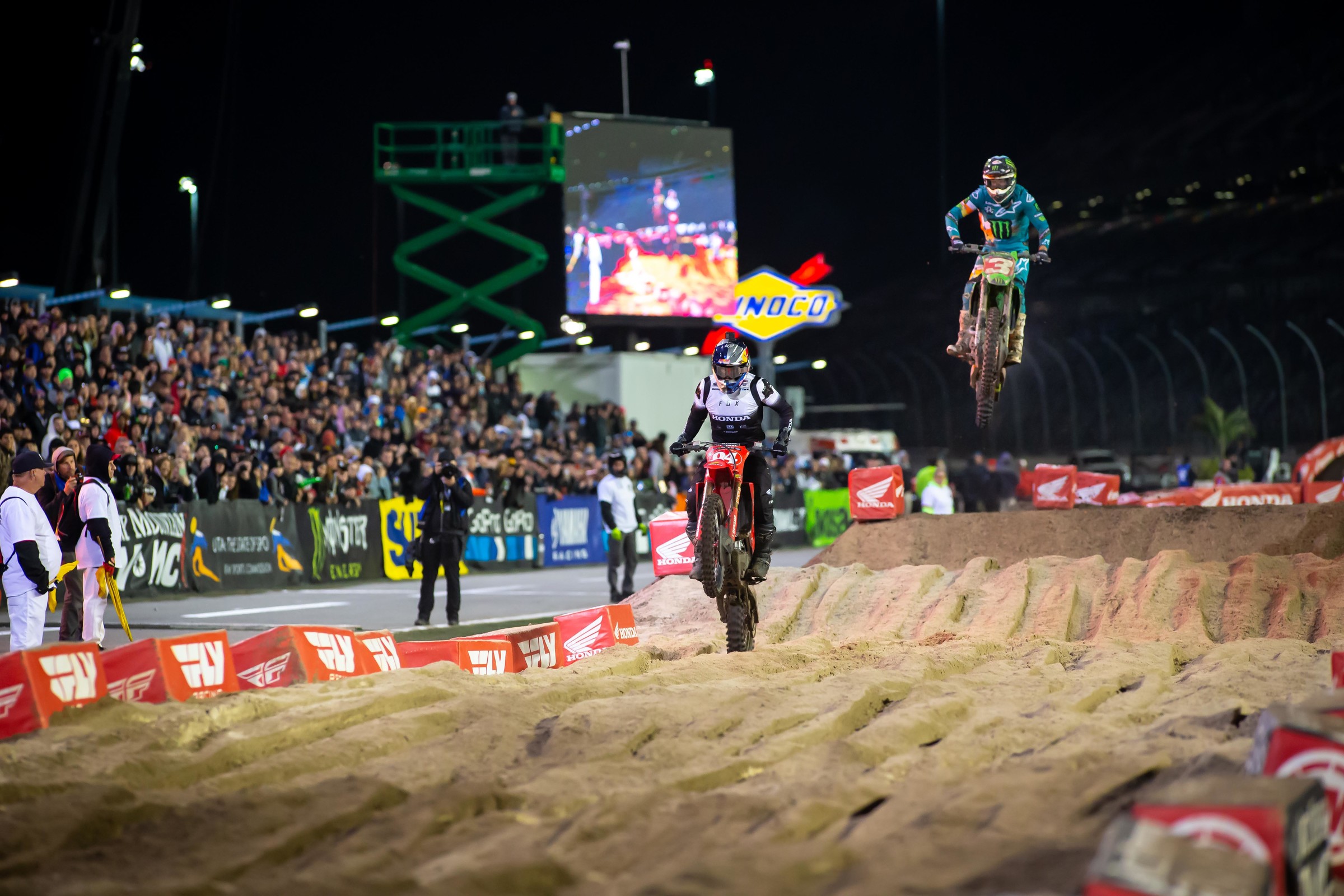 I've talked to a bunch of people and they say there isn't a minimum number of races for someone to be declared a champion. Let's say for some crazy reason we can't do any racing all the way until December 31. It doesn't sound like you're at all thinking, "Okay, sweet. I'm declared champ!"
No. Hey, I'm in the position to take it that way if I have to, but it would be nice to really know and just not find out three months down the road that, "Oh, you're the champ." It will just be kind of a buzzkill.
[Laughs] You don't want a nightly news press conference saying all events in the world canceled for the rest of the year and be like, "Well, I guess that means I'm champ." That's not the way to find out?
No. Everyone would remember it that way. It's not good that way. But you can only do what you can do.
Still are you pretty proud this season that you have stayed in it? You've obviously won a ton of races the last couple of years, but this year, you've managed your finishes. You had a race where you went down and it seemed like it was going to be a bad night. You still got fourth. So you've got to be pretty proud of how you stayed in it this year to at least get to the point that you're in.
Yeah. We had five out of ten race wins. So we were rolling. That was the bumming part, when you stall momentum. So it's going to be tough that way. If things do get back to normal in the summer and then we got to transition into supercross, that's going to be a little bit just different for everyone. We'll have to throw in some supercross days there. If we really go race in September, supercross, that's going to be a game changer for sure. There's going to be no warming up. You can kind of warm up into Anaheim and whatever round two is. You kind of get your flow going. But this isn't the case. We'll be going straight into make or break time.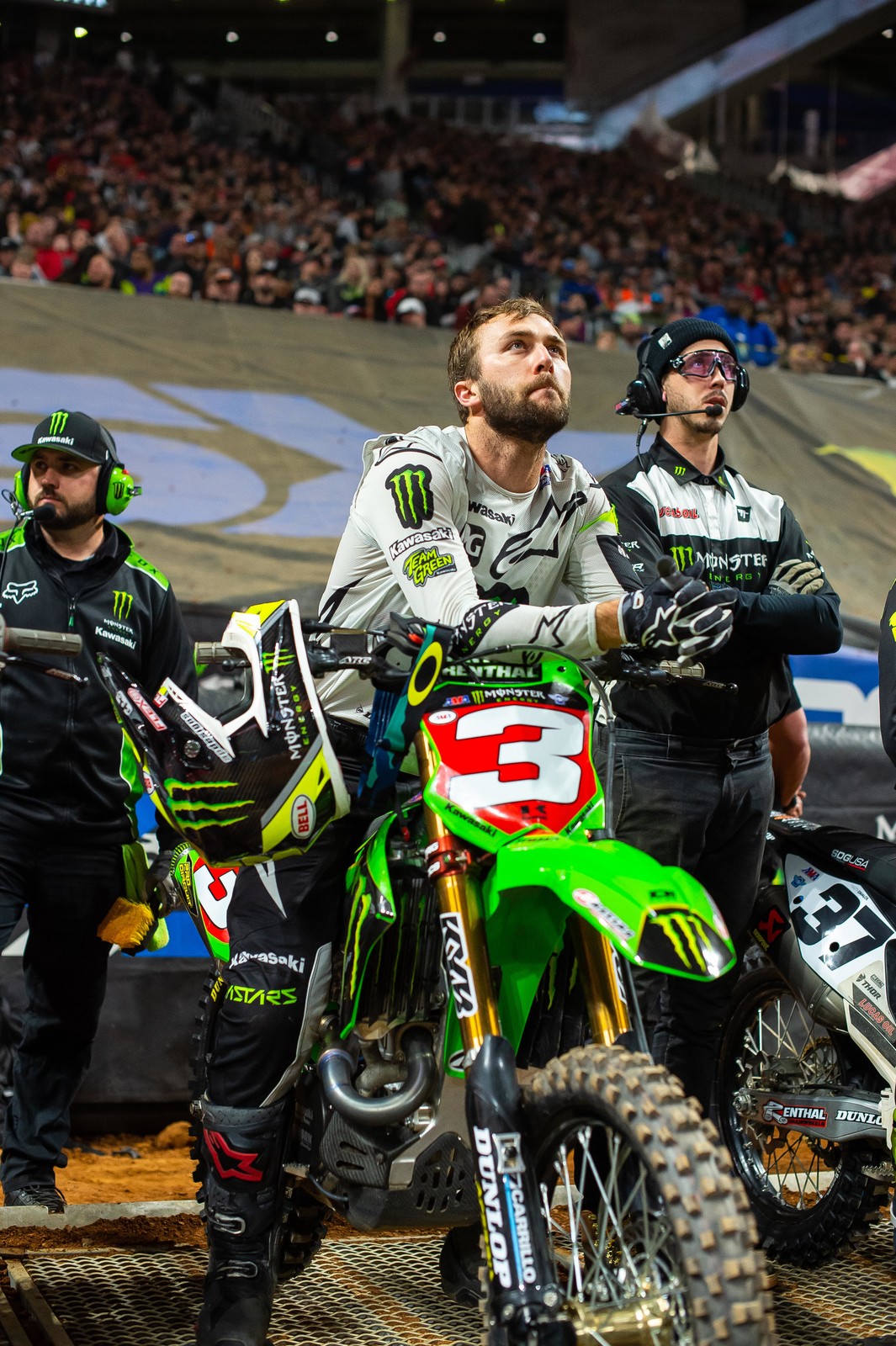 With a three-point lead, you can't just take a fifth at the first round back.
No!
Is there something you've done different this year or did it just work out? Is there some reason you can point to? Maturity, or this could have happened any year and it just finally worked out?
It's a little bit all of the above. It's maturity. Just not having the bad finishes. It's really wild when you look back at previous years and how big the points lead is at Daytona for most guys. That's not the case this year. With Kenny so close there, all I can do is just try to stay consistent. That's what I've done this year, is just been consistent. I can't really point to what it is. I think it's just really experience. I feel maybe a little more kind of just mentally sound, just during the race and even on the start line.
Was it Atlanta where you had to make that comeback because you were down?
Atlanta was the scrap with [Justin] Barcia. Crashed and then stalled and came back. That one could have been bad.
Okay, so let's talk about that race. You were in 13th, and then you stalled. Was it something where this year you were able to handle that a little bit, staying cool when it was going badly in that race that helped this year?
After the stall, I was panicking. So nothing really changed in my head. I just happened to make it up to fourth or whatever it was. It's so hard to point to what it is.
You'll just take it!
Yeah.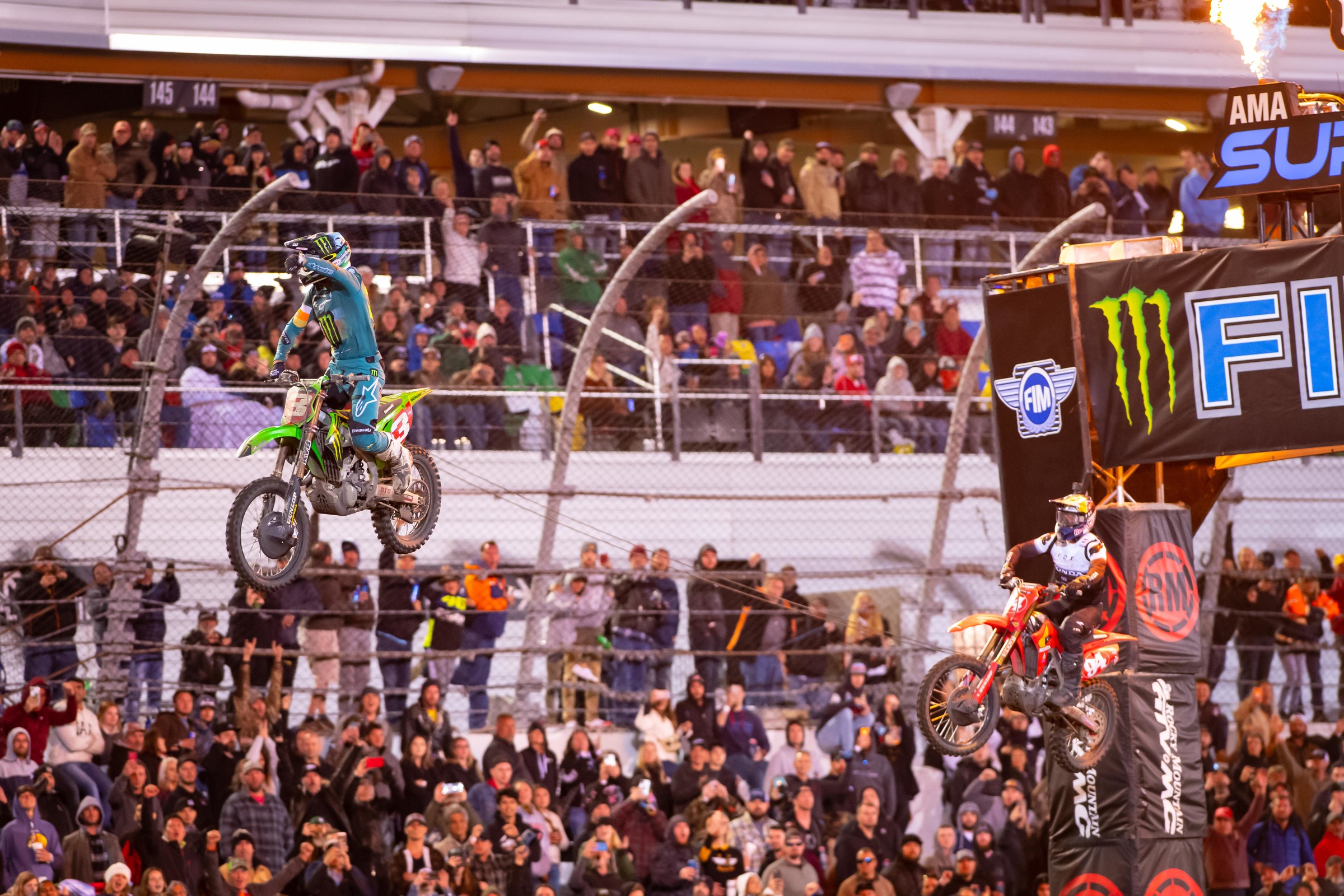 A couple questions from fans we want to go with here. We watch from the sidelines and you put on these crazy charges, like Daytona and the nationals there's been a ton. Like Washougal the last couple of years. It looks like you go into this crazy, I call it "beast mode" zone. Do you feel that way, or are you just riding? It seems like you're riding out of your mind. Are you? Or are you just riding?
[Laughs] What I really think is happening is I'm maintaining the early pace late into the moto. Sometimes maybe in the middle of the race there's kind of like a calm before the storm. Either guys are blowing up or they're going over the top, and I'm almost settling in and then I make another push, I think is what happening. Then I can maintain those early lap times that are in the race towards the end of the race. That's when I can catch those guys.
If we go to Daytona, did you think that one was too far gone? Kenny was long gone, and you had to pass a lot of other fast guys to get there. Or have you done this enough where you have a general idea of, "Six seconds. I can manage that?"
I thought he was gone, especially when you look up early. Second place, I knew that was within reach, but once I got to second, I'm like, "Let's just see what we can do here." But there was only so many laps left. Then one of those laps, I pulled two and a half seconds out of him, so then I knew I was back in the game. I think Daytona is probably one of the only places I could have done that. It just happened to happen there. But if it was a normal stadium, if you want to call it that, I don't think I would have pulled that gap in. No way.
But you're not in those last five minutes say, riding at some crazy pace that you never hit at any other time? You just feel like you're riding like you ride, but you're doing it late in the race maybe while other people are dropping off?
I think that's the case. I want to get to the front, but I think I'm maintaining the early pace towards the end of the race, is what's happening.