Assen, Netherlands
Motocross of Nations
Motocross of Nations
Welcome to the Racer X Race Day Feed, coming to you from Assen TT Circuit in Assen, the Netherlands. From practice reports to the blow-by-blow from today's motos, you'll find it all right here on the Racer X Race Day Feed. Updates are posted in chronological order, so be sure to scroll down for the latest info. For even more updates be sure to follow us on Twitter, @Racerxonline.
Morning Report
As expected, it's a cold morning in the Netherlands, but at least the expected rain held off for awhile (that would change just in time for the races).
After yesterday's team press conferences and team presentations, riders got their first laps on the track with free practice. Not surprisingly, it was Jeffrey Herling's fastest in MXGP practice. Team USA's Jason Anderson was way down on the board in 15th. On the flip side, Justin Cooper transferred his fast lap time skills from America to Europe, collecting the fastest MX2 practice time. Netherlands' Calvin Vlaanderen was second quickest of the 250s. Glenn Coldenhoff was fastest in the Open division, which means the home team was 1-2-1 in practice speed in the morning. Team USA's Zach Osborne was sixth in open.
Gate picks for today's qualifying races were set in a random draw yesterday, and many favored Nations like the Netherlands with 27th pick, Team USA with 31st and France with 29th. Today's qualifying races—20 minutes for each class—will determine tomorrow's gate picks for the motos. Each team will take their best two scores from today's racing to determine a team order for gate picks tomorrow.
Take a lap around the track during practice with Justin Cooper:
MXGP Qualifying Race
Jeremy Seewer and Jorge Prado were 1-2 off the start and Prado maneuvered into the lead in the split section to take the lead. Seewer was second over Dean Ferris and Tim Gajser. Seewer did a good job overcoming his 16th gate pick to nail the good start, meanwhile several other nations that had bad gate picks saw their riders mired in the pack. Team USA's Jason Anderson was 18th through the first few turns, France's Gautier Paulin 17th and Dutchman Jeffrey Herlings was 22nd. Anderson was riding well, though, and made quick moves toward the front and found himself in the top 10 quickly. He battled up to seventh by the third lap. Then the leader Prado went down, allowing Seewer to retake the lead, with Gasjer in second. Prado picked it up just in front of Anderson, in a battle for fifth, then caught Australia's Ferris, who was in fourth. Prado made the pass for third and then Anderson got around Ferris a lap later. Belgium's Jeremy Van Horebeek was running third and beginning to close on the leaders, Seewer and Gasjer.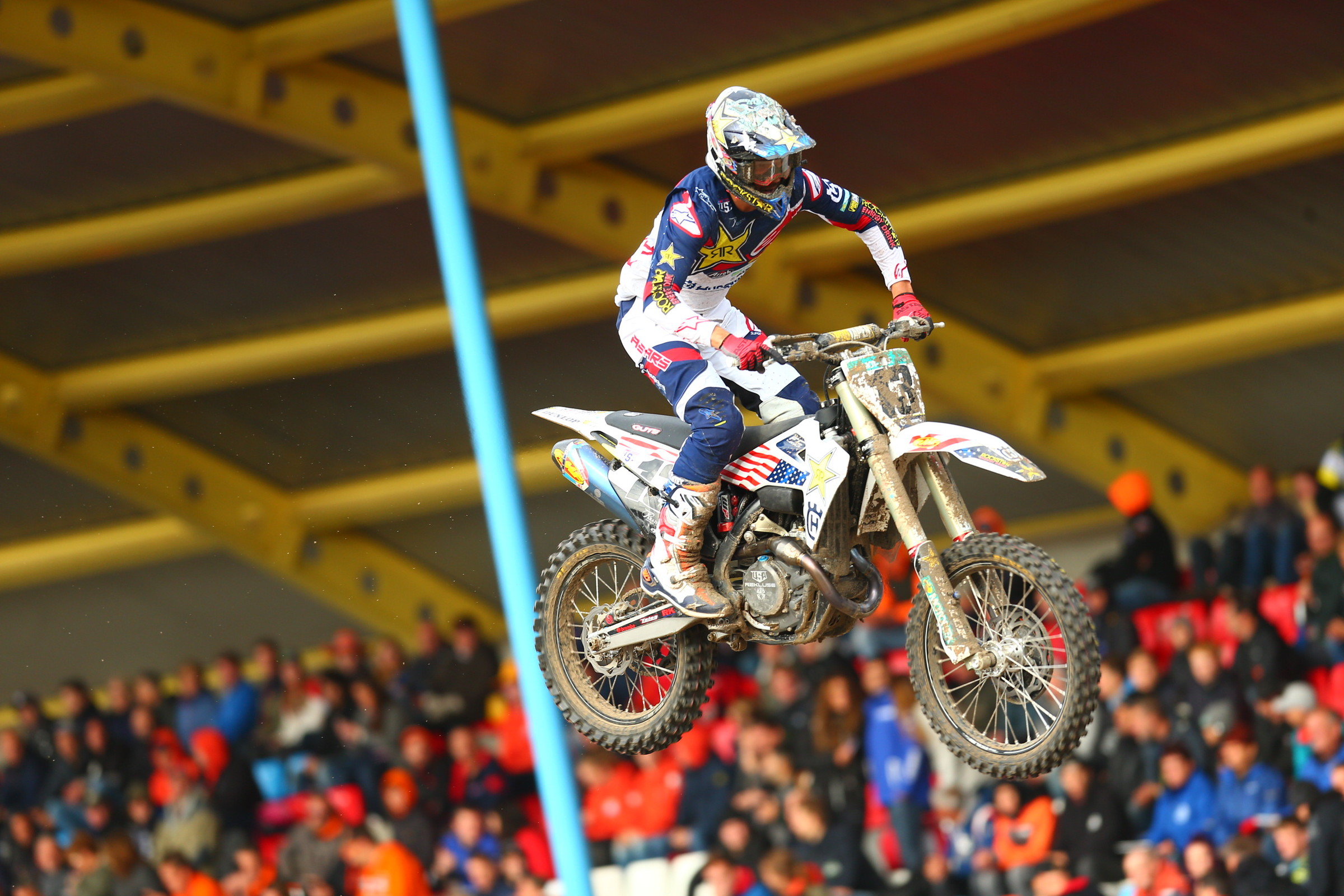 Herlings was nowhere to be found early in the race, but caught five near the halfway mark of the 20-minute sprint. He caught Paulin and made an aggressive move, the got around Italy's Monticelli. Herlings was still about 10 seconds behind Anderson, but started making up huge chunks of time—Herling's lowering his lap times while Anderson started to slow. Herlings got to Anderson with two laps to go, and Anderson didn't even put up a fight, and didn't even clear a jump while Herlings was flying past him. Herlings, now in fifth, kept pushing and found himself on the rear wheel of Red Bull KTM teammate Prado. Herlings showed Prado a wheel but ran out of time. Prado, in his 450 debut, took fourth. Van Horebeek was third, Gajser second and Seewer the winner. Anderson cruised home in sixth.
MX2 Qualifying Race
From the 31st gate pick, somehow Justin Cooper pulled the holeshot from the outside! The New Yorker immediately started to pull away with Australia's Kyle Webster second. After a few laps, Cooper's bike was completely clean while the rest of the field was mired in sandy roost. Making things even more interesting, half of the track featured rain, while the sun was shining on the other side!
Webster, a late fill-in for Australia, rode very well, holding second most of the way. Britain's Adam Sterry went down, as did MX2 GP vice-champion Thomas Kjer Olsen. Norway's Kevin Horgmo stayed in the battle for the podium as did New Zealand's Dylan Walsh, but eventually some of the favorites punched through. Netherlands Calvin Vlaaderen got to Webster and took over second, and Belgium's Jago Geerts got to fourth. Australia's Webster, in place of the injured Hunter Lawrence, hung tough for third, which was impressive.
Up front, Cooper rode very well for most of the race but made a few mistakes near the end. His lead was never threatened, though, and he sailed to the win in his Team USA debut.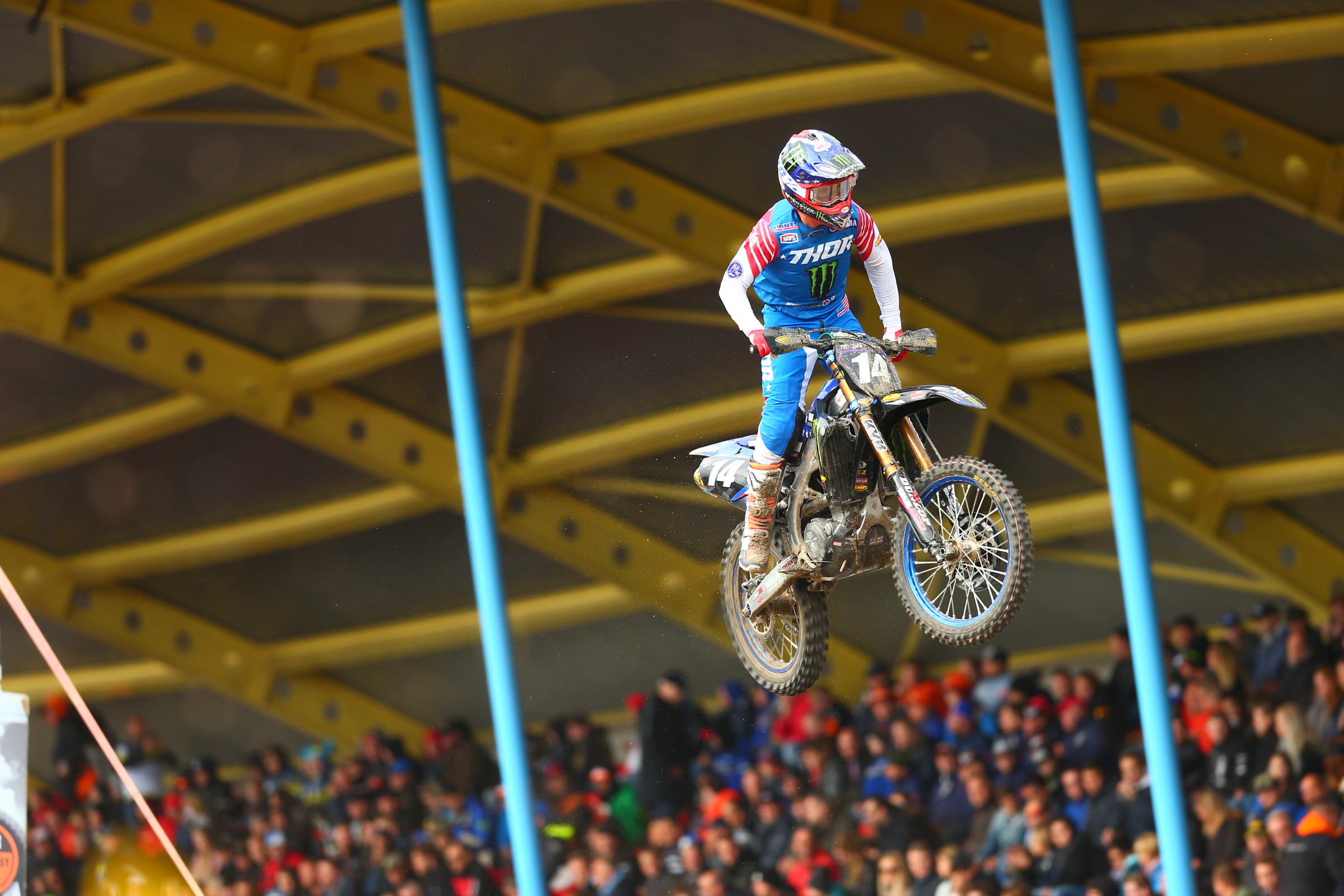 "It's good to get the monkey off my back with this qualifying race win and go into tomorrow strong," said Cooper. He also commented on how much the track had changed—first from qualifying and then throughout the race. Expect some changes as he continues to learn the track and the sand.
After two races, there's now a three-way tie atop the team leader board, with Belgium, USA, and Netherlands all carding seven points (Belgium has a 4-3, USA a 6-1 and Netherlands a 5-2). Switzerland won the MXGP race with Seewer, but Valentin Guillod was just 14th in MX2. France's Maxime Renaux struggled in the MX2 race and finished 10th.
The Open class will race next, each time keeps its two best scores to determine Saturday's overall result. The Saturday result determines gate picks for tomorrow's main motos.
Open Class Qualifying Race
Belgium veteran Kevin Strijbos edged ahead of the start and quickly got into a battle with Latvia's 2017 MX2 World Champion Pauls Jonass. Jonas was able to secure the lead and pulled away slightly. Meanwhile, Dutchman Glenn Coldenhoff was able to slice his way to a decent start despite a bad gate pick, and eventually get to third. The expected charge to the front didn't materialize, though, as Coldenhoff, who has been on fire at the last few GPs, seemed content to bring it home third and never closed on the leaders. Late in the race, he tipped over, but fourth-place Shaun Simpson wasn't close enough to take advantage.
As for Team USA, Zach Osborne was buried off the start and then slowly but surely pulled through from about 17th to seventh. The latter half of his race was not as good, though, and Frenchman Jordi Tixier made up ground and was able to make a pass on Osborne late. Zach finished eighth, which became the drop score for Team USA (each team keeps its best two scores to determine Saturday's results).
With a few laps to go, Strijbos, running second, started to close back in on race-leader Jonass, and the Belgian fans came to life. He tried an outside line on the last lap to make a pass for the lead, but got buried in the sand and lost his drive. Jonass held on for the win, but Strijbos' second was big. Belgium gets to carry a 2-3 (Jeremy Van Horebeek was third in the MXGP race) for its two Saturday results, giving the nation first gate pick for tomorrow's races. Even the score the team dropped was a solid fourth from MX2 man Jago Geerts!
Coldenhoff brought it home third for Netherlands, they will get second pick tomorrow. Team USA ends Saturday in third. Osborne's race wasn't stellar and Anderson slowed a bit late in his qualifying race, but overall it was a positive day for the Americans, who appear right in the lead mix heading into tomorrow. The team took the 31st gate pick and ended up third overall, and you'd have to imagine the riders and techs are learning a ton about this track with each lap.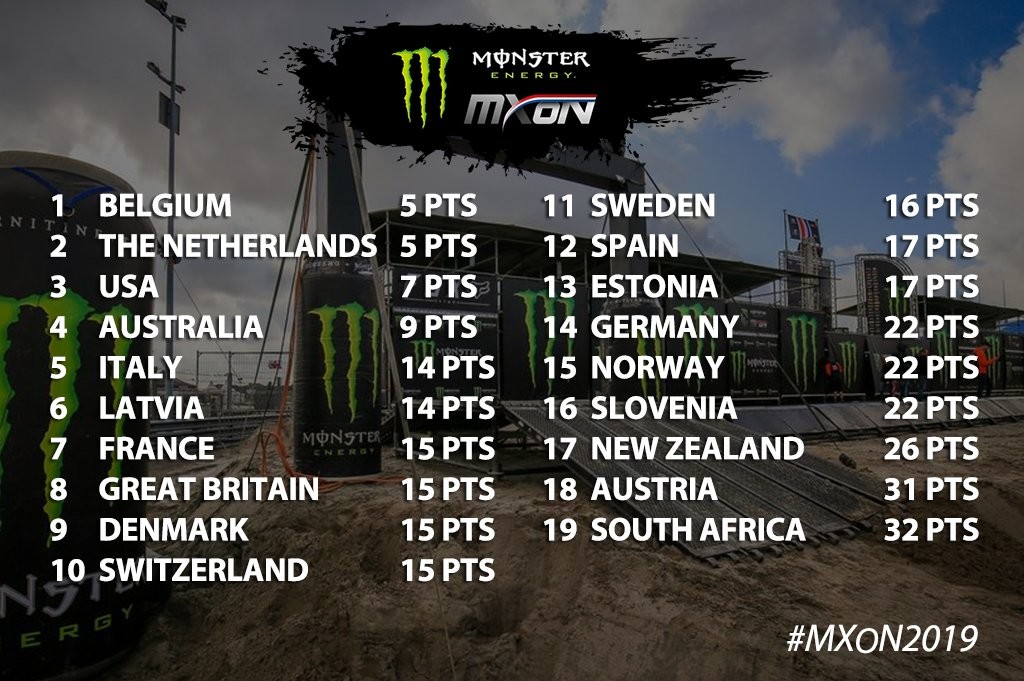 We'll be back bright and early tomorrow morning. First moto begins at 7 a.m. Eastern.