Privateer Profile: Luke Renzland
Harpursville, NY
Black Sky
GNCC Racing
We love talking to Luke Renzland. He's a funny, humble guy and definitely sees the joy in motorcycling, even if he hasn't gotten the career breaks he would probably like. Last year Luke had a breakthrough ride via a podium finish at the Indianapolis Monster Energy AMA Supercross 250SX East/West Showdown, but that didn't result in factory employment in the U.S. for 2019, so he headed north to race for the MX101/ Royal Distributing/ FXR Yamaha team in Canada.
Luke likes to dabble in other racing, though, so on occasion he's loaded up and raced some Amsoil Grand National Cross Country Series (GNCC) events just for fun. Over the weekend, he competed in the Montreal Supercross and then the Black Sky GNCC in New York on back-to-back days!
Why? We wanted to know, so we texted Luke and got these answers.
Racer X: So you're telling me you have a gnarly headache today. Is that because you were crazy enough to race a supercross Saturday and a GNCC on Sunday in two different countries? Surely there is a side effect!
Luke Renzland: I would bet my bottom dollar that the long weekend has everything to do with my headache. [Laughs] If you're looking to preserve your body, I've learned that the last thing you want to do is a double header of SX and GNCC in one weekend with a border crossing and a decent drive between the two events!
Ah, yes, so that makes sense. So tell us why in the hell you decided to do this?
Well I'll just start by saying that when you make plans pretty far in advance, they sound fun and simple, but as you get closer, the preparation and logistics become a bigger chore than you imagined in the first place. My girlfriend, Eden, and my engine builder, Alan Brown, both race the GNCCs so it started as small talk that we were all going to go to Montreal for the supercross and drive overnight for the GNCC the next day. Sadly, plans changed for both of them and I was left on my own to follow through with the original plan. It was exhausting but I'm glad I did it now that it's all said and done.
Okay, love how that works—sounded good to everyone but you ended up the Lone Ranger! So let's start with Canada. You had to race Montreal as part of your season up there? How has that gone?
Yes, the Canadian series is pretty interesting. They have an arenacross series in the spring, motocross in the summer, and supercross in the fall. Each of those series crowns an individual championship, and then you combine the points from all three at the end of the year for the Triple Crown Championship. It's been a decent year for me so far. It's tough to go into a new series with new tracks and different conditions and run right with the top guys that have been doing it for a while. I've had some small injuries that held me back over the summer but I've definitely been one of the top dogs which is cool. Montreal was the start to the three round SX series and I ended up second overall there so it's a good start to the third leg of the tour for me. [Editor's Note: Renzland is currently third in the 250 points for the Rockstar Energy Triple Crown title].
Now look man, we're technically calling this interview privateer profile but I'm not even sure how your Canadian deal works. Are you considered a factory rider in Canada? And I already know your GNCC efforts must be full privateer!
Right now I'm on the MX101/ Royal Distributing/ FXR Yamaha team which is the official 250 team for Yamaha of Canada. So I'm supplied with practice and race bikes, parts, gear, contingency, the works really. As far as my off-road program goes, it's a little rough but it gets the job done! I've had my Husky 300 for a couple years now and that's my do-it-all machine for anything off-road related. My maintenance program is pretty lackluster but luckily, my good buddy Mike Stryker took the bike and went over everything on it, got it race ready, and even delivered it to the race on Sunday! So that was pretty cool for him to help out like that. I got the full factory StrykeDaddy Inc. treatment!
Okay that's a good deal for both series depending on how you look at it! So how was the racing in Montreal? Do you feel you will have an advantage in the supercross rounds in Canada because of your experience racing in Monster Energy AMA Supercross? We shall never forget that East/West podium last year!
Montreal was pretty cool. The French Canadian fans are all about motorsports and the energy in the building was pretty awesome. In addition to the pro classes, they had amateurs, quads, and even buggies, so they had to build a track to suit a wide range of skills and equipment. It was a super simple track that got really slippery from the four-wheeled rippers so you had to be easy on the throttle but still push really hard since it was so simple. It was a two moto format for the 250s and I ended up going 9-1 for second overall. I went down in the first turn of the first moto and with ten laps on a 40-second track I could only manage a ninth there. In the second moto I did the complete opposite by grabbing a holeshot and leading wire-to-wire for the win. I would normally say that SX would be an advantage for me, but the tracks aren't the technical stuff like they build in the States. It's all about getting clean track and staying out of trouble. I'll never forget that East/West podium either! Hopefully there will be an opportunity for me to get more of those in the future!
So give me an account on Saturday night through Sunday morning. How far was the drive? What was the customs stop like? Did you get some sleep?
The drive was just shy of six hours. I got out of the stadium and started my drive at 11:00 p.m. I had some time to burn since my race wasn't until 1 p.m. Sunday but I didn't want to get there at the last minute either. There was some traffic getting out of Montreal which held me up a bit but thankfully the border crossing wasn't much of a line and I got through there in about 15 minutes. I was actually really nervous going through customs because I reeked like alcohol from the podium champagne celebration!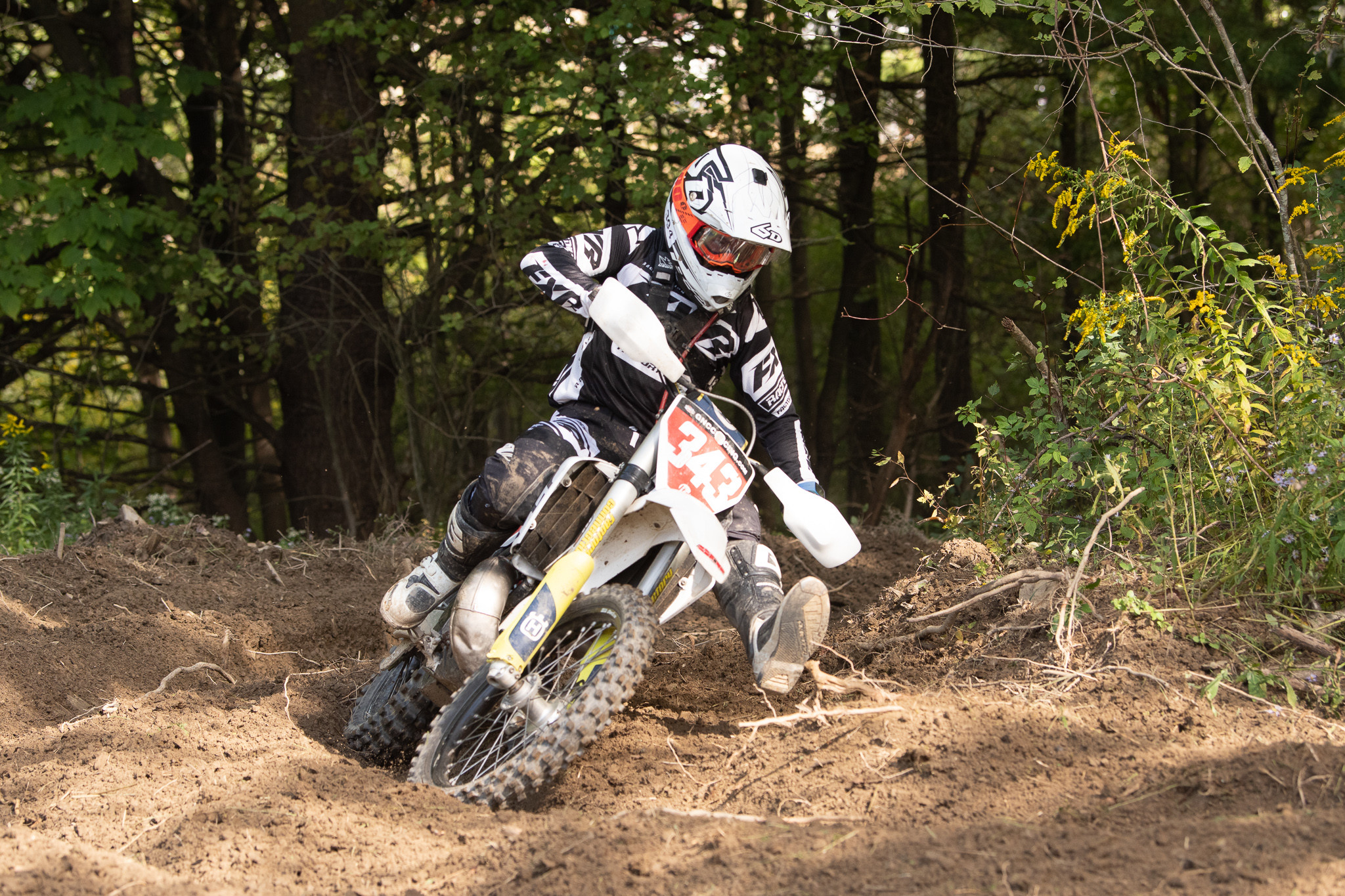 Anyway, that went fine and I drove until 4 a.m. which put me about an hour and 45 minutes from the track. I set my alarm for 7 o'clock and after what seemed like a blink of an eye, I was back up in the morning and finishing my drive. I stopped for groceries and cash at a Walmart, and arrived at the GNCC around 10:00 in the morning.
You drove by yourself?
Yes, sir!
Wow! Okay so how bad did you feel when the race began? Are you even tired after a supercross or was it just the sleep that was a problem?
Body wise, I felt fine on Sunday. I wasn't sore from the supercross or anything. But I was definitely a zombie from the lack of sleep. That was the worst part, you need a clear mind to pick good lines and to avoid trees in the woods. I was a bit slow-minded and caught myself taking the same bad lines lap after lap just cause I wasn't focused like I needed to be. I actually got off to a great start, charged into the woods right behind the leaders and crashed on the first rock I hit. After that, I decided I wasn't comfortable pushing too hard and treated it like a three-hour trail ride from that point on. It also didn't help me that this GNCC didn't have any moto track incorporated and minimal grass track even. So it was a full blown woods race. I was doomed from the start!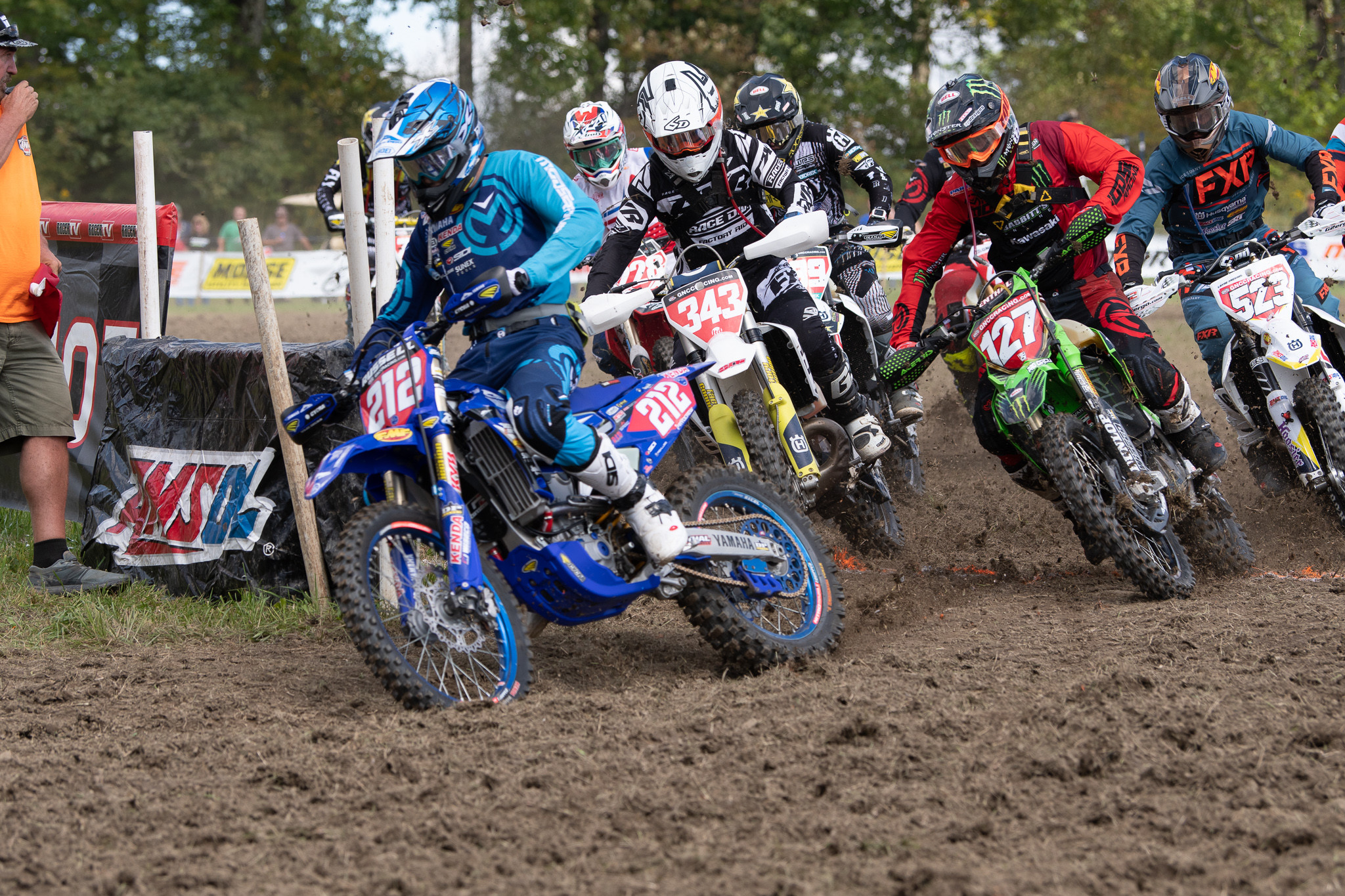 [Laughs] What's the goal with these GNCCs? You just like it?
That's a good question really. I guess there's no goal other than just simply having fun on my dirt bike! I love riding any form of two wheels that I can, and it's nice to go race an event where there's no pressure on me at all. I got 43rd on Sunday, got completely destroyed by some amateurs even. But the beauty about racing the GNCC is that the results don't count towards anything for me. It's just a fun day on the bike and learning some new skills that I can take with me to the races that count.
Awesome, well thanks for the time. Wanna throw some love to some people?
For sure, gotta give a shout out to my Canadian crew, team MX101 Yamaha, Royal Distributing, FXR, SSS suspension, Ride Engineering, 100%, 6D Helmets, Decal Works, and FMF. For my off-road effort a big shout out goes to Mike Stryker at StrykeDaddy Inc. for being the glue holding the program together this weekend!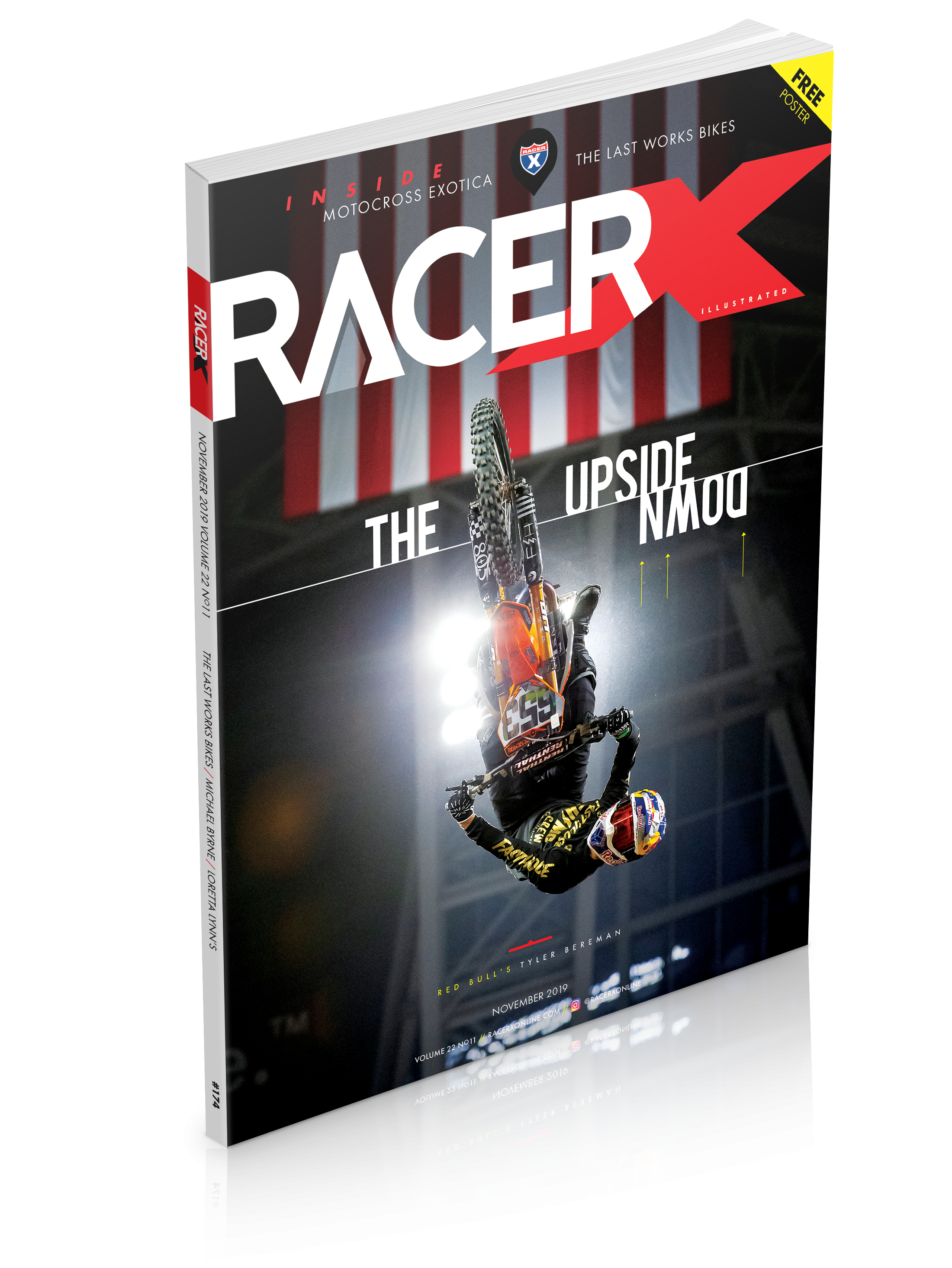 Racer X Illustrated Motocross Magazine
The November 2019 Issue
Inside the November issue of Racer X magazine: See who stood out and what our takeaways are from Loretta Lynn's and all of its future moto talent. GEICO Honda had a packed house at the last three nationals, but who's sticking around? Former factory rider Michael Byrne has made a successful jump to team management, and we find out how and why. When the AMA's 1986 Production Rule went into effect, it ended a glorious run of exotic, hand-built—and wildly expensive—bikes in AMA racing. We dig into the story of those final years. All these features and much more inside the November issue.
Read the Issue Now
Preview the Issue Now