Inaugural Daytona Vintage Supercross Crowns Multiple DVSX Champions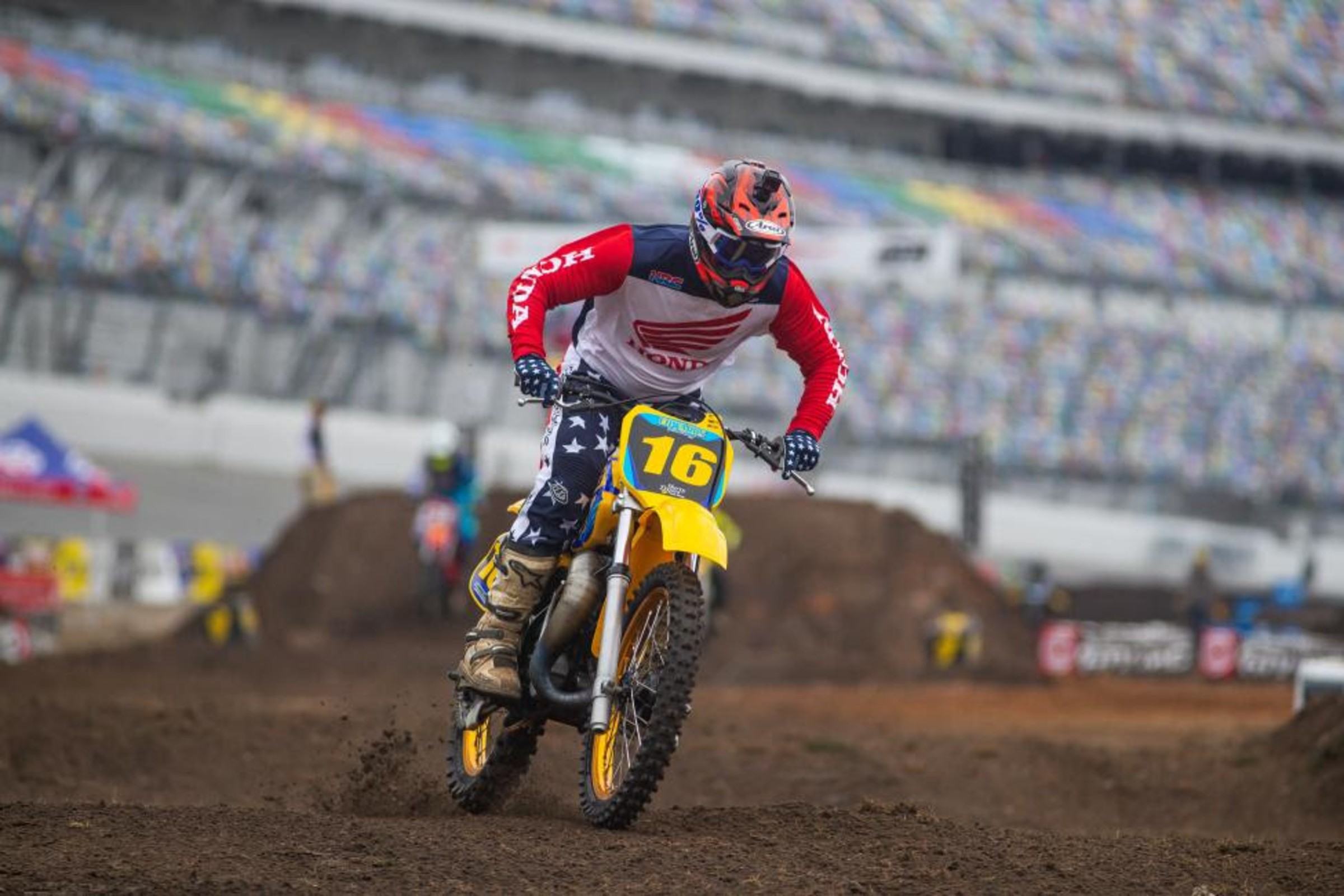 Daytona, FL
Ricky Carmichael Daytona Supercross (RCSX)
Ricky Carmichael Daytona Amateur Supercross
Daytona Beach, FL—The inaugural Daytona Vintage Supercross (DVSX) took place on Tuesday, March 12th at the historic Daytona International Speedway. Over 20 classes ranging from 125cc to Golden Masters (60+) were featured. Classes were broken into six different groups starting with Vintage and going through 2008 with the Revolution 2 classes.
In vintage racing, the bikes are as much a part of the story as the racing. During the afternoon on Saturday, March 9th, vintage bikes were showcased in the Fan Zone area as the MX Sports staff awarded prizes for Best in Show.
Four-time Daytona SX winner Jeff Stanton served as Grand Marshal for the Inaugural Daytona Vintage Supercross, as he participated in festivities by racing a couple of classes. Stanton would take home the wins in the Evolution 3 125 and Evolution 2 Masters classes.
Racing got underway early Tuesday morning with the Vintage Open class, which was won by Robbie Conklin on a beautifully restored 1974 400 Maico.
"I bought the bike last year and it's been a pretty cool project," said Conklin. "I took it all the way down to the frame while restoring it; it was a three-month project."
In the first moto, Conklin was third off the start, but when he went into the first turn he bottomed out his suspension and broke a bolt on his foot peg, leaving it hanging down for the rest of the race.
"I could still jump but I had trouble shifting," said Conklin. "Although I ended up moving all the way up into second place by the finish."
Before the second moto, Conklin was able to drill out the old bolt and fit a new footpeg.
"In the second moto I got a third place start and before the end of the first lap I moved into the lead."
Conklin went on to win the overall with 2-1 moto finishes, while Osburn finished second on a CZ and Jason Raikes was third on a Husqvarna.
Robert Berry was the biggest winner of the event, claiming three victories during the one-day event. Riding a fully restored 1978 250 Maico, Berry took wins in the Evo 1 Open, Evo 2 Open, and Evo 3 Open classes.
"We had an old 400 frame laying around and my dad bought a 'Craig's List' 250 Maico for $1,500 so we made one bike out of two," said Berry.
Of his wins, the Evo 3 Open class was probably the most memorable for Berry.
"The Evo 3 Open class was combined with the Evo 3 Masters, so I got to race with Jeff Stanton, which was pretty cool. Jeff was riding a 1985 CR 125 Honda and in the final moto I bogged off the start so he got a jump on me with that 125. But then his bike bogged going up the face of a big jump and he endoed. I was able to get around him, so for the next two laps so we were battling back and forth and yelling at each other, encouraging each other to go faster. Then I was able to pull away since I was on my 250. It was cool because when I was in the fourth grade, I had a Jeff Stanton sticker on my binder."
The Vintage 125 class, which was a cool exhibition of 70's era vintage bikes, was won by Charles Carter with fellow Suzuki rider Casey Cochran in second. Nicholas Devito was third on a Kawasaki.
Sixty-one-year-old Elmar Kruza won the Vintage Masters (50+) class on a 1974 380 CZ. Kruza says he started racing in '72 and never stopped.
His Vintage Masters (50+) class was combined with the Vintage 125 which made for interesting racing.
"There was a rhythm section with this one double jump that I was doing and nobody else on a vintage bike was doing," said Kruza. "I cleared the thing and passed everybody and led the race for a lap until this little kid (Casey Cochran) on a really trick 125 Suzuki got by me. He was in the Vintage 125 class, so I ended up winning Vintage Masters (50) anyway, but it was really cool seeing a 12-year-old kid racing a vintage race."
Jacob Raikes won both motos to top the Vintage 250 class on a 1973 Husqvarna CR250, beating out Nicholas Devito on a Kawasaki in second and Warren Clendenny on a CZ.
"The first moto was a good battle with a Devito," said Raikes. "He was in the lead and I was a couple seconds back, but I eventually caught up."
Raikes pulled out all the stops by jumping a double jump that no one else in the vintage classes was jumping, allowing him to take the lead.
Tim Castrone won the Revolution 2 Vet (30+) class and the Revolution 2 (40+) class on a 1999 RM 125, which was the same bike he rode in the 1999 125 East Coast Supercross Series.
"The track was pretty easy and the guys on the 250's got the holeshots in both classes," said Castrone. "It was kind of the same thing in both classes, it took me a couple laps to get up front. Then it was pretty much clear sailing from there. "
Richard Hoy (HON) and Ed Higgins (SUZ) were second and third in the 40+ class, while Robert Fox (KAW) and Roger White (YAM) were second and third in the Vet 30+ class.
Among the other winners, Billy Harbert (SUZ) won the Evolution 1 125 class, with Mark Warren (YAM) in second and Bryce Payne (SUZ) in third.
Andrew Trail (HON) won the Evo 1 Masters (50+) class ahead of Keith Waddell (Hon) and Greg Halcomb (YAM).
Jason Williams was the winner in the Evo 3 Senior (40+) class, with Scott Bland (HON) second and Chad Kimbrell (YAM) in third.
In the Evo 3 Golden Masters class, Floyd Cole (HON) took the win over Paul Dziwanowski (KAW) and Keith Schultz (HON).
Other riders taking wins on the day included: Mitchell Zaremba (Revolution 2 Open), Michael Plas (Revolution 1 250), Billy Harbert (Evo 1 125), Fred Schultz (Revolution 1 Open).
You can view a list of the complete results here.
For more information on the Daytona Vintage Supercross and Ricky Carmichael Daytona Supercross, visit the series official website at www.racedaytona.com or call (304) 284-0101. Join the conversation on the event's social media channels, along with receiving the most up-to-date news and exclusive content.