Indianapolis, IN
Indianapolis
Monster Energy AMA Supercross Championship
Ken Roczen has always been one of the most open and honest racers in the pits, and so his short two-race slump of sub-par finishes has already resulted in a surprisingly candid response. After finishing eighth at the Indianapolis Supercross, which dropped him 27 points down from championship leader Cooper Webb, he could have just said he got a bad start on a track that didn't offer much passing. No one would have noticed.
Instead, Roczen's Team Honda HRC press release contained this quote:
"There isn't much to say about Indianapolis," Roczen said in the team statement. "It just wasn't a good weekend for us. I had some struggles during the week and over the past couple of weeks that have really held me back and have made it so I can't ride and train to my full potential. I'm trying to figure out what's going on and hopefully get some answers soon. I've just been getting tired and I'm not sure why. Right now I'm just trying to focus on getting my body and everything aligned so that I can fight back and ride like I was during the beginning of the season. I'm obviously not where I want to be at eighth, but if there's a good thing to take away it's that we're physically healthy and heading to Seattle."
"Our goal is to get on the podium each week and we've been falling short of that, which is tough because we know both of our guys are capable of it," said team manager Erik Kehoe. "Ken's been consistent throughout most of the season but the last few weeks have been tough. Since he had been fighting the flu, he's had a hard time bouncing back."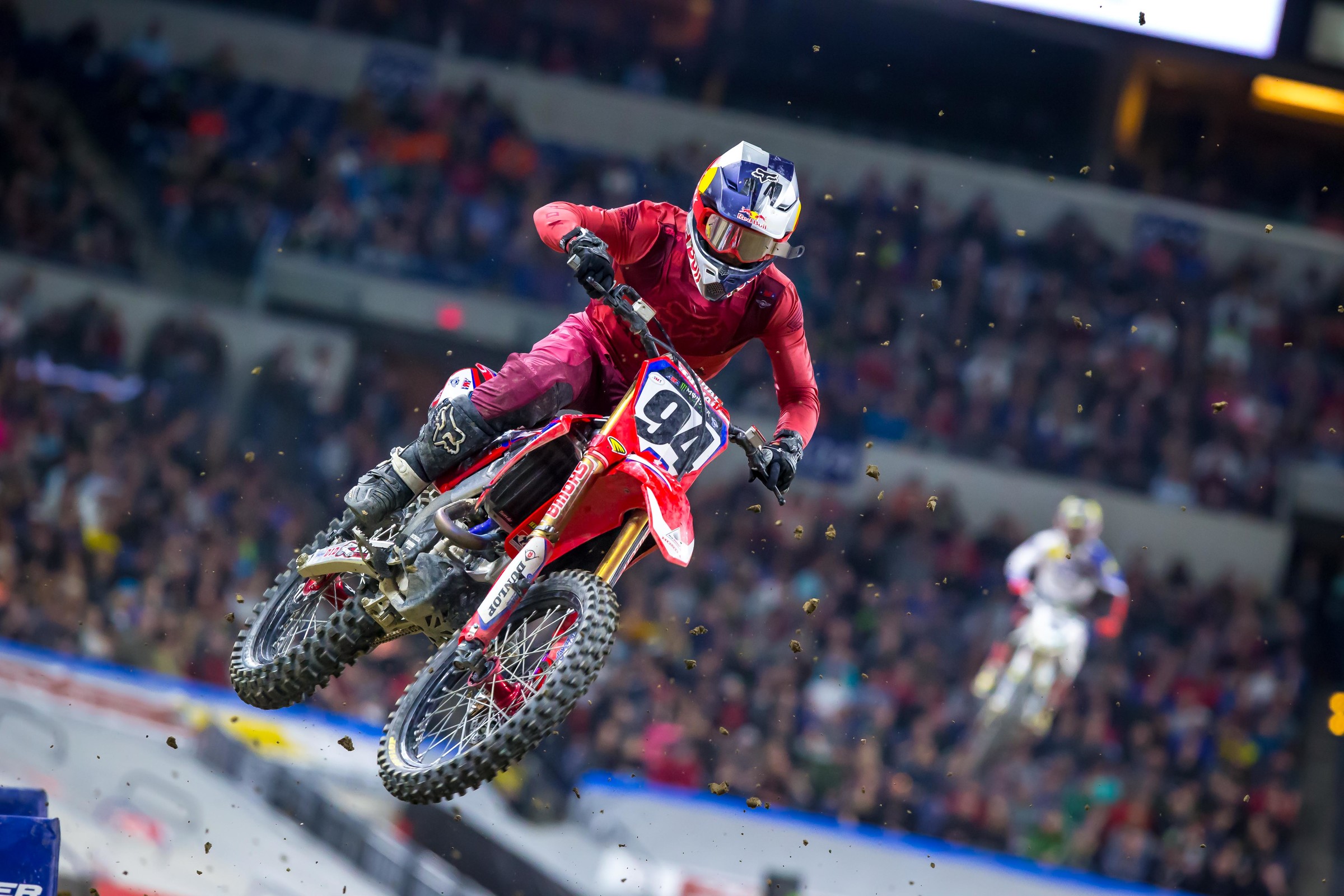 Roczen finished inside the top five in all of the first nine rounds. Now he has back-to-back eighth-place finishes.
"Tonight was kind of tough to watch," added Roczen's mechanic Oscar Wirdeman. "I'm not sure what happened, but there wasn't a lot of progression throughout the race obviously, as Kenny started and finished in basically the same position. Bike-wise, he was pretty happy and we didn't make many changes throughout the day, so that wasn't the issue. He wasn't happy so we just need to figure it out and go from there."
What could be the problem? Surely Kenny will be subjected to some tests to try to figure out why he's not feeling 100 percent, physically. Remember, this is the first season where Ken has made it out of the West Coast races healthy, which means he's taken on the load of pre-season training and then 11 races in 11 weekends for the first time since 2016. Is he just feeling run down? Can he get his energy back in time to get that ever-elusive victory and make a title run? Time is running out, and stressing over it probably will only make things worse.
There's quite a bit of struggle over at Honda right now, as Cole Seely, Roczen's teammate, has shown signs of speed all year but is still without a podium finish.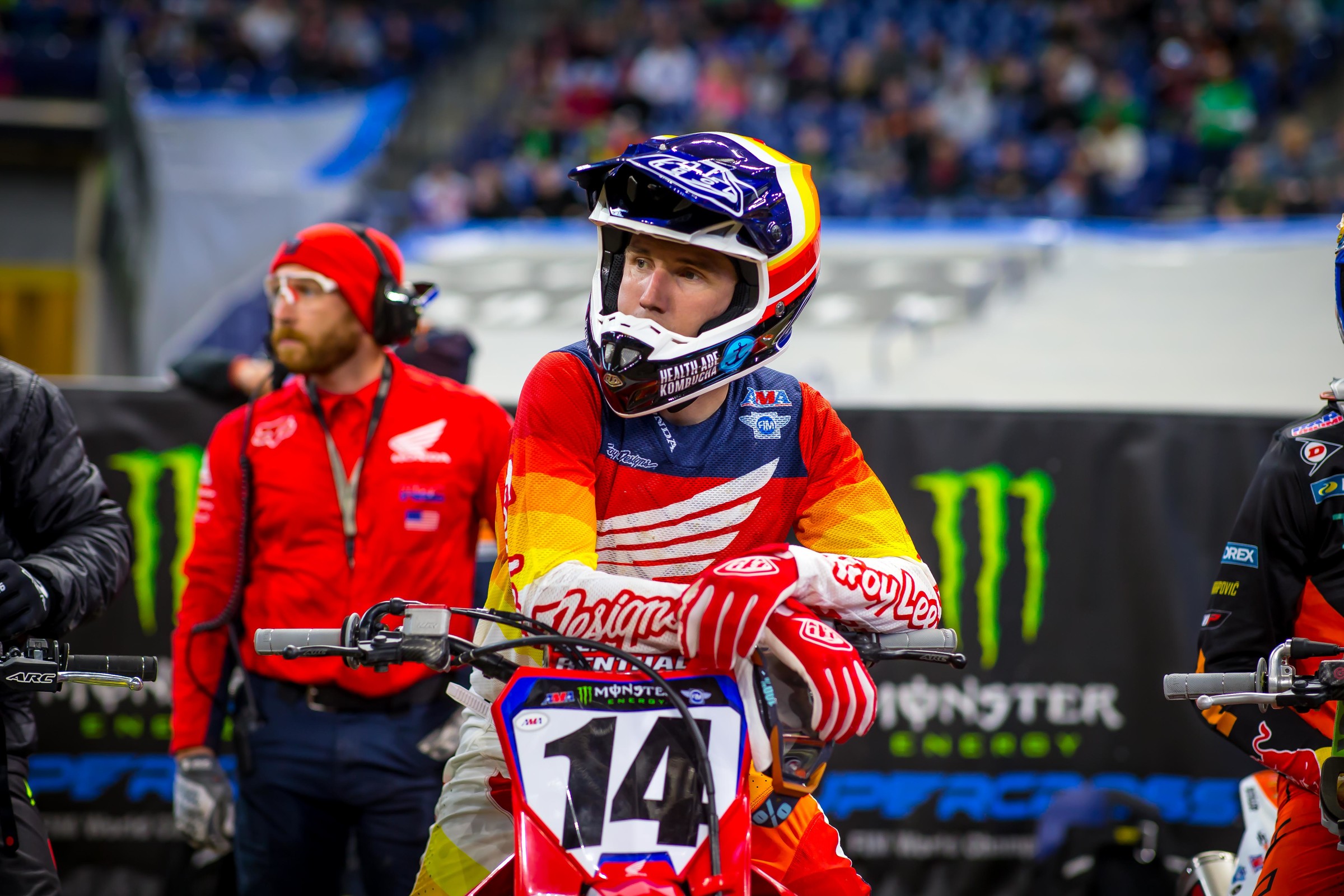 "Cole has been struggling to find his confidence this year," said Kehoe. "He has the skill and talent but I think he really just needs to believe in himself."
"This season has been a challenge and tonight was no different," said Seely, who finished 12th in Indy and is 11th in 450SX points, with a high finish of sixth. "I'm really frustrated. I have the speed to do it but just need to put it all together. It's definitely tough when you don't put yourself in a good position off the start, which is what happened in the main. All I can do is keeping working and building forward."
"I think everyone is a little frustrated because we're not sure what's missing," added Seely's mechanic, Jordan Troxell. "I know Cole wants it, I know he can run up front, and he's happy with the bike, but we can't seem to get past whatever is holding him back. He's been struggling with starts, which puts him in a bad situation from the beginning. That's hard but he's also still building himself up mentally."
For Seely, he's still looking for that mental edge after his big crash and injuries last season. For Roczen, he's looking for answers on the physical side. Either way, the long slog of a long season has taken a toll on Team Honda HRC. Can they find some answers?