State Farm Stadium
Glendale

,

AZ
Glendale (Phoenix)
Monster Energy AMA Supercross Championship
Welcome to the Race Day Feed, coming to you from State Farm Stadium in Glendale, Arizona. From practice reports to the blow-by-blow from tonight's program, you'll find it all right here on the Racer X Race Day Feed. Updates are posted in chronological order, so be sure to scroll down for the latest info. For even more updates be sure to follow us on Twitter, @Racerxonline. Track walk is beginning momentarily, so check back soon for a morning report.
Morning Report
In a word, big. That's the story this morning at the second round of Monster Energy Supercross in Glendale, Arizona, and it applies to just about everything you can think of. From the pits, which are large and spread out, to the track itself, which features some of the longest sections the riders will see in 2019. It's all huge. It's a big night for some of the riders too. Guys like Jason Anderson, Marvin Musquin, and Justin Hill all logged puzzling results one week ago at the season opener. Hill was fifteenth, Musquin was eighth, and Anderson, the defending 450SX champ, was fourteenth! Granted, last week was wet and slippery, so if the guys bounce back tonight it'll be easy to write off last week's bizarre results on account of the rain and nerves.
Elsewhere we know what to expect from guys like Ken Roczen, Eli Tomac, and last week's winner Justin Barcia. All were on the podium last week and, barring crashes or weird circumstances, should be battling to be there again tonight. Unanswered questions still remain for Cooper Webb and Dean Wilson. Both had incredible rides last week, with Wilson leading fourteen of twenty laps before fading back to fourth, and Webb fighting his way up to fifth after going down in the first turn. We'll see how they perform on a dry track tonight.
In 250 action plenty of eyes will be focused on Colt Nichols, who took his first career win last week in Anaheim. It was only a matter of time before Nichols broke through for a win, and now that he has we'll see if he finds the front again. Adam Cianciarulo, who finished fifth last week on account of crashing, will be doing his best to keep Nichols from going back-to-back. He's got the speed to do it too—he had the fastest lap of last week's 250SX main event—he just needs to avoid going off the track in the first turn like he did in Anaheim and not find himself on the losing end of an aggressive block pass from GEICO Honda's RJ Hampshire. Speaking of Hampshire, he and Cianciarulo were chatting during track walk, and the conversation seemed amiable—both were smiling and at times they even appeared to be sharing a laugh. Don't expect last week's dust up to carry over into the action tonight.
Earlier we mentioned the long length of the track's sections, but it's worth mentioning again. There is a ton of floor space here and the track builders really took advantage. For starters, the start stretch is really long, and the guys are going to be barreling into the first turn extremely fast. The rhythm lanes are also extremely long, with the longest containing fifteen individual jumps. The whoop section is long too and could serve as a separator during tonight's racing.
Practice is scheduled to begin shortly, so check back soon for a report on who's fast and who's lagging.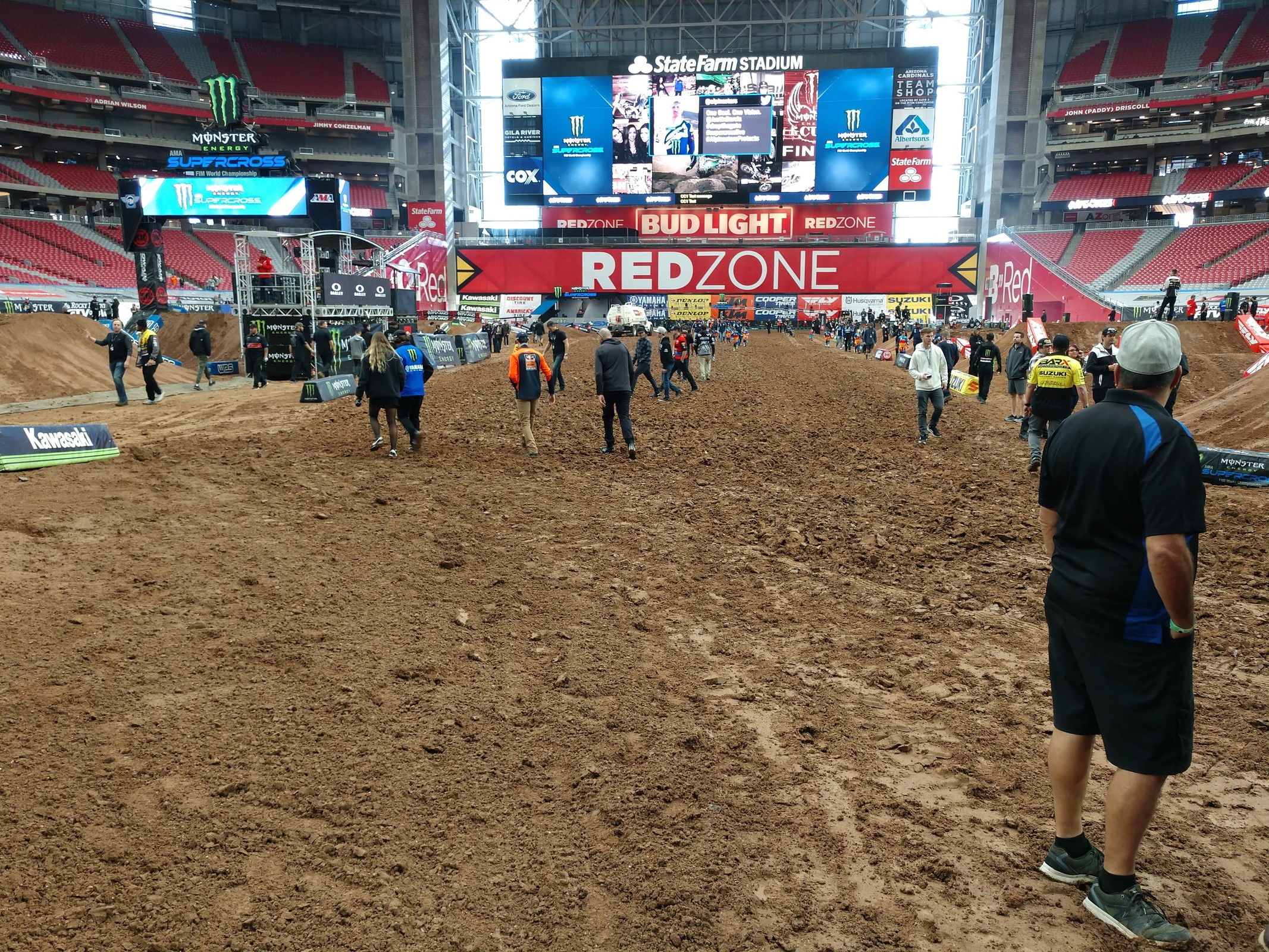 Qualifying – Session One
The first 250SX practice session saw Adam Cianciarulo posting fast laps early, but Dylan Ferrandis took over the top spot moments later with a 1:02.730. Two laps later Ferrandis bested his own time by roughly three-quarters of a second, then lowered it yet again two laps after that with a 1:01.914. Cianciarulo, meanwhile, was laying down fast laps, but the fastest ones always seemed to come right after Ferrandis had just recorded a heater. Ferrandis' fastest lap, a 1:01.914, would end up being the quickest of the session, which isn't surprising—he looked extremely clean and comfortable out there.
Glendale (Phoenix) - 250SX West Group A Qualifying 1
Full Results
Glendale (Phoenix) - 250SX West Group B Qualifying 1
Full Results
The 450SX riders took to the dirt next, with Malcolm Stewart immediately laying claim to the top of the board with a 1:02.171. Justin Hill, who didn't even look like he was pushing it as he experimented with different rhythm options, wasn't far off with a 1:02.329. A few laps later Hill lowered his own time, but it didn't matter because Stewart had already dropped down to 1:01.882. Eli Tomac, meanwhile, was slightly off the pace for most of the session and for the most part never looked like he was pushing it. He briefly visited the mechanics' area toward the end of the qualifier but it didn't look like any adjustments were made. He ended up tenth fastest with a 1:02.791. Up front Jason Anderson threw down and lit the burners on his last lap to edge Malcolm Stewart by roughly five hundredths of a second. Check out the top ten in the A Group. They're separated by less than a second!
Glendale (Phoenix) - 450SX Group A Qualifying 1
Full Results
Glendale (Phoenix) - 450SX Group B Qualifying 1
Full Results
Glendale (Phoenix) - 450SX Group C Qualifying 1
Full Results
Qualifying – Session Two
Hampshire kicked off the final 250SX qualifier by setting the first fast lap, but a few laps later Ferrandis, who was fastest in the first session, displaced him. Cianciarulo was next, knocking off Hampshire's 1:02.189 with a 1:01.286. Cianciarulo was putting in a hot lap at the end of the session, but was forced to slow his pace slightly due to a yellow flag situation prompted by a crash from Cameron McAdoo. Nichols, who was third fastest, looked very precise through the rhythm lanes in this session. The top four are extremely tight in times—roughly half a second separates them.
Glendale (Phoenix) - 250SX West Combined Qualifying
Full Results
In the final 450 session Tomac immediately looked spicier than he did in the first. He got out in front of everyone right away and proceeded to throw down, recording a 1:01.214 right out of the gate. Stewart wasn't having it though, and one lap later knocked Tomac off the top with a 1:01.139. Then the dam burst and Hill busted out a 1:00.822. Tomac proceeded to lay down another heater, but only came within a few tenths of Hill. Incredibly, Hill responded by beating his own time again with a 1:00.659. Late in the session Cooper Webb put a in a fast one to edge Tomac for second by three thousandths of a second.
Elsewhere Anderson had some sort of disagreement with Kyle Chisholm, threw up his hands at him, and spent the next half lap looking back over his shoulder at Chisholm. The cause of the disagreement wasn't readily apparent.
Glendale (Phoenix) - 450SX Combined Qualifying
Full Results
Update
Cycle Trader/Rock River/Yamaha rider Matt Bisceglia crashed during qualifying and sustained a concussion. He'll sit tonight's race out.
250SX Heat One
The first holeshot of the night went to Adam Cianciarulo, followed by Shane McElrath and Jacob Hayes. About a lap into it Cianicarulo started building a substantial gap, and one lap later he had about four seconds on McElrath. Then a battle for third started brewing between Hayes and RJ Hampshire. Hayes was riding well and doing a good job of holding off Hampshire, but Hampshire waited patiently and was able to eventually make a clean pass on Hayes. Cianciarulo took the checkers with McElrath, Hampshire, Hayes, Martin Castelo, Sean Cantrell, Jerry Robin, Deegan Vonlossberg, and Robbie Wageman rounding out the transfer positions. Enzo Lopes was in a solid qualifying spot until he experienced what appeared to be a mechanical problem and dropped out of the race.
Glendale (Phoenix) - 250SX West Heat 1
Full Results
250SX Heat Two
Jimmy Decotis kicked this one off with a holeshot but Colt Nichols was all over him almost right away. Roughly a lap into it Nichols knifed to the inside of Decotis in a lefthander, yanked the lead away, and started checking out. He eventually went on to win unchecked. Behind Decotis a tight battle for third was playing out between Michael Mosiman and Dylan Ferrandis. Mosiman was under immense pressure from Ferrandis but managed to hold him off for a while until finally surrendering the spot to Ferrandis in the whoops. Nichols, Decotis, Ferrandis, Mosiman, Cameron McAdoo, Mitchell Harrison, Chris Blose, Garrett Marchbanks, and Justin Starling all transferred to the main. Credit to Starling, who still managed to qualify for the main despite tearing muscles in his abdomen last week in Anaheim.
Glendale (Phoenix) - 250SX West Heat 2
Full Results
450SX Heat One
As the pack thundered down the start stretch it was Marvin Musquin who emerged with the early lead. Malcolm Stewart gave chase though and it wasn't long before he was right on Musquin's rear wheel. He stalked Musquin for a couple laps before blowing by him in the whoops. Thhen, half a lap later, Stewart missed a triple, which allowed Musquin to sail back by. Cole Seely lurked in third waiting for an opportunity. Behind them Justin Barcia had gotten by Dean Wilson for fourth and was moving forward. Cooper Webb followed suit and passed Wilson a few laps later.
Up front Seely had gone around Stewart and was riding all by himself in second with the race winding down. Stewart settled in for third, with Barcia free and clear in fourth. When the checkers flew, the transfer spots went to Musquin, Seely, Stewart, Barcia, Webb, Wilson, Justin Bogle, Alex Ray, and Carlen Gardner.
Glendale (Phoenix) - 450SX Heat 1
Full Results
450SX Heat Two
Teammates Justin Brayton and Vince Friese went one and two out of the gate, with Aaron Plessinger and Blake Baggett giving chase. Tomac, meanwhile, had gotten a bad start and was mired back in fifteenth. Chad Reed, who started in about sixth, looked good in this one went around Baggett, then Plessinger, about halfway through the race. He continued charging forward too, and with about forty seconds (plus one lap) left in the race he blitzed past Friese in the whoops.
In the back of the qualifying group was Ben LaMay, but he had a charging Tomac several seconds back and intent on transferring to the main. It wouldn't happen though, as Tomac simply ran out of time, finishing half a second behind LaMay. Brayton, Reed, Friese, Baggett, Plessinger, Jason Anderson, Justin Hill, Ken Roczen, and Ben LaMay filled this heat race's transfer spots.
Glendale (Phoenix) - 450SX Heat 2
Full Results
250SX LCQ
Dylan Merriam shot out to the early lead in this one, with Jess Pettis giving chase. Two laps into it Pettis made a move on Merriam to take over the lead. Enzo Lopes was on the move though, and after getting around Merriam he reeled in Pettis and pulled alongside him in the whoops. Pettis held him off initially, but a few turns later Lopes made the pass. At this point the top four were pretty spread out, with no battling for transfer spots going on. Lopes took the win, with Pettis, Merriam, and Dylan Harriman filling the final transfer positions.
Glendale (Phoenix) - 250SX West LCQ
Full Results
450SX LCQ
Eli Tomac nailed the holeshot in this one, although he narrowly avoided a first turn pileup. Behind Tomac were Kyle Chisholm, Ronnie Stewart, and Angelo Pellegrini. Cheyenne Harmon ran fifth, but wasn't quite close enough to challenge Pellegrini for the final transfer spot. It would stay that way too, and with the top four spread out there wasn't any battling happening. Tomac won by roughly seventy seven miles, with Chisholm, Stewart, and Pellegrini taking the final transfer spots.
Glendale (Phoenix) - 450SX LCQ
Full Results
Update
Joey Savatgy crashed in his heat race and took a hit to the head. As of yet we don't have details, but we do know it was enough to keep him from racing the LCQ. He's out for the night.
250SX Main
Adam Cianciarulo got a great jump out of the gate to nab the holeshot in the first main event of the night. Shane McElrath, Colt Nichols, and Dylan Ferrandis followed, but about a lap into it Ferrandis went around Nichols in the whoops. Then Ferrandis crashed and hit the dirt hard all by himself right in front of the mechanic's area. He got going fairly quickly but lost quite a few spots. Up front Cianciarulo was steadily building a gap, and with four laps down he had about four seconds on McElrath in second. Behind McElrath, Nichols and Jimmy Decotis were battling. Decotis had gotten by Nichols, but it didn't take long for Nichols to take the spot back and lock onto McElrath. Soon a battle broke out, and at one point the two even missed a triple together. Then, all of a sudden Nichols got by McElrath, broke free, and gapped McElrath.
With four minutes (plus one lap) remaining the top ten consisted of Cianciarulo, Nichols, McElrath, RJ Hampshire, Decotis, Jacob Hayes, Ferrandis, Chris Blose, Sean Cantrell, and Garrett Marchbanks. There wasn't much battling going on in that group, but as the race wound down Hampsire started creeping up on McElrath for third place. As all eyes were focused on that situation Enzo Lopes, who was being lapped, and Jacob Hayes got into each other and both went down, causing Hayes to drop out of the top ten. Cianciarulo took the win, wire-to-wire, with Nichols, McElrath, Hampshire, and Decotis rounding out the top five. Ferrandis was able to charge up to sixth after crashing early. Mitchell Harrison qualified for the 250SX Main Event but experienced mechanical problems on the parade lap and wasn't able to race.
Glendale (Phoenix) - 250SX West Main Event
Full Results
Supercross 250SX West Standings - 2019
Full Standings
Update
Angelo Pelligrini originally finished in a transfer position in the 450SX LCQ but was penalized for jumping on a red cross flag. As a result Cheyenne Harmon moved up into the final transfer spot for the 450SX Main Event.
450SX Main
Ken Roczen got the 450SX Main Event underway with a holeshot and very quickly built a small gap on the field. Behind him Marvin Musquin, Jason Anderson, Blake Baggett, and Vince Friese were going at it for second. Soon Anderson went around Musquin and started building a cushion. Eli Tomac didn't get a solid start and was running seventh at this point, right in front of Justin Barcia. Tomac was putting loads of pressure on Malcolm Stewart, but Stewart was holding tough until he got out of shape in the whoops and crashed tremendously as he was exiting the section. Initially the race continued, but after about a lap the red flag came out to allow medical staff to safely care for Stewart.
After Stewart was taken out of the stadium in the Alpinestars Medical Mule the pack lined back up for a staggered start with 13:25 remaining on the race clock. Roczen, Anderson, Musquin, Baggett, Friese, Tomac, and Barcia were all bunched up right off the start. Barcia took advantage right away by passing Tomac and immediately went after Friese. Then Tomac went back after Barcia and pulled up next to him only to have Barcia block him, with contact, in the next corner. Tomac then made a move in a rhythm lane to retake the spot. Up front Roczen and Anderson were distancing themselves somewhat from the pack. Then the crowd went nuts when Anderson came in hard on Roczen in a corner, made contact, and took the lead. Roczen wasn't so lucky and went down and remounted just ahead of Tomac. The two then caught Musquin and great battle for third ensued. Several times it looked like Roczen would be able to make a move stick on Musquin, but Musquin somehow kept holding him off. But then Roczen blew right by in the whoops, and Tomac followed suit half a lap later in a rhythm lane.
Up front Anderson continued to lead, but Baggett wasn't out of touch. He was faster in some sections, but then Anderson would squeak out another half a second on Baggett. They yo-yoed like this for quite a while, with Baggett slowly eating up space until he was consistently on Anderson's tail. Turn after turn, section after section, it seemed like a pass from Baggett was about to happen. Finally Baggett pulled the trigger in the straightaway and completed the pass in the next turn. Anderson had no response and before you knew it Baggett had four seconds, and counting, on Anderson. Soon after that the white flag came out for Baggett, and thanks to the large gap he'd built, he was able to cruise to his first career win on the final lap. Anderson took second, with Roczen, Tomac, and Musquin rounding out the top five.
Glendale (Phoenix) - 450SX Main Event
Full Results
Supercross 450SX Standings - 2019
Full Standings