Glendale Provisional Entry Lists Released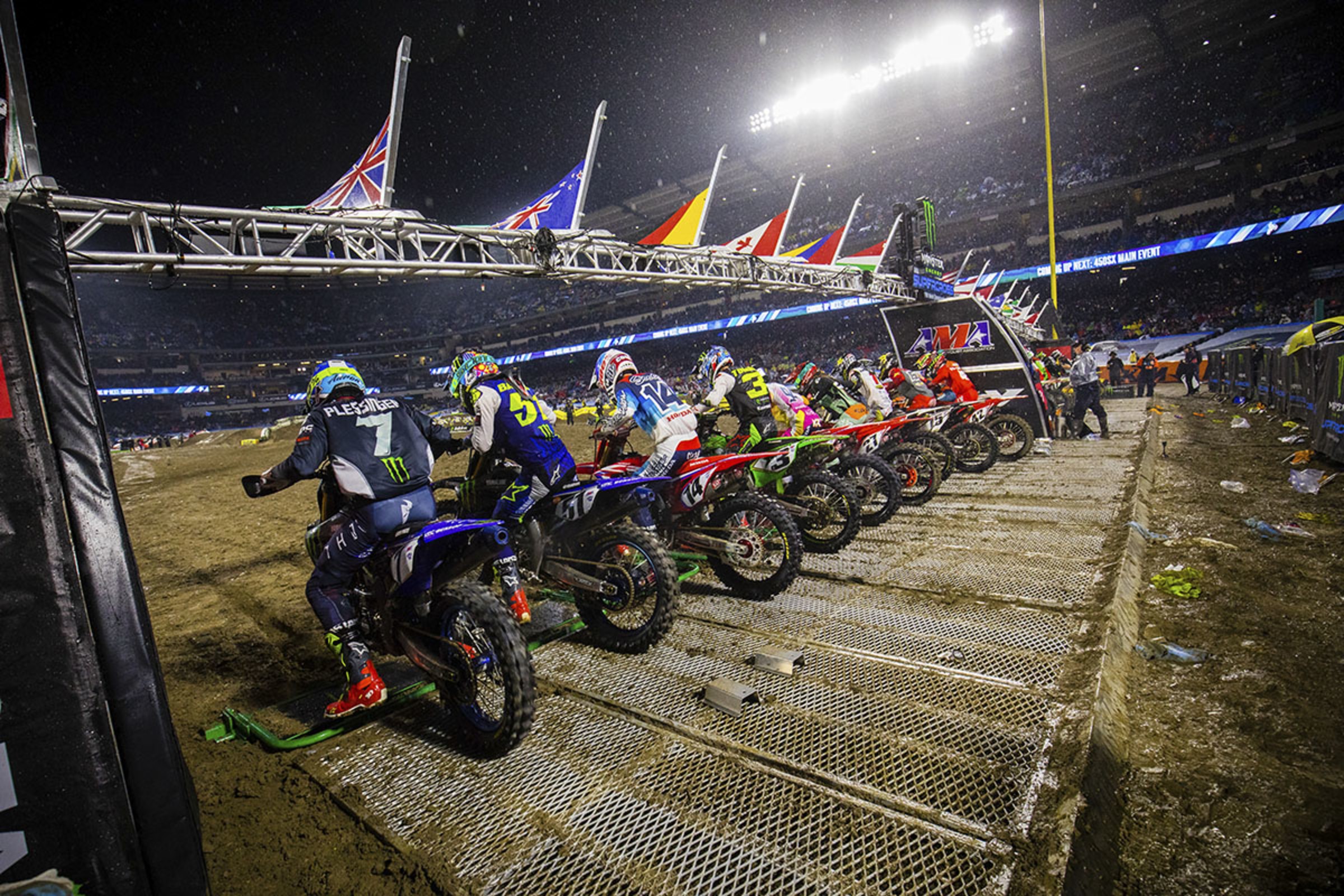 Glendale, AZ
Glendale (Phoenix)
Monster Energy AMA Supercross Championship
The American Motorcyclist Association (AMA) has released the provisional entry lists for the second round of the 2019 Monster Energy AMA Supercross Championship at State Farm Stadium in Glendale, Arizona, on January 12.
As always, there could be changes made throughout the week.
You can view the provisional entry list for the 250 and 450 class below.
450 Class
| | | | |
| --- | --- | --- | --- |
| # | Name | Hometown | Bike |
| 1 | Jason Anderson | Rio Rancho, NM | Husqvarna FC450 |
| 2 | Cooper Webb | Newport, NC | KTM 450 SX-F Factory Edition |
| 3 | Eli Tomac | Cortez, CO | Kawasaki KX 450F |
| 4 | Blake Baggett | Grand Terrace, CA | KTM 450 SX-F Factory Edition |
| 7 | Aaron Plessinger | Hamilton, OH | Yamaha YZ450F |
| 10 | Justin Brayton | Mint Hill, NC | Honda CRF 450 |
| 11 | Kyle Chisholm | Valrico, FL | Suzuki RM-Z450 |
| 14 | Cole Seely | Sherman Oaks, CA | Honda CRF 450 |
| 15 | Dean Wilson | Clermont, FL | Husqvarna FC450 |
| 16 | Zach Osborne | Abingdon, VA | Husqvarna FC450 |
| 17 | Joey Savatgy | Tallahassee, FL | Kawasaki KX 450F |
| 19 | Justin Bogle | Cushing, OK | KTM 450 SX-F Factory Edit |
| 22 | Chad Reed | Dade City, FL | Suzuki RM-Z450 |
| 25 | Marvin Musquin | Corona, CA | KTM 450 SX-F Factory Edition |
| 27 | Malcolm Stewart | Haines City, FL | Honda CRF 450 |
| 41 | Ben Lamay | Anchorage, AK | Honda CRF 450 |
| 42 | Vince Friese | Cape Girardeau, MO | Honda CRF 450 |
| 46 | Justin Hill | Yoncalla, OR | Suzuki RM-Z450 |
| 51 | Justin Barcia | Greenville, FL | Yamaha YZ450F |
| 58 | Brandon Scharer | Gardena, CA | Yamaha YZ450F |
| 62 | Alex Ray | Milan, TN | Suzuki RM-Z450 |
| 74 | Cade Autenrieth | Hemet, CA | KTM 450 SX-F |
| 75 | Cody VanBuskirk | Harvard, IL | Kawasaki KX 450F |
| 80 | Heath Harrison | Silverhill, AL | Kawasaki KX 450F |
| 87 | Dakota Tedder | Surfside, CA | KTM 450 SX-F Factory Edition |
| 94 | Ken Roczen | Clermont, FL | Honda CRF 450 |
| 97 | Adam Enticknap | Lompoc, CA | Suzuki RM-Z450 |
| 99 | Austin Politelli | Murrieta, CA | Honda CRF 450 |
| 118 | Cheyenne Harmon | Dallas, TX | Yamaha YZ450F |
| 120 | Todd Bannister | Colorado Springs, CO | Kawasaki KX 450F |
| 121 | Matthew Bisceglia | Weatherford, TX | Yamaha YZ450F |
| 192 | Beni Williams Jr. | Hooper, UT | Husqvarna FC450 |
| 211 | Tevin Tapia | Lake Elsinore, CA | Yamaha YZ450F |
| 214 | Vann Martin | Cypress, TX | Honda CRF 450 |
| 246 | Chance Blackburn | Newman Lake, WA | Honda CRF 450 |
| 282 | Theodore Pauli | Edwardsville, IL | Kawasaki KX 450F |
| 313 | Kyle Swanson | Adkins, TX | KTM 450 SX-F |
| 330 | AJ Catanzaro | Reston, VA | Kawasaki KX 450F |
| 383 | Casey Brennan | Albuquerque, NM | KTM 450 SX-F |
| 393 | Daniel Herrlein | Bethesda, OH | Kawasaki KX 450F |
| 424 | Tyler Custer | Creston, CA | Honda CRF 450 |
| 448 | Broc Shoemaker | Lake Elsinore, CA | Yamaha YZ450F |
| 480 | Johan Nystrom | Sweden | Kawasaki KX 450F |
| 501 | Scotty Wennerstrom | Jefferson, TX | Kawasaki KX 450F |
| 509 | Alexander Nagy | Richmond, IL | KTM 450 SX-F |
| 526 | Colton Aeck | Simi Valley, CA | Honda CRF 450 |
| 606 | Ronnie Stewart | East Waterboro, ME | Husqvarna FC450 |
| 651 | Jake Hogan | Acton, CA | Yamaha YZ450F |
| 723 | Tyler Enticknap | Lompoc, CA | Honda CRF 450 |
| 725 | Richard Jackson | Holdenville, OK | Kawasaki KX 450F |
| 733 | Steve Mages | Dana point , Ca | Kawasaki KX 450F |
| 805 | Carlen Gardner | Paso Robles, CA | Honda CRF 450 |
| 941 | Angelo Pellegrini | Italy | Honda CRF 450 |
| 951 | Ryan Surratt | Corona, CA | Kawasaki KX 450F |
| 976 | Josh Greco | Lucerne Valley, CA | Husqvarna FC450 |
250 Class
| | | | |
| --- | --- | --- | --- |
| # | Name | Hometown | Bike |
| 12 | Shane McElrath | Canton, NC | KTM 250 SX-F |
| 31 | RJ Hampshire | Wesley Chapel, FL | Honda CRF 250 |
| 34 | Dylan Ferrandis | Murrieta, CA | Yamaha YZ250F |
| 35 | Mitchell Harrison | Murrieta, CA | Yamaha YZ250F |
| 36 | Michael Mosiman | Menifee, CA | Husqvarna FC250 |
| 39 | Colt Nichols | Muskogee, OK | Yamaha YZ250F |
| 40 | Sean Cantrell | Murrieta, CA | KTM 250 SX-F |
| 44 | Cameron McAdoo | Chesterfield, SC | Honda CRF 250 |
| 54 | Dylan Merriam | Corona, CA | Husqvarna FC250 |
| 60 | Justin Starling | Deland, FL | Husqvarna FC250 |
| 61 | Garrett Marchbanks | Coalville, UT | Kawasaki KX 250F |
| 64 | James Decotis | Peabody, MA | Suzuki RM-Z250 |
| 67 | Enzo Lopes | Wildomar, CA | Suzuki RM-Z250 |
| 68 | Brandan Leith | Eagle Mountain, UT | Husqvarna FC250 |
| 72 | Martin Castelo | Murrieta, CA | Suzuki RM-Z250 |
| 92 | Adam Cianciarulo | New Smyrna Beach, FL | Kawasaki KX 250F |
| 105 | Tomas Ravenhorst | Willow Grove, Australia | KTM 250 SX-F |
| 111 | Chris Blose | Phoenix, AZ | Husqvarna FC250 |
| 122 | Chris Howell | Spokane Valley, WA | Husqvarna FC250 |
| 141 | Robbie Wageman | Newhall, CA | Honda CRF 250 |
| 156 | Jacob Hayes | Greensboro, NC | Yamaha YZ250F |
| 160 | Jess Pettis | Prince George, Canada | KTM 250 SX-F |
| 188 | Gage Schehr | San Clemente, CA | Husqvarna FC250 |
| 194 | Jerry Robin | Corcoran, MN | KTM 250 SX-F |
| 216 | Devin Harriman | Longview, WA | KTM 250 SX-F |
| 244 | Mike Henderson | Littleton, CO | Kawasaki KX 250F |
| 255 | Johnny Garcia | Moriarty, NM | Honda CRF 250 |
| 260 | Dylan Woodcock | Rayleigh, United Kingdom | Yamaha YZ250F |
| 275 | Johnny Jelderda | Menifee, CA | Yamaha YZ250F |
| 277 | Kordel Caro | Costa Mesa, CA | Yamaha YZ250F |
| 321 | Bradley Lionnet | Menifee, CA | Yamaha YZ250F |
| 348 | Joan Cros | Manlleu, Spain | Kawasaki KX 250F |
| 395 | Charl Van Eeden | menifee, ca | Husqvarna FC250 |
| 418 | Renton Minuto | Avalon, CA | Yamaha YZ250F |
| 427 | Deegan Vonlossberg | Palmdale, CA | Yamaha YZ250F |
| 446 | Blaine Silveira | Lemoore, CA | Honda CRF 250 |
| 471 | Logan Karnow | Vermilion, OH | Kawasaki KX 250F |
| 474 | Niclas Hallafors | Örebro, Sweden | KTM 250 SX-F |
| 522 | Cole Zitterkopf | Fruita, CO | Yamaha YZ250F |
| 621 | RJ Wageman | Newhall, CA | Yamaha YZ250F |
| 767 | Mason Wharton | Battle Ground, WA | Kawasaki KX 250F |
| 910 | Carson Brown | Ravensdale, WA | Husqvarna FC250 |