A large contingent of top American riders competed at the Geneva Supercross over the weekend, and many of them return home with things to be happy about. Justin Brayton won King of Geneva honors with 1-2 scores over two nights, but Monster Energy Yamaha's Justin Barcia was happy to take the main event win on night two (a first-turn crash on night one, and some more carnage coming through the pack, left him with 7-1 scores and third overall for the weekend). Also, GEICO Honda's Christian Craig was in the hunt for the overall and finished second for the weekend. During the early laps, Craig, who is on the comeback after a torn ACL this summer, was actually in position to win the King of Geneva crown, but Brayton ran him down.
Barcia and Craig were also the finalists on Saturday's head-to-head bracket race. Barcia won the first race, then tried to pass Craig in race two, but hit him so hard that both bikes got mangled in the wreckage! Craig rolled on, with a jacked up bike, to win that race, and both weren't even able to go to the gate for a third race. Craig was awarded the head-to-head win by default.
Things looked heated for a moment but both calmed down when it was over. Steve Matthes was there to talk to both riders about their weekends, and that big hit.
Justin Barcia | Third Overall

Racer X: Congratulations on the main event win.
Justin Barcia: Thank you. Yeah, yesterday was tough. Just bad start and carnage.
Between the dual races and basically every other start, you'd been nailing it except for the main event last night.
I know. So today I even had more pressure on me and I was kind of nervous on the start, but I just told myself to chill out and nail it and did it.
[Justin] Brayton got on you a little bit [in the final main event]. Did you notice that? You were marking that?
Yeah, 100 percent. Cole [Seely] was in front of me because he crashed or whatever and he was going really fast. I was chasing Cole and JB was behind me.
How were the lappers for you?
So sketchy. Like death race. Complete death race. The guys are squirrelly.
Bringing up Cole Seely, I asked Cole, is it kind of fun to come up from the back and pass guys? And he said no.
On the jumps it's just… you don't know. It's death.
Guys today told me before the pre-race show, the track was much harder packed today, not so rutty, not so soft a little bit.
100 percent. This morning I was second practice and I was really struggling with the front end, but made just a little change and it fixed it. So I was really happy with that. But the track, that's typical. It always does that. It just hardens up. When we walked the track the first day, it's a complete sponge, and then by the last night it's really hard and slick.
No inside on that rhythm for you in the main event.
You told me. You were like, it's faster. Me being stubborn, I just kept sending it outside.
Honestly, Brayton was making the outside work also pretty good. I thought Cole, was doing that inside great. I don't know if it was any faster in the main event. You guys looked like you were doing pretty good on it.
I think they were really close. If you were able to hit that inside and get really close, at the end I think it was a little bit faster.
So for yourself, you get third overall. You win one main event. Yesterday's main didn't go great. You won one of the duel races, and we'll talk about the other duel here. You want to win. You racers, especially you, you're very driven to win, but at the end of the day, if shit happens you're okay with the weekend?
Yeah. My riding was awesome. I feel like where I'm at right now pre-season and bike feeling, and obviously this track is not like a full supercross track, but the setup I have, I feel like it worked good here. It's working good in Florida. It's working good in California. Obviously I want to do more work on my bike, but these races are kind of just to feel it out—the fitness, the bike. I feel like I'm in a good spot. Obviously I can build some more, which is awesome. Of course I wanted to knock JB [Justin Brayton] off of being king, but I think come back next year and try again. That's all I can do.
As long as you leave safe and sound and everything else, you're okay with it, right?
Yeah. Everyone's healthy and that's all we can ask for.
The duel race tonight. I liked the fact that it was tied 1-1, and nobody's bikes worked. So there was no third race.
No. It was a disaster.

[Note: Barcia put a hard pass on Christian Craig and both riders went down. Craig's bike was tweaked and a disc was bent and Barcia had no clutch lever. They did not race the third race and Craig was credited with the win.]
Your clutch broke. Christian's disc was bent.
I don't know. I felt like he left the outside open too much.
Of course you did.
Of course I did. I felt really bad, I did. When I got up, it was the worst because I couldn't pull my clutch in because it broke off. I was whiskey wide open trying to get going.
He kicked at you a little bit.
Because I was wide open trying to go with no clutch.
I thought in the spirit of fun you were like, "No, I'm going to go."
No. I was just sending it with no clutch trying not to stall it. But we're okay. That was my only bad thing of the weekend, so all in all… I was giving Vince [Friese] a hard time the whole weekend because he almost tried to kill me once and then squirrelled out yesterday and hit me.
He's claiming that he never knew that berm was there, but I'm like I don't know, Vince. I did think it was interesting the fact that both bikes couldn't go anymore. So Craig wins.
It's all right.
This off-season for you, way different compared to last year. You're set. You're signed. You're ready to go. You know what you're doing. Everything.
That's nice. It's a lot of pressure off my shoulders. I got married and just kind of taking steps in life which feels really amazing. Being signed is great. I don't have to worry about those little things. I can just do my work. I know what I did last year worked, and I could have been more nervous last year I think just because it was up in the air, so this year it's a little more just focus on myself and not worry about those little things that I have to worry about.
You got a new teammate, Aaron Plessinger, obviously coming up. How's that been going? I know he's had a couple crashes. You're probably like, "Yup, kid. Welcome to the 450s."
Yeah. Aaron's a big kid, too, which I thought he would have adapted quicker, but it is a difficult switch. Like I told him, the first crash is like, got to get that one out of the way. Then there was the second one, like all right…
Also, you probably should tell him, "Hey, dude, you can't win Anaheim right now."
For sure. He's excited. He's going to be an awesome teammate. He's actually moving to Tallahassee and he's going to train at my track and stuff. So that will be really cool. We'll be teammates and training together. Obviously hopefully it will be good. We respect each other. He's a good rider. It's going to be fun. It's going to be a good year.
Christian Craig | Second Overall
Racer X: Nice job tonight. Running second for a little bit. You were in position to get the King of Geneva if you had stayed there, but Brayton got you.
Christian Craig: He literally came out of nowhere. I thought I had a good lead on whoever was behind me, and he did something behind me. I'm like, "Who is that? He's on a mission." He rides so good. He's always good, but he was next level this weekend. I'm pumped with what I did. I went 2-3 on the weekend for second overall. It was a stacked field, too. There were a lot of Americans here, a lot of top guys. Had some controversy with Barcia in the head-to-head, but it's all good. We talked it over, so we're all right.
So we're good now with that?
Yeah, the wife was more heated than me. She gave him a couple words, joking words.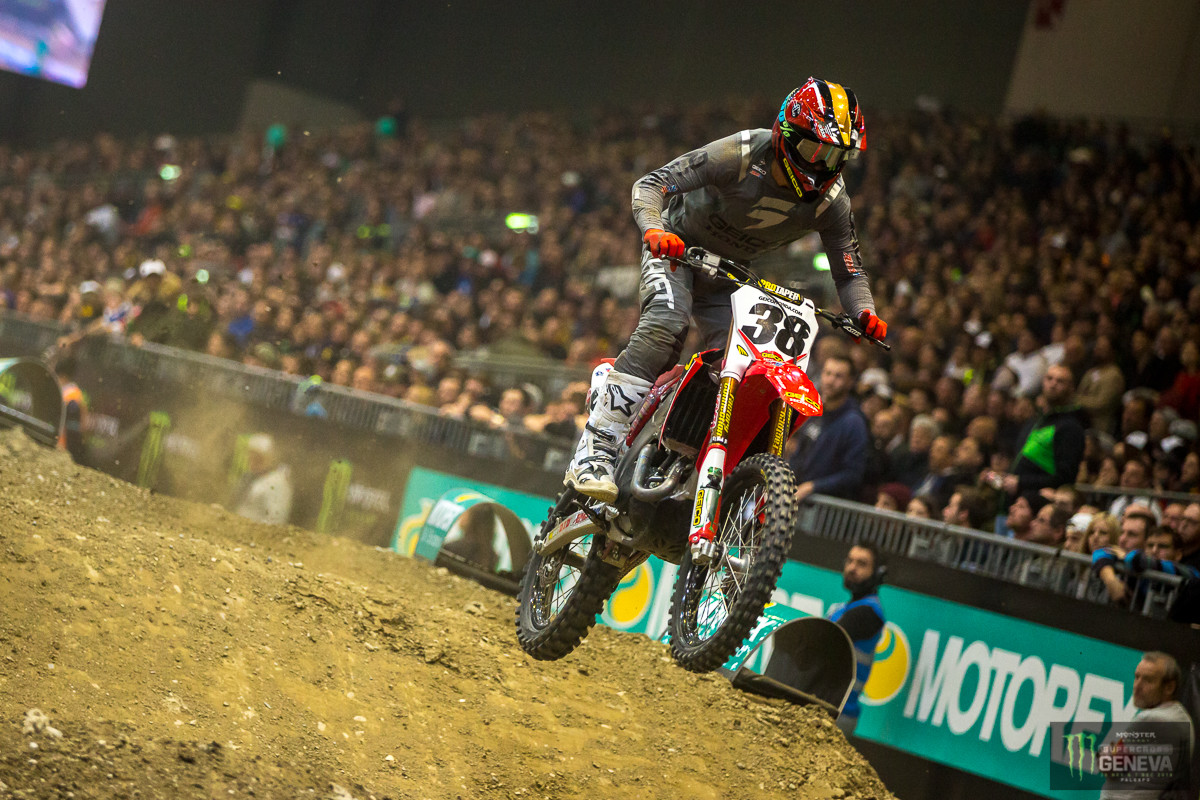 That's usually how it goes.
He was like, "The wives usually get more heated." She was right there and she's like, "If you hurt him, I would have hurt you." It's part of it.
I like how he kind of took you out in the first turn and then when he came back afterwards he said, "My bad." We know that.
Yeah. It's whatever. I saw it coming and I should have kind of checked up. It was so fun. I loved it here. It was an awesome time.
I love the fact that you guys were tied 1-1 but both bikes were broken, so you couldn't race again, so you just won.
I thought I was done because I didn't know his bike broke, so my front brake was out. I'm like, all right, that's it. Then he comes by and he's like, "My clutch is gone." I'm like, so what happens?
It was a good weekend for you. Like we talked about with Auckland, it was a step for you and now this was another one. Certainly your starts looked good.
Yeah, that was my thing all night. I think this is a start track. It was one-lined. You could see a couple guys struggle. Like the first night, Cole had speed all day and then he just couldn't get a start. So once my starts were dialed, I stayed up front. That was it.