Chad Reed Sweeps S-X Open in Auckland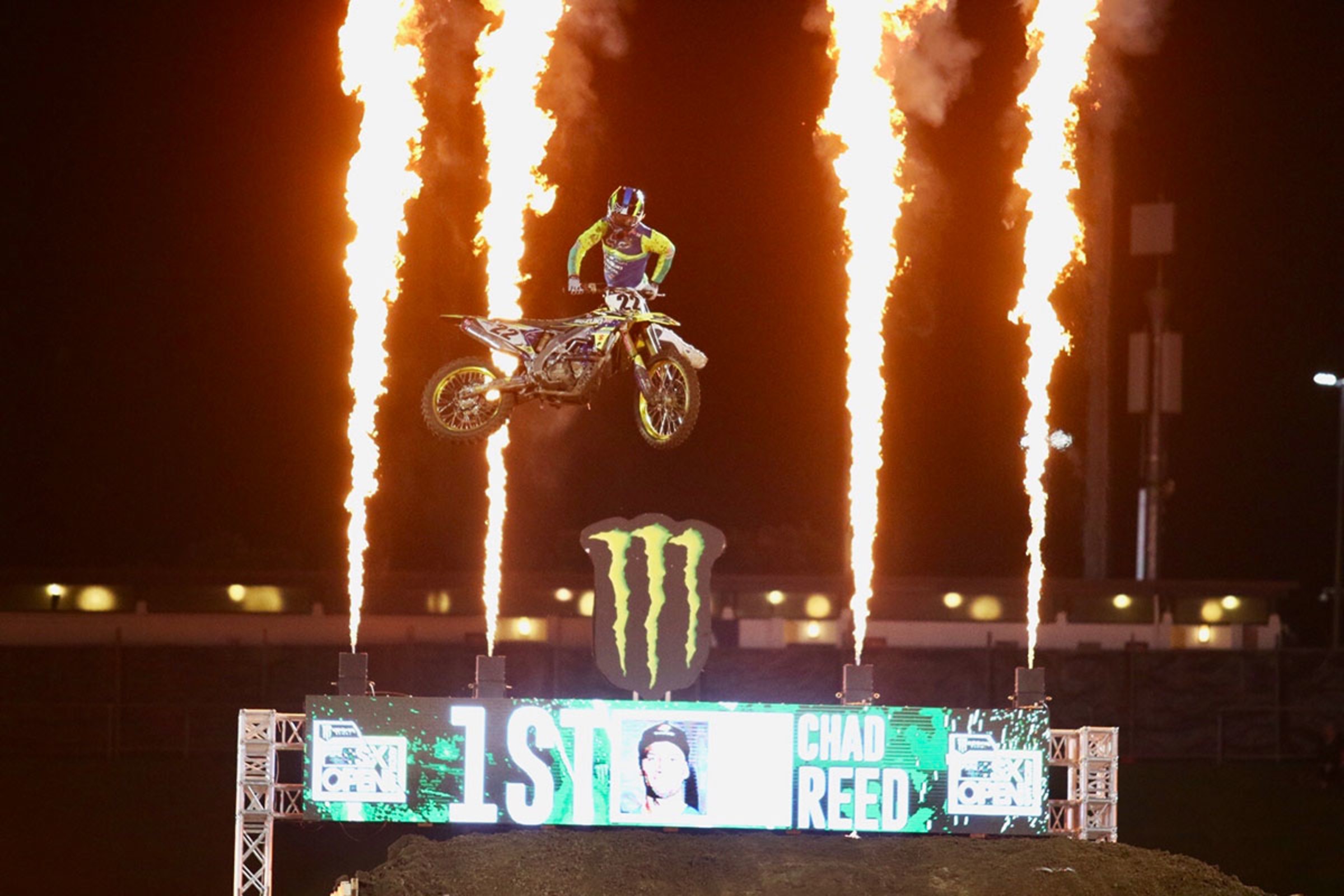 Chad Reed swept all three SX1 main events on Saturday to claim the overall at the inaugural S-X Open in Auckland, New Zealand. Reed also clinched the Monster Energy S-X Open International Supercross FIM Oceania Championship, which included the S-X Open and the AUS-X Open in Sydney.
"My clutch was getting hot going into that final race, but if there's someone who's harder on clutches than me it's Dean," Reed told Motoonline afterward. "I saw him on the starting line having issues with it before that final race, but you never really know what's going to happen out there on the track.
"I told myself to take it easy, but Brayton was putting it on me, and we put in the best laps of the night in that final race. As an Australasian guy I'm really proud to win the first FIM Oceania Supercross Championship."
Fellow Australian Hayden Mellross finished second ahead of Dean Wilson. Americans Christian Craig and Justin Brayton rounded out the top five.
In the SX2 Class, American Dakota Alix secured the win over Ryan Marmont and Josiah Natzke.
SX1 Overall
| | | | | | |
| --- | --- | --- | --- | --- | --- |
| Pos | Rider | Race 1 Pts | Race 2 Pts | Race 3 Pts | Total |
| 1 | Chad Reed | 25 | 25 | 25 | 75 |
| 2 | Hayden Mellross | 20 | 18 | 20 | 58 |
| 3 | Dean Wilson | 22 | 22 | 14 | 58 |
| 4 | Christian Craig | 13 | 20 | 18 | 51 |
| 5 | Justin Brayton | 14 | 14 | 22 | 50 |
| 6 | Luke Clout | 18 | 16 | 16 | 50 |
| 7 | Jackson Richardson | 16 | 13 | 12 | 41 |
| 8 | Jay Wilson | 10 | 15 | 15 | 40 |
| 9 | Lawson Bopping | 15 | 11 | 10 | 36 |
| 10 | Dylan Long | 11 | 10 | 13 | 34 |
| 11 | Rickie Girdwood | 8 | 9 | 8 | 25 |
| 12 | Dylan Wills | 12 | 0 | 11 | 23 |
| 13 | Joshua Kilvington | 6 | 8 | 9 | 23 |
| 14 | Chris Camlleri | 7 | 0 | 7 | 14 |
| 15 | Josh Hansen | 0 | 12 | 0 | 12 |
| 16 | Blake Lilly | 9 | 0 | 0 | 9 |
SX2 Overall
| | |
| --- | --- |
| Pos | Rider |
| 1 | Dakota Alix |
| 2 | Ryan Marmont |
| 3 | Josiah Natzke |
| 4 | Ethan Martens |
| 5 | Logan Blakcburn |
Main image: Simon Makker