Red Bull Straight Rhythm Pre-Entry List Released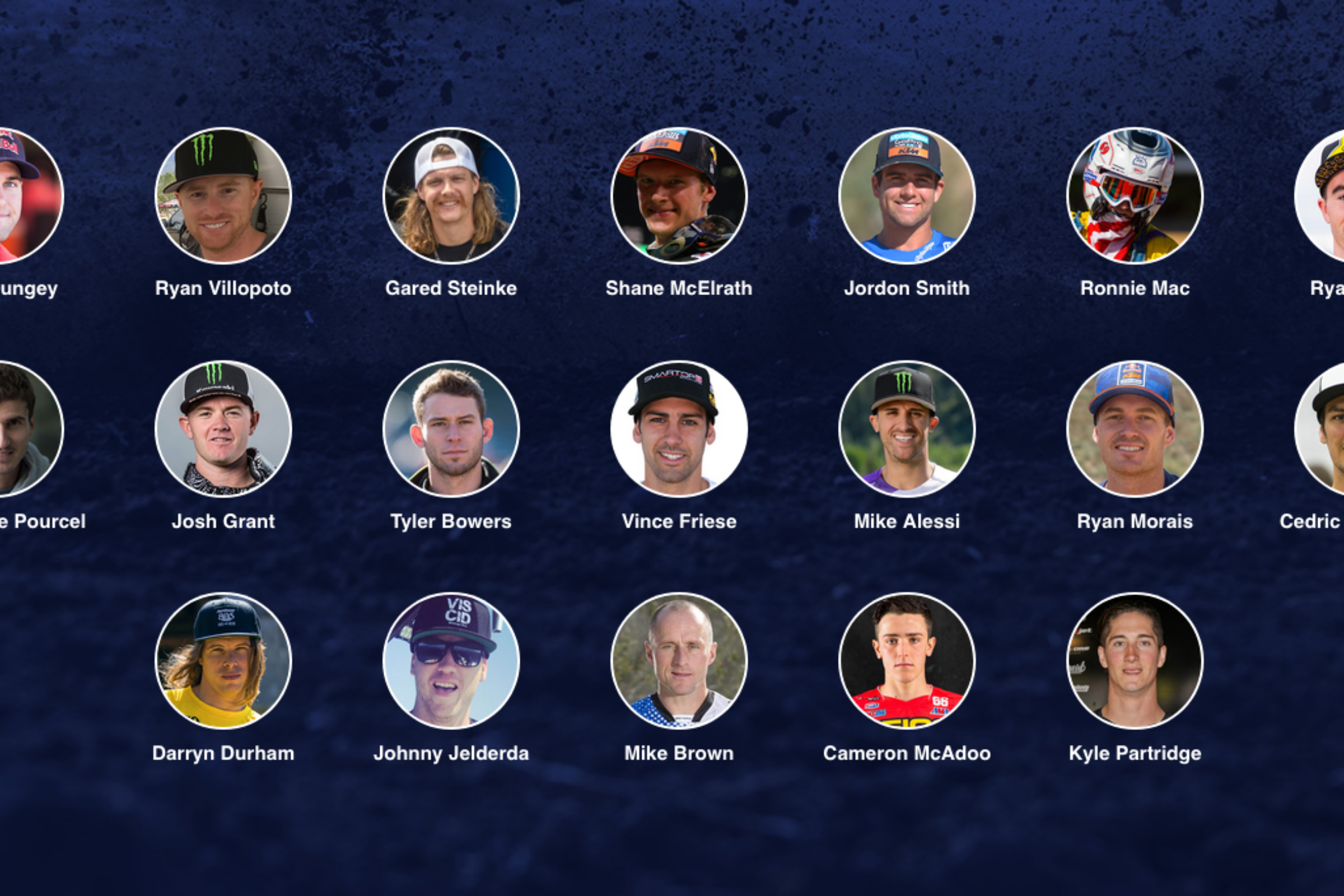 Pomona, CA
Red Bull Straight Rhythm
Red Bull Straight Rhythm
The pre-entry list for Red Bull Straight Rhythm this weekend has been released and it features some heavy hitters.
Although both are retired from full-time racing, "The Ryans" return to action this weekend. Four-time AMA Supercross Champion Ryan Villopoto was a surprise entry in the Monster Energy Cup last weekend and he's back at Straight Rhythm looking to get his revenge on defending champion Gared "Stank Dog" Steinke. Stank eliminated RV at RBSR last year. Ryan Dungey is coming "off the couch" and will compete. Of course, Ronnie Mac is back and Josh Grant will be riding on behalf of Racer X—so of course he's going to win. In another surprise, Christophe Pourcel is also back in action!
Ryan Sipes, Shane McElrath, Jordon Smith, Tyler Bowers, Darryn Durham, Vince Friese, Mike Brown, Mike Alessi, and more are also scheduled to compete.
There's a media competition baked into this race, as Red Bull invited a half-dozen top outlets to compete, and whichever media rider made it furthest in the bracket nets an extra cash bonus. We're taking on all comers with JG. DMXS Radio has Sipes in its corner, and Steve Matthes wanted to "ram it" with Alex Ray, but ARay got injured at the Monster Energy Cup, and Cameron McAdoo will serve as a quick replacement. Most of the other outlets were still scrambling to get a rider and bike together, so it looks like this is just a JG/Sipes/McAdoo battle now. We love Sipes and McAdoo but we'll take our odds with The Grizz.
Also, Tyler Bowers was readying a KX500 for the race but broke some fingers in a crash at Monster Energy Cup. Is the Bear strong enough to handle a 500 even without all his digits? Time will tell.
More from the PR:
The Line Up
Twenty-eight riders will compete in Qualifying with sixteen advancing from the 250cc class and eight from the 150cc class. Reigning two-stroke champion Gared Steinke will lead the group, as he attempts to defend his crown against the likes of Ronnie Mac and Ryan Villopoto, both of whom have vowed revenge after last year's event.
250cc Class
Ryan Dungey, Ryan Villopoto, Gared Steinke, Shane McElrath, Jordon Smith, Ronnie Mac, Ryan Sipes, Christophe Pourcel, Josh Grant, Tyler Bowers, Vince Friese, Mike Alessi, Ryan Morais, Cedric Soubeyras, Darryn Durham, Johnny Jelderda, Mike Brown, Cameron McAdoo and Kyle Partridge.
150cc Class
Gared Steinke, Colton Aeck, AJ Catanzaro, Christophe Pourcel, Carson Brown, Ryan Surratt, Luke Renzland, Chance Fullerton and Chase Marquier.
The Bracket Challenge
With no factory support for the riders, it's really anybody's game, so predicting the winner will be tougher than a two-dollar steak. But the Red Bull Straight Rhythm Bracket Challenge will allow participants to predict how the 250cc class will unfold. The challenge pays off with a Troy Lee Designs prize pack. Head here to accept the challenge.
Event details can be found at redbull.com/straightrhythm.