GNCC Racing Returns This Weekend with Inaugural Mason-Dixon GNCC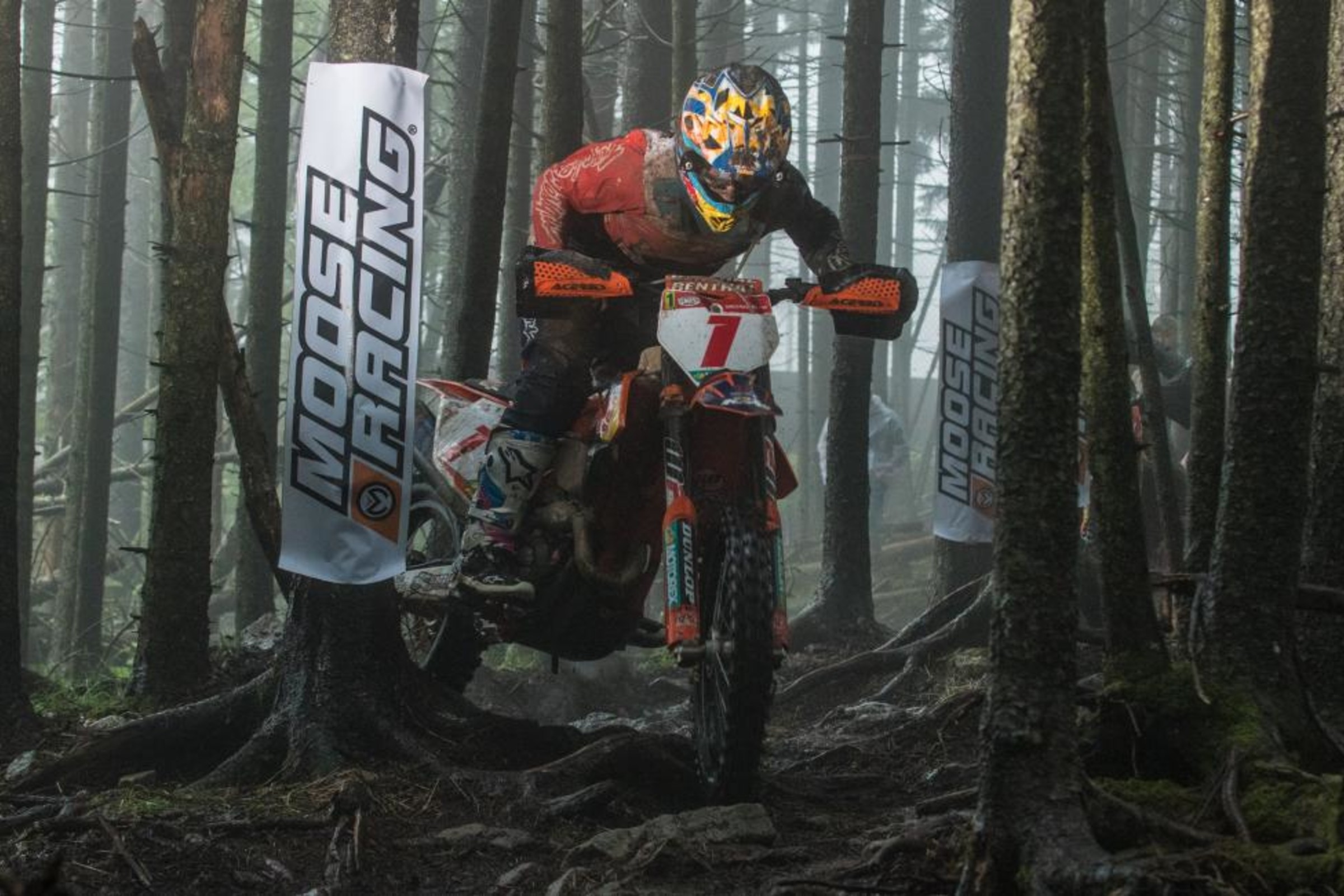 Mount Morris, PA
Mason-Dixon
GNCC Racing
MORGANTOWN, W.Va. — The 2018 Amsoil Grand National Cross Country (GNCC) Series, an AMA National Championship, heads to Mount Morris, Pennsylvania, this weekend, September 29-30, for the Mason-Dixon GNCC at Mathews Farm. This marks the return of GNCC Racing to the Mathews Farm property for the first time since 2003.
This Sunday, September 30, FMF/KTM Factory Racing's Kailub Russell is set to battle with the rest of the XC1 Open Pro field for his eighth win of the season. After earning the overall win at Snowshoe and extending his points lead, K. Russell currently has a 54-point gap over second place heading into the last four rounds of the 2018 GNCC season.
However, Rockstar Energy/Factory Husqvarna Racing's Thad Duvall, who currently sits second in championship standings, is looking for redemption after battling for the win at round nine before a crash that ultimately injured his wrist. The last time GNCC Racing was on this property, Duvall and K. Russell were both in the youth division, with Duvall winning the overall and K. Russell finishing 11th overall.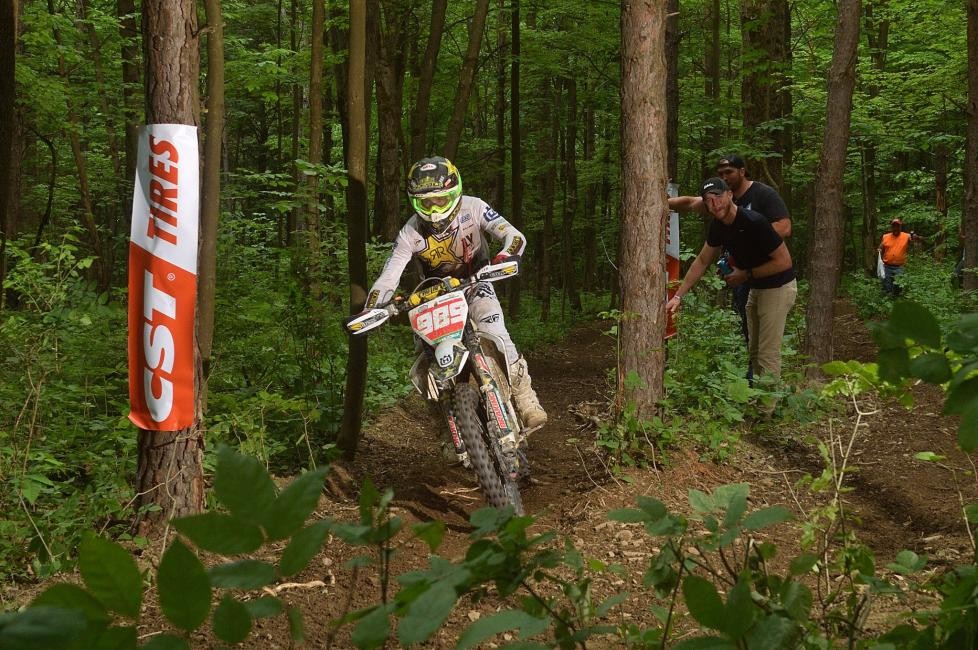 JCR Honda's Trevor Bollinger has been having a standout season thus far, with three podium finishes and finishing inside the top ten at the first nine rounds. Bollinger even managed to try and battle for a win at the Tomahawk round in New York. This weekend, Bollinger will be one to keep an eye on, as he has shown he has the speed to run at the front of the pack. Since this is an all-new event, the overall could be anyone's to claim.
Currently sitting fourth in points is Tely Energy Racing/KTM's Steward Baylor Jr., who had a strong start to the season by finishing on the podium at the first three rounds. After riding with an injured knee at the last round in June, S. Baylor Jr. is looking for a fresh start to the second half of the GNCC season this Sunday.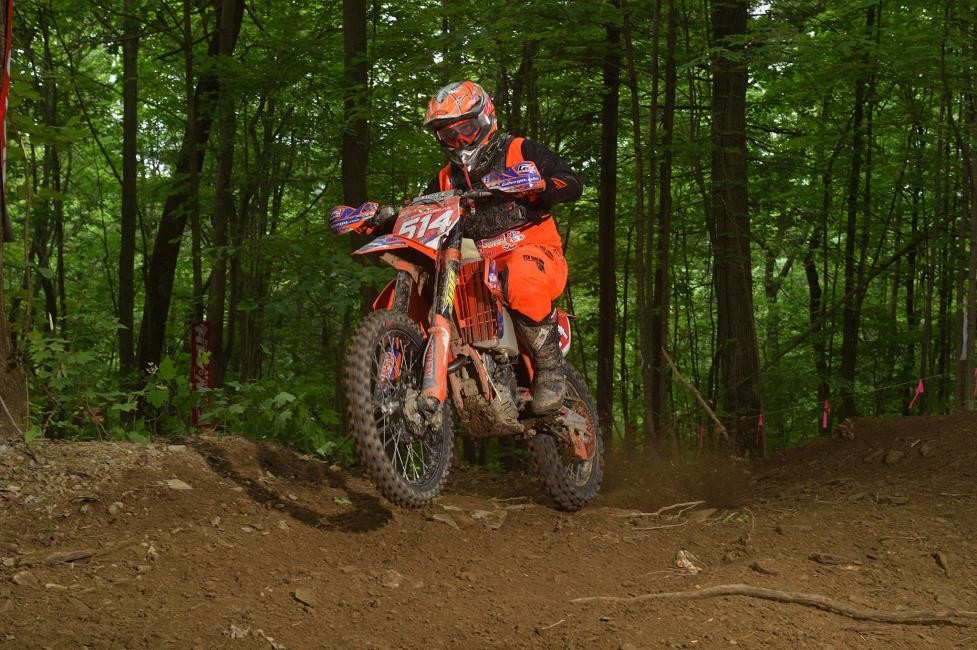 Rockstar Energy/Factory Husqvarna Racing's Josh Strang heads into the last three rounds sitting in fifth overall. After a rough race at Snowshoe, Strang is looking to battle for his second podium finish of the season. AmPro Yamaha's Ricky Russell sits eighth overall, hoping for some good luck late this season. R. Russell has had an up-and-down season, with bad luck hindering his riding abilities early on. Hailing from Fairmont, West Virginia, is XC1 Open Pro and KR4/Husqvarna rider Layne Michael. Currently Michael sits in ninth overall after a rough start, but this Sunday he will be aiming to put his head down and battle for a top-five finish with his family and friends cheering him on.
Leading the way in the XC2 250 Pro class is Trail Jesters/KTM Racing's Ben Kelley. With four wins already, Kelley is hoping to earn his fifth this Sunday while extending his points lead. Sitting 13 points behind the leader is FMF/KTM Factory Racing Josh Toth. While Toth has earned five wins this season, he is hoping to gain valuable points in defending his XC2 250 Pro National Championship. Coastal Racing/Husqvarna's Pascal Rauchenecker sits third in the XC2 250 Pro standings and will be looking to earn his first win of the 2018 season. Rauchenecker's teammate Craig Delong is a Pennsylvania native and currently sits fourth in the class. Delong has been a top contender all season long and is aiming to earn his first win of the season in his home state.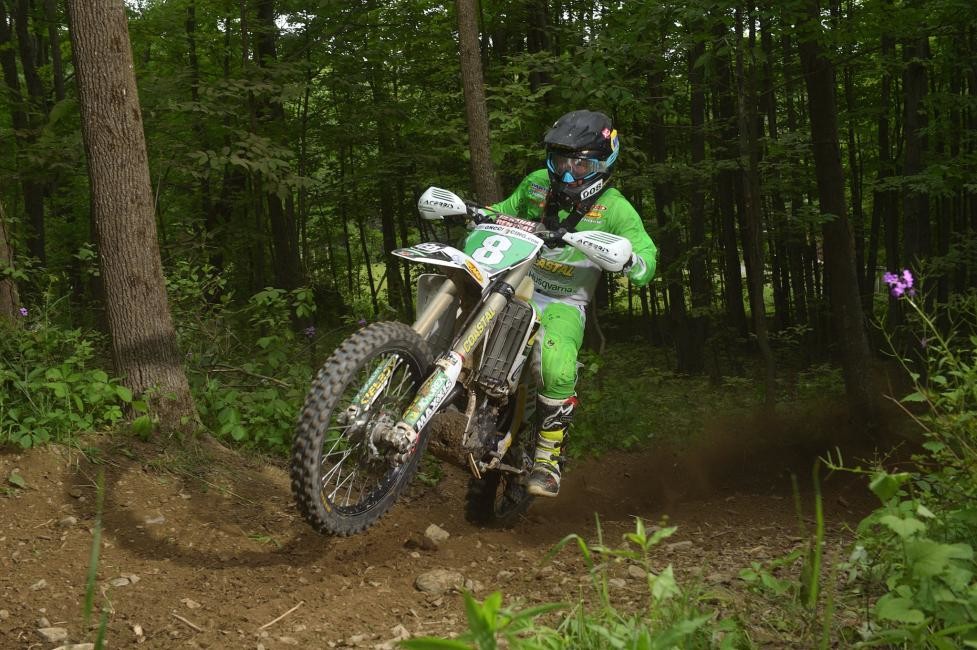 FMF/Maxxis/RPM KTM Jesse Ansley comes into the Mason-Dixon GNCC first in the FMF XC3 125 Pro-Am class. Ansley has earned four wins thus far in the season, but this Sunday afternoon, he will be battling through the woods of West Virginia and Pennsylvania to take home his fifth win of the season. Sitting second is Raines Riding University/Atlas Sales Yamaha's Jason Raines. While only having one win under his belt, Raines is aiming to change that this weekend.
Hailing from Waynesburg, Pennsylvania, a mere 25 minutes north of Mount Morris, is Coastal Racing/Husqvarna's Alex Teagarden. Competing in the FMF XC3 125 Pro-Am class this season, Teagarden holds the third-place position in the points standings. Teagarden has taken the class win three times thus far in the season and is aiming to earn his fourth in front of his family and friends this weekend.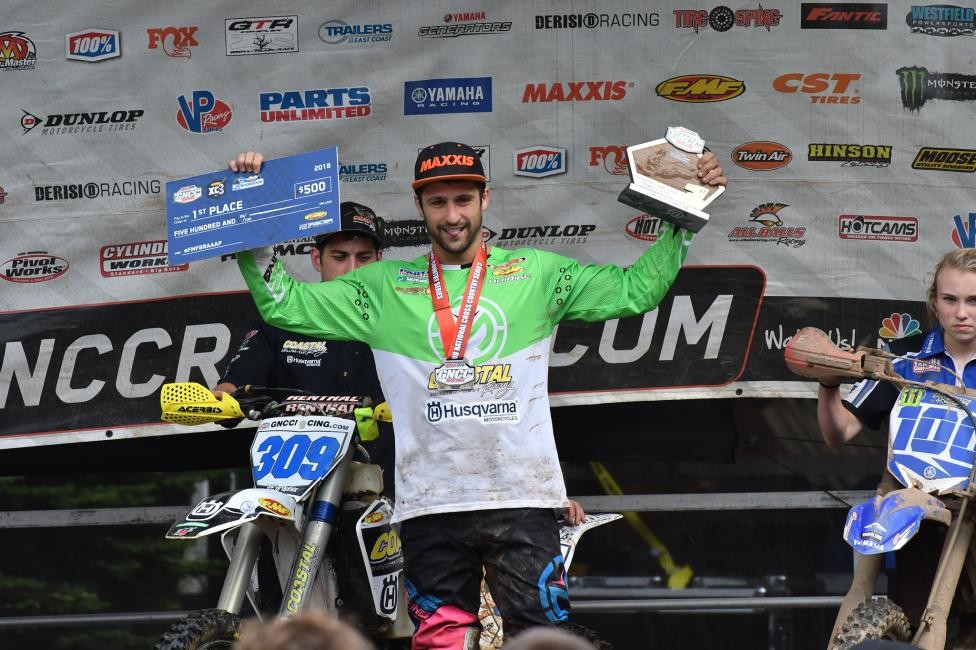 This event will also play host to GNCC's Fantic eMTB race on Friday, September 28, at 6 p.m. Fantic eMTB Racing will feature seven classes with no pre-qualifying: Pro, Schoolboy (12-18), Junior (19-29), Vet (30-39), Senior (40-49), Masters (50+), and Women. Class 1 Pedal Assist Bicycles with a motor-powered speed of 20 mph and motor wattage of <=750 watts eligible only. Bicycle helmet and eye protection are required.
The motorcycles will take to the woods of Pennsylvania and West Virginia on Sunday, September 30, following the same race schedule of youth racing action starting the day off at 8 a.m.. Women and amateur riders' race at 10 a.m. and the pros and top amateurs will start at 1 p.m.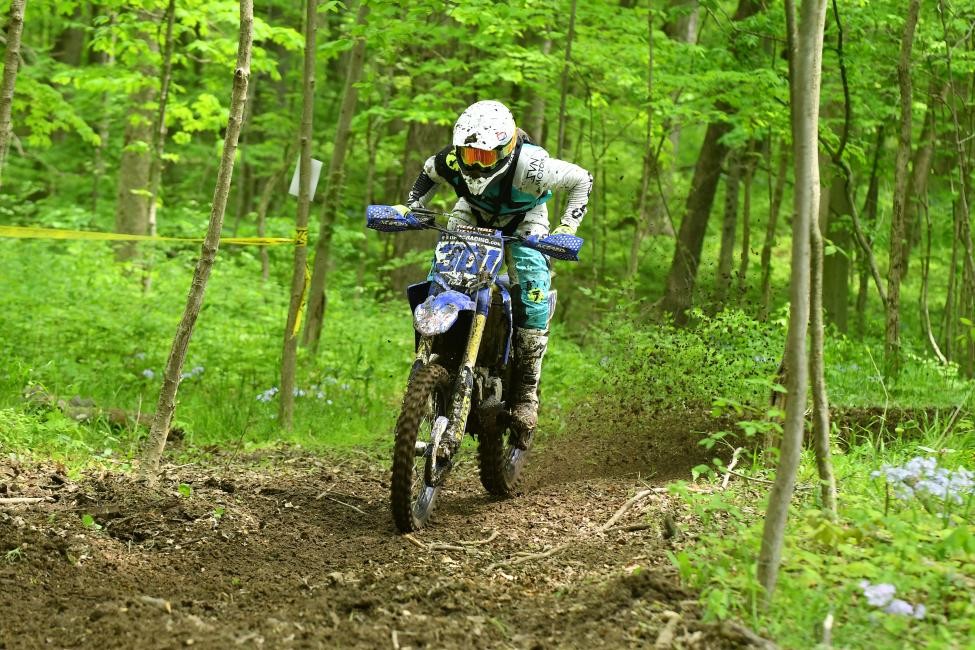 Local racers expected to compete on Sunday will be Alex Teagarden (FMF XC3 125 Pro-Am), Layne Michael (XC1 Open Pro), Ryan Lojak (FMF XC3 125 Pro-Am), Ian Flynn (250 B), Shawn Myers (200 B), Grant Curfman (250 B), Colin Keegan (FMF XC3 125 Pro-Am), Amber Hardman (Women C), Mason Atherton (XC1 Open Pro), Larry Hopper (Vet B 30+), Conner Keegan (Four-Stroke A Lites), Willis West (Super Senior A 45+), Edward Lojak Jr. (Vet A 30+), Gino Bonacci (YXC1 Supermini Sr. 14-15), Ralph "Be" Thorn (Masters A 50+), Dylan Ely (Sportsman A), Jared Hoffman (Vet A 30+), Joseph Cummings (250 C College 18-24), Ty Ely (85cc 7-11), TJ Fine (Four-Stroke B Lites), Leo Jeziorski (Elite Masters 65+), Mark Proper (Senior B 40+), Brandon Keegan (Four-Stroke A Lites), Ryder Leblond (200 A), Mark Michelini (Golden Masters (60+), Kara Parsons (Women C), Shawn Remington (Senior A 40+), Shawn Remington Jr. (50cc Jr. 4-6), Melissa Parsons (Women C), Linwood Patton (50cc Jr. 4-6), Chase Rutan (125 B/C), Elizabeth Sam (Women), Billy Seliga (Four-Stroke B Lites), Cooper Stickley (Micro XC2 6-8), Jason Stickley (Senior B 40+), Peyton Whipkey (YXC1 Super Mini Sr. 14-15), Tucker Whipkey (65cc 10-11), Cole Whitmer (250 B), and Lane Whitmer (85cc 12-13).
All local riders are invited and encouraged to compete in the event, as GNCC Racing offers classes for riders of all skill and experience levels. The amateur race entry fee is $50, and riders can sign up at the track or pre-enter. To learn more about GNCC Racing, refer to the GNCC 101 webpage.
Spectator passes run $20 for adults and $10 for children (6-11), and kids five and under are free for the full weekend (Friday through Sunday), with pro pit access and pro autographs at no additional charge.
The 1 p.m. pro races will be broadcast live on the Internet via RacerTV on www.racertv.com both days. A highlight show featuring the event will air on NBC Sports Network on Saturday, November, 10 at 3:00 p.m.
For more information on the GNCC series, visit the official website at www.gnccracing.com or call (304) 284-0084. Join the conversation on the series Facebook page, follow us on Twitter and Instagram, and be sure to always hashtag #GNCC.
Previous Round Results and Standings
GNCC
Rider
Hometown
Bike
1
Kailub Russell
Boonville, NC

United States

KTM
2
Grant Baylor
Belton, SC

United States

KTM
3
Trevor Bollinger
Morganton, NC

United States

Honda
4
Ben Kelley
Harwinton, CT

United States

KTM
5
Josh Toth
Winstead, CT

United States

KTM
6
Ricky Russell
Duvall, WA

United States

Yamaha
7
Steward Baylor
Belton, SC

United States

KTM
8
Jonathan Girroir
Southwick, MA

United States

Suzuki
9
Austin Lee
Bedford, IN

United States

Honda
10
Ryder Lafferty
Millville, NJ

United States

KTM
Full Results
GNCC
Rider
Hometown
Bike
1
Ben Kelley
Harwinton, CT

United States

KTM
2
Josh Toth
Winstead, CT

United States

KTM
3
Jonathan Girroir
Southwick, MA

United States

Suzuki
4
Austin Lee
Bedford, IN

United States

Honda
5
Ryder Lafferty
Millville, NJ

United States

KTM
6
Michael Witkowski
North Liberty, IN

United States

Beta
7
Zach Nolan
Masontown, WV

United States

KTM
8
Jonathan Johnson
Landrum, SC

United States

Yamaha
9
Pascal Rauchenecker

Austria

Husqvarna
10
Zack Hayes
Sumter, SC

United States

KTM
Full Results
GNCC
| Position | Rider | Hometown | Points |
| --- | --- | --- | --- |
| 1 | Kailub Russell | Boonville, NC | 297 |
| 2 | Thad Duvall | Williamstown, WV | 262 |
| 3 | Steward Baylor | Belton, SC | 219 |
| 4 | Trevor Bollinger | Morganton, NC | 208 |
| 5 | Ben Kelley | Harwinton, CT | 192 |
| 6 | Josh Strang | Inverell | 189 |
| 7 | Josh Toth | Winstead, CT | 177 |
| 8 | Ricky Russell | Duvall, WA | 142 |
| 9 | Grant Baylor | Belton, SC | 115 |
| 10 | Craig Delong | Morgantown, PA | 104 |
Full Standings
GNCC
| Position | Rider | Hometown | Points |
| --- | --- | --- | --- |
| 1 | Ben Kelley | Harwinton, CT | 323 |
| 2 | Josh Toth | Winstead, CT | 305 |
| 3 | Craig Delong | Morgantown, PA | 199 |
| 4 | Austin Lee | Bedford, IN | 170 |
| 5 | Evan Smith | Jefferson, GA | 158 |
| 6 | Michael Witkowski | North Liberty, IN | 147 |
| 7 | Pascal Rauchenecker | | 145 |
| 8 | Jonathan Johnson | Landrum, SC | 141 |
| 9 | Liam Draper | Auckland | 131 |
| 10 | Zack Hayes | Sumter, SC | 99 |
Full Standings