Welcome to Racerhead on the eve of the last race of the 2018 AMA season. We're at the Ironman in Indiana for the 12th and final round of Lucas Oil Pro Motocross. We will crown a 450 champion tomorrow, and it will either be Monster Energy Kawasaki's Eli Tomac for the second year in a row or Red Bull KTM's Marvin Musquin. Eli is the obvious advantage—20 points worth, to be exact—but you never know in this sport, and that's what makes it so interesting.
Of course, we crowned a 250 champion last week in Aaron Plessinger, giving his Monster Energy/Yamalube/Star Racing Yamaha team its fourth 250 Class title in the last five years. Bobby Regan has definitely built a juggernaut for the Blu Cru, and for the second time in the couple of years, one of his riders is graduating to the full-blown factory 450 Yamaha team alongside Justin Barcia, who seemed uncomfortably close to the end of his time as a factory rider at this point last year—he even bought a motorcycle from Morgantown Honda in order to race last year's Monster Cup! Now he's got a multi-year deal with Yamaha, he's a member of Team USA, and he was whipping his #51 bike around like crazy during this afternoon's press ride.
After the ride, a Team USA press conference and photo shoot took place in the media center, then we stopped amateur racing for a few minutes in order to line Eli, Justin, and Aaron up on the track for a team shot. I have to admit, it looks really weird seeing numbers #25, #26 and #27 on Team USA bikes, but that's what happens when you finish ninth the year before at the FIM Motocross of Nations. This year, the guys seem more motivated than I've seen in quite some time, and maybe that comes with the race being on home turf at RedBud, or maybe it's just the fact that everyone is tired of us getting beat every year since 2011! It's obvious that Eli and Justin want to get their first wins in the MXoN, and AP is just always smiling and ready to ride. They look like a formidable team, and they're going to have to bring their proverbial A-game to RedBud if we're finally going to get that Peter Chamberlain Cup back from the French, and also keep it from the Dutch.
It was also cool today to see the #22 Suzuki out there. Hard to believe it's been ten years since Reed was last on a Suzuki, and that was quite a good season for him—second in AMA Supercross while challenging James Stewart throughout—then coming from behind to run away with the Lucas Oil 450 Pro Motocross Championship. Reed is riding with the Autotrader/Yoshimura Suzuki team, and while it was hard to gauge exactly how fast he will be tomorrow, he had a smile on his face and seemed happy to be back at the races. I hope he does well and finds a home for 2019.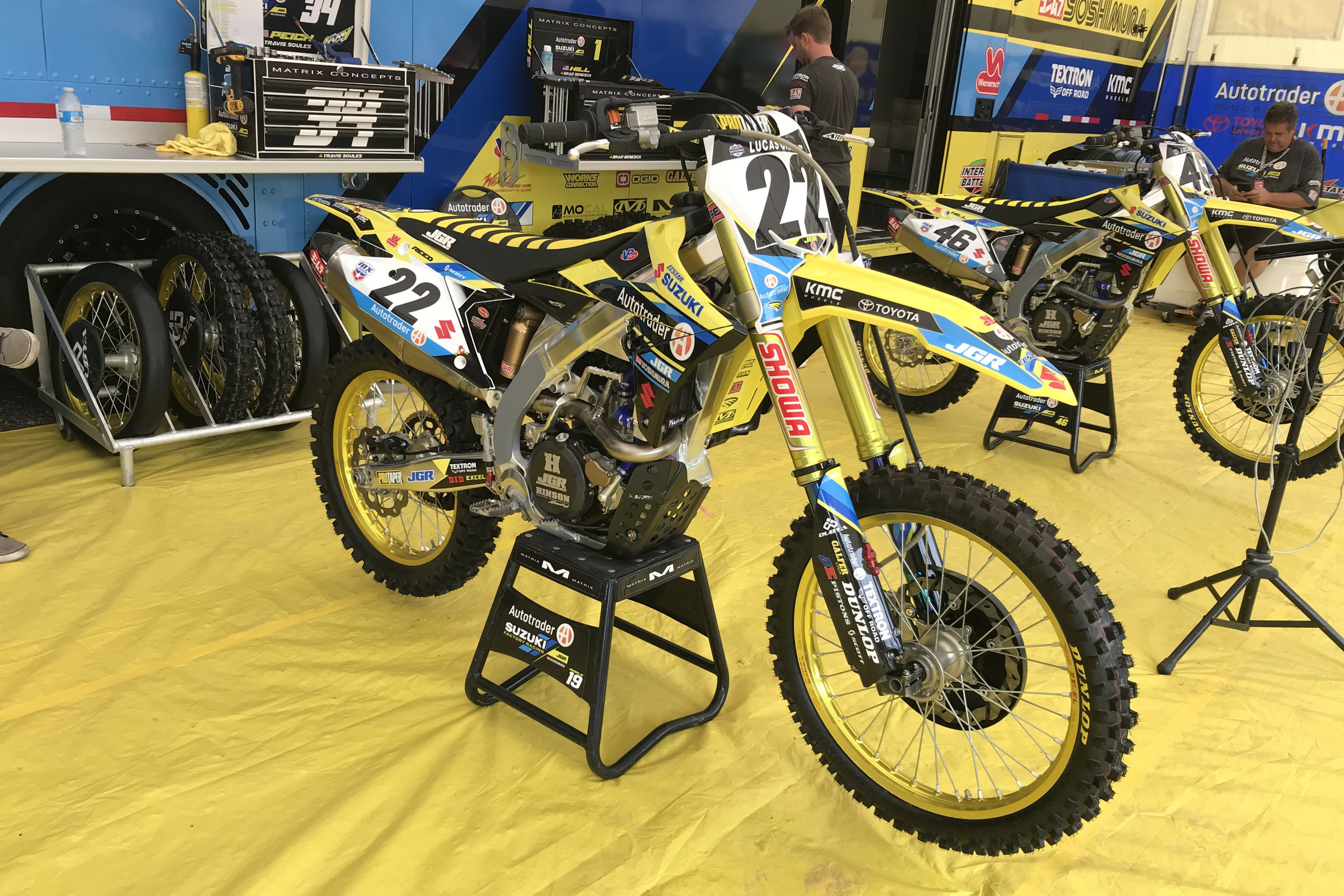 And speaking of being back on track and even going to a bike shop to buy a bike, you probably heard by now that Travis Pastrana reached out to Kevin Windham to see if he wanted to join him on Team Puerto Rico for the MXoN. The longtime friends and one-time teammates will now line up together under the Puerto Rico tent at RedBud in October along with Ryan Sipes. Windham went out and bought a 2019 CRF450 and called us as he was driving it home. He told me he's going straight home and straight to work: "Good thing I have a gym in my house!" he laughed (and he really does). After a rocky start last week, it's time for Puerto Rico 2.0, and I hope they race a boatload of money to help the victims of last year's devastating hurricane and also enjoy participating in what promises to be the biggest motocross race America has ever seen.
Speaking of RedBud, it was pretty jarring to see on social media that they are completely sold out of camping spots. Have you ever been to RedBud to see just how big those parking and camping lots are? To hear that they are all reserved is remarkable. It's also hard to believe that the place is somehow going to be even better than it is for their July 4 weekend national, but that's how Amy and Tim Ritchie operate. They are rolling the Red(Bud) carpet out for the whole motocross world, and they aim to impress.
In the meantime, we've got this one last round of Lucas Oil Pro Motocross to run, a big barbecue/party tomorrow night, and then that's a wrap on the domestic season. Here's hoping we go out with a good, successful (and safe) bang here in Indiana!
Oh, one more thing: MX Sports Pro Racing is giving away a Team USA VIP Experience at the Motocross of Nations. A donation of just $10 will get you in the raffle to have the weekend of your moto life at the biggest race of all, embedded with Team USA. All of the proceeds go to funding the Alpinestars Mobile Medical Unit, which means you will be helping to take care of all of the riders and all of the paddock at the races.
You can enter as many times as you want at just $10 a ticket, but you have to do it before noon tomorrow! They will draw the winning ticket tomorrow between the first and second motos (and you don't have to be here to win!). Here's all the info on how you can donate some dollars to another great cause and also maybe go the 2018 Monster Energy Motocross of Nations with Team USA! Go here to enter.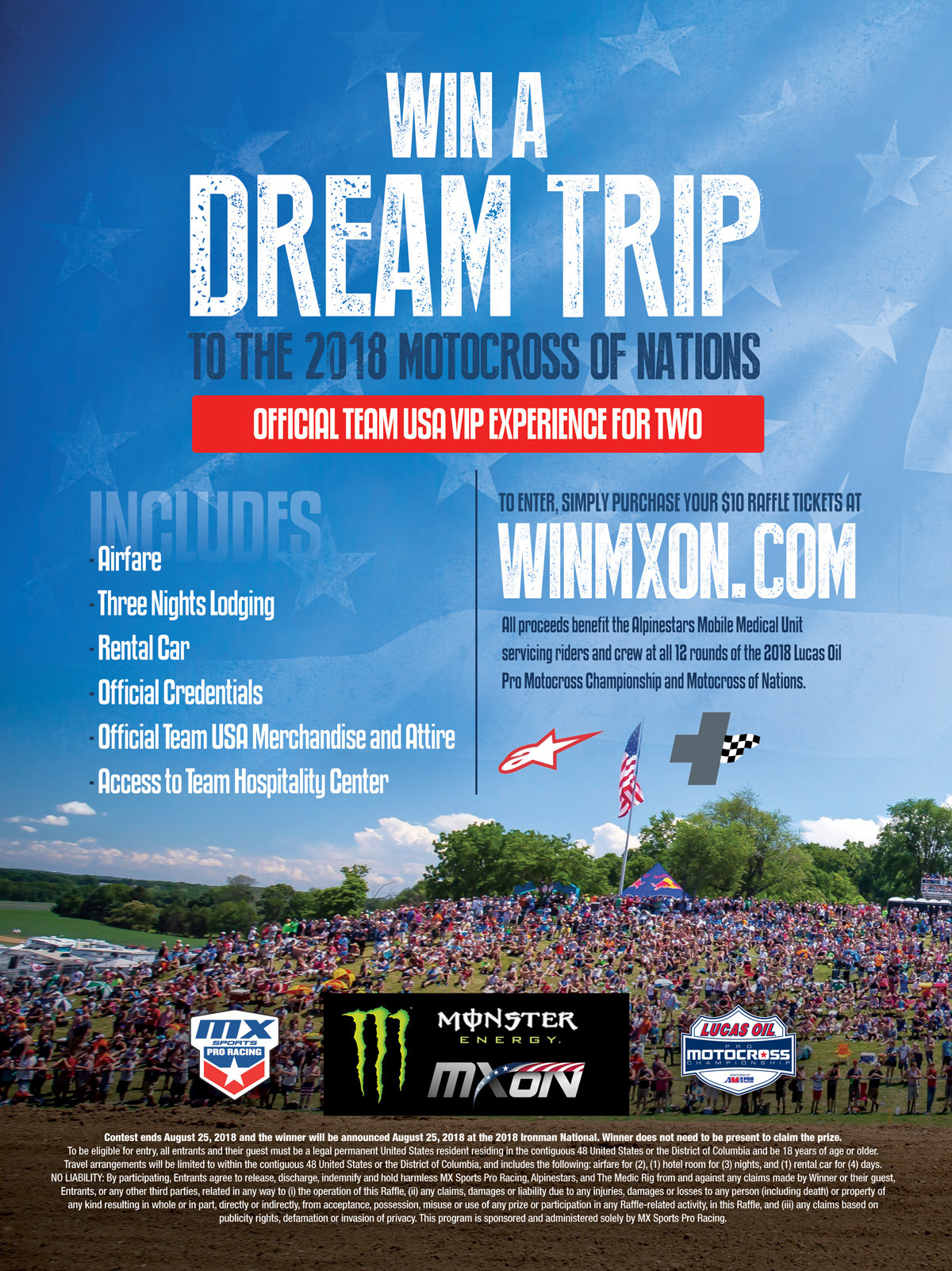 Team USA! (Jason Weigandt)
The Ironman National finale always hosts a press conference and photo shoot with the American Motocross of Nations team, so this year Eli Tomac, Aaron Plessinger, and Justin Barcia gathered in front of the media. A few interesting things emerged, including the fact that Tomac plans on riding a 2019 KX450F at the event. Yamaha also has a new YZ250F for 2019, and Plessinger says he's done a little testing on it, but isn't sure if he will ride it at MXoN yet. That will depend on how he feels on the bike—if anything is questionable early in the testing process, he will stick with his trusty 2018.
This week, Monster Energy Yamaha announced that Plessinger will be a full-time 450SX rider for 2019, so it's tempting to get rolling on his big-bike prep. AP's not worried about that. He says he plans on logging plenty of 250 time before MXoN because he wants to do well. He also said he expects his main competition in MX2 to come from his own Monster Energy/Yamalube/Star Racing Yamaha teammate Dylan Ferrandis, who will compete with Team France.
Of course, the specter of Jeffrey Herlings looms over the GPs, and all three American riders acknowledged he's been the dominant man this year. But Barcia and Tomac were quick to say they're not out to race for individual honors, but for the team. I have a feeling they'll be dealing with Herlings in the team battle anyway, because the Dutch squad should be strong this year.
The most telling part of the presser? Tomac admitted that he took a lot of heat for not doing the event last year, and he says now he has a new perspective on some things. All three riders said they had zero hesitation about doing the event this year.
THREE-PEAT (Andras Hegyi)
For the third year in a row, a rider has been able to become both a 250 Supercross Champion and a 250 Pro Motocross Champion. In 2016, Yamalube/Star Racing Yamaha's Cooper Webb was the 250SX West Region Champion in Monster Energy AMA Supercross, as well as the Lucas Oil 250 Pro Motocross Champion. In 2017, Rockstar Energy Husqvarna's Zach Osborne was both 250SX East Region #1 and 250 Pro Motocross #1. Now, a former off-road rider from Ohio has done it.
Monster Energy/Yamalube/Star Racing Yamaha's Aaron Plessinger first earned the 250SX West Region Championship in May, and last Saturday he clinched the 250 Pro Motocross title. Plessinger debuted as a pro in 2015, and the 22-year-old has become champ in his fourth season. He is the ninth rider to get both 125/250 supercross and motocross titles in the same season.
Riders to win both the 125/250 Supercross and Motocross Championships in the same season since 1985
| | | |
| --- | --- | --- |
| Rider | Team | Year |
| Doug Henry | Honda | 1993 |
| Ricky Carmichael | Kawasaki | 1998 |
| James Stewart | Kawasaki | 2004 |
| Ivan Tedesco | Kawasaki | 2005 |
| Ryan Villopoto | Kawasaki | 2007 |
| Ryan Dungey | Suzuki | 2009 |
| Cooper Webb | Yamaha | 2016 |
| Zach Osborne | Husqvarna | 2017 |
| Aaron Plessinger | Husqvarna | 2018 |
Monster CUP (DC)
Check out the track diagram for the upcoming Monster Cup in Las Vegas. It's the biggest supercross track we've seen since Daytona used to run across the pavement back in the day, and it's maybe even bigger than that!
On Top of Two Worlds (Andras Hegyi)
GEICO Honda's RJ Hampshire's first win as a professional came in the MX2 FIM Motocross World Championship at the MXGP of the USA last September at WW Ranch in Jacksonville, Florida, which was like a home race for him. It was his first Grand Prix. In Lucas Oil Pro Motocross, he needed much longer to get his maiden victory.
Hampshire has raced in the AMA championship since his rookie season of 2014. He had only one podium during his career. In 2015, he took third place in the East Region AMA 250 Supercross Championship in Indianapolis. But last Saturday at Budds Creek, he finally got his very first win in an American series. RJ was able to win for the first time in his fifth season, in his 47th AMA motocross round.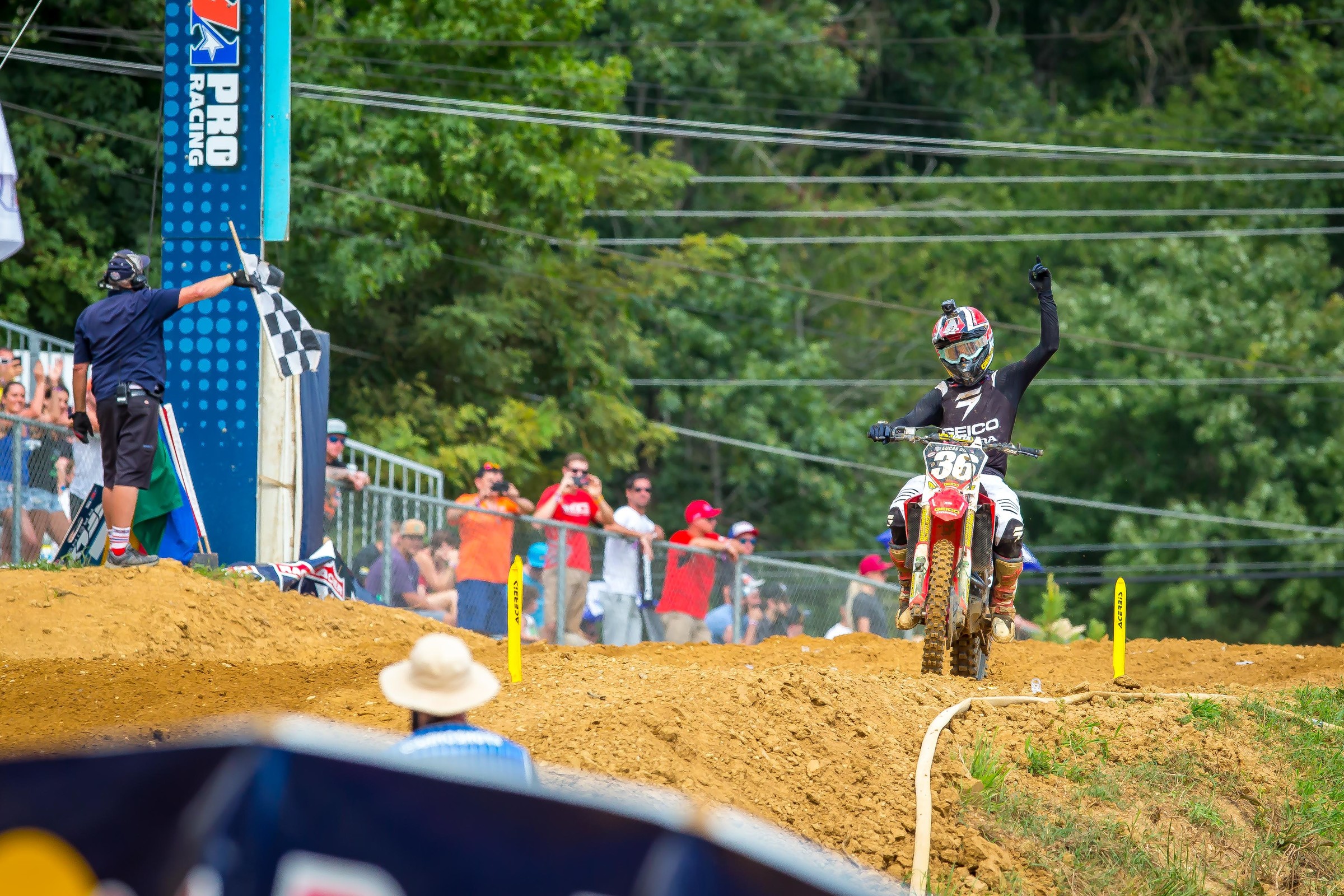 The Floridian became the 26th Honda winner in the history of the 125/250 motocross championship. And thanks to him, Honda now has its 118th win in the 125/250 Class series. Hampshire also became the 31st American rider to win both in the Motocross World Championship and the AMA Pro Motocross Championship.
Americans to win both in the FIM Motocross World Championship and the AMA Pro Motocross Championship
David Bailey
Bob Hannah
Brad Lackey
Donny Schmit
Mark Barnett
Donnie Hansen
Danny LaPorte
Marty Smith
Mike Brown
Tim Hart
Ron Lechien
Jeff Stanton
Danny Chandler
Kent Howerton
Billy Liles
Chuck Sun
Micky Dymond
Ricky Johnson
Johnny O'Mara
Eli Tomac
Broc Glover
Erik Kehoe
Zach Osborne
Marty Tripes
RJ Hampshire
Mike Kiedrowski
Jim Pomeroy
Ryan Villopoto
Tallon Vohland
Cooper Webb
Kevin Windham
Hey, Watch It!
Adam Cianciarulo and Steve Matthes are up to no good here:
Racer X Films: 125 All Star Race | Budds Creek 2018
Racer X Films: 125 All Star Budds Creek | Ty Masterpool Full Moto
Racer X Films: Ryan Hughes 125 All Star Race — Full Moto
Racer X Films: Jordan Jarvis 125 All Star Race — Full Moto
Racer X Films: Dialed In: 2019 KTM 450 SX-F
Random Notes
Racer X Brand | Pick up your Outstandable tee now!
Congratulations to Aaron Plessinger for securing the Lucas Oil Pro Motocross 250 Class Championship Title this past weekend at the Budds Creek National! Be sure to head over to Racer X Brand and pick up your Outstandable tee now!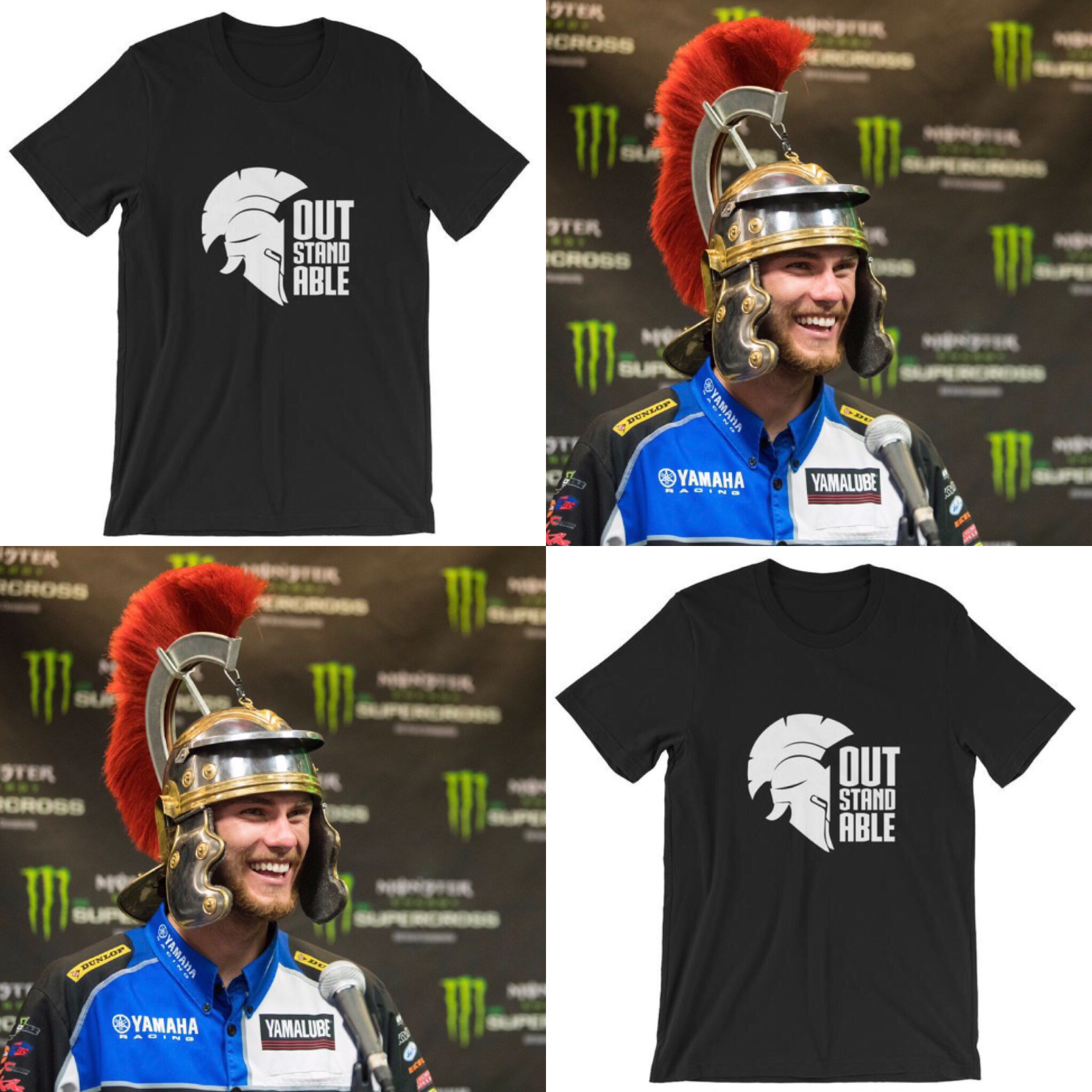 We Are Giving Away Two Sets of Scott Prospect Goggles!
Want to win two sets of Scott Prospect goggles with tear-offs? Simply identify a few featured Scott sponsored riders throughout moto history to be entered. For contest and entry rules, go here.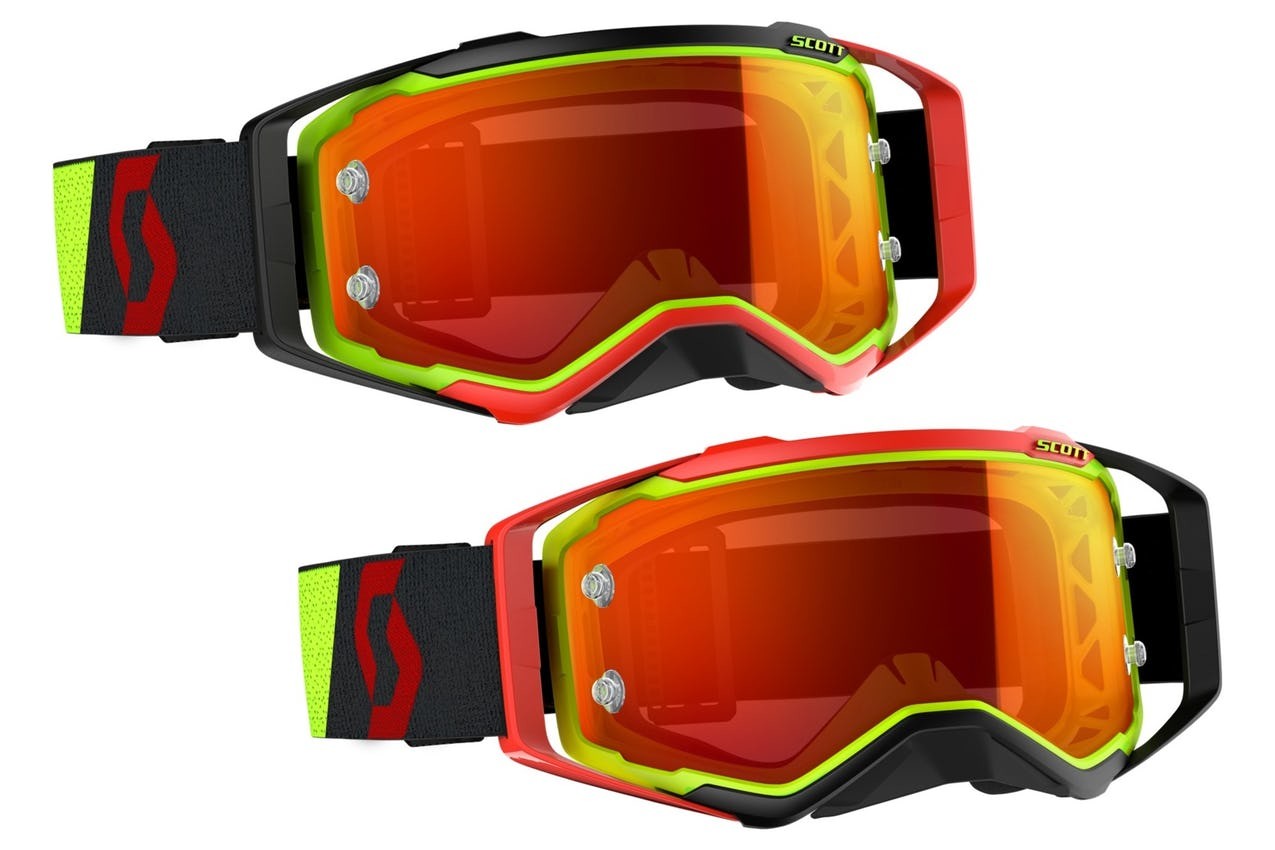 Subscribe or Renew Now For Your Chance to Win an All-New Electric Bike From STACYC
Subscribe or renew now for your chance to win an all-new electric bike from Stacyc! Two winners will be chosen and given their choice of the 12" and 16" models. The winners will be announced on Racer X Online on September 19, 2018, and will also be contacted directly.
Every person who enters will also receive a FREE pack of all 12 official 2018 Lucas Oil Pro Motocross event stickers.
See official rules here.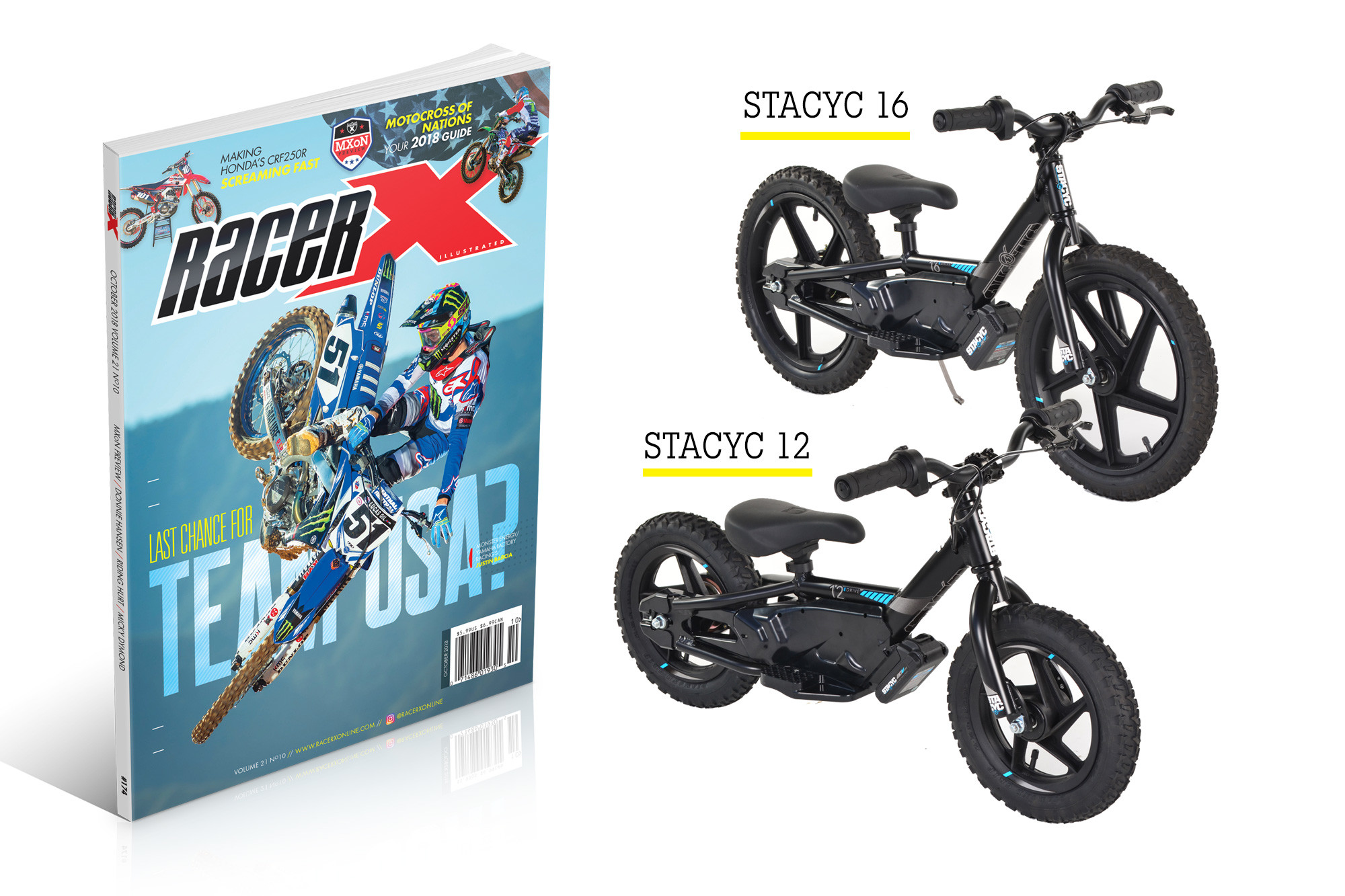 Going to the Ironman Motocross National this weekend? Want to be able to get into the pits all day?
The only way to cruise the pits whenever you'd like is with the Racer X All-Day Pit Pass, but quantities are limited! Make you stop by the Racer X Pit Pass Booth, located in Sponsor Village, and purchase your Racer X All-Day Pit Pass while they're still available and receive all-day pit access, plus a one-year subscription to Racer X Illustrated, for just $50.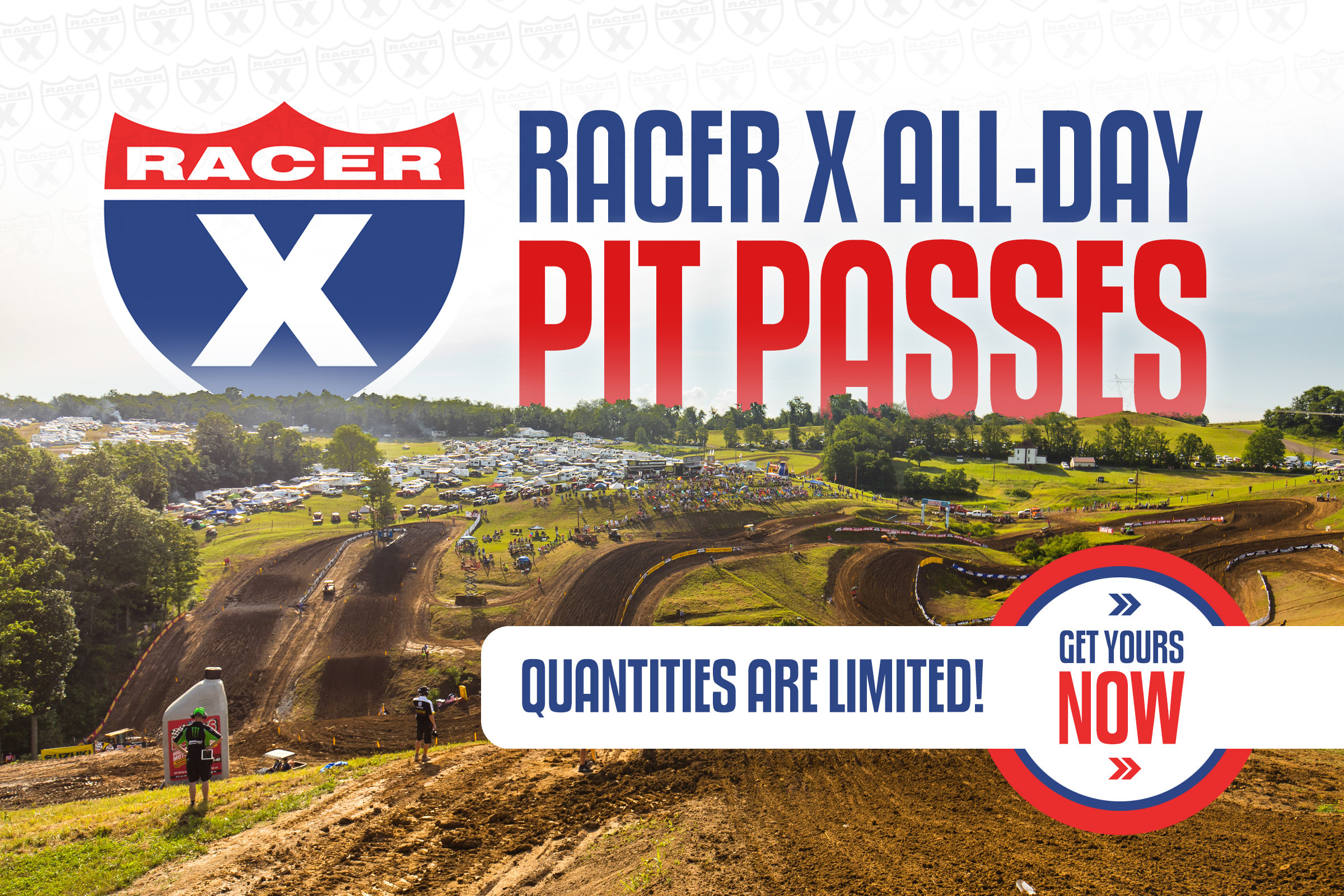 Subscribe at Ironman and Receive a FREE Set of All 12 Official 2018 Racer X Event Stickers
Are you headed to the Ironman National this weekend? Make sure you stop by the Racer X booth, located in Sponsor Village, and subscribe for as low as $10 and receive ALL 12 Official 2018 Lucas Oil Pro Motocross Racer X event stickers. You will also receive a complimentary magazine and free Racer X stickers. Be sure to check out our Racer X Brand items on display and grab some gear. See you at the races!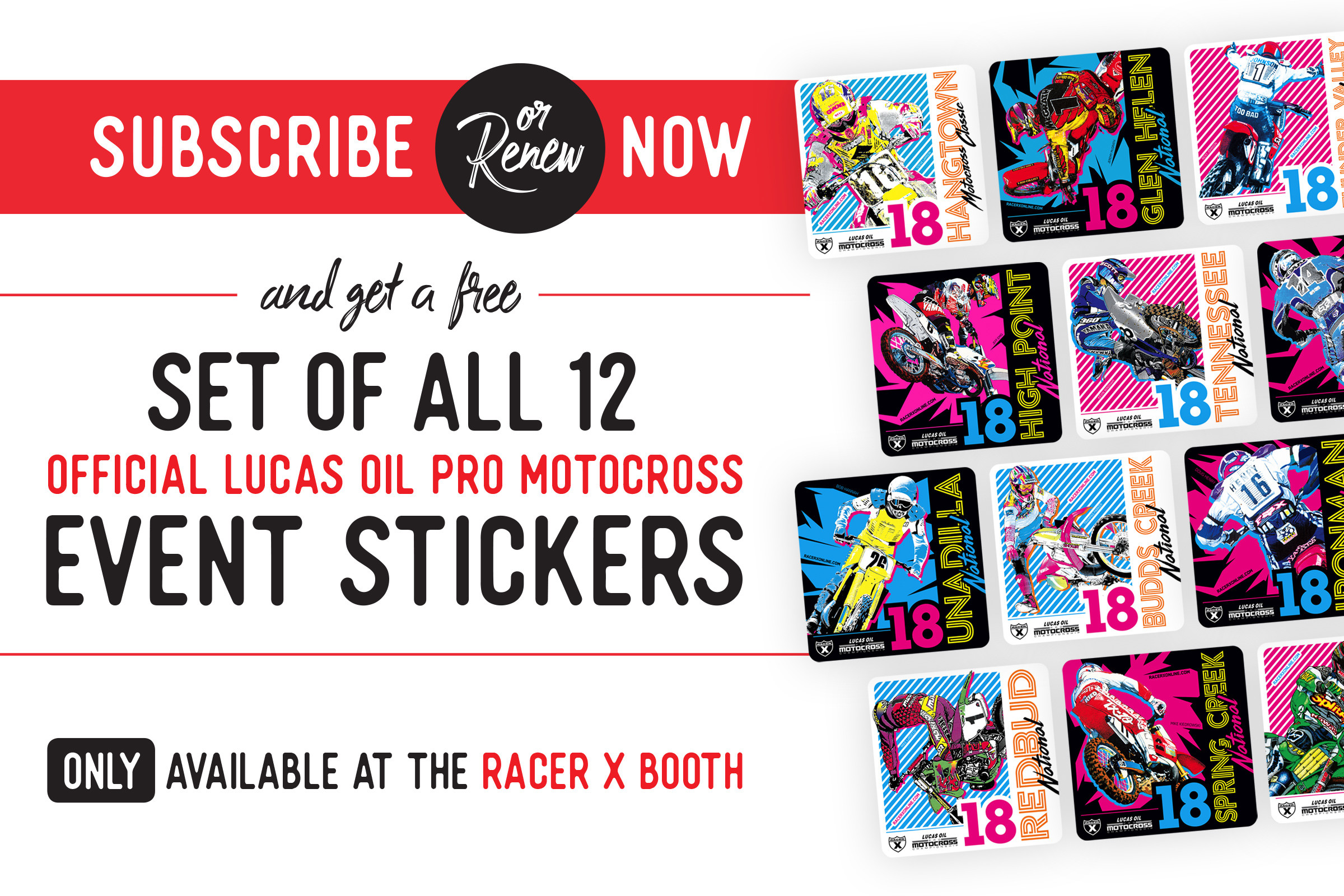 That's it for this week. Thanks for reading Racerhead—see you at the races.