New Berlin, NY
Unadilla
Lucas Oil AMA Pro Motocross Championship
When the skies opened and the rain lashed Unadilla, the opportunity for an upset was set in motion. Two riders who are not afraid of the mud took advantage—first, New York's own Phil Nicoletti. The lovably grumpy Filthy Phil knows all about riding in these conditions—with a tip of the visor to his dad for forcing him to practice in bad weather. He knew this was his chance, and he took advantage with 3-5 scores to net third overall, his first trip to an overall podium ever.
There was significant hype around Kailub Russell's debut in Lucas Oil Pro Motocross, as the five-time and defending Amsoil Grand National Cross Country Champion got hooked up with a factory Red Bull KTM 450 for the final three races of the season. But Kailub had not actually raced a motocross race since 2008! He was very nervous all weekend, netting 12th quickest in the dry qualifying session earlier in the day. When the rain hit, though, the expectations went up, and he delivered, flirting with a podium in moto one (he was third for a few laps) and starting fourth in moto two. But Justin Barcia got out of shape and careened into Russell, knocking him down and busting his brake lever. Later, Russell crashed out of the race altogether. Lucky, he appears to be relatively uninjured.
Steve Matthes caught up with both after the race.
Phil Nicoletti | Rockstar Energy Husqvarna | 3-5 for Third Overall
Racer X: Third overall, good starts, ran up front, led some laps. Nice work.
Phil Nicoletti: It was good. The whole day started off good. Sixth overall in qualifying practice before the mud came, so I was actually feeling really good. Then the first moto, I didn't have the greatest start. I was like tenth. Made some really aggressive passes just to kind of bomb my way through. Then I feel like I stalked Marv for a good 15 minutes, and then I kind of screwed myself. I was two laps late on a goggle change and I had to toss them and ride a lap without goggles. I pointed to the manager's booth and Bobby Hewitt did good to let the boys know that I needed goggles. [Benny] Bloss and Kailub [Russell] went by me and I had to pass them back. Then Benny actually got me back again. I was just able to get by him. As I'm going by him, he's pulling his goggles off and I'm like, got you! I slowed up a little bit just to make sure I could roost him even more, and then I see he pulled off in the mechanics' area. The first moto was kind of like NASCAR pit stops, and then the second moto was good. Good start. Ran third for a long time.
The track was decent, right?
The main line was decent, but if you got off of that, you were f$*#ed. It was good. Then the last lap, last corner, I had fourth and I tipped over right before Gravity Cavity. That's where Coop [Cooper Webb] got me back. I rushed to get up real quick, and I heard the Yamaha second gear wide open. Coop's my boy. I looked at him and his eyes looked like a deer stuck in the headlights. He was going to T-bone me if I tried to cut him off. So 3-5.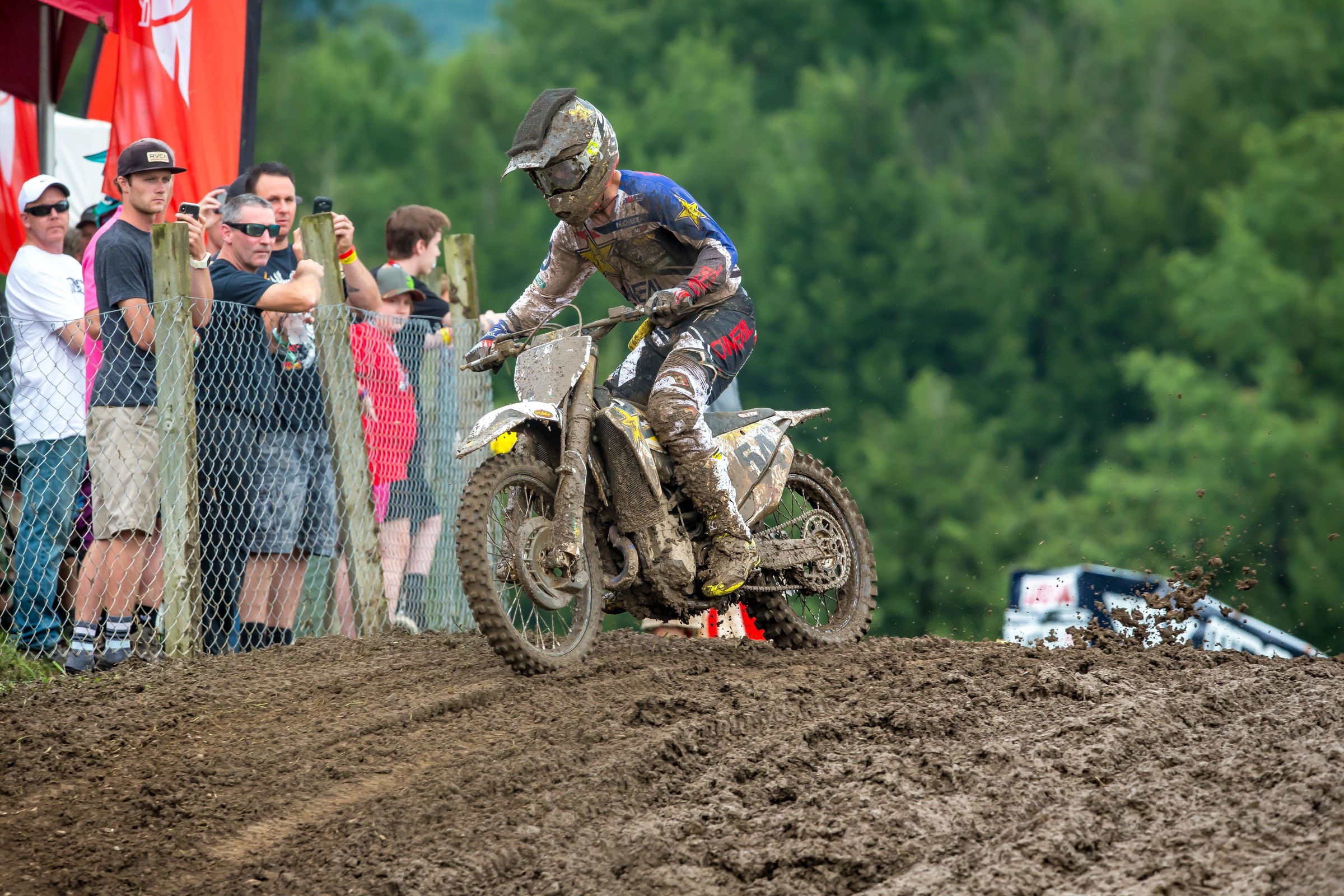 You had gotten Cooper back though a few laps before.
Yeah, I had just gotten Cooper back two laps earlier. He had pulled his goggles, so when he came up on lappers he was screwed. So I'm like, just take my time, pick him off. Got him. Pulled away and then go figure. Last lap, last corner.
You've gotten third overall before in your career, but doing it at 'Dilla has got to be one of the highlights.
No, I never had an overall podium.
I thought Glen Helen you were overall?
Moto. I would have been a third overall, but I blew it with like four to go at Glen Helen. This is my first one overall. To do it here is pretty special. It means more that my old man is here than anything. It's cool. Got to spray him with some champagne.
Why'd you say on the podium, "I might not be back?"
I don't know what I'm doing next year.
Racing.
I don't know. It could be my last 'Dilla. So to have it like that, it was cool. I might go somewhere else to ride. The States is kind of ridiculous, nowadays. They were chanting "Filthy" up on the podium. That was sick. That was really cool.
You said on the podium, too, "My old man tells me to go ride in the rain all the time."
Last week at a local track at Walden, it was downpouring. I went out there and he was there and he's like, "You better get out there." I had to do two 30s in the mud. Destroyed my practice bike. I had to bring it up here. If he wasn't there to make me go ride the shit, I probably wouldn't, but he guilt-trips me into it. It pays off on days like today.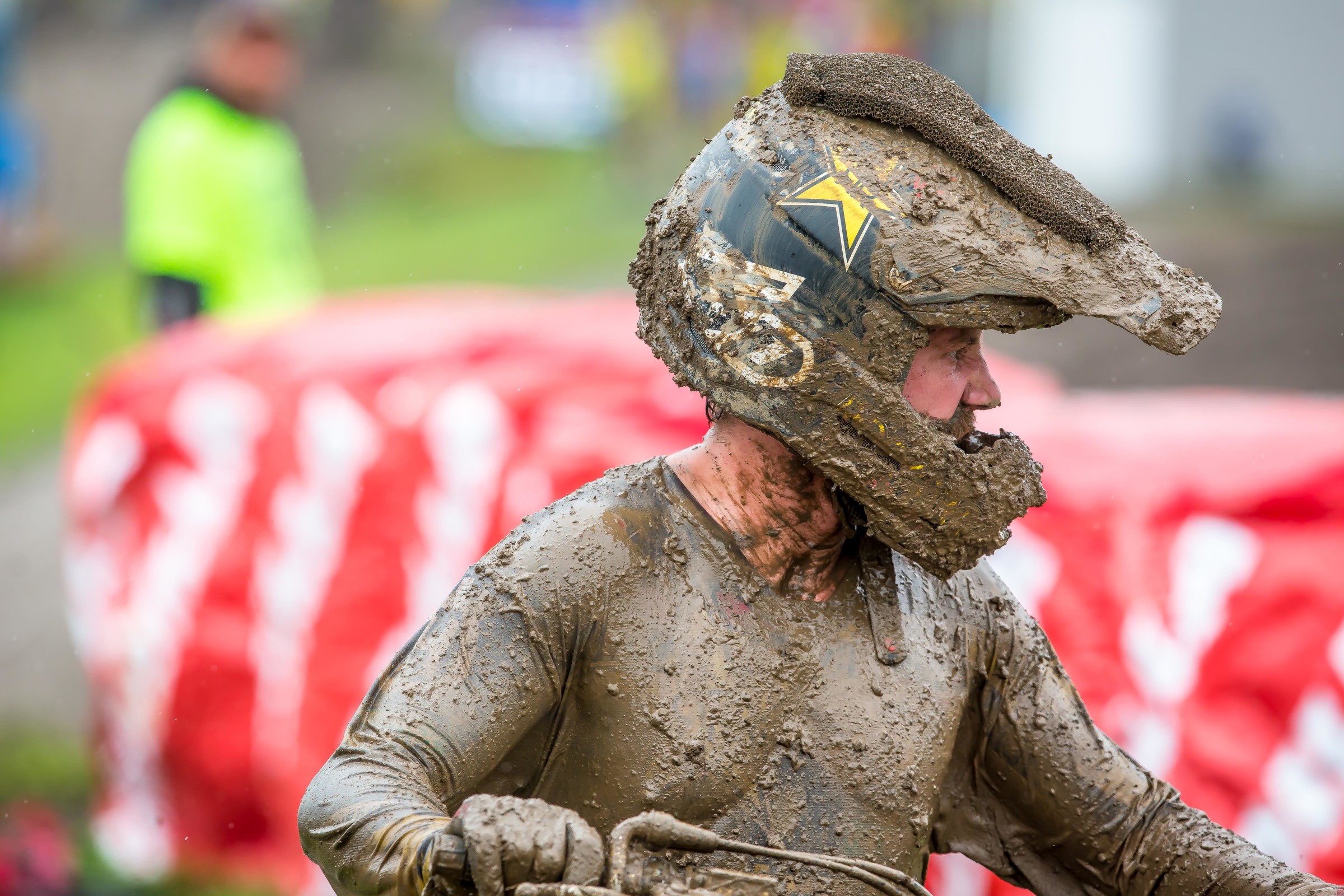 There was a certain suspension guy over at JGR and we were talking about you. Your results at JGR were slightly better than they were over here, but now this tips the scales.
This suspension guy always sends me averages. Obviously, my first moto at High Point killed the whole average, but I've been riding really well on the Husky and things have been going good. Today trumps it. Obviously, a lot of those guys [at JGR] are my boys.
I talked to Chad Reed this week and he said, "I thought Phil would do a lot better on that Husky," and now here you are.
Reedy said that? I thought we were friends until that comment [laughs]. It's not that I'm not doing better. The gap where I was from like an eighth to fifth was a lot bigger, but now it's a lot smaller. I can ride the bike really good. It's hard mid-season. Come on. Give me some slack.
Did you thank PulpMX on the podium? I'm getting conflicting reports.
No, because I'm not running a sticker. I ran it for four rounds, never got paid. Then I'm like, that's it. Typical bullshit contract deal.
It's a typical moto contract.
Yeah, exactly. Break it whenever you want. It don't matter.
We're all happy for you. Nice work. Third overall. That's awesome. Great ride today.
Thank you very much.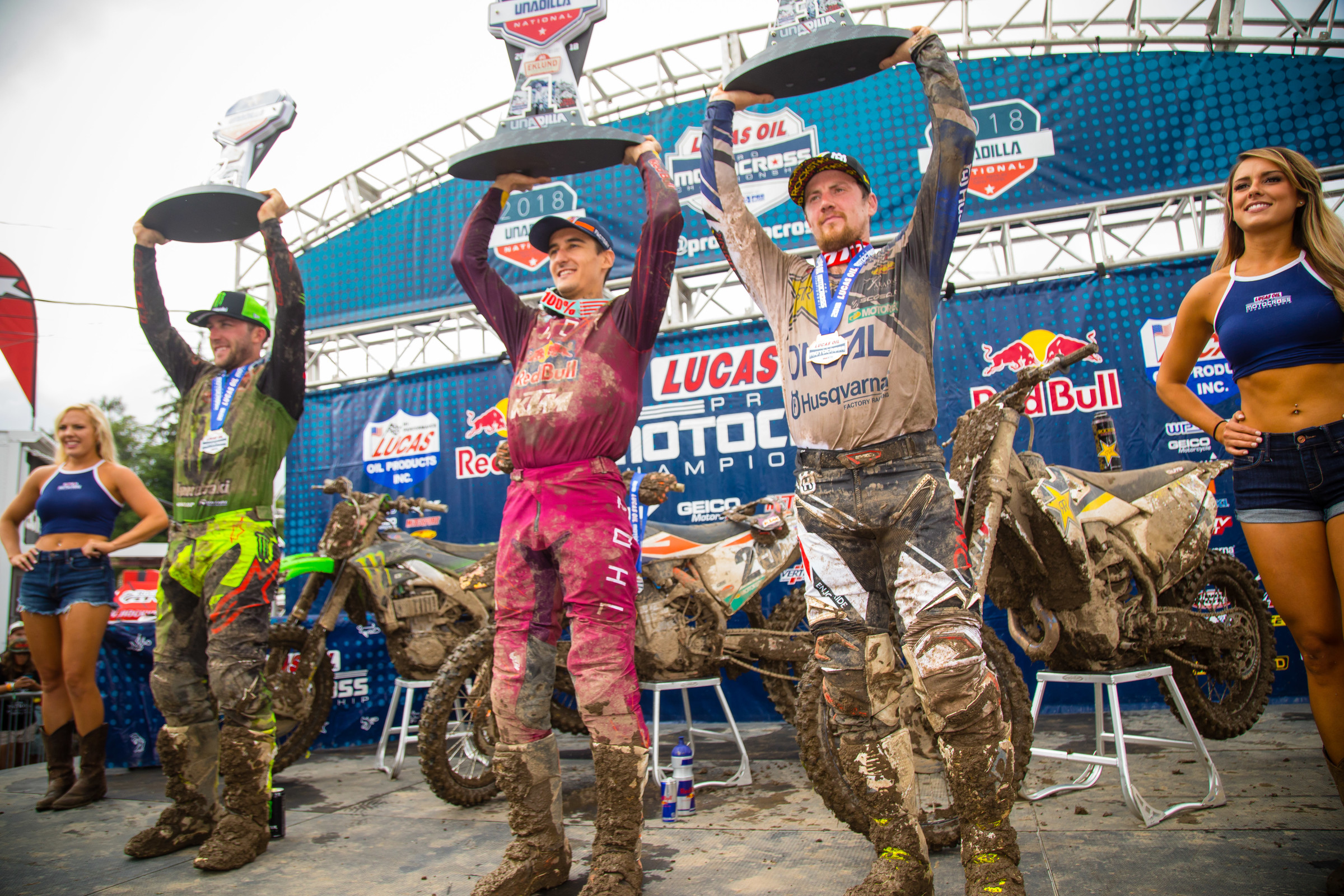 Kailub Russell | Red Bull KTM | 6-30 for 13th Overall
I'm just glad you're okay, because when you went down, you were grabbing your arm and elbow and I'm like, there goes his GNCC title. So I'm glad you rode off, and you seem okay.
Kailub Russell: Yeah, the rear tire just augured into me and ate me up. It hit me right in the funny bone and my whole arm went up. I was like, oh! Then I knocked the wind out of myself, too, because the bike literally just drove me into the ground and landed right on top of me. It was just a silly mistake.
Let's blame Barcia.
When I got together with him, I broke my brake pedal off, so I didn't have any brakes. It took me three or four laps to kind of get the lines dialed in and settle into the corners because in the mud, you need to be able to slide into the turns and stuff. So actually, I passed Ken Roczen without back brakes in a moto, for the record [laughs]. He got me back like half a lap later. So I tried to settle into a pace and just ride and not make any mistakes. That's what I was doing. I was catching up to [Toshiki] Tomita, who was in ninth. Just slight miscue and couldn't check up over that roller and I got off line. It was slick and my bars knifed, and it just cart-wheeled me.
Yeah, and if you didn't hit Barcia, you come out fourth or third, whatever it was [on the start] and the whole moto might have changed for you. You might be on the podium overall.
Yeah, I thought about that when I came around the second turn. I was right behind Marv [Marvin Musquin]. I was like, holy shit. I was like, what am I doing? What is going on here? Barcia came by me just on the rev limiter just bouncing off. I was like, I know he's going down sometime this lap. You can't ride these conditions like that straightaway. But he was making it work. He was going fast, but he got whiskey throttle and he went at [Eli] Tomac, that direction, then he just all of a sudden side-saddled his bike and tried to save it and went directly at me. I was like, ugh.
The mud helped you. You're a great rider. Regardless, you were 12th after the first practice. You showed some really good speed when it wasn't a muddy mess. Nice work.
Yeah, thank you. I think that's where realistically—obviously, this doesn't change my expectations at all. I got lucky today. I ride in the mud not all the time, but I'm familiar with it and I'm a good rider in it.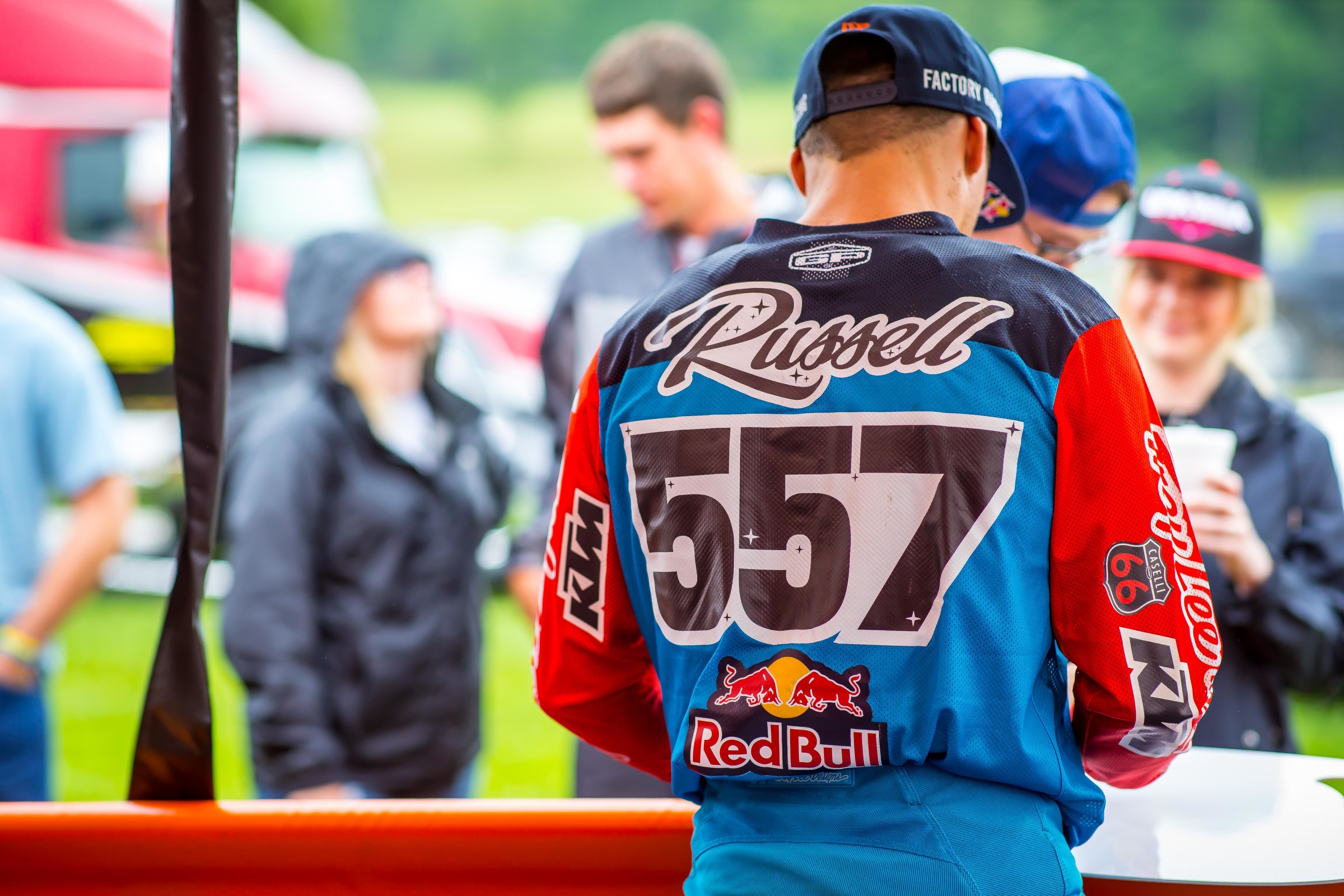 Twelfth is no joke, qualifying 12th.
For sure. I think I was three seconds off of Marv, so I was happy with that. I think realistically just because I got sixth in a moto, I'm not a top-ten guy. I don't feel like truly without a little bit of luck. But I feel like I can hang around the eighth-to-15th mark. Just have to see how the moto plays out with the start and stuff. I feel like I've got the speed to be competitive up there. This is the first race [for me] in ten years on a motocross track, like a real race, and on the biggest level there is. The nerves were there. I had anxiety last night. I could barely go to sleep. Just nervous and excited and all the emotions that go along with it. It was a great day. Once I got that first practice out of the way, I was like, phew! I ride with these guys during the week and I know where my speed is, but do I really believe I can do it like at the race and be that guy? I showed myself I could. I just needed the reassurance that I can do what I do practicing.
I got a tweet about how there's a GNCC at Unadilla. But I rode the GNCC here. You use like three corners and two sections, so calm down, everybody. It's not like you're out there moto-ing on this track.
Yeah, for sure. It's way different. It's like glass out there from the quads. The jump faces are way steeper on pro day, too. It caught me off guard on press day. I was like, wow. But it's cool. I don't mind that. It's a completely different animal both ways, from this to off-road.
How much different is your bike set up from what you race GNCC? Did they put a big motor in it? They stiffen up suspension? I don't even know. How much different was it?
It's easier to put it this way: The only [thing that's] the same from this bike to my GNCC bike is the fan on the radiator.
Really? It's that different?
It's so much different. First of all, I race the 350 in GNCC. We put a bunch of aftermarket parts on for reliability issues, so my 350 dry weighs as much as my 450 here did after the first moto. So the weight difference is huge. It's crazy. The suspension obviously is way softer; not as rigid, really forgiving. There's no comparison at all, really. It takes a lot for me to get used to riding this thing because it's so rigid. You've got to be so precise, because when you do make a mistake, it's exaggerated, almost.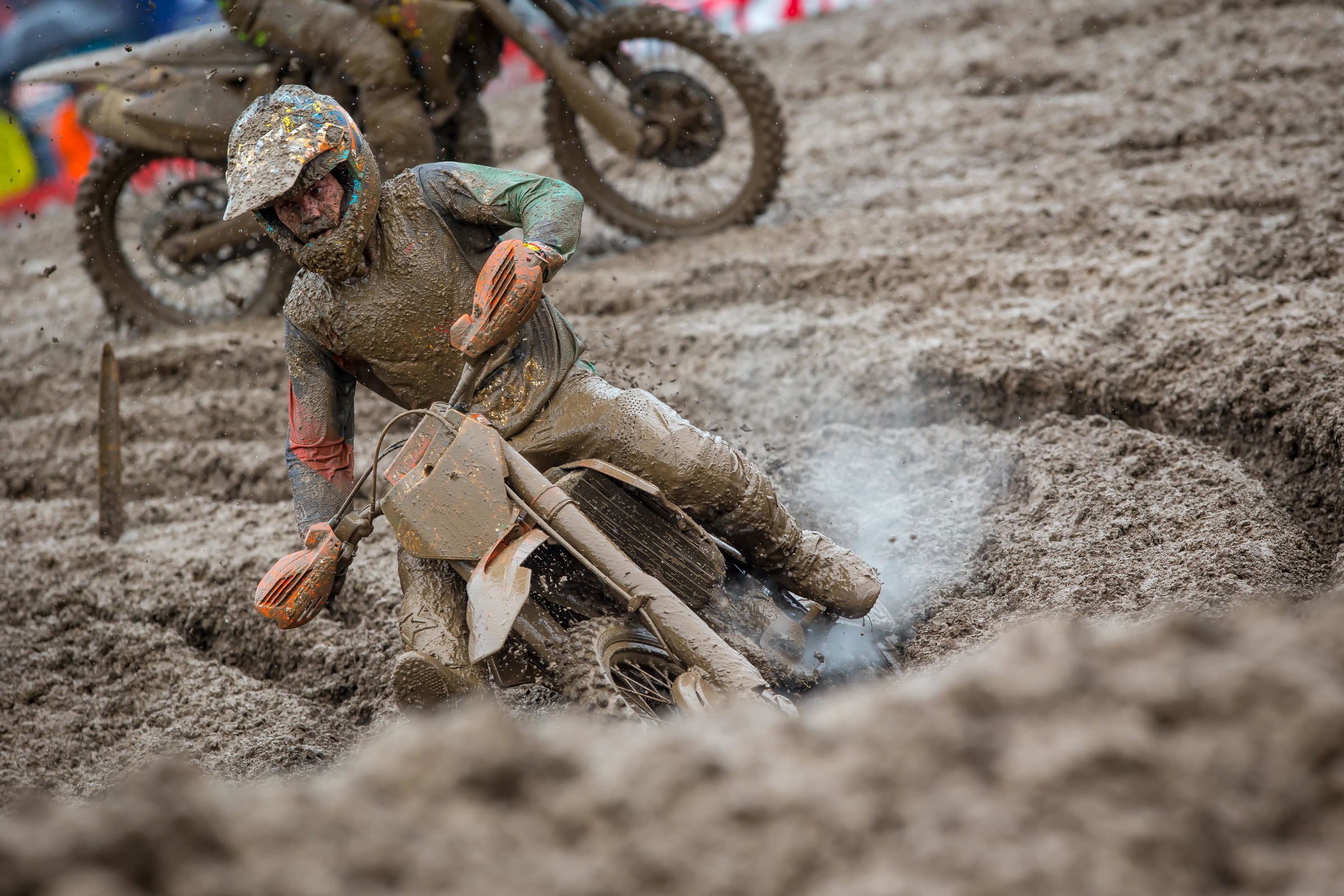 You haven't clinched the GNCC Championship. You've got a nice lead, but you haven't clinched it. Was it hard to talk KTM into letting you do these? I'll admit, I was surprised that they would let you do this.
No. My boss, Antti [Kallonen, KTM off-road manager], he's a realist kind of person. He doesn't want me to go out here and wish me to get hurt, but it could happen anywhere. You've just got to think with that attitude. It's a dirt bike race. It's dirt bikes in general. I could crash practicing next week and it would be done like that. Why deny a guy an opportunity to live out his goals?
Thanks for making this whole week interesting, from the PulpMX fantasy talk to you racing and riding.
I listened to it.
Can you believe we had one guy that said if you qualify?
I know, that's what I thought. He had me second-guessing myself. I was like, damn, can I really qualify? I think I can qualify.
I'm like, look, he walks into qualifying. I don't know how his motos go. He had to have been drunk or high.
How many points did I score, you guys?
You still did pretty good because you maxed out in moto one, and then you still got seven or eight for moto two, so 57 points. It was a low-scoring day for everybody, so you actually did pretty well. The problem is now you've shown your speed, so for Budds Creek, you might not be that good of a pick anymore because you showed speed.
I figured. I'm a junk pick now. Don't pick me.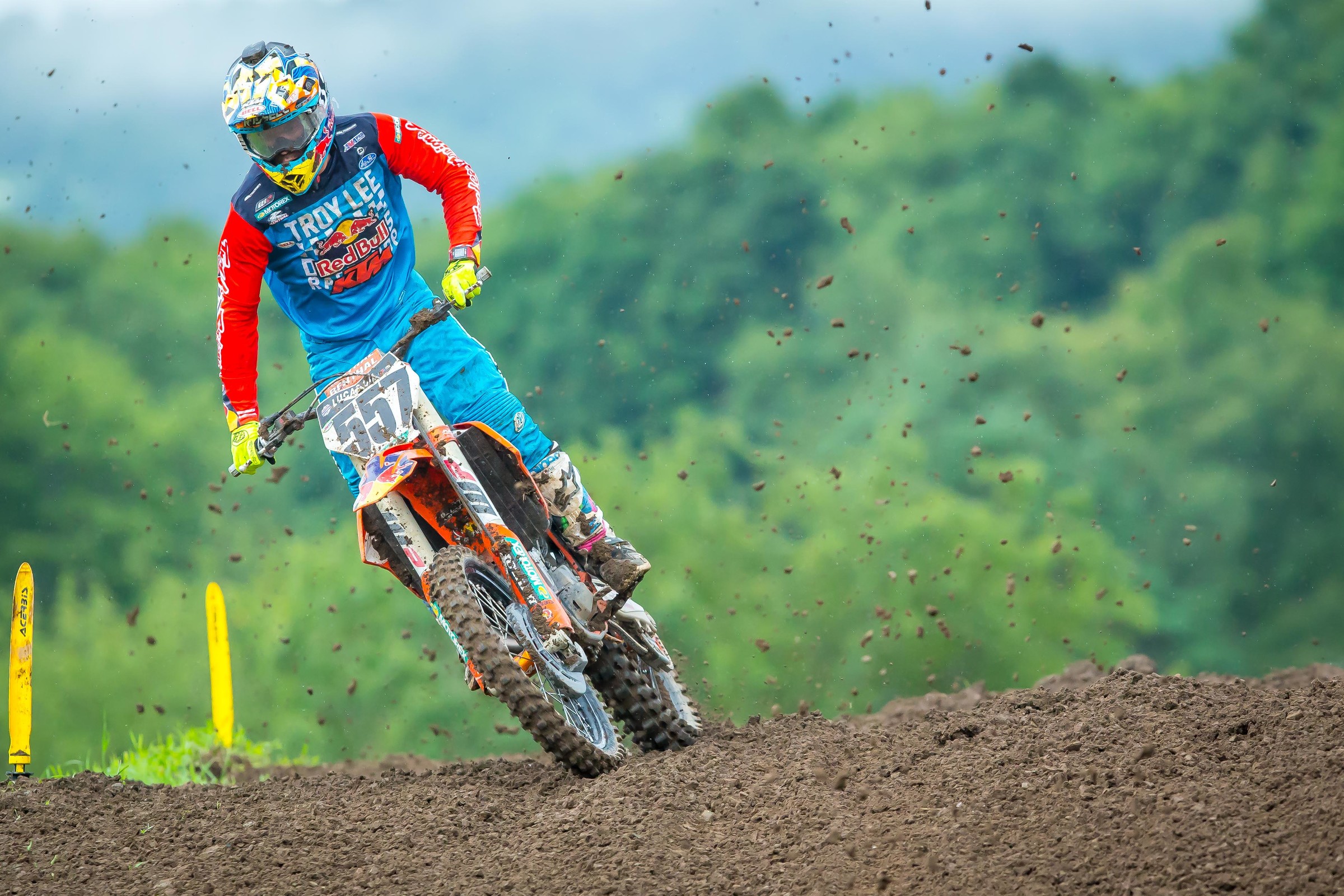 Thanks for making the whole thing interesting. It was an incredible ride. Nice work. Let's see you at Budds. That will be awesome to see you go up there again.
Yeah, that's the plan as of right now. We'll have to see how this week goes and my elbow and riding and stuff. I know if I'm not riding [this week], Aldon's not going to want to send me up there. I just got to have a lot of time on the bike and be prepared.