New Berlin, NY
Unadilla
Lucas Oil AMA Pro Motocross Championship
In a Lucas Oil Pro Motocross Championship that has featured virtually everything, the one thing that had not happened finally did: rain. The Massey Ferguson Unadilla National turned into a mudder after rain hit the track on Saturday morning, and a track that has hosted many a race in tough conditions was set to do it again. Any thoughts that the mud race would lead to wild swings in the results, though, didn't pan out, as 450 title contenders Eli Tomac and Marvin Musquin were basically even on the day, and still the class of the field despite the wild track conditions. In the 250s, Dylan Ferrandis outdueled his teammate Aaron Plessinger for the win, but Plessinger further extended his series' lead and now looks likely to wrap the 250 National Motocross Championship next weekend at Budds Creek.
In the first 450 moto—held when it was still raining and the track was still sloppy—Tomac was the best of the bunch. As his been the case quite often this summer, he didn't get a good start, which would appear to be a disaster in a mud race, especially with arch-rival Musquin quickly taking the lead. Then Eli's roll-off canister popped open, ruining his vision and leading to a pit stop. Soon, though, that didn't matter because everyone else's goggles were toast, and all of the top riders had to stop for fresh vision. Musquin even had a similar roll-off situation to deal with, and Tomac caught him for the lead as Marvin's vision faded. Tomac then took the lead as Marvin headed to the pits for new goggles. From there, Tomac was gone, basically carrying the same speed advantage he has in the dry into the mud.
"That moto was crazy, it was like the pit stop moto," said Tomac. "Came in and made a quick change there, and that's where we made up our big time there, after we made the goggle change."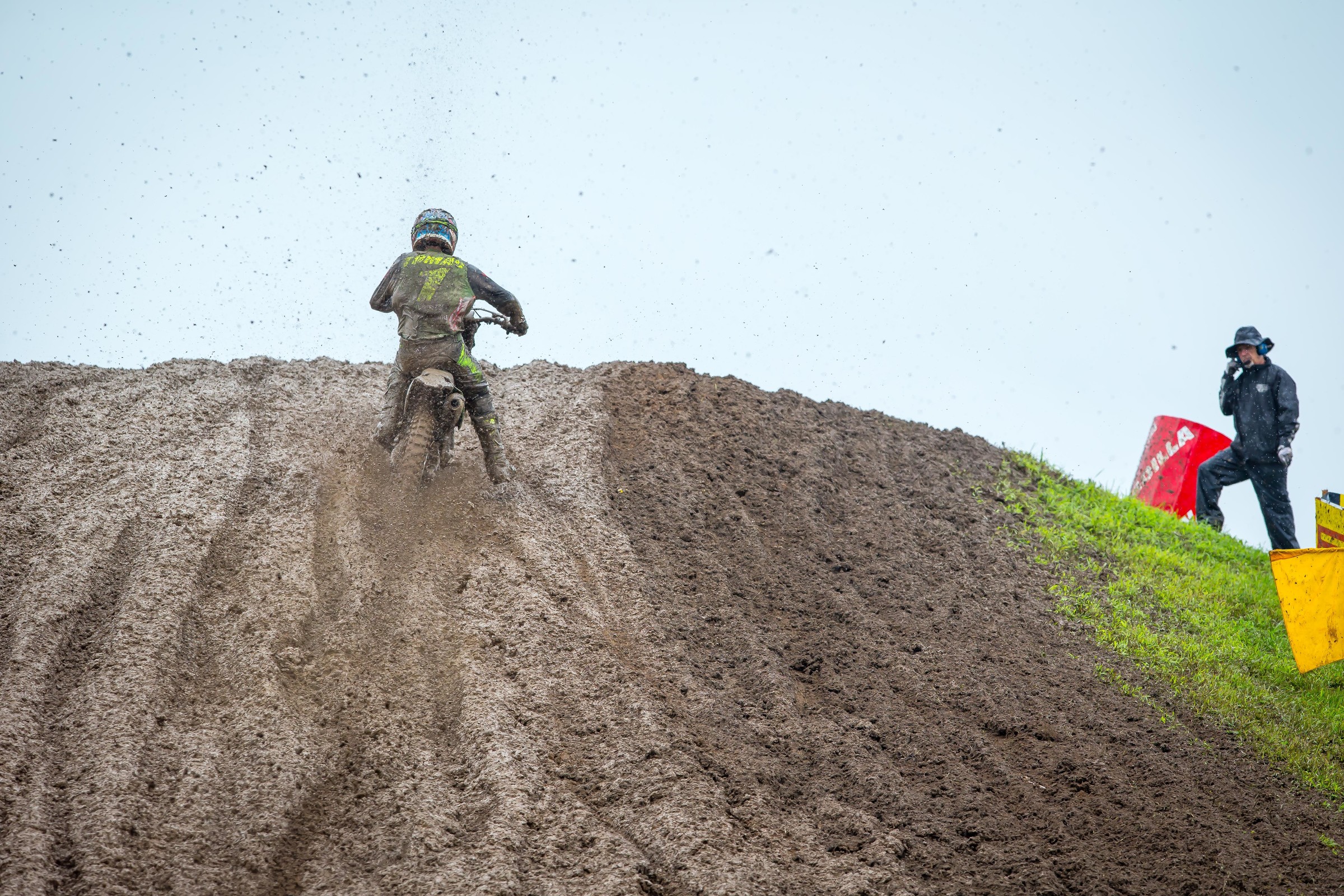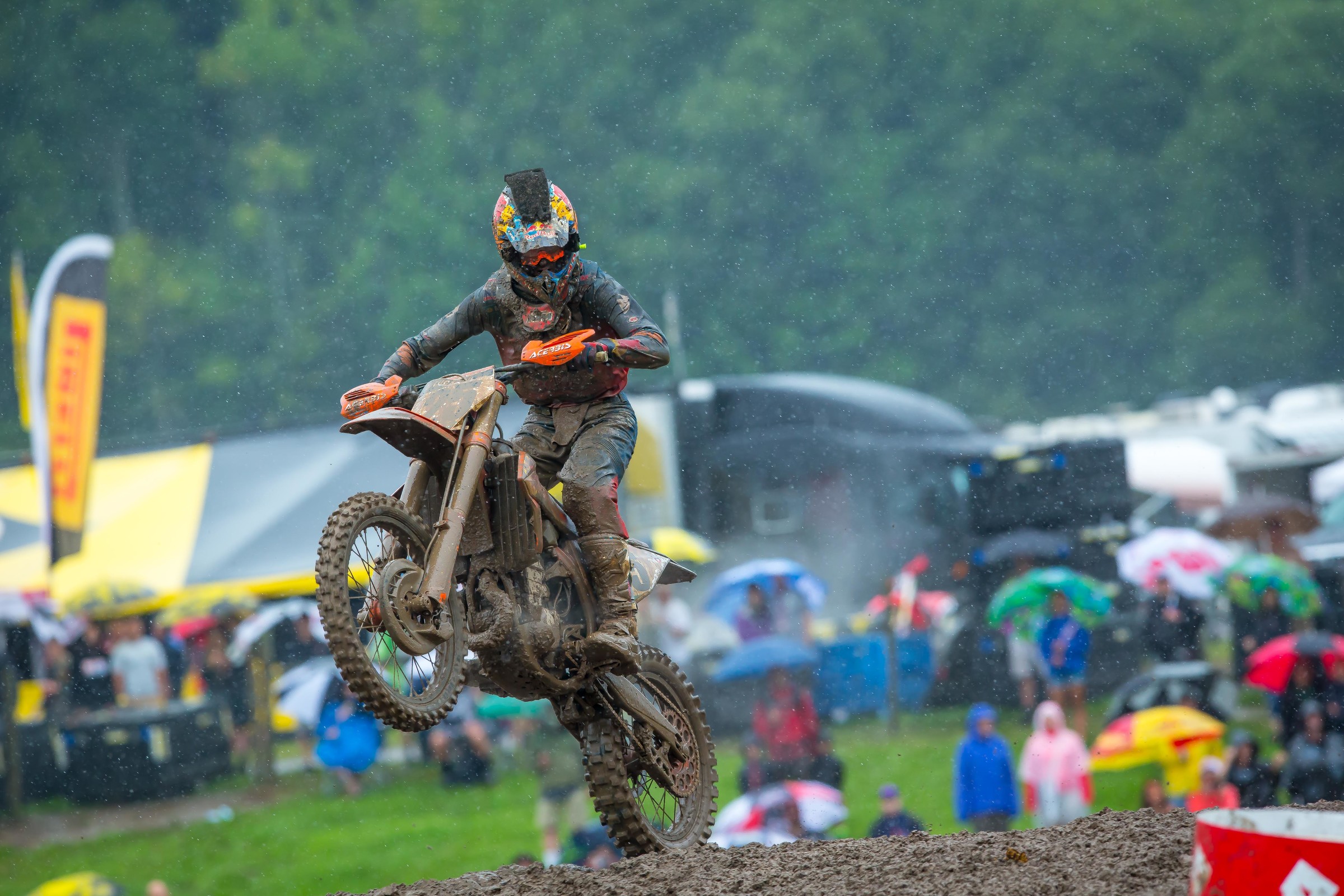 450 moto two was tougher in a way, as the rain had stopped and the track became sticky and one-lined. Musquin excelled there, again grabbing the early lead but this time holding it to the end. Tomac wasn't able to challenge him, and Musquin's 2-1 scores were enough for the overall win, his third of the season. Tomac's 1-2 meant they tied on the day in points. Musquin credited simply staying on two wheels as the key to the muddy conditions. Tomac, in his post-race interview on NBC, said he just didn't feel comfortable pushing it in the second moto.
"That second moto was just awesome, it was perfect," said Musquin. "And I had fun! I didn't know the time [behind me] so I just kept on pushing. Unfortunately, Eli [Tomac] got me in the first moto but the second moto was just awesome. The championship is the same as before the weekend so I will go into the last two rounds focused on winning races so I can hopefully make a dent in that lead."
Third overall went to Phil Nicoletti, his first career podium, and at his home track in New York, no less. Phil felt very comfortable with dark clouds circling above all day, even leading early in moto two before Musquin sliced inside to take the spot away.
"It was good, I tried to stick with then for as long as possible," said Nicoletti, who went 3-5. "I did the best I could, ran third for 15-20 minutes, then Coop [Cooper Webb] and [Justin] Barcia got by me, then I got Coop back. Went down on the last lap and Coop got back by me."
On the podium, Nicoletti admitted he was not sure of his racing plans at all for 2019, and said it might even end up being his last Unadilla National—so grabbing the overall podium felt even better.
Barcia ended up fourth overall, another coulda, shoulda weekend for him. He was fastest in the first practice, but hopes where dashed when he went down in the first turn in moto one. From last, he rallied to eighth. Barcia got a good start in moto one, but it was a wild ride as he crashed on a jump early, then mounted another comeback to pass Nicoletting and Webb to net third. It wasn't without drama though, and he and his Monster Energy Yamaha teammate Webb battled so hard that Barcia even flipped his teammate off while simultaneously making the pass and leaping into Gravity Cavity! Both said the battle was "fun" in their post-race TV interviews.
Webb had a good race going in moto one, until he was hit in the eye with a rock with two laps to go. That dropped him to 16th. His fourth in moto two marked another improvement in his return from injury, especially after taking a rock to the eye in moto one.
Ken Roczen didn't have a good day on his Honda HRC machine, with multiple crashes and goggle stops leading to 7-7 scores and seventh overall.
Five-time and defending Amsoil Grand National Cross Country Champion Kailub Russell made his motocross debut riding alongside Musquin with Red Bull KTM, and while the woodsman was adamant that he wanted to stay low profile all weekend and keep the pressure off, that changed when the skies opened. GNCC racers know the mud! Indeed, Russell was strong in moto one and climbed all the way up to third place at one point. He jumped up from sixth when everyone else pulled in for goggles, and then he ditched his and kept riding. He eventually went back to sixth.
Even though he hadn't done a full gate motocross start since an amateur race ten years ago, Russell someone started fourth in moto two, but he had nowhere to go as Barcia slid sideways and slammed into him Russell got back up to about eighth, but went over the bars on a high-speed straight. With that, his race was over.
"The day started off really good, I qualified 12th in practice and in the first moto I got off to somewhat of a decent start but I had a lot of trouble keeping my goggles clean the first few laps and there was chaos everywhere," said Russell. "I made a bunch of good passes, I really kind of surprised myself and got up just outside the top five. I actually worked my way into third and was running there for a while but I had a little crash coming out of Gravity Cavity – I had to throw my goggles off and my gloves got all muddy so I struggled to hold onto the bars for the last ten minutes. I had one more tip-over but I rode it in the first moto to a sixth. In the second moto, I got off to a really good start. [Justin] Barcia got around me and then I think he got a little out of control and ended up looping his bike in front of me, which ended up hitting me, broke my brake pedal and I crashed and went down. I got going in tenth and just tried to feel the track out without the rear brake, which was tough today because it was so sloppy and you needed to rely on the brakes in some of the turns. I was riding really well but ended up having a pretty good crash and the bike tackled me and banged my elbow up – it hurt pretty good. Overall, I was really happy to be here and really pleased with my qualifying results and my first moto, but I'm just bummed with all the chaos that unfolded in the second one."
The 250 Class offered up its usual chaos, but Ferrandis rose above to go 1-1 for the first time in Lucas Oil Pro Motocross. The early story in both motos came from surprising sources. In the first race, Rockstar Energy Husqvarna's Michael Mosiman grabbed the holeshot, fended off an early challenge from Ferrandis, and then started to pull away. He was looking good in his first-ever visit to Unadilla until he crashed on a jump, and Ferrandis got by. In moto two, GEICO Honda's Cameron McAdoo got his first holeshot ever, and also led about half the race. Both times though, Ferrandis and Plessinger were coming in hot toward the front. Once Ferrandis got the lead from the downed Mosiman, it was smooth sailing until his bike started steaming. He backed it down and held Plessinger at bay. In moto two, Rockstar Energy Husqvarna's Mitchell Harrison was up there until he tagged a lapper, and Ferrandis and Plessinger blasted through. Ferrandis and Plessinger battled a bit, but the Frenchman got the better of his Monster Energy/Star Racing Yamaha teammate to get the win.
"For me it's something that I'm used to, all of my experience in Europe," said Ferrandis. "The track wasn't that different from practice, just more water everywhere. We were lucky, the dirt here is awesome when it's raining. I tried to pass Mitchell on a line no one was taking, but it was muddy and both guys got past me. I really wanted it and I did everything I could to pass him [Plessinger] again."
Plessinger went 2-2 and pulled further ahead from Alex Martin, who is second in points and went 8-8 on the day. He said he wasn't really focused on points but more on just still trying to win.
"Yeah, it was in the back of my mind [the points] but I would say way in the back," said Plessinger. Aaron also recently became a father on the Monday after Washougal, which he admitted was the best possible timing around the races. For Plessinger, everything is falling into place this year.
Harrison was third overall for his first-ever career motocross podium. He's enjoyed a solid comeback after missing some early-season races with an injury. "I thought I would be up to pace like I was in the preseason, but I still feel like I'm not up to my potential," he said. "It was exciting [leading moto two]. I never felt squirrely or like I was trying to hard. I held my focus and held my lines. I got the lead back out, then they got back on me. I don't have a deal for next year yet, but this podium helps me out I know I'm capable of podiums, so yeah, sign me up."
Joey Savatgy and Chase Sexton rounded out the top five overall. Savatgy again can point to one error that changed his day, an early first-moto crash at the bottom of gravity cavity. It bumped him from third to 12th, he clawed back to eighth. In moto two he got past Harrison late to snag third.
In moto one, TLD KTM's Shane McElrath rallied to third, but a tough second moto saw him finish 14th. McAdoo held up well after his good start in moto two, finishing that race in fifth, a career-best for him. Mosiman, after leading half of the first moto, ended up sixth after his crash.