Hurricane Mills, TN
Rocky Mountain ATV/MC AMA Amateur National Motocross Championship (Loretta Lynn's)
Amateur National Motocross Championship
As the week rolled on at the Rocky Mountain ATV/MC AMA Amateur National Motocross Championship at Loretta Lynn's Ranch, Troy Lee Designs/Red Bull KTM's Derek Drake began to distance himself from the A class pack. With three moto wins and three second-place finishes in his six motos, he won both the 250 A and Open Pro Sport Championships, making him an easy pick for the coveted AMA Nicky Hayden Horizon Award.
Drake's situation is unique for two reasons. First, he's not turning pro immediately, as his teammate Mitchell Falk is the one scheduled for a quick graduation. Falk told us the team will decide this week if he's ready to race Unadilla this weekend. Drake, meanwhile, won't turn pro until Hangtown next year. Also, Drake did all of his training out in California with Randy Lawrence, a former mechanic for Jeremy McGrath and former trainer for riders like Ryan Villopoto. In recent history, most riders have prepped for Loretta's somewhere in the Southeast.
Drake's a really fun kid to talk to. We grabbed him during closing ceremonies at Loretta's.
Racer X: First of all, what were your expectations? Coming and winning this many motos in both classes, that's pretty high-end. Were you thinking this?
Derek Drake: Yeah, I've always liked Loretta's. I've always liked coming here. It's a great venue. Ever since my first practice, I knew it was going to be a good week. I just jelled with the track. As soon as I got out there, I'm like, all right, we've just got to be smart about this. We've got to be smart about the weather if there is any, and if so, smart on the tire choice. The weather was awesome, so we lucked out on that. I drew okay picks for the gate picks, which was a huge help. So we put it all together this week.
My fellow announcer Kevin Kelly said he saw you at Mammoth and you were good, but not this good. It seems like you've stepped up. Is there some reason?
Mammoth, we had some issues with the elevation and the bike. It was a combination of both. It didn't really go that good. It was important to come here and to show everyone that Mammoth was just one of those things. This is more normal. So I'm glad I got to show it. It was an awesome weekend. I couldn't ask for anything more.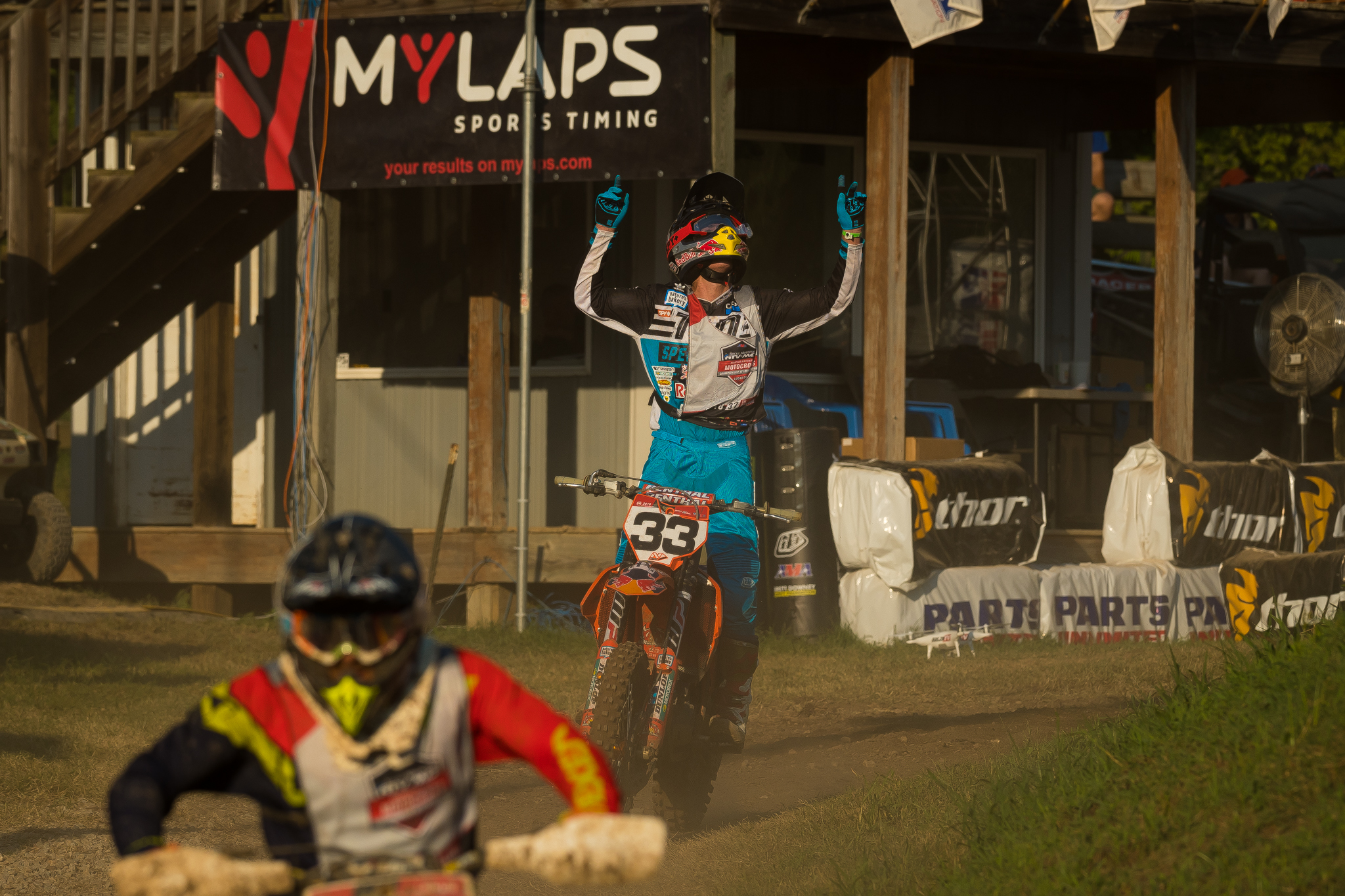 Do you know what your plan is now? Where do you go next?
Yeah. The plan is to go to Hangtown. So I'll do a half year like [Sean] Cantrell did. I'll do Freestone, Mini Os, Monster Cup, all that stuff. Plan is line up at Hangtown 2019.
How many pros do you ride with? Do you kind of have an idea where you're at?
Yeah. I'm based in SoCal right now, so the Star [Yamaha] guys are out there. The rest of the TLD guys just moved to Florida with Tyla [Rattray]. So the Star guys are out there, and the GEICO guys show up. You never know where you're at, obviously, until you go riding, but we're just trying to ride with the fast people and get faster and faster.
So you've got Randy Lawrence as your trainer, right?
Yeah.
Does he give you MC stories and nineties stories?
Yeah, Randy's awesome. We always go to his house to meet for the road bike rides. I just love asking him stuff. He's got so much history behind him. He knows everything, all the people. It's fun hearing his stories of his experience. He's been through it all with McGrath, and then Villopoto with his three outdoor titles when he was on 250s. Anderson. There were so many guys. I'm just grateful to be a part of it right now.
The West Coast base, do you feel like you're kind of bringing it back? Do you feel it works for you?
It's working. On the West Coast we've got a bunch of tracks, and we got a bunch of hills for road bikes. We got a bunch of hills for mountain bikes, also. There's no shortage of training there. There's a bunch of fun stuff to do down there. There's a lake. I've got jet skis. It's fun. I like being there. Plus my home is four hours north on the coast. So I just have to drive four hours back and forth every once in a while. I live with Jessy Nelson in Lake Elsinore. I live with him down south, and he's been helping me out a bunch. So much knowledge behind him, too.
That's cool that you live with him. He has to be stoked for you. Have you gotten service? Can you tell people how you've done down here?
Actually, Brent [Presnell, of TLD] had to tell me the Wi-Fi password for KTM. I've been texting back and forth with Jessy all week and he's pumped. I can't wait to get back home and chill for a couple days and get right back to it.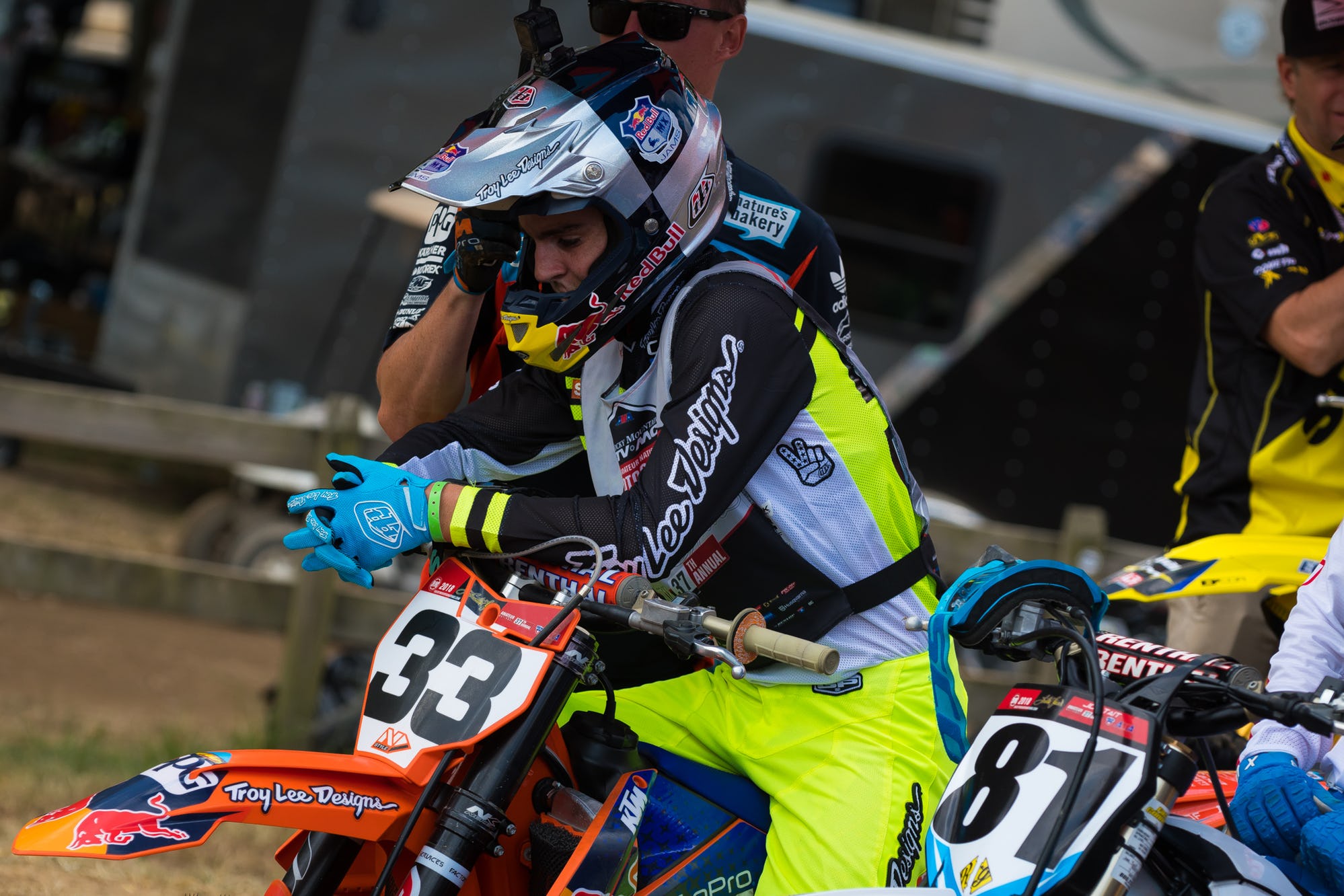 Do you actually get legit break time now, or you have to get right back on it?
No. Randy and I were messing with each other. A couple days off and then we're back to it. I'm like, all right, well I guess my couple days off are driving back home because that will take two or three days. When you have a good week like this, it all goes pretty smooth. You're pumped about anything. You don't really care what to do. You'll do all the work. We'll just get ready on a supercross track.
Have you done that much supercross?
I'm doing Monster Cup. I did Monster Cup last year. It wasn't my greatest appearance. Monster Cup this year will be cool. I got the experience last year, and coming off this, so I'm excited for it this year.
Let's talk about that one moto that got crazy, the final moto in 250 A. There were four of you going in that had a shot at the title. First of all, it just had to be nerve-wracking in that situation. Were you pretty chill?
Yeah. Four of us could win, and pretty much whoever beat who in the moto won. But I was pretty chill. Randy was behind me the whole time, just talking to me, talking me through it and talking about gate pick. We had a solid strategy. Came out with the holeshot. I'm like, sick, all right, we can do it. I made a mistake around one of the rollers and almost went down. I'm like, all right, got to fix that! Mitchell [Falk] and [Seth] Hammaker got by me in the meantime. They were just going at it. They were acting like it was a five-lap sprint or something because I'm just chilling and they were like hitting in the air. I'm like, it's a 20-minute moto, guys. Chill out! They were just going at it. They ended up colliding, and sure enough, I just rolled around and just rode a smart race and brought it to the checkers.
You mentioned early in the week you get better as the week goes on. What do you think there is to that?
Definitely. I've noticed that ever since I was a little kid, since I was five years old doing this stuff. My dad always got frustrated because I'd wait for the last moto to do something. Last moto, last lap, I'd finally do a jump or something. He'd always get so frustrated. I don't know what it is with me, but I just gel more and more and know more of the track and put more and more laps down and get faster and faster.