Hurricane Mills, TN
Rocky Mountain ATV/MC AMA Amateur National Motocross Championship (Loretta Lynn's)
Amateur National Motocross Championship
Jordan Jarvis is no stranger to success at the Rocky Mountain ATV/MC AMA Amateur National Motocross Championship at Loretta Lynn's Ranch, with three titles to her credit heading into the 2018 running of the event. She went next-level this time, not only sweeping all three motos in the Women's 12+ class, but also competing in Saturday's round of the professional WMX Championship and going 1-1 for the overall.
With those moto wins and a blown-up bike for second-in-points Kylie Fasnacht, Jarvis further extended her points lead in the championship. If she wins the title, she'll be unable to compete in the Loretta's amateur class next year.
But that's okay, because Jarvis has plans. She's working on earning a pro license for Lucas Oil Pro Motocross and Monster Energy Supercross. The 17-year-old still attends public high school and doesn't have a chance to train or ride as much as she'd like. Just imagine how good she will be next summer!
Racer X: What did you eat for breakfast? What did you do this summer? You've always been good, but you were on fire this time.
Jordan Jarvis: [Laughs] Yeah, I ate my Wheaties all week long. No, I just felt really good. I moved up to a four-stroke now. I've been riding with the big boys. I did the arenacross pro class for a while. Unfortunately I didn't get any points this year, but that's what this next year is all about. I actually got invited to Monster [Energy] Cup in the All Star class. So we're going to get that started and get everything going again. Got a good new year coming up.
So most of the riding you're doing and most of the prep you're doing is based on riding with the guys?
Of course.
So where are you doing your work? Where do you ride?
I ride on weekends because I still go to public school, so that's a little challenging. But when I do get to train, I go to SOB [South of the Border].
Do you even ride during the week at all?
No, sir.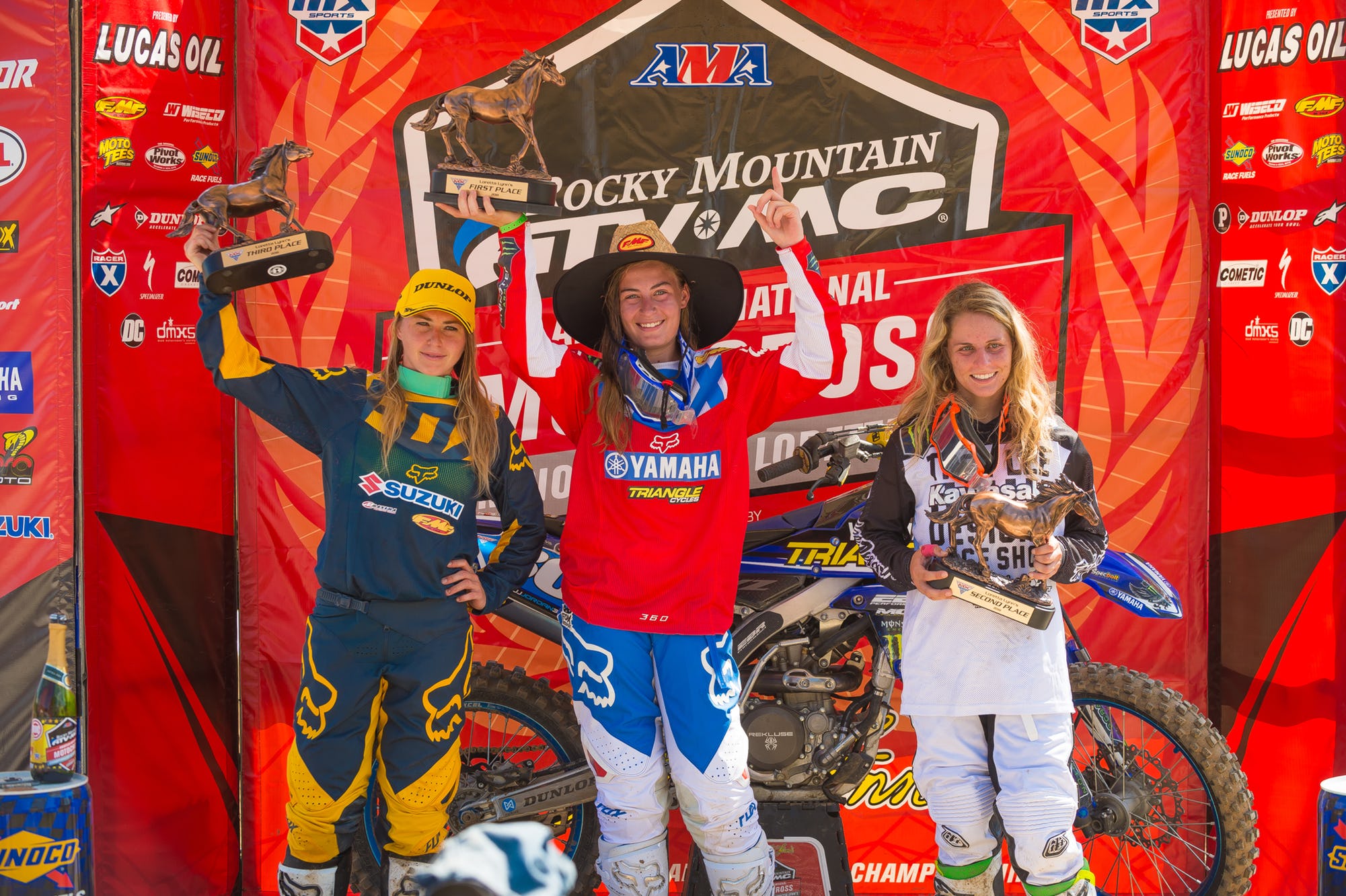 But you won every moto at Loretta's!
I'm a weekend warrior!
Where are you from, North Carolina?
Yes, sir.
Whereabouts?
Clayton.
And you go to regular public high school?
Yeah. This is my senior year and I'm graduating early so I can train.
So you have one more year to go?
Yes, sir.
Do people there know that you are a National Champion several times over?
A few of them do.
But it's not like they're putting plaques on the wall for you?
No. I try to keep to myself so I can focus on my schoolwork when I'm there.
What makes it difficult to train? You can't go riding at 3:00? There's just no way to do it?
Yeah. That's definitely hard, and I got to keep up my grades or else I can't really ride. My principal probably won't allow me to keep missing school if I don't get good grades. I have As and Bs in every class. I have a 3.6 GPA. I miss a month of school every year because I have to leave to travel to races, so it's a little difficult.
The WMX pro series, that's going well?
That's going very well. I'm the current points leader right now.
Did you expect to do that well this year in that division?
I was hoping to, for sure. I raced against Hannah [Hodges] a couple times. I raced against her here last year. I did pretty well. I ended up beating her out. So I was excited coming in. I haven't raced against Kylie [Fasnacht] in a while. I think the last time I raced against her was arenacross a couple years ago when I was on a supermini. So it was a new experience for sure, but I was excited about it. I was pumped to ride with all these other veteran women, and some of them that are new as well.
So you won every moto here at Loretta's, in pro and in women's amateur. What does that feel like?
It feels awesome. I didn't have my best year last year for sure. I had a bike failure in the Women's class and I ended up going DNF-1-1, so that was a bit of heartbreak. Then just couldn't get out of my own head in the Girls' class. So unfortunately, I had a bad year. It happens sometimes. Glad to add to my championships and make it my fourth title here at Loretta's.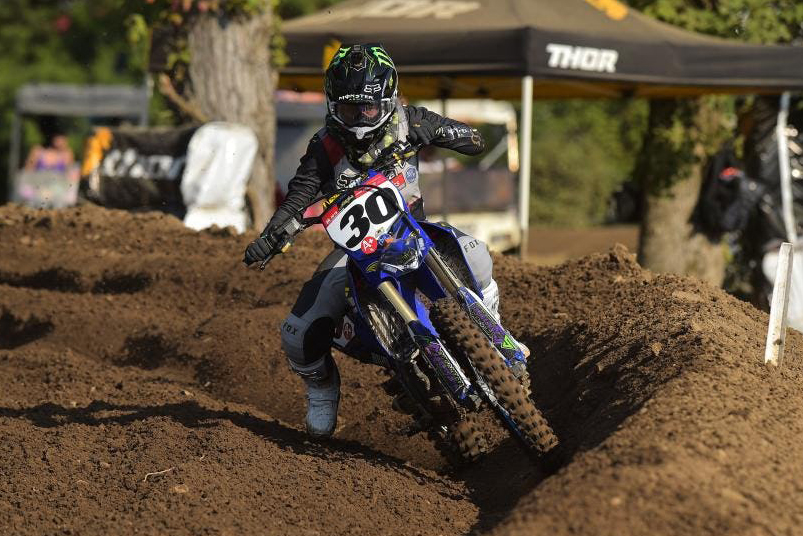 I've seen it. The Women's class, you are arguably more competitive than any other, as far as the emotions—highs and lows, happy, pissed off, whatever happens. I saw you last year when it wasn't good. You were definitely not happy! When you win, are you happy as you are sad when it doesn't work? Do you at least get the upside?
Yeah, I definitely do get the upside. It's a lot of work still going to school and riding on weekends and still trying to compete. Coming out here and doing that well, it's a great feeling.
When school is finally done by next summer, then what? What's the plan then?
Definitely try to do the men's pro stuff. I've got about half my points to get my pro card now for outdoors.
So you go to the regular AMA pro/am races to try to get points for the men's nationals?
Yeah.
Not race Women's class?
I can't race Women's next year here at Loretta's if I do well in the WMX. I think I should have first in the WMX Championship pretty much locked over for now, with Kylie not showing up here. But after that, I won't be able to race the Women's class here. So who knows? Maybe I'll try and come back in A class. I tried doing it this year but I ended up breaking my hand at Vegas for the arenacross finals and missed my regional. I just got released the week of my regional for the Women's class, so it was close. I actually ran the area one-handed because I broke my hand.
Taped up?
Yeah. I had the tape that the urgent care got on me. I had this brace on. I was riding around two laps with one hand on the bar. The other one I kind of looked back and was waving at everyone.
Literally holding on with one hand?
Yeah, with one hand!
Still made it through the area?
Yeah.
Beating the competition one-handed.
[Laughs] No, I don't think I ended up beating anyone in that one. I pulled off to the side of the track because I only did two laps, although it was a bit of a struggle to pull the clutch in and get going again.
So you're also working on arenacross points. Are you thinking Road to Supercross?
Oh yeah, of course. We're good friends with Tony Alessi, and he's kind of helped us out throughout the whole deal. We're working towards it. I'm doing all the amateur supercrosses this year. We're going to work towards it. Like I said, we've got Monster Cup coming up soon. Hopefully that will get me in good with some more sponsors and get my career off to a good start in the men's stuff. I'd definitely like to race it and be competitive in it for sure.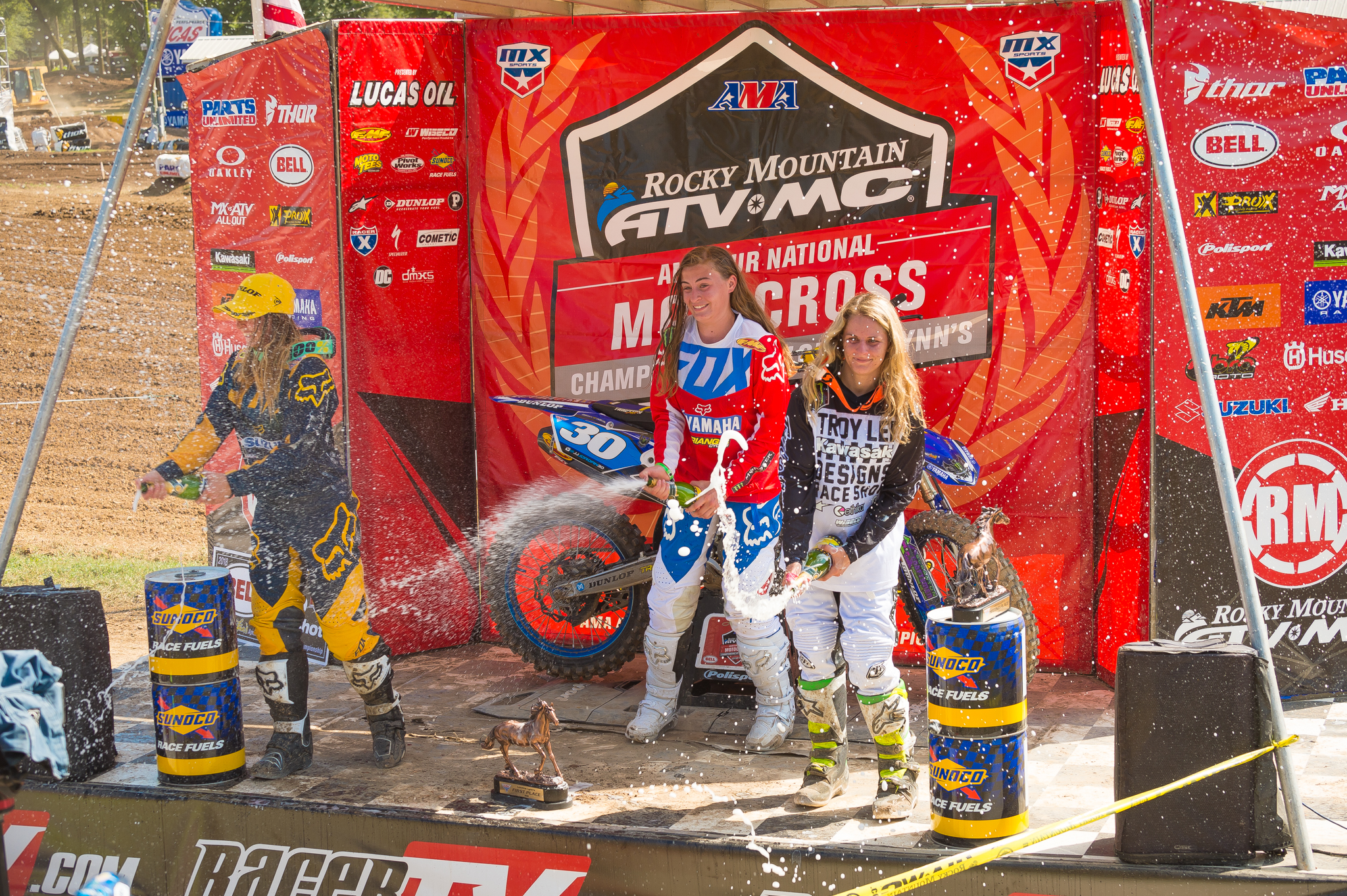 That's cool. Who knows how good you could be if you can start riding five days a week?
Who knows? That's a big "what-if."
You really haven't?
No. I get to train maybe twice a year. One week at a time. I train a week before here and then I get one week maybe for spring break.
Not even the whole summer?
No.
Why is that?
My mom works. My dad goes to New Jersey for work and the schedules don't really match up. The schedules don't work out sometimes. There's just no way for me to get to a track and ride every day.
I love hearing these stories, though, because it shows how good you can do with no excuses and still get it done, even if you don't have all the advantages of everyone else. But you'd like to.
Yeah, I'd definitely like to.
Anybody you want to thank in particular?
My mom and my dad, of course. They've done a lot to get me here over the years. This is my ninth year coming here. It's been a long journey for sure. Hopefully let's keep it going. Yamaha, Triangle Cycles, Fox, FMF, EBR Performance, Monster, Atlas, Dunlop, Scott, Pro Taper, Pro Moto Billet, Trash MX, Tamer, SOB, Cycra, Blood Performance, Blood Liquids, Rekluse, and everybody—I couldn't have done any of this without them.