Spring Creek MX Park
Millville

,

MN
Spring Creek (Millville)
Lucas Oil AMA Pro Motocross Championship
Justin Barcia | Monster Energy Yamaha | 5-5 for fifth overall
It was a difficult day. I had a tough time getting a good flow today. Qualified fourth, which was okay. I would have liked it to have been a little bit better, but it's okay. First moto, bad start. Charged through, got up to fifth. Second moto, bad start, charged up to fifth. Kinda sucks because I've been on the podium a lot lately. Frustrating. Still working on the bike. I'll be in California this week to do some testing before Washougal. We want to be a lot better than where we're at; everyone is dedicated to being better. But it wasn't our day. It's tough, but we're positive.
As far as the starts, is that just the way it happened today, or can you attribute it to something?
The first one, I wheelied a little bit and my legs kind of came loose. Second one, just didn't get a good jump and got pinched and had my work cut out for me. First moto I probably could have gotten a little bit farther, but I was struggling with line choice. I won't let it bother me too much and we'll move forward to next weekend. I've done good at Washougal in the past; I've gotten on the podium there and almost won some motos. Should be good.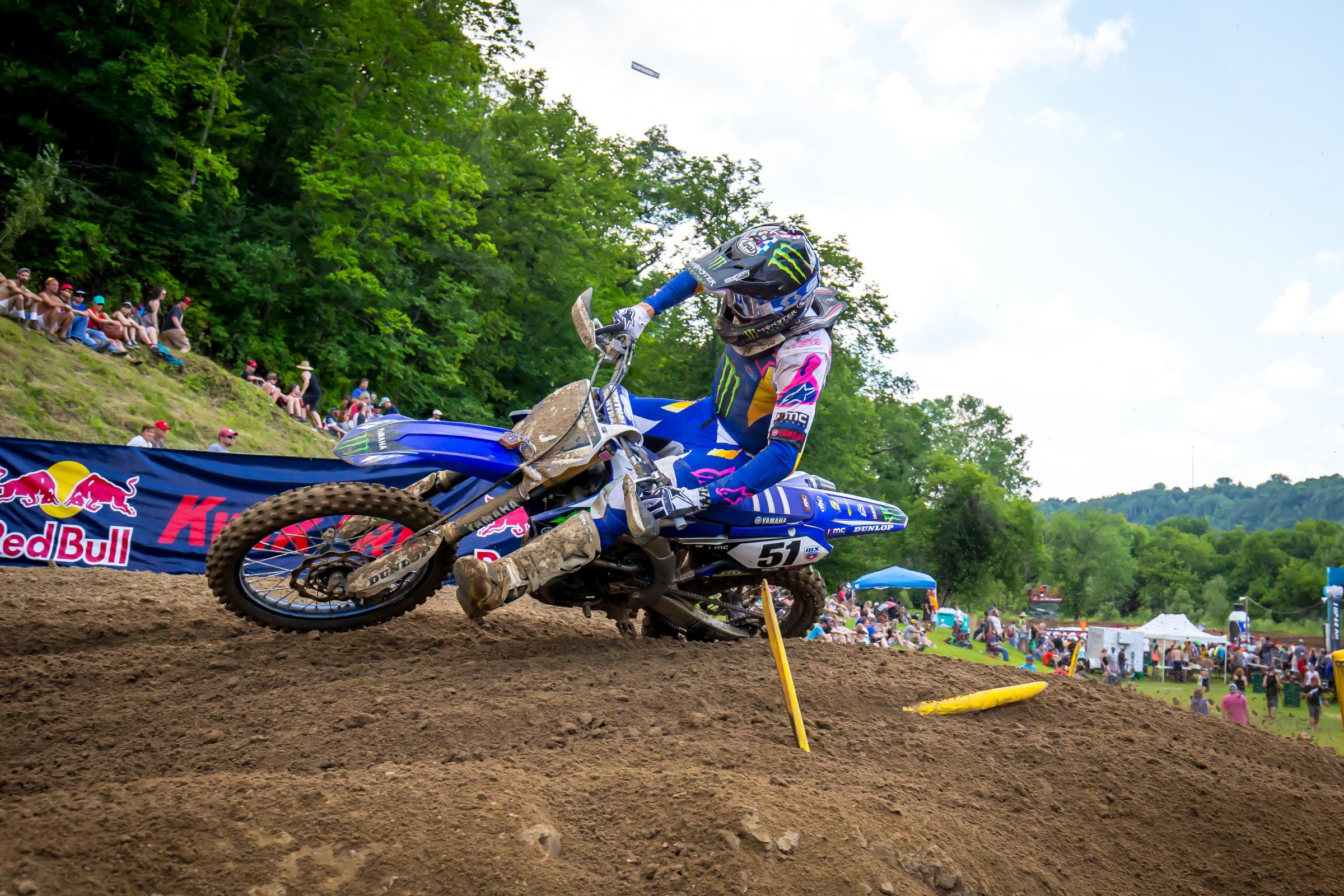 Does the right-handed first turn complicate the start at all for you guys?
Well, there's always little pileups there, so there's something there, probably. This was the most difficult Millville I've ever ridden. They didn't till it up as much, so it was like concrete-based. I wouldn't say it was one-lined because I made a lot of passes today, but there was only one really good line. It was hard to move around a lot. It was tough. They made some changes that were pretty cool, I thought, but I wish they would have tilled it up. I think they were planning for rain. We didn't get the deep loam and ruts we usually get here.
The fact that you're not pumped on the fifth speaks volumes to how well the season has gone for you as opposed to the last couple years.
Yeah, it's funny how things work. A year ago, I and all the people who were around me would have been stoked on a fifth. But now it's—we're not like, "We suck," but we want to win, we want podiums. But I can't complain. To salvage a 5-5 is nothing to write home about, but we did it. We'll look past it and move forward.
Weston Peick, Autotrader/Yoshimura Suzuki, 6-6 for sixth overall
Today was a lot better for me. I got to take a couple days off and get a break for my hand, which didn't really seem to help out because it still sucks. It's still falling asleep on me and getting all tingly. We got some good testing in last week in California and found a way better setting, and it showed today. I was a lot more consistent than I was the last two races. Happy with how the day went, a 6-6. But like I said, I'm struggling with my hand right now. I get about 15 minutes in and have to run that pace and back it off until the end and ride my own race and do what I can do.
It seemed like you stepped up the speed a little at the end of that one moto when Phil Nicoletti and Cooper Webb were coming up on you.
Yeah, I have a small reserve in me. If it's the last two or three laps and I know someone's coming, I can open it up and keep those guys off me. It's just hard for me to run that pace the whole last ten to 15 minutes. My hand just won't take it right now. Just have to pick my battles with riders.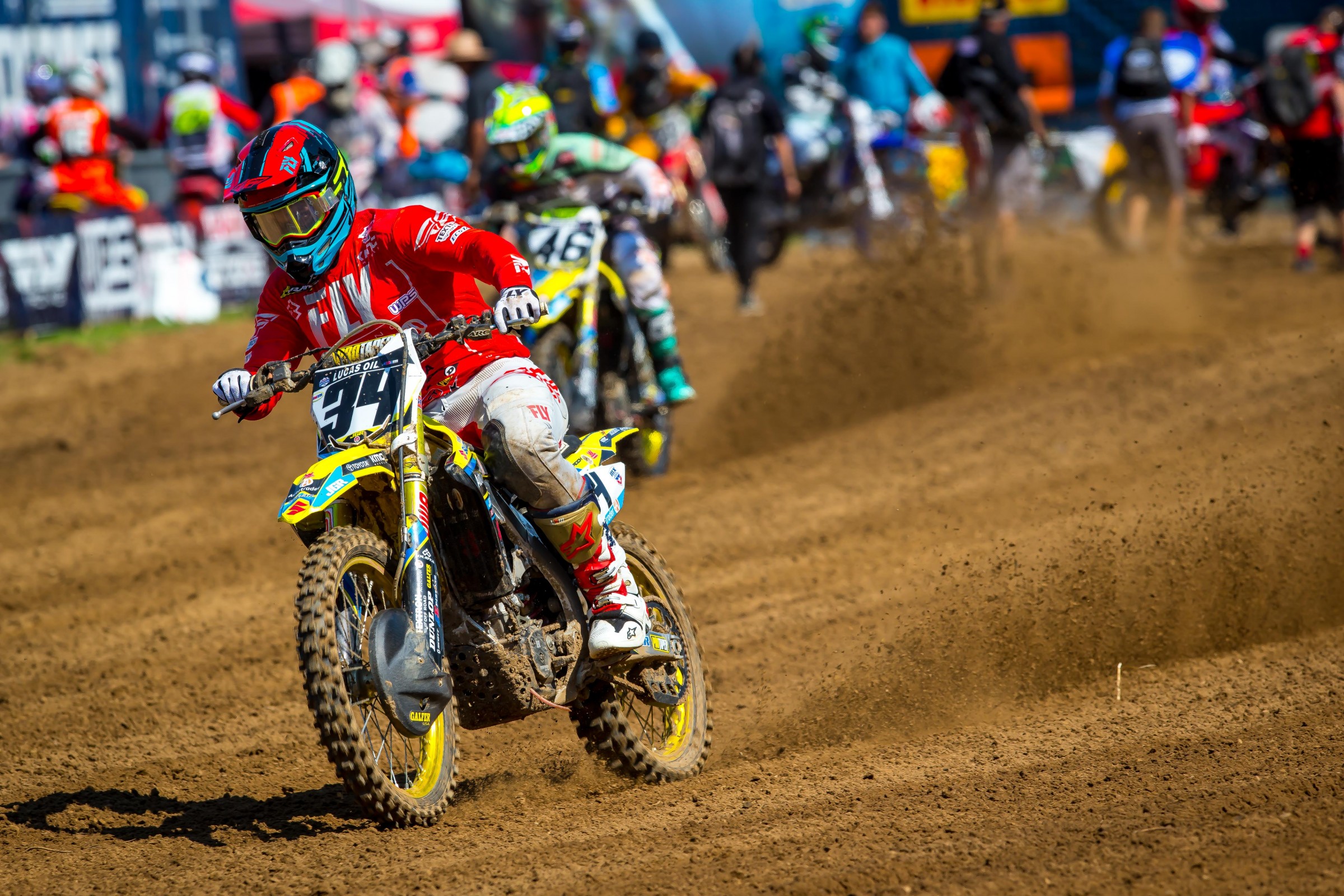 Is it the throttle hand or the clutch hand?
It's the throttle hand. I have two torn tendons in my ring finger and I have bad carpal tunnel swelling from that injury. My thumb, index finger, and ring finger all go numb and tingly about 15 minutes into the race.
This is all from that crash in supercross?
Yeah, this is all aftermath. I tore my tendons in my finger after I came back from my wrist injury because I came back too soon. I didn't have strength so I was holding on with my fingertips, which is how I tore my tendons. I had so much cortisone in my finger I didn't actually feel the tendons tearing. I just rode through it, but this year I really started feeling it. I'm not able to get any more cortisone since last year so I'm just dealing with the pain until I can get it fixed after the season.
I think there's a Weston Peick/Chuck Norris joke in there. Like, maybe you didn't feel your tendons tearing because they were too scared to send pain signals to your brain?
I'm sure there's something like that out there [chuckles].
Kyle Cunningham | H.E.P. Suzuki | 12-16 for 14th overall
Not a good weekend. I don't even know where I finished, I think I went 12-16 [for 14th] or something.
We talked about this during the week. I told you, just holeshot. We went over this!
I did the opposite! Started like 35th. Second moto my start wasn't bad, but the shock malfunctioned and the motor was about to grenade, so I was limping the bike around. Then I went into the turn before the finish and it just stalled out.
Is it tough to keep trying to develop the bike in the season? You don't have the benefit of a dedicated suspension or motor guy, those luxuries with you at the races.
It's definitely tough. We've been scrounging parts and using them to fix other things. I have a bike in the garage right now that's just a rolling chassis after Southwick [Cunningham blew a motor in Southwick]. My suspension testing is with Jim Lewis from Merge Racing during the week at home, so at the races, it's phone calls and trying to explain things. We hope we go the right way because he's not here to see what the bike is doing while I'm riding it, but we're doing our best.
We had a couple issues today in that second moto. I felt one of them and knew we should have made a change. We had a little bit of a bike malfunction again. It stalled with about eight minutes to go and I lost about 20 seconds and probably five positions. Tough weekend. Just bad starts again, and it was tough to pass. Rode the best I could, but we have to cut the mistakes out. The track was super gnarly today.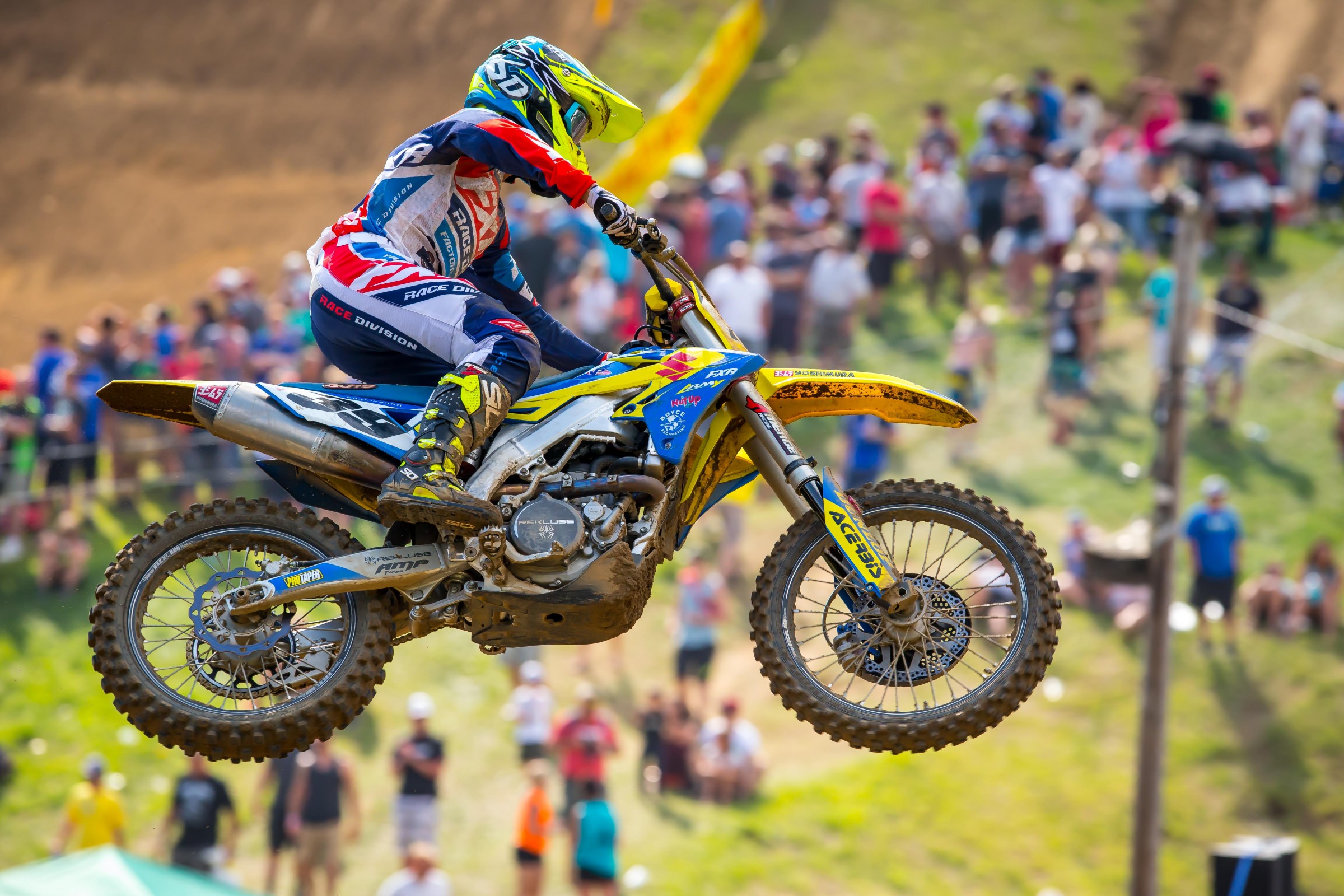 Yeah, lot of guys today were saying it wasn't typical Millville.
The downhills were rough, but the turns were really slick, which was odd. That made it tough. And we had a couple small issues today. The first one I felt at the end of the first moto and we second-guessed it. Two laps into the second moto, I knew something was wrong. Gotta get that fixed, but my dad [Cunningham's mechanic] is working his tail off and doing everything he can. Even though it was a bad weekend, we still scored points and we're leaving in one piece. We'll be ready to battle at Washougal.
Your equipment is on the JGR truck all week, so how do you diagnose and fix engine problems like that during the week?
I think after today we'll have to do another motor swap, which I didn't plan on, and that makes it tough. We've had some help from Snuffy Racing, who did the motor stuff for supercross. We had JGR overnight a motor to me we'd already pulled out.
I bet that wasn't expensive at all.
No, not at all. Only a few hundred bucks later. So we had that and used what we had to get the motors built back up and figured out how to get them to the races. My dad does a lot of work on Fridays at the races. Like next weekend, we'll fly in late on Thursday and have to do a motor swap Friday morning at the track. We're doing what we can, we're getting by, and he's doing a good job. We'll get back to the house this week, rush-order some parts we need to fix some things, and we'll get it all going again for Washougal. I've had some good races at the remaining rounds, so we've got a string of four rounds left I'm looking forward to. I'll put this one behind us and be better at the next four.