Millville, MN
Spring Creek (Millville)
Lucas Oil AMA Pro Motocross Championship
How does he do that? It's a question you'd expect to hear at a David Blaine show, or while watching a major league pitcher throw benders. But at the end of today it was the question that was on the lips of just about everyone in attendance here at the La Crescent Wine and Spirt Spring Creek National.
If you're a regular follower of this sport, you've probably already guessed who we're talking about. If not, it's Eli Tomac. No matter what stage of the moto he's in, Tomac frequently seems to have the uncanny ability to reach even deeper into his bag of seemingly endless speed when necessary, and that invaluable ability was on full display today in the second moto. After winning the first moto (and putting on a great battle with Ken Roczen), Tomac didn't get the best of starts in the second and found himself around eighth on the opening lap. He went to work and before long he was in third behind Roczen. Marvin Musquin was about five seconds ahead in the lead, and after finally getting around Roczen Tomac found himself with just under five minutes left on the clock to catch Musquin.
As the clock ticked down there was some question whether Tomac would have enough time to get the job done, but it soon became apparent that he was indeed reeling Musquin in pretty quickly. Then, just four seconds before the clock expired, Musquin crossed the finish line, extending the race an extra lap. Turns out Tomac didn't need it though—half a lap later he sliced his way around Musquin as the two were heading up Mt. Martin. From that point forward the race was essentially over, as Tomac started laying down laps that were mind bogglingly fast. He ended that lap an astounding four seconds faster than Musquin, was two seconds faster on the next lap, and bested him by three seconds on the final lap to notch a margin of victory of nearly seven seconds. That's incredible, especially considering just a few laps prior he was trailing Musquin by roughly five seconds. How does Tomac do that?! Nobody really knows, and that includes Tomac himself, who usually just shrugs his shoulders and says, "I'm just feeling really good on my motorcycle," when asked that very question.
Afterward he admitted he was fired up after losing the points lead two weeks ago at RedBud and was looking forward to racing today at Spring Creek.
"This was the site of our first 450 Class win in 2014, so I've had a pretty good past here. It's a track that's got pretty similar soil to my house in Colorado so I always feel comfortable here. Had plenty of motivation from RedBud too. You don't want to get too caught up in that stuff, but it definitely wasn't an easy pill to swallow to lose the lead like we did. I was fired up all day."
Not the day Marvin Musquin was hoping for. You know he didn't want to get beaten by Tomac, especially after leading almost the entire second moto, and at the very least you know he would've liked to have hung onto the points lead. To make matters worse, he even crashed in the first moto and gave up a spot to Blake Baggett. But despite his misfortune he tried to remain upbeat in the post-race press conference, although it was clear he wasn't pleased with how his day had gone.
"That track is really difficult. It was really rutted down the hill and I couldn't avoid a crash," Musquin said of his first moto. "I scared myself, going down I could have gotten hurt. But I got back up and couldn't get better than fourth place. I was glad to get back up and finish the race. I was motivated to do better in the second moto and that's what happened. The riding was a lot better, I was more consistent, and I was happy with that."
When asked what he needed to work on to help him get the points lead back, Musquin responded, "Nothing different. I just need to keep working hard and doing my thing like I have all year. It's been a great year and every track is different. I'm definitely looking forward to the rest of the championship, there are some good tracks. My starts have been pretty consistent, especially today, so I'm happy with that. I'm just going to focus on myself and keep charging."
Ken Roczen was back on the podium for the second race in a row, and although he probably wasn't thrilled about losing the lead to Tomac in the first moto after getting hung up by a lapper (Tomac probably would have gotten him anyway), he was happy with leading laps and logging a pair of strong motos to notch second overall via 2-3 moto scores. Roczen mentioned the long downhill section of Mt. Martin was pretty unforgiving on his wrist too, which makes it that much more impressive that he was able to hold Tomac off for so long in both motos.
No matter how well riders do, unless they're winning, they always want more. That was the case today with Blake Baggett and Justin Barcia. Baggett went 3-4 four fourth overall, which is pretty solid, but afterward he mentioned he really wished he could have gotten at least another third to end up on the podium. Barcia went 5-5 for fifth overall, and was noticeably unhappy about it. That's a testament to just how far he's come this season. In the last two years Barcia would have been pumped with a 5-5, which he admitted afterward, but in 2018, that result bums him out.
Taking sixth was Weston Peick, who's been riding all season with two torn tendons on his right ring finger and metal carpal problems in his hand. The injury causes Peick's hand to go numb about fifteen minutes in the moto, which he says forces him to settle into a pace and prevents him from pushing in the later stages. The damage stems from a prior wrist injury that required Peick to grip his bars differently, which resulted in him tearing his tendons. But because of the cortisone, which he needed for the wrist injury, he didn't know he was tearing them. We asked him if perhaps his tendons were too frightened of him to send pain signals to his brain and he just chuckled.
In the 250 ranks we knew what was going to happen before the first gate even dropped. Every time Aaron Plessinger has gone 1-1 this season he's followed it up with substandard rides at the next round. Well, he was perfect at RedBud, which means he was supposed to have an off day at Spring Creek, right? Nope, not even close. Plessinger was brilliant for the second race in a row, winning both motos by extremely comfortable margins. Over and over he used the steep downhill section of Mt. Martin to set up passes, something he later said was intentional; "I just sent it one time and still made the corner, so I kept doing it!" Plessinger explained. Plessinger went on to say how well he's been clicking with the bike lately, how happy he is the work he's putting in is paying off, and that "it's a dream come true."
There was a day when making the podium would have overjoyed Alex Martin, but those days are gone, especially on his home track. Martin is now a threat to win every weekend and is a championship contender, so when he loses points to Plessinger, it's not a good day.
"It was a big disappointment today, to be seventh in the first moto in front of the hometown crowd and have AP [Plessinger] win it," Martin said. "There's a big points deficit there. We made a tire change after practice and definitely regretted it in the first moto. We went back to the paddle tire in the second moto, ripped a holeshot, and everything was back to normal, other than AP blowing by me going down Mt. Martin. It's all good, the speed was there except for that one downhill. All I can do is ride to the best of my abilities and try to get in front of AP as much as I can and try to hold him up. Maybe try to block pass him [laughs]. All I can do is just try to bring my A-game each weekend."
Justin Cooper his having quite the rookie season. The Monster Energy/Yamalube/Star Racing/Yamaha was back on the podium (second overall) yet again at Spring Creek via 4-3 moto scores, which is impressive on its own. Throw in the fact that he's never ridden this track before and it's downright amazing.
"It's my first time here," Cooper said in the post-race press conference. "I like the East Coast better. I'm from the East Coast and it's very familiar to me. I enjoyed the day overall, but I was bummed I didn't really get to do the first practice—my bike kind of cut out on me. But I really enjoyed the track, I had fun.
While Plessinger was able to reverse his unenviable trend today, there were others who continued. First, Austin Forkner. He wasn't battling in, or for, the lead this time like at Southwick or RedBud, but after taking second in the first moto he was running fourth in the second moto when he jumped into the back of a lapper, went down, and was forced to briefly pull into the mechanic's area to have some radiator damage assessed. He was eighteenth in that moto and eighth overall. Joey Savatgy didn't escape the black cloud either. After ripping a holeshot in the first moto he made it about half a lap before the moto gods, who are apparently very angry with Savatgy, reached down and tipped him over in a corner. He got up quickly but had already lost about ten spots and could only muster tenth in the moto. He turned it around with a fourth in the second moto but it's got to be bittersweet considering there's a good chance he would have been on the podium if it weren't for that mistake in the first moto. When asked about the day, Monster Energy/Pro Circuit/Kawasaki team boss Mitch Payton simply replied, "We've got the speed."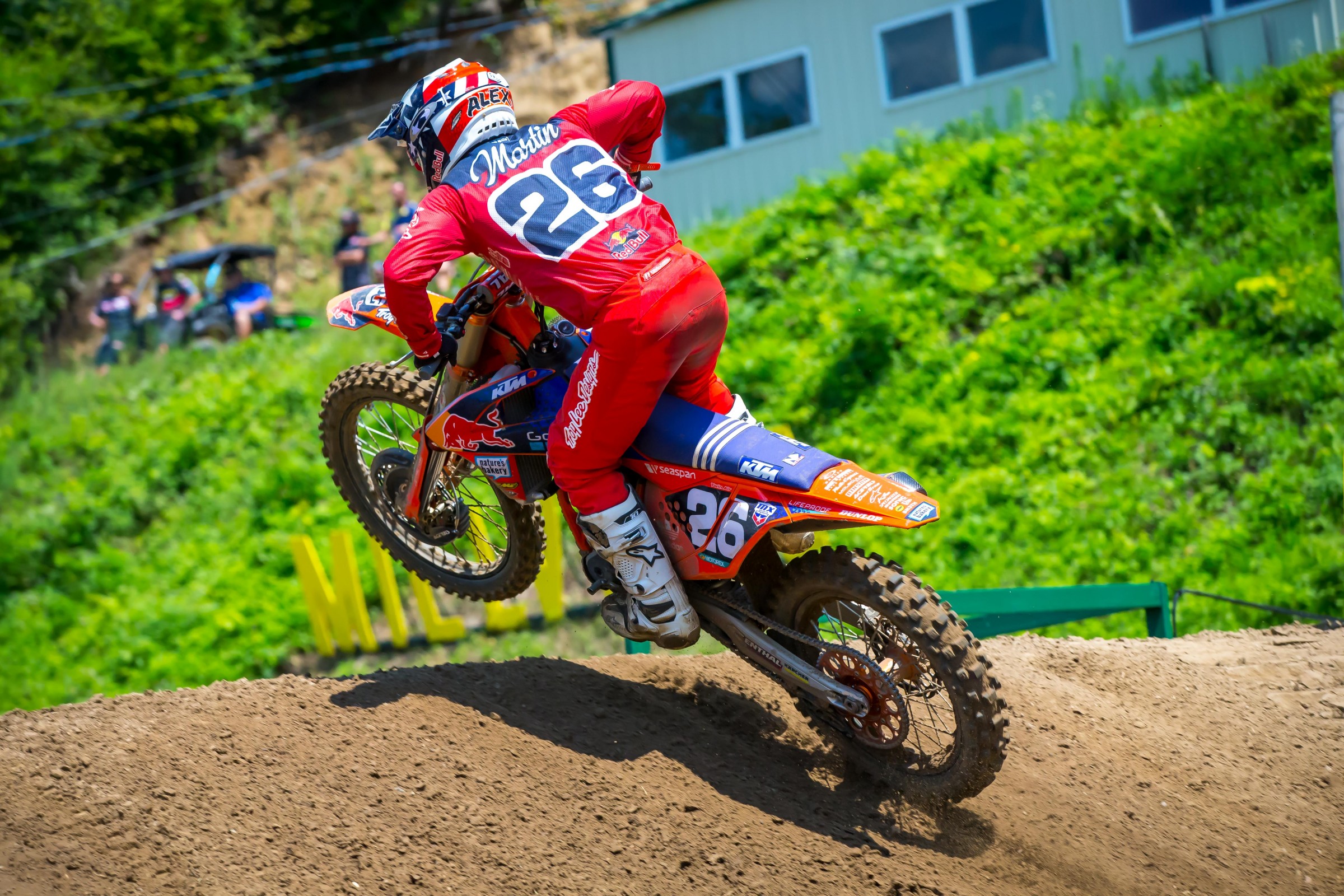 As long as we're talking about terrible luck we have to talk about Shane McElrath. The Troy Lee Designs Red Bull KTM rider had a good day going after a fifth-place first-moto result and was running fifth in the second when a bunch of spokes let go, ultimately resulting in his chain coming off and ending his day on the thirteenth lap. The team suspects the damage was sustained when McElrath tried to avoid the carnage that occurred when Forkner went down.