Buchanan, MI
RedBud
Lucas Oil AMA Pro Motocross Championship
REDDDDBUDDDDD! I can't believe it's already round seven of the Lucas Oil Pro Motocross Championship. This thing is, like, kind of getting down to the wire. No more "just getting into it" and "dealing with getting comfortable with my setup" and "lots of time left" stuff. We're down to the last ten motos of the year. As the great Tony Alessi once said on the PulpMX Show: "What the hell happened?"
Knowing the 2018 Motocross of Nations will be held at RedBud, it will be interesting to see what the folks at Youthstream will do with this historic facility. It's almost perfect now (second-best track in the series after Millville. Don't @ me bro) but we know the MXGP tracks like the massively unfair starts, so for MXoN the start will be moved over to where the pro pits are now, and the two-row pit lane structure to be over there also. What is the second turn now will become the first turn. I wonder if the the iconic LaRocco's Leap will stay? With 250s and 450s out there at the same time, there's potential for carnage when one guy jumps it and the other doesn't. Maybe they just shorten the whole thing. Also, I'm sure if the folks at YS ditch that black dirt straight and turn that was 20-feet deep, every rider will be happy because so many struggled with that over the weekend.
You just never know how racing is going to go, folks. Eli Tomac can tell you that after his weekend at RedBud. From a certain first moto win to a DNF-9 and lost red plate, racing can be a fickle deal. It's amazing more bikes don't break when you think of all the moving parts, the heat, the forces generated, the rotations per second, and all of that. When we see a factory machine go poof, it's a reminder of what can happen at almost any time but doesn't. Eli Tomac can't be blamed for thinking, "Here we go again…" but he's got to share in some of the blame-pie for losing the points lead.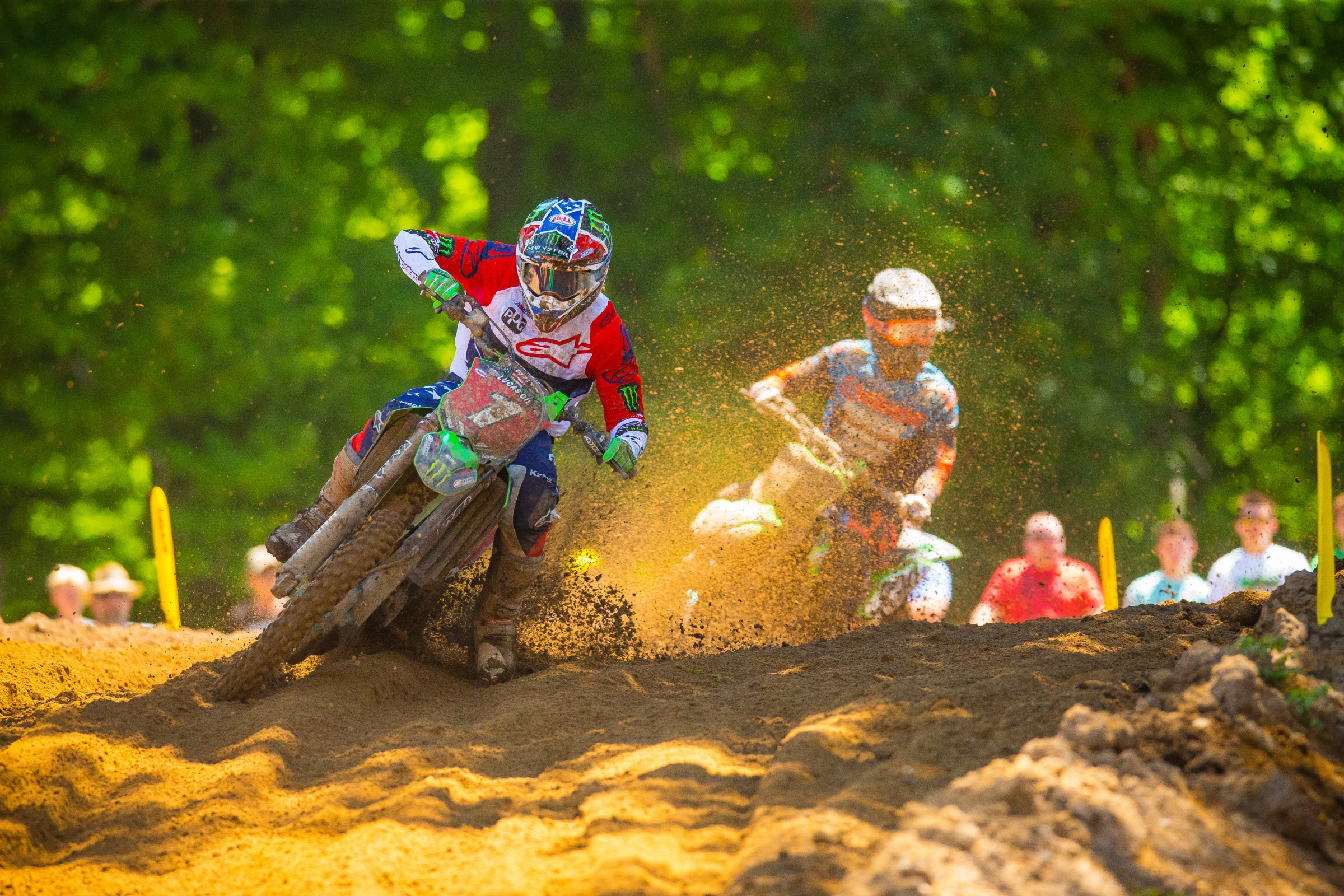 Yeah, he had to start from the outside in moto two, and yeah, he didn't get a great start (totally understandable), but he came around lap one in 18th, and with his talent, he should've been able to at least salvage a fourth (top three had a gap) or better. How do I know this? Because in moto one, Marvin Musquin was down in turn two, starting around 38th, then 20th on lap one, and he and got second! Justin Barcia was 22nd and got fourth! Tomac fell twice and had to stop in mechanics' area for a front brake adjustment and could only get up to ninth. I didn't ask him and I don't know for sure, but to me, he was probably a bit rattled by what had happened in moto one, and when you see things slipping away, you try harder and things usually go worse.
I've always said in front of anyone and everyone (including Eli himself) that he should be going for his fourth championship in four years. He's that good. When he's on, he's better than anyone else (keeping in mind Roczen got hurt; peak Kenny and peak Eli are pretty damn close) but things like this seem to happen. And here we are again. These things are not all Eli's fault, people (remember the brake problem in Dallas in 2017 and Glen Helen last year, and then the mechanical problem at RedBud this weekend), but it's happened and we've got ourselves a series. I live in Vegas, so I can use the cliché "If I was in Vegas…" and I would still bet heavily on Tomac winning this 450 title. Speed don't lie, bro.
Musquin put in that great first-moto ride to grab second, and second moto, he was also putting in work to get to the front and lead every lap on his way to the overall. The second moto battle with Ken Roczen and Justin Barcia was, at times, getting pretty good. Then some lappers would help or hurt someone and the three riders would be yo-yo-ing back and forth. Great stuff out there, and Marv's won the last two nationals here in impressive fashion.
I don't want to hear about Musquin and his "cross-jump" of Roczen on the opening lap of moto two. I know Marv's got a reputation for doing this, and sometimes he does do it. But so do a lot of other guys who don't get bagged on like Marv does. In this situation, it wasn't on purpose. Marv got traction when he wasn't expecting it and he shot left. I completely understand Roczen being upset about it at the time or after the race before he watches video of it—it could've been bad—but Musquin did not mean to do that. Like a Vince Friese collision, you have to take every incident in a vacuum and judge them independently.
Cooper Webb is a very good dirt bike rider, I think we can all admit that. That's why Marv's pass on him in the first moto after the Leap where he just blew by the outside of him doing Mach 4 was impressive. Like, Webb probably didn't even know what was coming and the object in his rearview mirror was gone before he could even figure out where to go. It was just, see ya!
Speaking of Roczen, we've chronicled his semi-struggles since switching to KYB suspension and wondered why he would do that. I mean, clearly he didn't go, "You know what, this KYB stuff feels WORSE than my Showa stuff but I'm going to go with it anyway!" There had to have been some comfort there with KYB. But he hasn't been the Kenny we saw at Thunder Valley since the switch… until this weekend. Roczen won his first race in almost two years in the first moto, and damn, I bet that felt great. It was the first factory Honda win outdoors since Trey Canard in 2014. Yeah, you read that right.
In regard to the changes to the bike, Roczen told me, "We've just been kind of searching a little bit. There was just something missing. We made a pretty drastic change this week and definitely got some stability back. That's why those guys are coming out this week, too, because I feel like now we got a solid base." According to the suspension spies in the pits I spoke to, it looks like Roczen went to a different upper fork cap on his KYBs that indicates a different internal dampening system, or, as I was told, "more old-school production stuff." Whatever the change was, it worked. Roczen won a moto. Yay for him and Honda.
The Aaron Plessinger showed up this weekend. Not the guy that's just been so-so this year at four races. No, this guy was the bad-ass Aaron Plessinger who went 1-1-1-1 at Glen Helen and High Point. This Aaron Plessinger dominated RedBud, led almost every lap of every moto, and grabbed one holeshot. This Aaron Plessinger was amazing. He's one of the heavier riders in the class, yet he jumped LaRocco's Leap pretty much every lap. This Aaron Plessinger never got rattled when Austin Forkner passed him momentarily in the first moto. If this Aaron Plessinger keeps showing up, this title is over.
Plessinger's season is weird. As I mentioned, he has six moto wins (three national sweeps) to build a 35-point lead on Alex Martin, but there's also 3-4 (good), 6-4 (okay), 9-5 (no good), and 3-7 (eh) finishes in there. To me, and I've said this for years, Plessinger has special talent that not many other racers have, and maybe he's finally figuring it out here.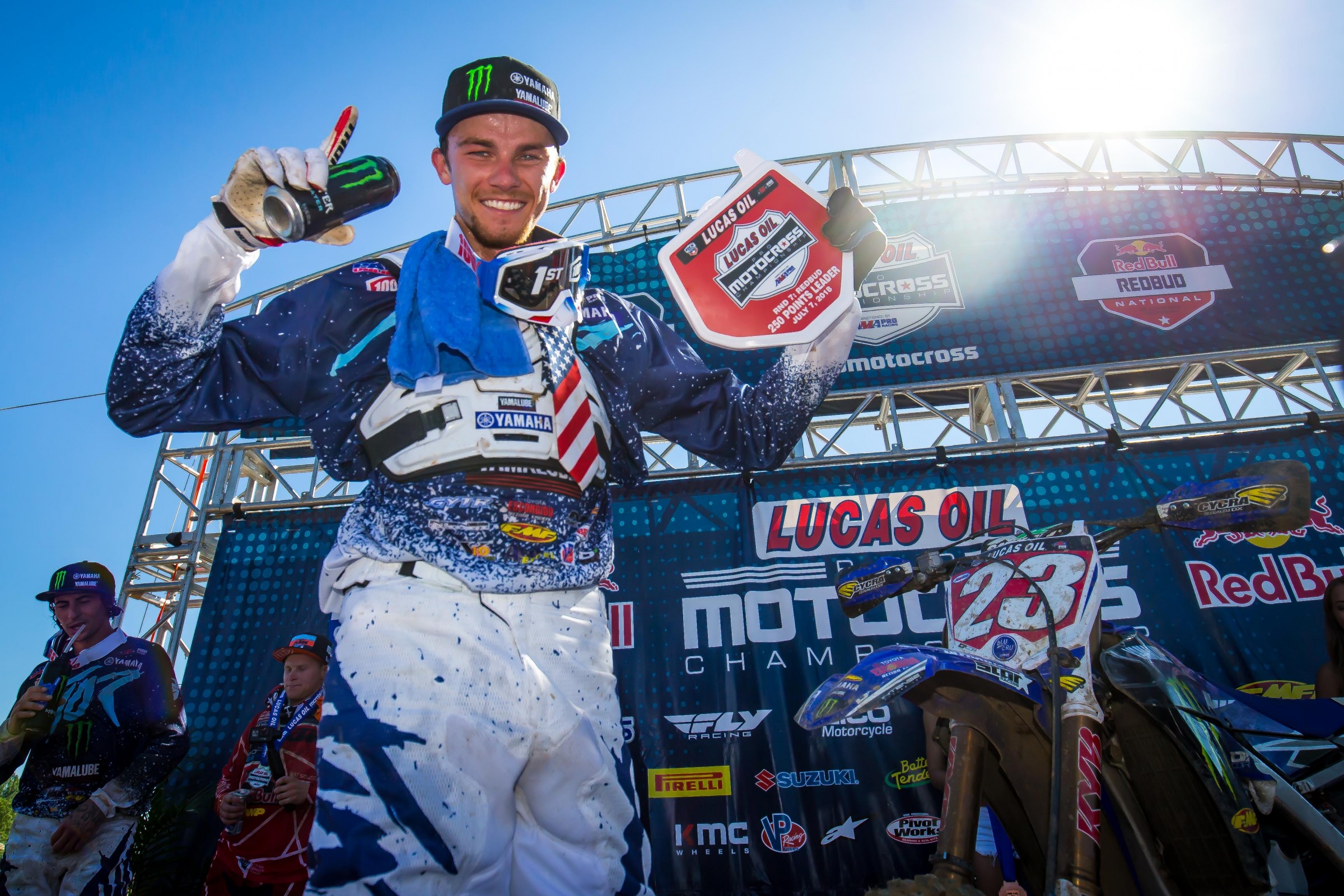 The Forkner/Plessinger collision in the first moto was clearly an incident that only the Forkner fanboys could be upset about. Forkner himself played it down, telling me, "I left the door open a little bit in the first moto. I went outside, and even at the apex of the turn, I kind of glanced down and I was like, all right, he's not going to get there. Then just, bam. My front tire hit his back tire and it got sucked up and just basically looped it." He's right. I'm not sure passing someone and then going to the far outside soon after is a good move, and it's not like he didn't see Aaron taking the inside because he did it just about every lap. So calm down, everyone, Forkner made a mistake there and paid for it. He wasn't even mad at Aaron!
Speaking of Forkner, I think it's time to have a conversation about the Pro Circuit team this year. It's not going well. It's like that drunk uncle at Thanksgiving who you want to ignore, but at some point he's going to start telling off-color jokes and you have to deal with him. I think we're at that point now with PC Kawasaki. Forkner's year, while filled with flashes of speed, hasn't been as good as expected. He's had three DNFs due to crashes. Garrett Marchbanks was good to start MX, then got hurt, came back this weekend, and got hurt again in the second moto. And Joey Savatgy, well, he took over second when Forkner crashed in moto one, but then he crashed, again. And his bike wouldn't start. And that's how you go from second to 17th. Joey's year couldn't go any worse if he tried. He's working with the great Johnny O'Mara this year, and when he went down, I made a comment to O'Show about how when it rains, it pours, and he agreed and seemed as frustrated as ever at what's been going on here with the #17.
I know Savatgy now has a 450 ride with Monster Energy Kawasaki lined up for next year, but he's not a guy, I don't think, to just be sitting there not caring about how shitty his 2018 has gone. Nope, I think this is probably weighing on him a lot. After the race I saw Joey and Mitch Payton in what looked to be a deep conversation on the truck steps. With some heavy-hitters out with injury, this class screams for consistency, and Savatgy used to be consistent. But he's struggling, Forkner is also a bit, and Marchbanks, while good, has been hurt. Adam Cianciarulo is also out with injury. I said this before and I'll say it again—just like Justin Bogle got a boost from going to RC's Farm last year and Jeremy Martin got a boost from going to the Tomac house, maybe it's time for Savatgy to change things up to try and get a new groove going. Change of scenery, man. Bogle going from Oklahoma to RC's really helped, so it's not like they don't know what they're doing down there. Change is good sometimes, though.
Speaking of frustration, Blake Baggett has been front-row on the struggle bus for a few weeks this year—maybe the whole MX season, actually. The team did some testing on the bike this past week and everyone seemed happier. Baggett was—stop me if you heard this before—very fast at RedBud, but couldn't pull it together for two finishes that he would be happy with. He qualified fastest at RedBud and FINALLY grabbed a start and the lead in moto one. But when it's not your year, it's not your year. The motocross gods have deemed it not Blake Baggett's year, so of course he cartwheeled near the end of lap one. Oh, what could have been. I was really looking forward to seeing what he was going to do with a clear track, with Eli right behind him. He got up and rode great to a steady fifth in moto two, but his whole day was ruined as soon as his KTM started going end over end on lap one of moto one.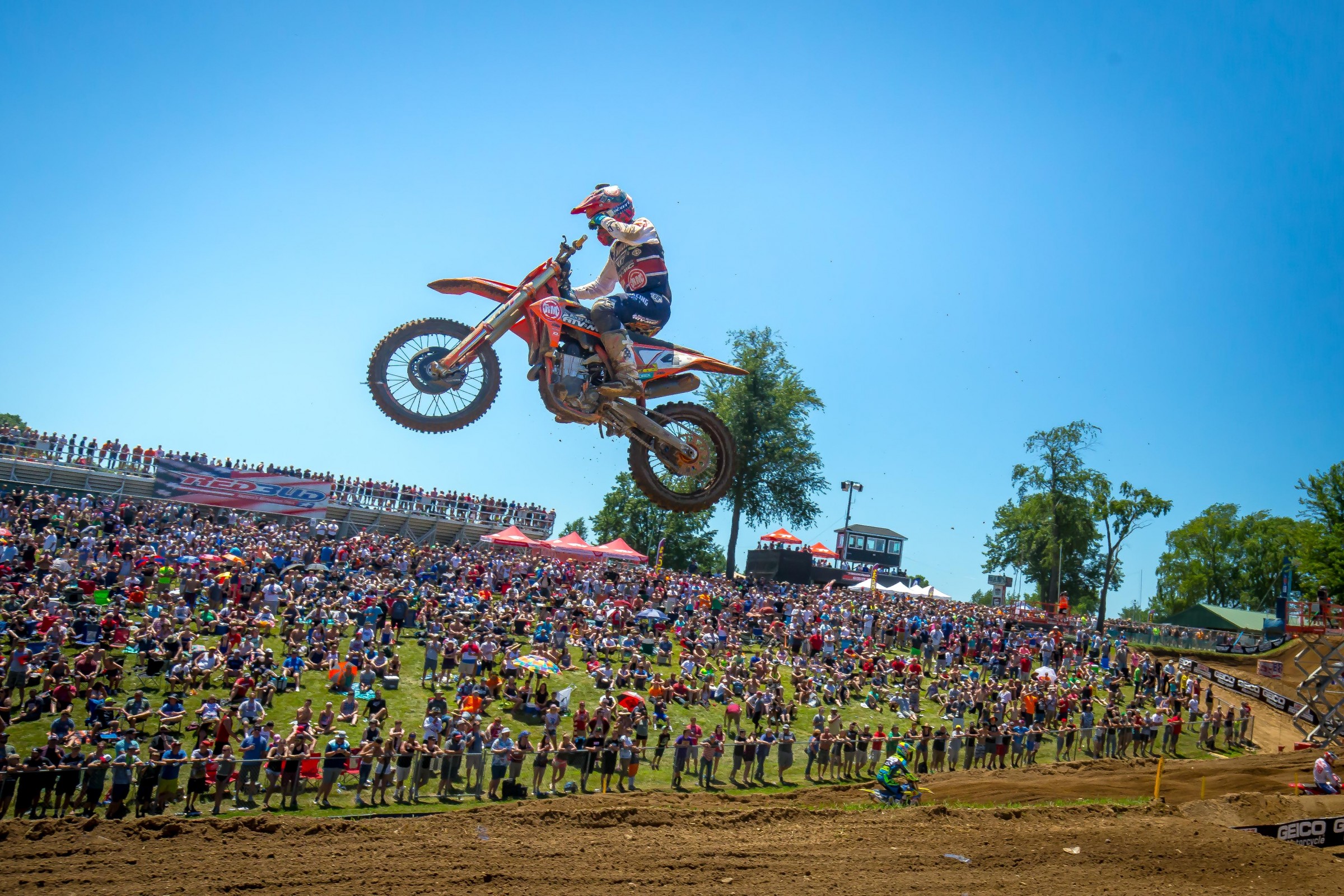 I was talking to a technical guy at an OEM about the dreaded "bike setup" we hear so much, and most of you know my feelings on it. The bike is maybe 10 percent of the equation, and at the factory level, with so many smart dudes standing around, it's probably even less. A great rider who's determined can ride through a bit that doesn't quite work awesome. That's how I feel. For example, the bike that Justin Barcia beat Ryan Dungey straight-up on at JGR in 2015 was all of a sudden an issue, and sorry, I won't be having any of that. Anyway, I was talking to this guy about helping out riders and adjusting things, and one theory I have and saw many times on teams I was on was that everyone on the team wants to help the rider out so bad, and the rider, even if he was the fastest guy on the track, will take the help. Everyone means well, but in the end changing things on bikes constantly just leads, in my opinion, to a dead end. Sometimes, most times, it's on the rider to figure it out.
This guy was telling me that on their team, sometimes they just tell the rider, "Bike is good, we're not changing anything." It's not that harsh, but when the rider gives some feedback, the team looks at the options, looks at data, and determines if that's something they think will work. Sometimes it doesn't, and the team explains that to a rider. In this sport, the tail wags the dogs in many cases, so I was surprised to hear of a team overruling a rider, but this guy was saying that it works well, the riders accept the reasoning, and life goes on. I firmly believe that many people on teams want to get some currency with riders, so they will change things when many times—again, this is all my opinion—the rider just needs to ride better or different, and the bike is as good as it will get. The perfect dirt bike setup is not only elusive, it's unattainable.
Other news and notes
Benny Bloss scored a career-best third place in the first 450 moto, and that's awesome for him. He rode very well to get into that spot, and although the second moto didn't go as well due to a crash, he was following his teammate Blake Baggett through the pack and into the top ten before the spill. Benny has a deal with Max at Fly Racing where different spots are worth different Fly Racing hard parts for his pit bike. So far this year, Benny's gotten a battery, tires, and he's negotiating for his RedBud finish. Hopefully it's a tall seat….
I didn't see it, but a fan tweeted to me that he got to see "Filthy" Phil Nicoletti give another rider a throat-slit gesture in practice. He seemed very stoked to witness this act in the wild, and there are a few guys out there that can say they got it as well. Speaking of Phil, a fifth overall was a great result, and let me just point out he beat all the JGR Suzuki guys. #sorrynotsorry


Speaking of JGR, Justin Hill was great and continues to impress here and there. Peick's riding out the string here and needs hand surgery, so I don't hold his results against him, and Justin Bogle, well, the less said the better in his second race back from injury. I have a lot of respect for Bogle's skills and work ethic and am surprised he's not higher up, even though he just got back. Speaking to Jeremy Albrecht, manager for JGR, he told me he's glad Phil's off the team so he doesn't have to keep talking about Phil to fans and media all the time. Don't get me wrong, he loves Phil and they're friends, but with Phil being Phil, fans always wanted to know what races he was going to do with the team and it was wearing on Jeremy. I think I can take some "credit" for that, yeah?


I saw more scoop-type sand tires for practice at RedBud than I've seen before. And I checked with the Dunlop guys to back me up and they said it was really only in the 250 Class. Outside of Bloss, no 450 ran the scoop tire, and he only did for one moto. I think Zach Osborne would like some credit for running the scoop in both motos last year and winning the race.


Chase Sexton again had a moto that no one will notice much, but he came from dead last to 11th in the first moto in what looked like a lot of work. Again, nobody noticed, but that's hard work.
Dylan Ferrandis was, again, fast this weekend on his way to a third overall. His starts have been poop and he doesn't get going fast soon enough, but late in the races, he's one of the best guys out there. I tried to have him on the PulpMX Show this past Monday but he couldn't come on; he was getting new teeth put in from his Atlanta SX crash. Yikes.


Justin Cooper somehow went 8-7 for fifth overall. That's living right.


Everyone's favorite privateer islander Alex Ray was back at the races and back on the island as well. Those factory Yamaha days are gone, bro. Good to see Yamaha helping him out, and he does have some good suspension on his bike, but A-Ray didn't make the fastest 36 in qualifying (really?) and then had to blitz the last lap of the LCQ to make it into the motos on the last lap. First moto, he crashed and had to eat dirt the entire time. Second moto, his bike wouldn't start after the parade lap. After the second moto, he and I were walking back from the moto and, poor Alex, he was depressed. Life on the island sucks, everyone. That free stuff from Yamaha probably seems like a long time ago…


Kyle Cunningham had his best race of the year with a strong eighth overall and is now tenth in the points. I'm not sure if you people knew that or not, but it's for real. Cunningham gets his bike hauled to the races with Autotrader/Yoshimura Suzuki but otherwise is as privateer as it gets. He basically gets a parking spot and that's it. Last week, he told me what his deal was: "The program right now, I don't know if a lot of people know it, but H.E.P. kind of gave me the bikes and the parts with a little help from Suzuki. Then J-Bone and these guys [JGR] are nice enough to haul my stuff around. But after that, it's kind of on me."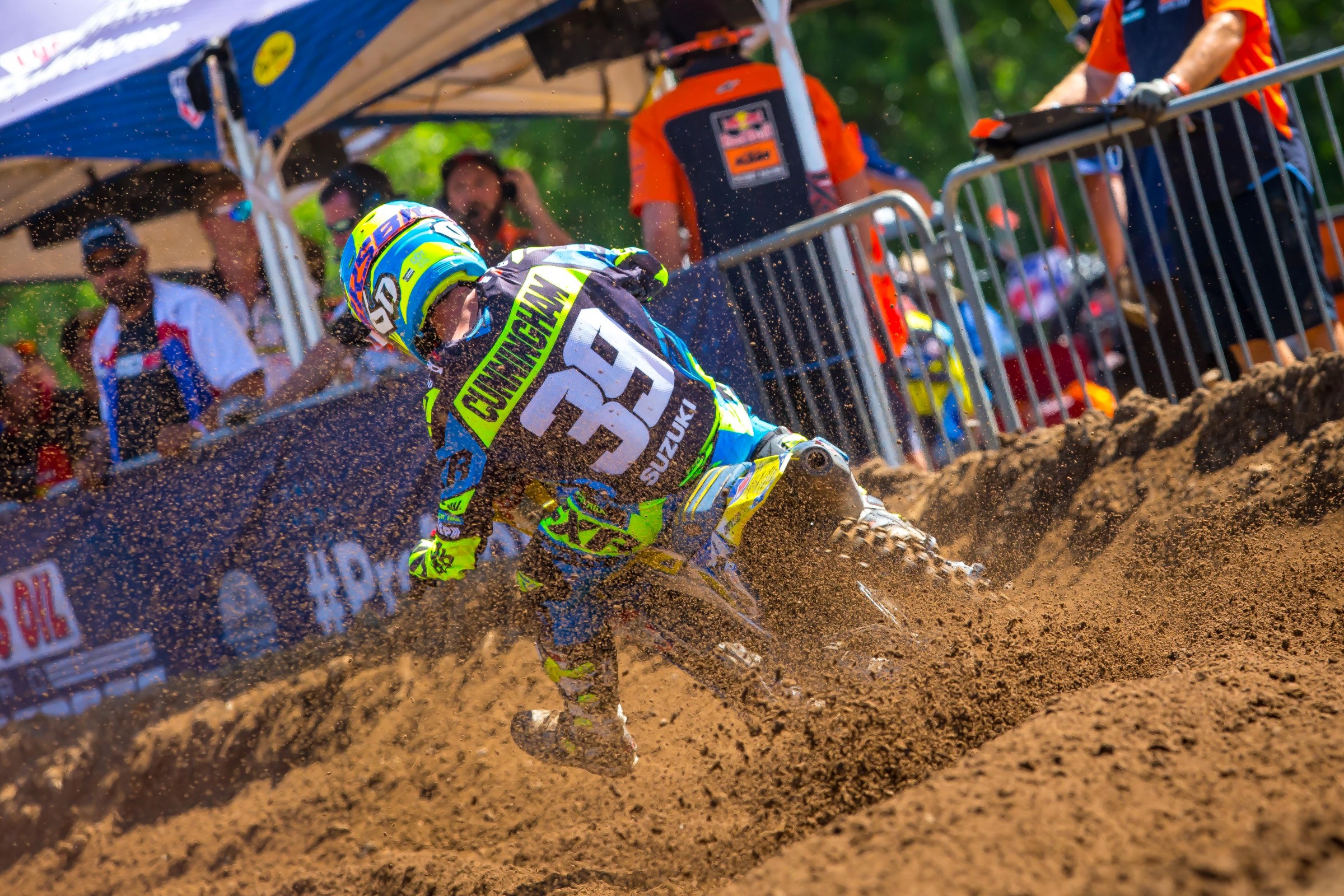 We had a British invasion at RedBud! Jake Nicholls came over to see what he can do on Canadian Colton Facciotti's practice bike. The GDR team up in Toronto lent Jakey a truck and bike and whatever else he needed to try his hand here. And with 9-13 scores, I'd say he did pretty well. After years of racing MXGP, Nicholls took a step back, got a job with the family, and just races the British Championship, which he currently leads. Nicholls came over for a Canadian National earlier this year and got third overall. He was in the mix for top tens all day long at RedBud and rode well. Afterward he seemed happy and hopes that his trip opens the eyes for the Great Britain MXoN team which he badly wants to ride for, and to me, it comes down to Tommy Searle or Jake. I hope Jake read my column last week over on MXVice.com about some tips to help him acclimate to Lucas Oil Pro Motocross.


And finally, Alex Martin and I had a bit of a discussion before the press conference about why he didn't jump the LaRocco's Leap until late in the second moto. He told me it was about halfway before he jumped it while it seemed later than that to me. It didn't cost him the race by any means, but guys around him were jumping it all day. He did have a sweet line where he would double it, then scrub, kick his rear wheel to the right, land on a bank, and accelerate toward the turn. BUT… jumping the leap was still faster. Anyway, I asked him a question in the press conference with my tongue firmly planted in my cheek, he answered with his the same way, but a bunch of people on the internet thought he "told off" the press. Welcome to 2018, I guess.
Alex is one of the best guys in the pits and I could talk to him about racing any day. He's a rad dude and the exchange in the press conference was (obviously, I thought) a joke. By the way, this came up on the PulpMX Show the other day. With Plessinger's mechanic Billy Hartel having great success, Martin right there, Nathan Alexander killing it wrenching for Blake Baggett, and Filthy Phil getting fifth overall, it's important to note they all started here, and bravo to those dudes.
Thanks for reading, everyone. Good times at The 'Bud! Email me at matthes@racerxonline.com if you want to chat about the race or anything else, really. I appreciate you reading these—even you, Weege. [Editor's note: Only because my job requires it. —Weege]