Southwick, MA
Southwick
Lucas Oil AMA Pro Motocross Championship
By The Numbers
18
Years since Frenchmen swept both classes in Lucas Oil Pro Motocross. Dylan Ferrandis (250) and Marvin Musquin (450) won the overalls Saturday at Southwick. On July 2, 2000, Frenchmen Stephane Roncada (125) and Sebastien Tortelli (250) won the overalls at the RedBud National.
19
Laps led in the 250 Class by Austin Forkner, who failed to finish on the overall podium after Alex Martin ran it in on him late in the second 250 moto. He went down and finished 20th on the day. (Martin led 19 laps last weekend at Muddy Creek, but also failed to finish on the podium after crashes in both motos.)
3
Moto podiums in six 250 motos for Dylan Ferrandis since returning from injury at High Point. That number includes two moto wins.
August 27, 2016
Date of last 250 moto win prior to Saturday for Austin Forkner. As a rookie, Forkner won the first moto at the 2016 season finale at Ironman.
3-3, 4-4, 5-5, 6-6, 7-7
Identical moto finishes for Justin Barcia, Blake Baggett, Ken Roczen, Benny Bloss, and Lorenzo Locurcio in the 450 Class at Southwick.
10th
Finishing position in the second 250 moto for Rockstar Energy Husqvarna rookie Jordan Bailey. It was his first career moto top-ten finish.
6th
Finishing position in the second 250 moto for Rockstar Energy Husqvarna's Mitchell Harrison. It was the first top-ten moto finish for Harrison since his return from injury at High Point.
5th
Qualifying position for local Robby Marshall in the 450 Class at Southwick. No longer a full-time racer, Marshall went 20-26 for 27th overall.
13
Riders in the 250 Class who listed either Massachusetts, Connecticut, Rhode Island, New York, New Jersey, or New Hampshire as their home state.
10
Riders in the 450 Class who listed either Massachusetts, Connecticut, New York, New Jersey, Delaware, or New Hampshire as their home state.
Quotes from Around the Paddock
Ken Roczen | 5-5 for fifth overall in 450 Class
"It was a little bit of a struggle. We made some changes to the bike to help me out a little bit, but you don't want to make too many changes on race day. It's still a learning curve after so much time off the bike. I'm trying everything at home to get back, but I feel like race shape is just going to take a little time. Today was brutal—super-hot, and the track was pretty beat—plus I haven't been here in a couple years. I fought it out, and I'm just going to continue working with the team and working on myself to get better. I'm healthy and got good starts again, so I'm pretty happy from that side. I've been going quite hard throughout the week, trying to put in more and more work, but I think sometimes it's good to take it a notch down and fully recover. RedBud could be another hot one, so we'll recover and hopefully have a good race next weekend."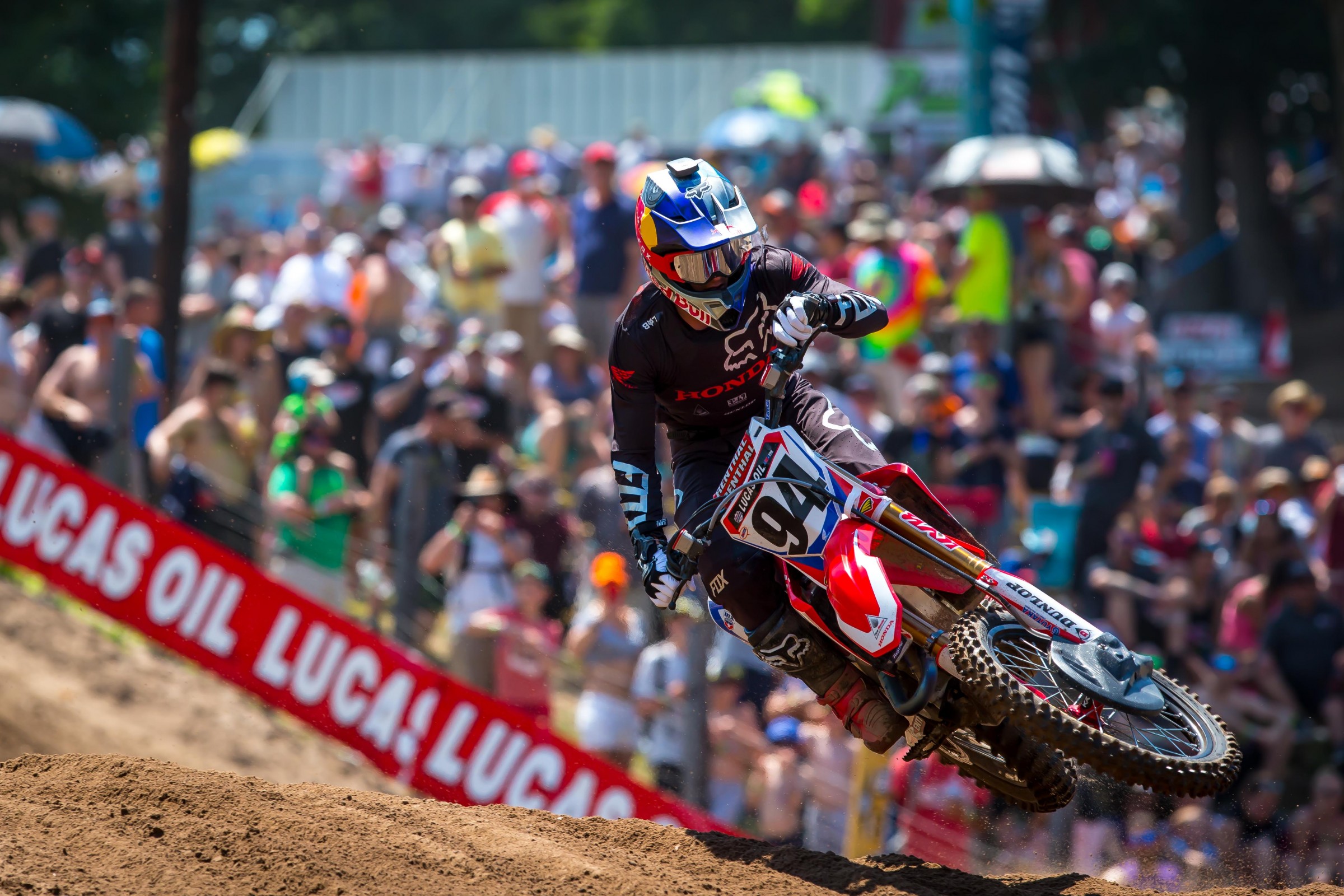 Phil Nicoletti | 10-8 for ninth overall in 450 Class
"Southwick was good. I rode really well but I went down twice, and it took a little wind out of my sails. It was brutally hot today. I think everyone struggled a bit. I'm still making progress and I'm feeling better. I'm going to keep working to get ready for RedBud next week."
Weston Peick | 9-11 for tenth overall in 450 Class
"Southwick was tough. I got off to a rough start. On Friday, I crashed hard during press day and hurt my shoulder. I was going into Saturday banged-up. In the first practice, we made some changes in order to find a good setup for the sand. We went one direction, but I struggled with it in the first moto. I got tangled in the first turn but made some passes and settled into a groove. We made some suspension changes for the second moto, and that was better. I went down in the first turn and came through the pack pretty quickly, but then I collided with a rider while passing for tenth. I had to dig deep, and I came back to 11th. Overall, it was a bad weekend, but I played it safe and salvaged some points."
RJ Hampshire | 7-3 for fourth overall in 250 Class
"Really tough week on my body. First practice we were decent, and then second practice, I couldn't even hold on to the handlebars. I think I was outside the top 20! First moto, I got a decent start and was able to stay with the front pack for a few laps and then went down. Never really got going again and ended up seventh. Our plan going into that second moto was to just get a good start and not worry about going fast, but just clicking off laps. I ended up holeshotting but got passed right away. By no means was I close to going the fastest, but I was just clicking them off like we had planned. Third in the second moto for a fourth overall is a pretty big step, considering my week. The team and I will continue to make progress."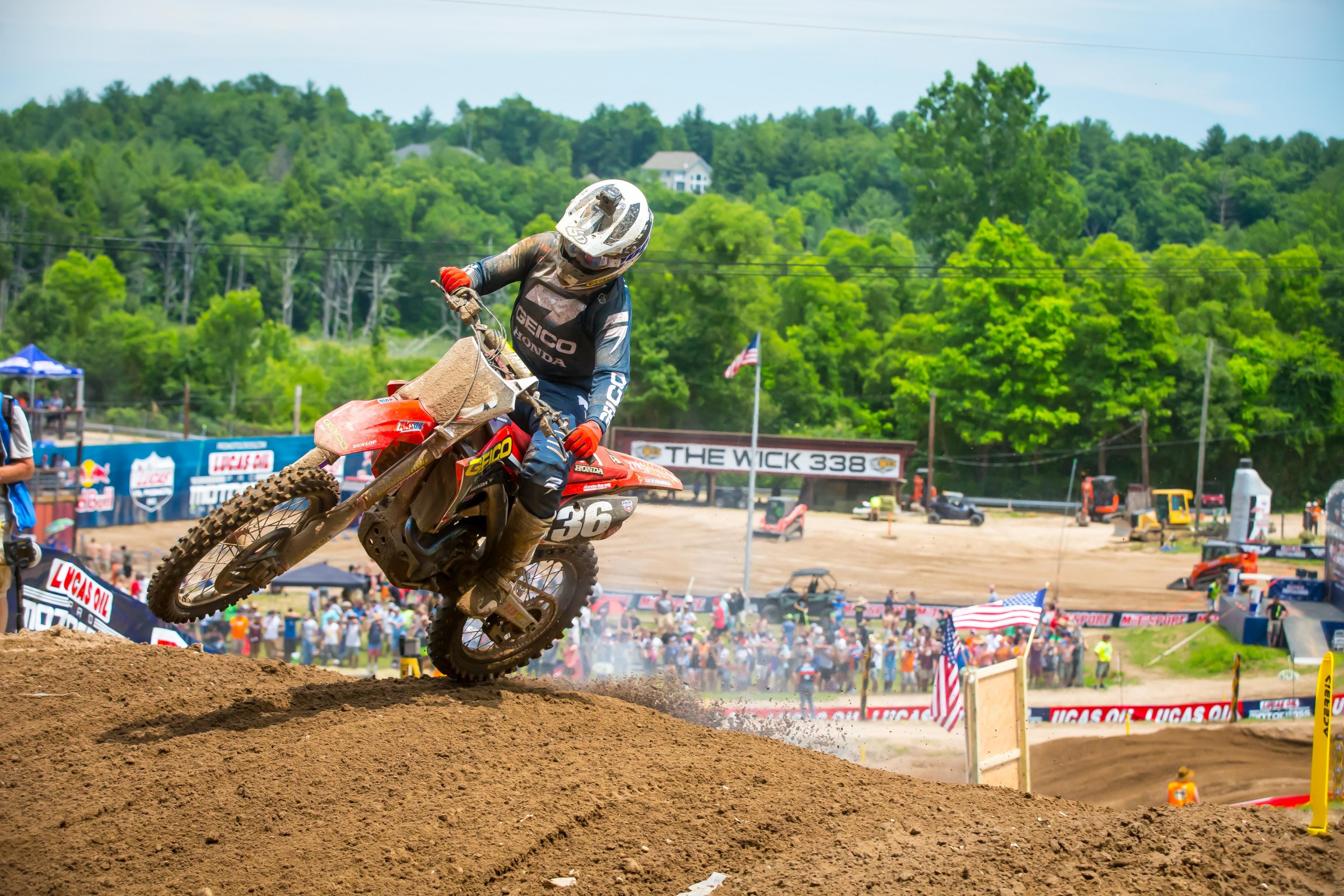 Austin Forkner | 1-20 for seventh overall in 250 Class
"I'm happy with the way I'm riding, and I really expected to at least be on the podium today. We've put in a lot of work, particularly for Southwick, and I couldn't have been more prepared for the sand. It's disappointing for things to end the way they did because I was doing everything I could to run clean and just put two solid motos together. We had a really good shot at the win, so it's hard to swallow having that taken away from us like that."
Jimmy Decotis | 20-35 for 21st overall in 250 Class
"Thanks to all my New England peeps for cheering me on yesterday. My bike was on point, track was sick. I just sucked it up heavily in that first moto and somehow ripped my radiator hose off on my second-moto start crash. These guys [JGR] work so hard to give us the best possible equipment. I just didn't do my job yesterday, and that's on me."
Welcome Back
Cooper Webb
Although not quite 100 percent yet, Cooper Webb decided to race his way back into shape in his return from a leg injury sustained at Minneapolis Supercross. In his first race back since April, Webb went 8-9 for eighth overall in the 450 Class.
"Southwick was a really tough one to come back to, that's for sure," he said in a team statement. "It was a really hot day and probably the roughest I've ever raced Southwick, but it was really good to be back at the races with the fans and the team. I'm still building and still trying to get my fitness up, and I think that's where I'm at right now. I was happy with that—I went 8-9 for eighth overall and was able to get a top-ten. It's not where I want to be, but at the same time, I haven't raced for a long time and my preparation hasn't been the best yet since I've been injured. We'll get better each weekend, and I can't wait for RedBud."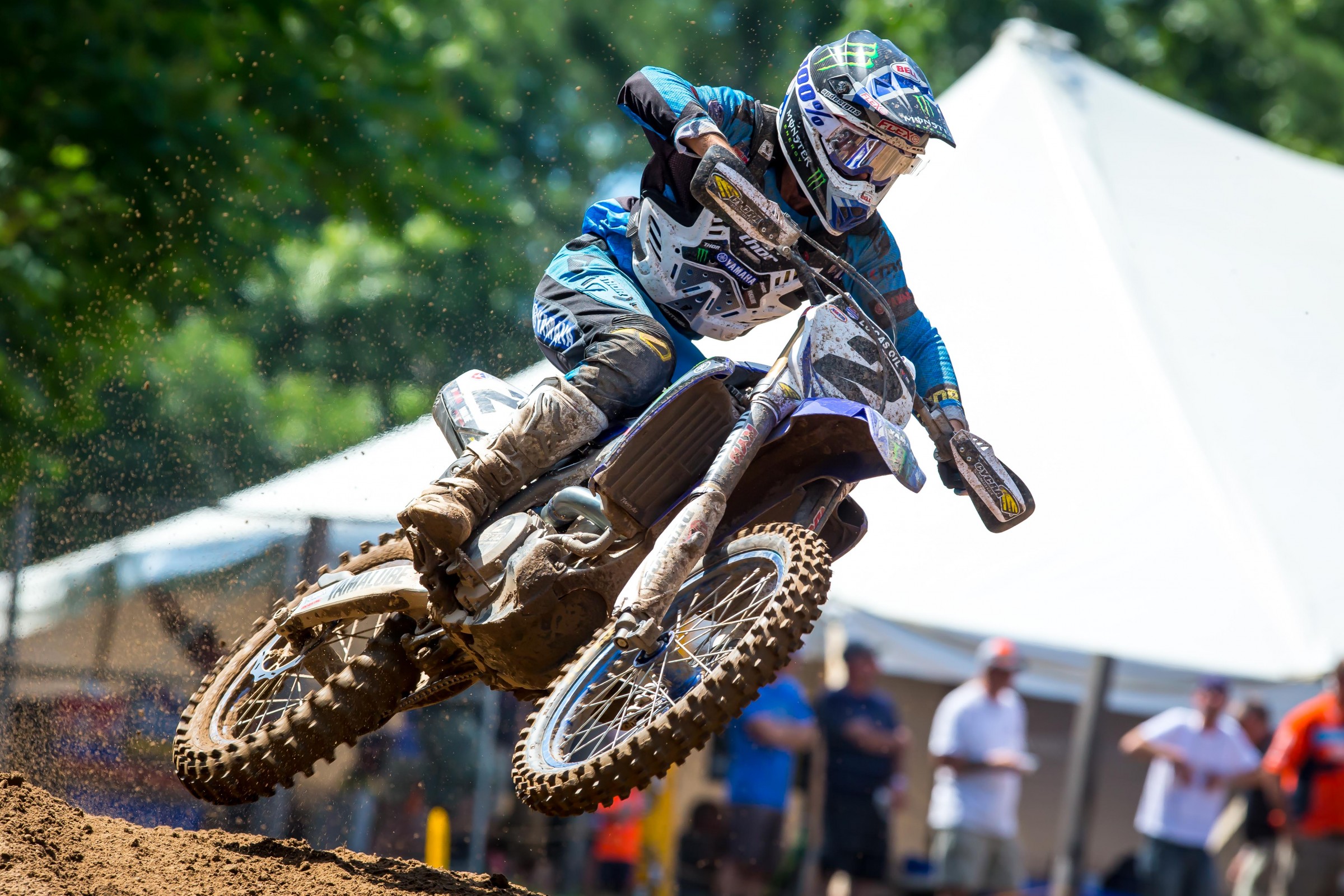 Justin Bogle
Autotrader/Yoshimura Suzuki's Justin Bogle was also back in action Saturday. He's been out since February, when he sustained a broken humerus at the San Diego Supercross. Bogle had incredible starts in both motos, but told Racer X after the race that he knew he only had about 15 minutes in him this weekend. He went 18-20 for 23rd overall.
Racer X: And the worst track of the year to come back to. You probably could have waited a week.
Justin Bogle: Yeah, but there's only one way I'm going to get me better, and that's by getting out there and doing it. I can't just avoid it. I got to get out there and I can get better now. So from here, I can improve. If I can do what I did for the first ten, 15 minutes, I would have been fine. But I was shot after the first 15 minutes.
Read the full interview with Matthes here.
Injury News
Justin Hill
The Autotrader/Yoshimura Suzuki rider was unable to compete in the second moto Saturday after he suffered lacerations to his right arm in the first-moto pileup. Following the first moto, where he finished 21st, Hill received medical attention and it was determined he should be evaluated at a local hospital, according to the team. Hill said he "got a few stitches" but that they will come out this week.
"I felt like a fish out of water in the sand. I could have pulled it together and had a really good start in the first moto," he said in a team statement. "I'm fairly certain someone ran me over. That's why I fell over. I was third when that happened. A footpeg caught me. I really couldn't feel my arm immediately after the impact. I got on the bike and pushed, but my arm was still numb. It was determined that I should seek additional medical advice after I pulled off the track, so I went to the emergency room and had bad lacerations. The doctors did some nerve tests. That's why I sat out the second moto. I'm not sure how I pushed through the first moto! It must have been adrenaline. It's one of those things. If there's anything I can take from the weekend, it's crazy what can be accomplished without understanding what's really going on. I got a few stitches, and those will come out this week."
Austin Root
Root was involved in bad crash off the start of the first 250 moto on Saturday. He wrote on Instagram that he was "knocked out" for a couple of minutes. He said he was taken to the local hospital for evaluation and was diagnosed with a concussion.