Muddy Creek to Host Cody Gragg Memorial Two-Stroke Race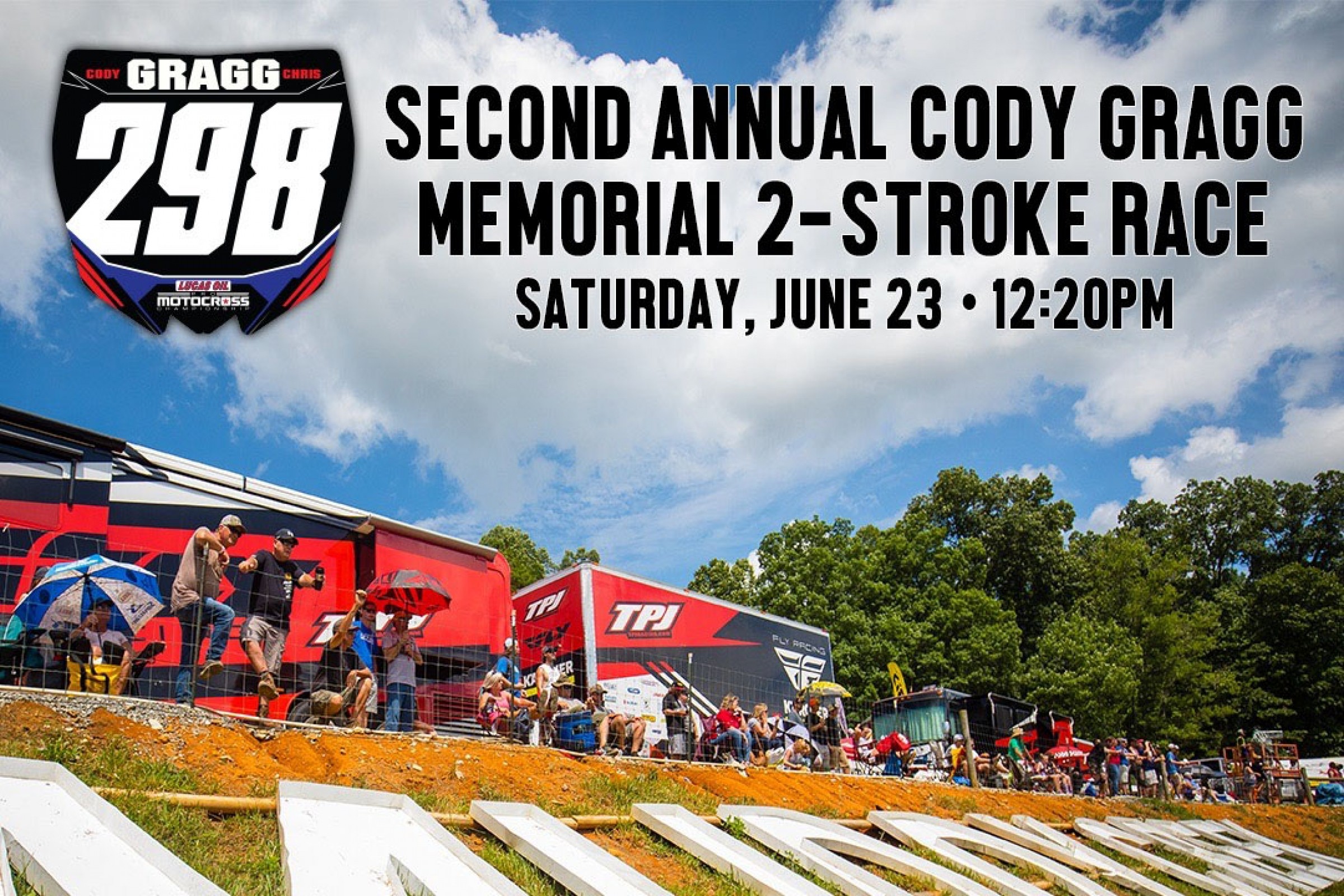 Blountville, Tennessee — Victory Sports is excited to announce the second annual Cody Gragg Memorial Two-Stroke Race that will run during intermission of the Tennessee Pro National at Muddy Creek Raceway on June 23.
Cody was a part of our motocross family from the time he was racing 50cc bikes back in 2000. The passing of him and his father, Chris, was a very tragic loss for everyone. They were together everywhere racing motorcycles. Cody enjoyed racing two-stroke bikes, so it only seems fitting that this race continues to be a memorial to him. Lisa Gragg (mother and wife) will be the grand marshal of the race this year.
This race will be for B class, A class, and Pro-Am riders only. Riders with a current AMA Pro License are not eligible. The race will be run during the 12:00 (noon) to 1:00 p.m. intermission, just before the professional motos start. This is a throwback to the times when all motocross bikes were all two-stroke. There will be a practice and qualifying race on Friday afternoon to determine the 40-rider field for the race.
There will be a purse, contingencies, and a very special commemorative award for the champion. The purse started at $500 and has grown to over $7,000 with contributions so far. Companies and individuals can donate money into the purse in memory of Cody and his father, Chris, which will all go to the riders. We will update the purse and the list of donors as the purse grows. As the purse grow, the payout will increase and be posted. Everyone who makes a contribution will have their name go into a drawing for two free VIPs for the weekend plus a free room Friday night at the Holiday Inn Express & Suites in Kingsport. The drawing will be Tuesday, June 19, at noon.
Last year the purse was over $14,000 (the biggest purse of any two-stroke race in America) and was all paid back to the top ten riders. Jon Boruff borrowed a 500 Honda and claimed the $650 holeshot prize. Maryland's Tyler Stepek won the race and the $6,000 winner's check. Get those two-strokes out of the bar and ready to race.
$40 entry fee. Practice and qualifier on Friday. Brief practice and one moto on Saturday during intermission. Sign up at the race.
To make contributions to the purse, Contact Victory Sports: jane@victory-sports.com or call 423-323-5497 to get more info. More info will be at muddycreekraceway.com.