Lakewood, CO
Thunder Valley
Lucas Oil AMA Pro Motocross Championship
Quite possibly my favorite round of the series, Lakewood, Colorado, hosts round three of the 2018 Lucas Oil Pro Motocross Championship. The True Value Thunder Valley Motocross is a mouthful, but this track is a jaw-dropper for a first-timer.
The Rocky Mountain backdrop makes for one of the most picturesque tracks of the season, and metro Denver is only a stone's throw away. Being so close to the city and also right off of a main highway means short drives for the industry, creating the most convenient round on the calendar, too. There are a lot of reasons to like this race, and we haven't even talked about the track yet!
Built on the side of a mountain, the track winds up and down with several off cambers. The hard Colorado base has a long history of slippery, dusty days. Over the years, David Clabaugh and crew have added tons and tons of sand to the soil. That mix creates an ever-changing surface throughout race day. The morning qualifying sessions are soft and muddy, with that thick dirt keeping the track slow. The 6,000 feet of altitude adds to that struggle, killing horsepower for the bikes. As the track hardens up, though, that sand starts to blow off and speeds increase.
By moto time, the main line has hardened up and become brutally rough. That sand and clay mix forms nasty braking bumps and ruts on the downhills. Eli Tomac's 2015 crash (and Stew's in 2012, also) are great examples of how this track can jump up and bite riders. By the second moto, the track has hardened completely, and when watered, creates a slippery first few laps. Growing up on the traction-plentiful East Coast, I always struggled to find any comfort level in this scenario. The base dirt feels asphalt for the most part, and the water truck had me slipping and sliding all over the place. It took me until halfway or so to find my pace, and by then, the good guys were long gone. Watch for those with the comfort level to push when the track is still slick to make up lots of time in the early laps.
The altitude also wreaks havoc on rider fitness. I didn't notice it too much during the races, but at the end of my qualifying laps, I was more winded than normal. Those qualifying laps are way above sustainable levels for heart rate and energy exertion, so removing available oxygen was noticeable. Sleeping was a little bit tougher, walking up the hills took a little more effort, and it took longer to recover in between motos. It's not climbing Everest, but it's a subtle extra difficulty that this round presents.
Questions I Want Answered
Week one to week two was a big jump forward for Roczen. What do we see in week three?
Can Eli keep the streak alive? 2015 was eerily similar, and we know how that went.
Who is ready to take the 250 Class reins?
Can Joey Savatgy find his Colorado magic?
Thunder Valley's uphill start at altitude shows who has the engine and who doesn't. All the HRC Hondas were impressive in 450 moto one on Glen Helen's long start. Can Roczen put his Honda out front again, or will KTM and Husky starting prowess strike back?
When will the injured riders start reappearing? Justin Bogle, Cooper Webb, Dylan Ferrandis, Cameron McAdoo, Colt Nichols, Mitchell Harrison, and more are scheduled to return this summer.
Who's Hot
Eli Tomac is four-for-four so far. He hasn't even gotten good starts and he's still unbeaten thus far.
Aaron Plessinger went 1-1 at Glen Helen and served notice that he is a real threat to this 2018 outdoor title.
Alex Martin ran up front all day and left with a second overall at GH.
Justin Cooper went 4-7 after setting the fastest lap in qualifying. He is going to be a podium threat when we go East.
Ken Roczen made huge strides and has to be feeling good about himself after such a short recovery.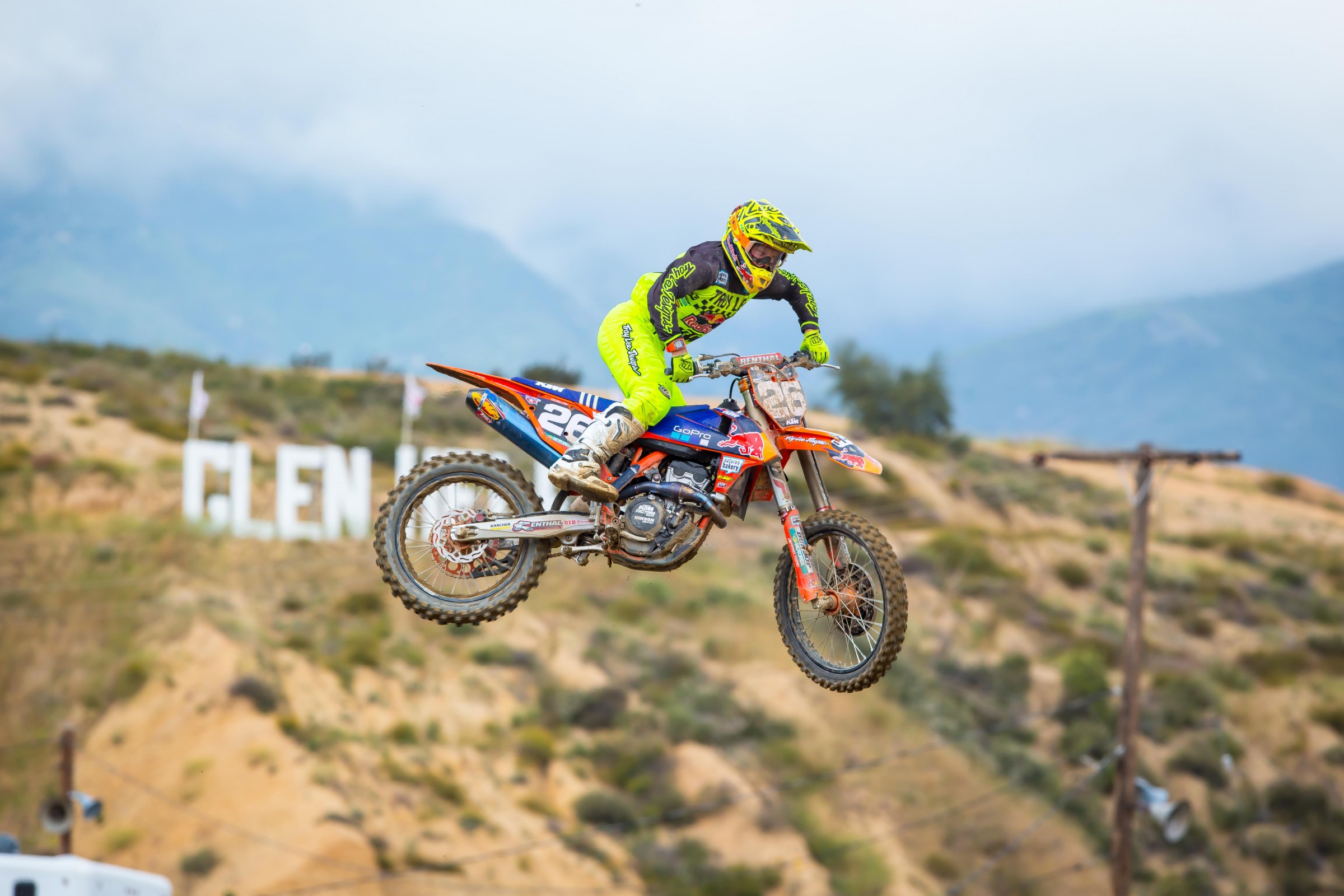 Who's Not
Blake Baggett hasn't had much go right so far. His second moto ride without a grip earned my respect, though.
Christian Craig went from first to40th with his crash and now has a torn ACL for his troubles. Tough break for CC.
Jordon Smith is still trying to find his best form. He crashed in both motos at Glen Helen, taking away any chance for a good day.
Bold Predictions
Ken Roczen holeshots the first moto.
Joey Savatgy sets the fastest lap in qualifying.
Someone crashes big on the downhill just past the Fly Racing sign (same hill Tomac and Stew crashed on).
Approximately 99.9 percent of riders complain about their bike being slow in the altitude.
Blake Baggett presents Marvin with his lost grip from Glen Helen, making a matching set with the solo grip given to him in Foxborough.
A-Ray goes full send at some point during Saturday's broadcast, scaring children and innocent onlookers.
Wil Hahn wins the 125 race and then asks the ladies to hit him up on MySpace.
My Picks
250
Jeremy Martin
Zach Osborne
Joey Savatgy
450
Marvin Musquin
Eli Tomac
Jason Anderson