San Bernardino, CA
Glen Helen
Lucas Oil AMA Pro Motocross Championship
Racer X: I know last week you guys had all expressed a bit of concern about coming to the track with the size of it. What was your general impression here of the Glen Helen Raceway today?
Jason Anderson: Honestly, all of us were super stressed about it, I think, because we just saw it on Instagram and it looked like it was just huge, gapped doubles. When it gets rough and stuff, whenever you're going so high-speed and you're battling guys, someone checks up, it can get really dangerous. But they did a great job. I think the track was perfect for racing. I think we had a good day and a good racetrack. Maybe a little bit one-lined, but we got passed by Eli, so I guess it wasn't too bad.
Marvin Musquin: I agree with Jason. They made those two big jumps a little bit better, I think. Yesterday for press, it was actually really good, and today. Still, the second jump was still a big jump. We were like flying off that thing. It was really kind of safe. The landing was a little flat, a little hard landing, but at least if you mess up, you don't have to roll, like, two mountains. It was actually good. Like Jason said, too—a little bit one-lined going up some of the hills. Typical Glen Helen. It got rough, edgy, hard, and soft. It was a tough day, but good racing.
Eli Tomac: I think they fixed the landings and made them safer. It was all right. Kind of going with these guys, too, a little bit one-lined here and there, really. Maybe a little bit too much water here and there, too. Second moto it came around like good old Glen Helen, super rough. It was gnarly.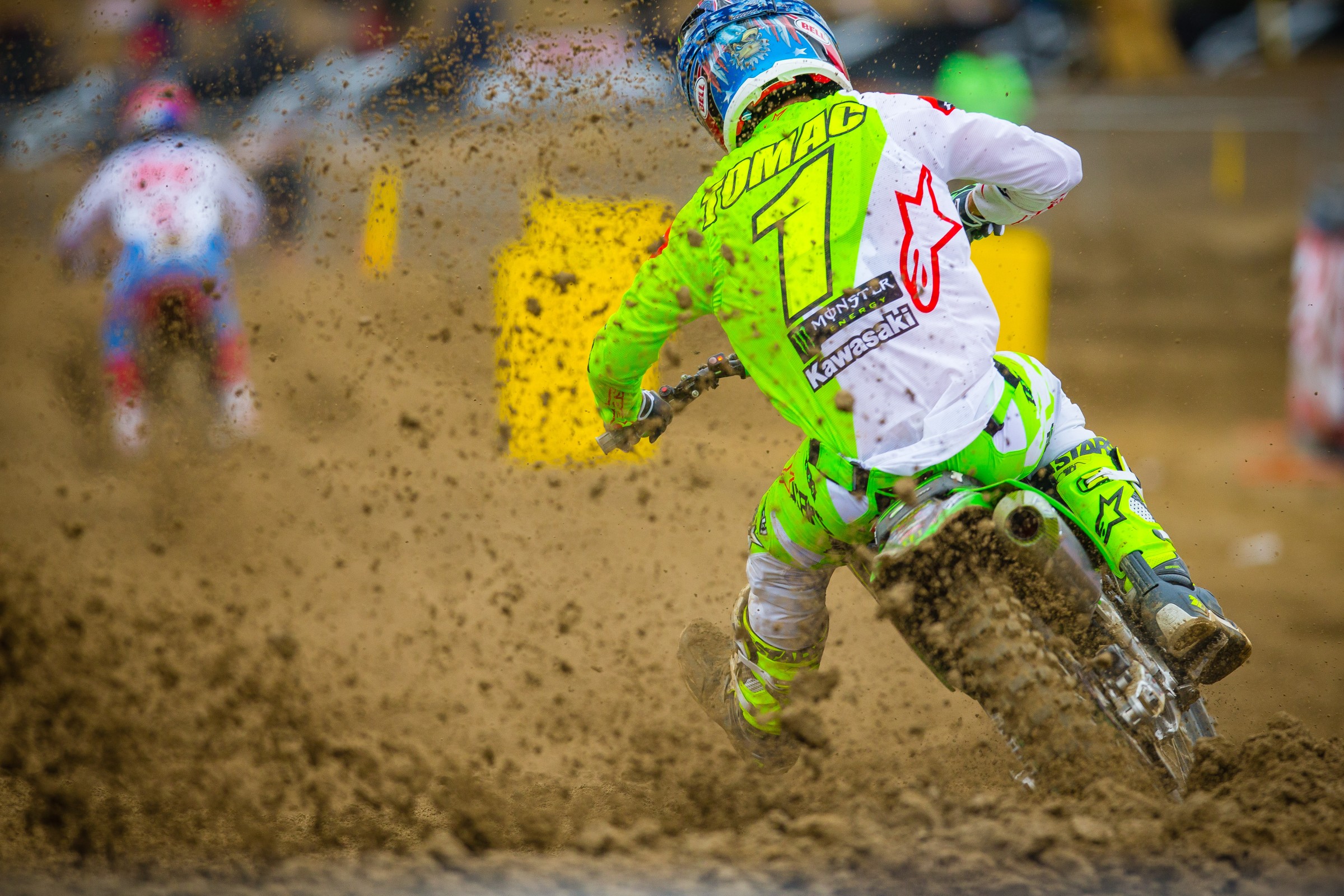 I know he's not with us here in the press conference, but in the first moto you had quite a battle with Ken Roczen. Was it kind of a little bit unfamiliar territory because he's been out so long from the outdoors, or was it just kind of good to have a buddy back out on track?
Tomac: It was good to see him up there. The guy's gone through basically hell on both of his arms. Good to see he's got that speed back. Had a good battle with him there for it felt like 20 minutes. It was good.
Jason, you were really sick in Vegas after you won that supercross championship. How much did that slow your prep for outdoors? Was that an effect? Is that done?
Anderson: After Vegas, I got a couple IVs and I was good to go. I still had a good time in Vegas on Sunday, so it didn't stop me at all. For outdoors, I think my worst part for preparation was I was so focused on the supercross deal I didn't ride much outdoors. Neither did anyone else. But I definitely had very few days, and I had a new bike too that we had to kind of get going. I think we were a little bit behind as far as bike setup and stuff like that, but even on press day we were testing suspension, trying to get the chassis better. I think we went in the right direction even from the first to the second moto. As you could tell, the motor is fine. That thing rips. Just working on the chassis a little bit, trying to get it better.
Eli, again in that second moto, late in the moto, you dropped the hammer like last week. Same question as last week. Is this a conscious decision you're making, or is it just the speed coming naturally at the end? You were going so much faster at the end of that moto.
Tomac: I don't really know. I just kept going. I was feeling good. I was relaxed and had some good lines and was flowing. I found a few lines maybe later on in that moto, but just feeling good. Not fighting anything and just going with the flow.
Eli, about ten minutes into that first moto, after the big jump, you made a right. You had a huge moment up there. You kind of clipped the front wheel. When you have a moment like that, did that take you a couple laps to gather it back?
Tomac: No. It was just a weird situation. I went to do a little manual over this little bump and my rear end just ticked the rut a lot more, and it was a lot more solid than what I thought it was. It was a little bit of a moment, but that was that. Just kept going after that.
Eli, in the top section up there, it seemed like you were catching Roczen. Every time you'd come around, there would be a couple-second gap, and then you would come around and you'd be right on him. Were you taking a different line than him, or inside line? What was going on at the top section after the triple step-up?
Tomac: Actually, the first moto, I was going outside. I had really good momentum down that hill. That was that outside line, I think.
Jason, you talked about not training that much for the outdoors because you were focused on supercross. Who determines that? Does Aldon [Baker, trainer] say, okay, we're going to focus on supercross and not practice much outdoors, or do your teams tell you, hey, we want to start practicing some outdoors, get on some setups? How does that work?
Anderson: It's kind of like a group decision, but Aldon was not pumped on me just wanting to ride supercross. He wanted me to be ready for outdoors. At the same time, I was in a position that I have never been in and I wanted to really focus on getting that one goal accomplished. So I rode supercross, and honestly, the biggest push was my mechanic. My mechanic really wanted me to just ride supercross. I put my trust in him all the time. Between me and him, we just kind of told Aldon we want to just ride supercross and be ready to go and get this thing done. Then come outdoors, we'll deal with that problem when it gets here. I feel like we've done a pretty good turnaround. We're behind in points right now, but at the same time, I feel like if I keep getting good starts and I keep riding really good, we have a good shot at battling for wins like we did today and really getting onto that overall podium, getting that first win.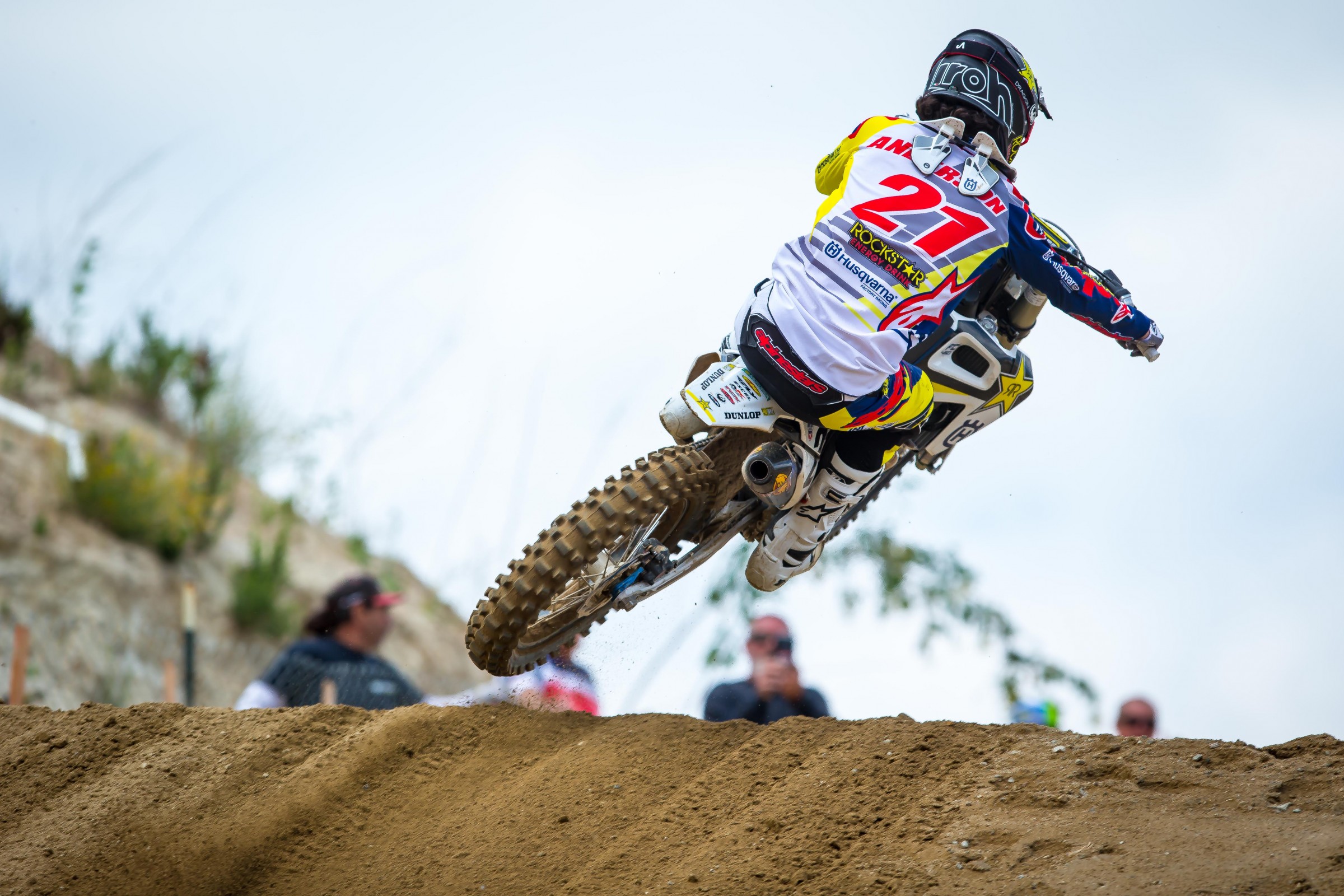 We're leaving Glen Helen in the rearview mirror. We're heading to Lakewood, Colorado. What's your thoughts on heading out there?
Anderson: Usually I'm horrible at Lakewood, but I got a podium there last year, so hopefully I can do that same thing again. After that, I feel, is when we could really start going on the East Coast, and it's going to be hot and humid. It's going to be a long summer, but looking forward to it on my side.
Musquin: Yeah, looking forward to going to Colorado. Thunder Valley is always a really good track. Always different with the altitude and the feeling with the engine and the power of the bike, but I like the challenge. It's always good there. I had a good battle last year and it was a great race. Definitely a good track there.
Tomac: Yeah, looking forward to it. It's not crazy close to our track at home, but close enough. You're in the home state. Got the good crowd there. Should be fun.