San Bernardino, CA
Glen Helen
Lucas Oil AMA Pro Motocross Championship
Racer X: Aaron, last weekend, a solid ride. You ended up on the podium. What was the gear change from this week where you were able to come through the pack and go 1-1 on the day?
Aaron Plessinger: I went back after last weekend and in the second moto I couldn't really get going like I wanted to. This week we just pretty much worked on sprint speed. I know that's where these guys excel a lot. I worked on sprint speed a lot. I really jelled with this track. My bike was working great. I don't really know what the change was. I just felt really good this weekend.
Take us through some of the starts. Sometimes you're an amazing starter, sometimes not so amazing. Today you were pretty doggone good.
Plessinger: For sure. Sometimes I get a good jump, and sometimes I don't. It's kind of all about my positioning. I have to have my body in the perfect position to get a good start, because my height doesn't help me out with that. It was good. I got two really good starts. I guess my timing was right and my body position was perfect.
Alex Martin, a very, very solid day for you today, first moto and second moto. That's a nice way to get into round two.
Alex Martin: Yeah, definitely. Kind of the same thing as AP. After last weekend, for me, I missed so much intensity with the supercross season, not being able to participate in that. For me, intensity was kind of a thing this week. Worked a lot on sprints and trying to get the body firing up. I feel like it kind of paid off today. Both motos felt really good. Kind of fell apart a little bit in the middle of the first moto. Second moto came out with the holeshot. Three-three for second overall, for me, it's a great start and just building. The season's young and I want to be there at the end, so we're just going to keep getting better week by week and hopefully we'll be there.
Jeremy Martin is a two-time 250 outdoor motocross champion. Here we are in the season, and you find yourself in the thick of it once again. What's your thoughts here early in the 2018 Lucas Oil series?
Jeremy Martin: Thoughts are good. Second last weekend, third this weekend. We still got a lot of racing left. We got the bike better from last weekend. We did some testing. I tried something a little different in the first moto and wasn't kind of jiving. I had a massive battle for 30 plus two. Just got annihilated from AP's teammate, Justin Cooper. Man, we were battling. Then moto two got off to a better start. Aaron was a little bit faster right there in the middle part and got Alex and I. Then I battled with the brother forever. I was like, "Dude, get out of the way!" I was able to send it in deep and get him on the outside. It was a good battle. He went off the track a couple times. Reminds me of racing back a couple years ago when we'd battle during the week.
Last week, there was a little concern coming here. We'd seen some videos beforehand. Was the track better or worse? Did you like how it worked out?
Plessinger: I liked the track, honestly. I think they tamed the jumps down pretty well. It wasn't too sketchy. I think the track turned out really good and it was a good race track.
A. Martin: I think we all were a little nervous seeing those jumps on Instagram. I'm glad that they were able to knock those down and make it somewhat more manageable for 70 minutes of racing. For us, we all started up front and we didn't have to deal with passing so much, so it wasn't so bad. But I feel like it was pretty tough to pass on that track today, even with us coming through the lappers. It just didn't seem like they ripped it. Same thing as Hangtown. They didn't really rip it. I feel like it's kind of hard to pass when it's not deep like that. Other than that, second moto I thought the track developed some better lines. It was probably the best it was all day.
J. Martin: I would agree with that. They had a lot of options and I think some of the outsides were a little too far out from the insides. So it was like you could monorail, but you just couldn't quite make a move. So I think like RedBud, it's got some big jumps, but it's kind of a simpler layout. They just dug it really deep and then they water the crap out of it and let it get rough, and then multiple lines show up. Like Alex said, they kind of haven't really dug the track super gnarly deep at Hangtown or here, so hopefully we'll see a little bit of that in the future.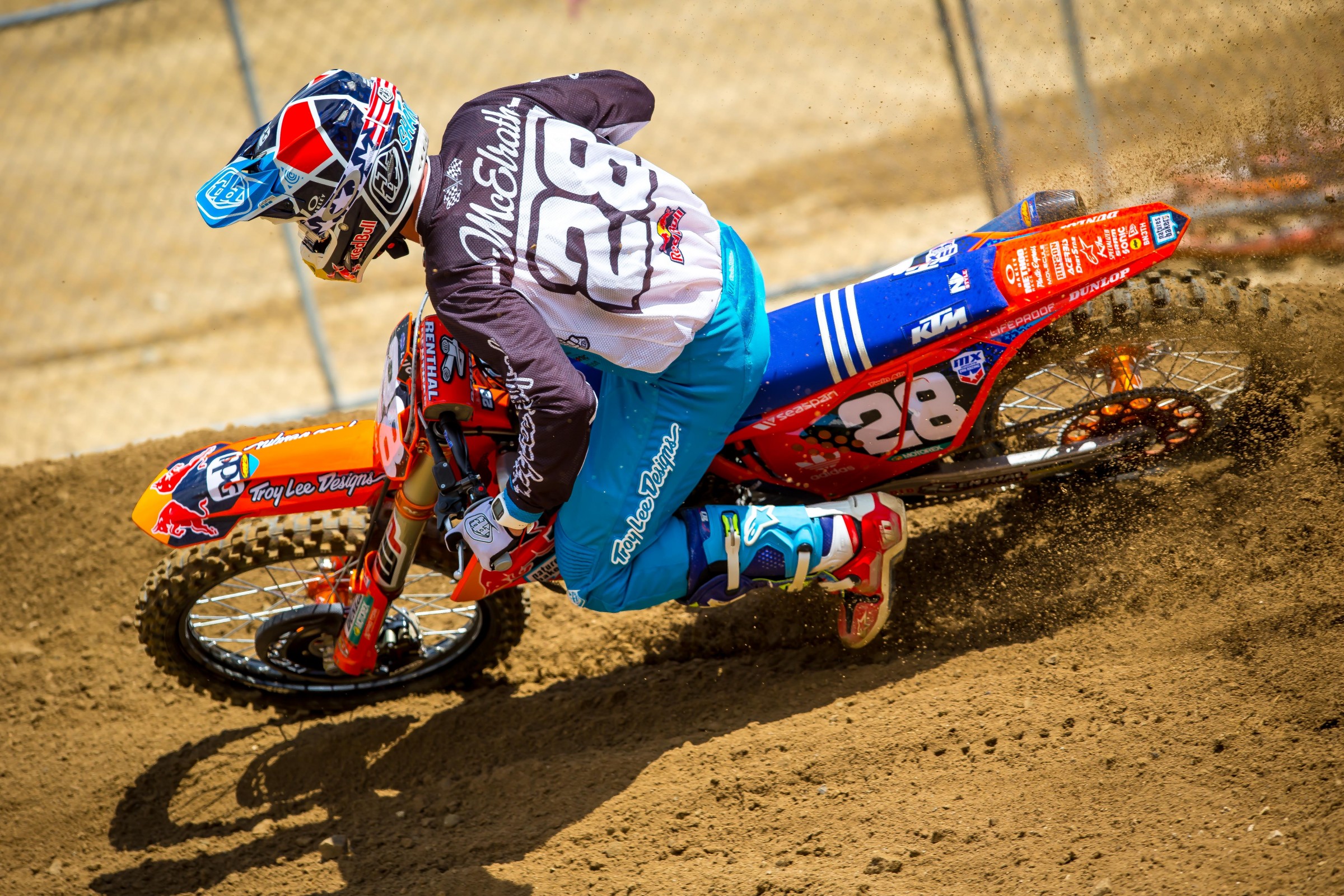 Alex, you had a pretty savage battle with your brother there in the second moto. You said you ran it in on him pretty hard. Do you try and go easier on him because he's your brother or harder?
A. Martin: Definitely harder.
J .Martin: He races me harder, man!
A. Martin: It was funny because I didn't look back. I was pumped at that, the whole moto. But I knew him and Zach [Osborne] were there. I could see the pit boards. I'm like, whatever. I'm thinking to myself, at Vegas supercross a couple weeks ago, poor kid sits behind whoever it was the whole main event. I'm like, this kid doesn't know how to pass. So I'm fine. I'll just keep riding my race and he'll rev his brains out, won't make any progress. But he got a little lucky. I made a couple mistakes. Went off the track and some lappers really started to spice it up a little bit and he was able to get around me. Definitely fired me up a little bit. I tried to retaliate there. It was good until a couple lappers again got in the way, and then it was pretty much game-over. Overall, it's always fun to be racing little bro. Just happy to be up there.
It didn't get real hot today like it can here. Did that let you push harder for longer? Did that have any effect on your motos?
J. Martin: If it's a little hotter you definitely see some guys tank a little bit. Nonetheless, when you're up at the front and you're battling the front guys, they're all strong. I think they can attest for that. AP is not going to quit. My brother is not going to quit, and neither is Zach. Whether it's hot or cold, we're still charging.
Plessinger: I think now we got our endurance pretty top-notch, so whether it's hot or cold we're out there for the whole thing and we're going to push for the whole moto.
A. Martin: Kind of in line with these guys. Right now you have four guys—AP, Jeremy, Zach, and myself—that are kind of up there in the points. I know it's young with only two races but literally we're all fit. We all have the speed. It's just going to be about consistency and trying to capitalize on each week whether it's cold or hot or humid or whatever it is, muddy, it's going to be a dog fight this summer.
Aaron, no dance after the 1-1?
Plessinger: It's a little harder to dance after an outdoor than it is a supercross. Outdoors is a little bit more body-wearing than supercross is. I'm a little bit tired after an outdoor.
Jeremy, I know that you've been spending a lot of time with the Tomacs training. Will this elevation change and your familiarity with it be a big advantage next week?
J. Martin: Like I said, these guys are good. I think it does help. I know from training out there I feel a difference. It's pretty crazy. When I first went up there, I felt like a chain smoker. It took about two or three weeks to kind of adapt to it and then I was back to normal. I think it helps a little bit. We'll see. Maybe battling with Big Al or AP at the end of the moto, I might have a little advantage.
Alex, You've been there before. What's your thoughts on heading into Lakewood, Colorado?
A. Martin: I love it. I like that track a lot. Never really noticed much with altitude, honestly. It's only like 5,600 feet. Maybe us Martins are genetic freaks or something, I don't know. Regardless, starts are critical there. I like that track. You can throw some big whips over some of the tabletops and get nasty. Looking forward to it.